This page is part of © FOTW Flags Of The World website
Debate on the Georgian (U.S.) flag, 2001-2004: Part 4
The 2004 Referendum
Last modified: 2016-03-29 by rick wyatt
Keywords: georgia |
Links: FOTW homepage | search | disclaimer and copyright | write us | mirrors

---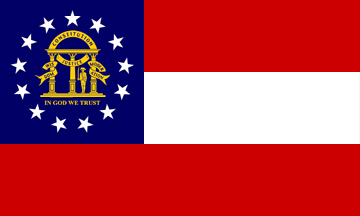 image by Ed Jackson 7 May 2003
Adopted 8 May 2003

---
---
See also:
---
The Referendum Approaches
The Associated Press today is reporting that the never-ending flag issue in Georgia is never ending. As of today a poll shows the following situation:
In favor of the 2001 flag - 48%
In favor of the 2003 flag - 39%
In favor of a third option - 5%
Undecided - 7%
The poll has a margin of error reported at 4.5%. Voting is on March 2.

Source: WXIA-TV News at www.11alive.com/news/news_article.aspx?storyid=43031. At the moment this is the first poll I've seen on the flags since the debates last year.
Phil Nelson 16 February 2004
Today another poll on the issue from the Atlanta Journal-Constitution:
"A poll conducted for The Atlanta Journal-Constitution and WSB-TV this week by Zogby International found that support for the blue-and-gold flag was strongest among African-American and younger voters. But a majority of all voters in the survey favored the red-white-and-blue flag adopted in 2003. The current flag was favored 52 percent to 28 percent with 20 percent undecided or liking neither one. Supporters of the present flag worry that its defeat at the polls might revive a campaign to restore the state flag dominated by the Confederate battle emblem which flew over Georgia from 1956 to 2001."
Phil Nelson 28 February 2004
The Final Results
The Atlanta Journal-Constitution has declared the referendum to be decided. At this time with 62% of the vote (light turnouts) having been counted the 2003 flag has a 3:1 following and projected to have been selected over the 2001 flag. And given some of the comments earlier this week the flag issue will likely not be revisited by the legislature this term (but who knows about the 2005 session :-).
Phil Nelson 2 March 2004
All counties are in favor of the 2003 flag since the 2001 flag "won" zero counties in Georgia. However is this binding?
Zachary Harden 6 March 2004

No it is not. However it is unlikely that anything can be addressed this year particularly as the legislative session rules are specific and the "drop dead" date for legislation may have passed or will soon pass. And there are the "flaggers" that seem to be convinced that no vote should be legitimate unless the 1956 flag (not voted upon by the public) is included in the ballot. Georgia has two options one to retain the current flag (which appears to be a popular idea given the attention it has drawn over the past few years) or to continue the debate forever.
Phil Nelson 7 March 2004
Georgia Election Results
Official Results of the March 2 2004 STATEWIDE ADVISORY FLAG REFERENDUM
Non-Partisan 100 % of precincts reporting
2003 Flag: 577370 votes (73.1%); 2001 Flag: 212020 votes (26.9%)
County by county results:
County
2003 Flag
2001 Flag
APPLING
ATKINSON
BACON
BAKER
BALDWIN
BANKS
BARROW
BARTOW
BEN HILL
BERRIEN
BIBB
BLECKLEY
BRANTLEY
BROOKS
BRYAN
BULLOCH
BURKE
BUTTS
CALHOUN
CAMDEN
CANDLER
CARROLL
CATOOSA
CHARLTON
CHATHAM
CHATTAHOOCHEE
CHATTOOGA
CHEROKEE
CLARKE
CLAY
CLAYTON
CLINCH
COBB
COFFEE
COLQUITT
COLUMBIA
COOK
COWETA
CRAWFORD
CRISP
DADE
DAWSON
DECATUR
DEKALB
DODGE
DOOLY
DOUGHERTY
DOUGLAS
EARLY
ECHOLS
EFFINGHAM
ELBERT
EMANUEL
EVANS
FANNIN
FAYETTE
FLOYD
FORSYTH
FRANKLIN
FULTON
GILMER
GLASCOCK
GLYNN
GORDON
GRADY
GREENE
GWINNETT
HABERSHAM
HALL
HANCOCK
HARALSON
HARRIS
HART
HEARD
HENRY
HOUSTON
IRWIN
JACKSON
JASPER
JEFF DAVIS
JEFFERSON
JENKINS
JOHNSON
JONES
LAMAR
LANIER
LAURENS
LEE
LIBERTY
LINCOLN
LONG
LOWNDES
LUMPKIN
MACON
MADISON
MARION
MCDUFFIE
MCINTOSH
MERIWETHER
MILLER
MITCHELL
MONROE
MONTGOMERY
MORGAN
MURRAY
MUSCOGEE
NEWTON
OCONEE
OGLETHORPE
PAULDING
PEACH
PICKENS
PIERCE
PIKE
POLK
PULASKI
PUTNAM
QUITMAN
RABUN
RANDOLPH
RICHMOND
ROCKDALE
SCHLEY
SCREVEN
SEMINOLE
SPALDING
STEPHENS
STEWART
SUMTER
TALBOT
TALIAFERRO
TATTNALL
TAYLOR
TELFAIR
TERRELL
THOMAS
TIFT
TOOMBS
TOWNS
TREUTLEN
TROUP
TURNER
TWIGGS
UNION
UPSON
WALKER
WALTON
WARE
WARREN
WASHINGTON
WAYNE
WEBSTER
WHEELER
WHITE
WHITFIELD
WILCOX
WILKES
WILKINSON
WORTH

1180
277
477
337
3424
1346
2371
4226
906
789
9448
705
639
920
1.407
2819
1765
1633
460
1181
527
5959
2430
349
18244
184
1675
8585
8952
254
15929
212
42943
1288
1976
5990
728
10002
670
1085
712
1727
1556
67357
1218
828
8335
6266
657
111
2371
1386
1386
657
1231
8620
5549
8937
1397
62174
1617
141
4351
2443
1384
2048
32570
2345
10949
770
1687
1810
2097
752
10699
7340
598
2851
924
737
1200
750
573
2350
1436
271
3496
1430
1856
752
386
4028
1780
1042
1724
441
1291
932
1792
355
1520
1797
579
1709
1312
11068
4978
2972
1306
5167
1605
1717
850
1339
3410
600
1628
152
1193
540
12512
5331
193
1191
670
3611
1665
398
1788
588
186
1071
592
639
673
2418
1693
1495
896
447
3489
397
760
2036
1950
3276
3898
2097
511
1871
1644
210
272
2113
3069
389
1045
890
1189

369
86
189
114
979
505
695
1617
350
306
10058
231
299
295
354
878
524
541
131
581
145
1964
1108
233
5177
96
469
3001
2247
101
7228
102
16787
445
672
1941
314
3429
263
357
276
576
390
24921
343
217
2843
2471
233
60
626
526
374
179
519
3032
1521
3080
484
23125
596
50
1706
813
562
596
11614
720
4053
261
544
650
803
330
7089
2169
214
774
284
312
415
180
143
720
488
120
998
465
649
256
158
1574
571
218
449
204
481
318
580
70
502
543
161
499
520
4341
1695
549
315
1825
462
564
221
399
799
147
544
59
469
181
4661
1956
77
286
193
1331
589
113
505
221
47
281
204
181
216
903
495
378
331
144
1292
144
317
657
592
1099
1047
624
175
489
627
63
108
620
952
115
272
265
481
Source: www.sos.state.ga.us/elections/election_results/

Kristian Söderberg, 19 July 2004