Zeila (Sayla)
See also:
---
Background
As a result of many years of civil war and the emergence of a number of armed rival "clans" seeking to establish hegemony, Somalia is considered a "failed" state as currently no central governing authority has exclusive control over the entire country. The Transitional Federal Government (TFG) is the recognised central government authority but its control is weak and a number of areas and local authorities within Somalia have declared themselves "independent" of the TFG or aligned themselves with its opponents and do not recognise it as the legitimate governing authority.
The Transitional Federal Government has nominal control in the centre of the country and has the support of the Islamic Courts Union (ICU) and Al-Shabaab. In the north and north-west five quasi-independent areas have formed since the 1990s, namely:
South-Western Somalia has declared itself autonomous in the southern part of the country.
Some of these areas, like Somaliland, have declared themselves fully independent republic and established rival governing and administrative structures while others such as Puntland do not recognise the authority of the TFG and have declared themselves "autonomous". Some of these quasi-independent and semi-autonomous regions in Somalia have also adopted distinctive symbols, including flags, while others continue to use the Somali flag.
There are also a variety of smaller entities, usually based on towns and cities, which have also declared themselves autonomous from the central governing authority. Those in Somaliland are highlighted below, and here for those in Puntland and the rest of Somalia.
Bruce Berry, 26 Oct 2008
[The situation around these areas is very fluid and the accuracy of the information presented below is subject to further confirmation and verification. - Ed]
---
Saaxiland is in Somaliland with its capital at Ceerigaabo.

According to this website, Saaxiland seems to be a self proclaimed state with a blue flag bearing a yellow anchor in the center. Flaggenkourier (No. 39, June 2014) assigns this flag to Middle Shabelle but I can't find any other references for this and in fact I have photos of a different flag for Middle Shabelle (Shabelle Shexe).
Jaume Ollé, 24 October 2014
---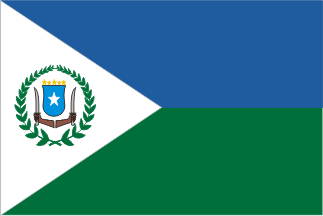 image by Jaume Ollé, 03 Nov 2014
Saylac and Lughaya State was formed on 07 February 2012 in Somaliland, claiming to be a federal state of Somalia. However, the government of Somaliland quickly regained control of the territory.
The flag used had a white triangle at the hoist containing the State emblem in the centre. The fly was divided into two equal horizontal stripes of light blue over green. Flaggenkurier (No. 39, June 2014) illustrates a different variant with the flag having five horizontal stripes of dark blue fimbriated in yellow, white fimbriated in yellow and green (similar to Salal) with the State emblem in the centre.
Jaume Ollé, 03 Nov 2014
---
Zeila (Sayla)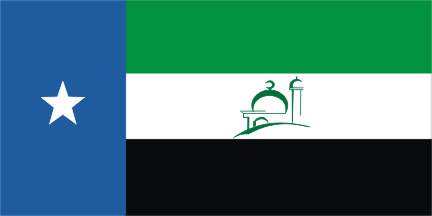 image by Jaume Ollé, 03 Nov 2014
Zeila state was proclaimed in Somaliland in 2012. It later united with Lugayhe to form the state of Sayla and Lugayhe. Each individual state and the combined state has its own flag.
The flag of Zeila has a light blue vertical stripe at the hoist, with the fly being divided into three horizontal stripes of green, white and black. In the centre of the white stripe is a white five-pointed star and in the centre of the white stripe is state emblem in green.
Jaume Ollé, 03 Nov 2014
---