This page is part of © FOTW Flags Of The World website
Quasi-independent and semi-autonomous regions in Puntland, Somalia
Last modified: 2022-01-15 by bruce berry
Keywords: somalia | somaliland |
Links: FOTW homepage | search | disclaimer and copyright | write us | mirrors

---
See also:
---
Background
As a result of many years of civil war and the emergence of a number of armed rival "clans" seeking to establish hegemony, Somalia is considered a "failed" state as currently no central governing authority has exclusive control over the entire country. The Transitional Federal Government (TFG) is the recognised central government authority but its control is weak and a number of areas and local authorities within Somalia have declared themselves "independent" of the TFG or aligned themselves with its opponents and do not recognise it as the legitimate governing authority.
The Transitional Federal Government has nominal control in the centre of the country and has the support of the Islamic Courts Union (ICU) and Al-Shabaab. In the north and north-west various regions and quasi-independent areas have formed since the 1990s, namely:
South-Western Somalia has declared itself autonomous in the southern part of the country.
Some of these areas, like Somaliland, have declared themselves fully independent republic and established rival governing and administrative structures while others such as Puntland do not recognise the authority of the TFG and have declared themselves "autonomous". Some of these quasi-independent and semi-autonomous regions in Somalia have also adopted distinctive symbols, including flags, while others continue to use the Somali flag.
There are also a variety of smaller entities, usually based on towns and cities, which have also declared themselves autonomous from the central governing authority. Those in Puntland are highlighted below, and here for those in Somaliland and the rest of Somalia.
Bruce Berry, 26 Oct 2008
[The situation around these areas is very fluid and the accuracy of the information presented below is subject to further confirmation and verification. - Ed]
---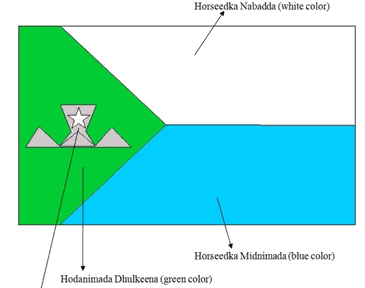 image by Valentin Poposki, 16 Dec 2021
The flag of the Bari Region in Puntland in 2012.
Valentin Poposki, 16 Dec 2021
---
Golol Mudug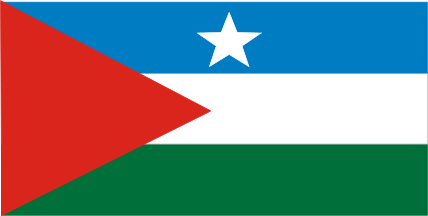 image by Jaume Ollé, 04 October 2014
There's a claim of a rival state to Galmudug called Golol Mudug. It uses a flag which has three horizontal stripes of blue, over white over green with a red triangle at hoist. In the center of the upper blue stripe is a white five pointed star.
Jaume Ollé, 04 October 2014
---
Karkaar State
Karkaar state shares its name with the mountain rage which runs through it and is mainly the southern area of Bari region of Puntland.
Cai Zhenyuan, 16 July 2013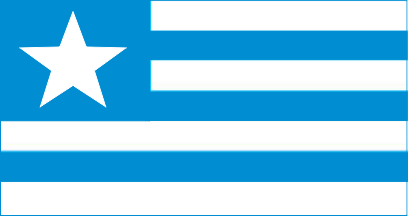 image by Jaume Ollé, 16 October 2014
Flaggenkourier (No. 39, June 2014) shows a light blue flag with three-dimensional letters "Karkaar" (above in an arch) "State" (below anterior, and also in arch) "of" (in the center) and "Puntland" (below in arch) in the form that the two arches above and below form nearly a circle. I don't have any further information on this flag but have a drawing of another which is light blue and white. In the canton is a large white five-pointed star on a light blue background, with the remainder of the flag comprising seven alternate white and light blue horizontal stripes.
Jaume Ollé, 16 October 2014
---
Maakhir
Maakhir was established in June 2007 after a dispute with Puntland authorities over a range of issues, including mining and oil resources. The biggest cities in the Maakhir state are Las Qoray, Badhan, Hadaaftimo Hingalol and Erigavo. Maakhir state was established by the Warsengeli sub clan of Darood and is not recognized by the government of Puntland. Jibril Ali Salad is the president of Maakhir state and maintains a parliament and a cabinet of ministers.
Cai Zhenyuan, 16 July 2013
Maakhir State of Somalia (Maamul Goboleedka Maakhir in Somali) is a self-proclaimed autonomous state within Somalia in an area disputed by Somaliland and Puntland. It was declared in 01 July 2007 but remains unrecognized by the Transitional Federal Government of Somalia.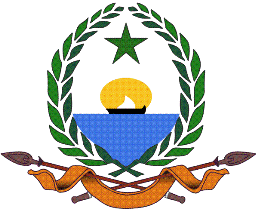 image by G.M. Borgacci, 05 May 2008
Maakhir also has a crest, the central shield of which forms the basis of the flag.
Garry M Borgacci, 05 May 2008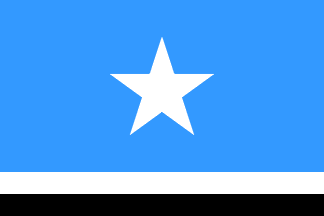 image by António Martins-Tuválkin and Željko Heimer, 02 Nov 2008
A flag based on the Somali national flag has also been shown as that of Maakhir State. I'm attaching an image, using an educated guess that the star is regular and placed in the centre.
António Martins-Tuválkin, 02 Nov 2008
---
Majeerteen

image by Jaume Ollé, 17 Oct 2014 and Peter Hans van den Muijzenberg, 18 Nov 2014

The clan of Majeerteen in north east Somalia tried to establish a regular government in their region. The ephemeral republic of Majeerteen was proclaimed in 1991 but was short lived and never had full control. During this time a flag was reported from this area. The flag comprised three unequal diagonal stripes (top right to bottom left) of red, light blue and white, with a white five pointed star in the canton.
Jaume Ollé, 17 October 2014
If Majeerteen clan tried to establish a separate state before the anarchy in Somalia started, what then was their reason for doing so? However, considering that Puntland is largely the territory of the Majeerteen Sultanate, could it be that this wasn't so much ephemeral but rather a predecessor of existing Puntland?

I wonder whether the Majeerteen Sultanate had flags as well. The Red Gulf flag?
Peter Hans van den Muijzenberg, 18 Nov 2014
---
Ras Asayr
Ras-Aseyr state was established on 17 April 2011 and is dominated by the Siwaqroon clan in the Bari region of Puntland. It was founded in Bargaal, the capital of Bari region and its president is Mohamed Farah.
Cai Zhenyuan, 16 July 2013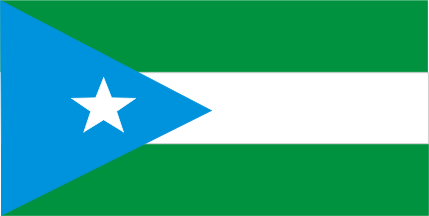 image by Jaume Ollé, 24 Oct 2014

The first flag of Ras Asayr State had three horizontal stripes of green, white and green with a blue triangle at hoist containing a white five pointed star. However, several variants seem to exist. Flaggenkourier (No. 39, June 2014) reports a variant which is in proportion of 2:3 and with the triangle occupying one third of the length and only having two horizontal stripes of white over green (as with the image below but without the emblem). Other variants have the triangle occupying one quarter of the length.
Jaume Ollé, 24 Oct 2014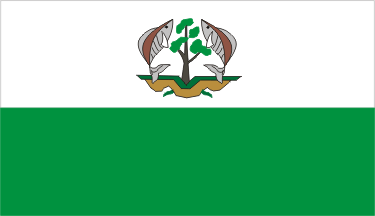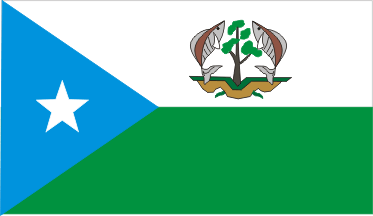 images by Jaume Ollé, 24 Oct 2014

In 2013 a new flag was seen in two versions - sometimes both together. The most noticeable difference is the addition of the state emblem in the centre of the white stripe. One version retains the blue triangle at the hoist whilst in the other it has been omitted.
Jaume Ollé, 24 Oct 2014
---
Tanadland (Galkayo)

image by Olivier Touzeau, 02 Aug 2008
The flag of Tanadland is reported to be eight alternate horizontal stripes of orange and blue, with the Japanese naval ensign type design in the canton.
Olivier Touzeau, 02 Aug 2008
---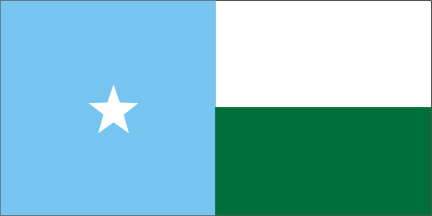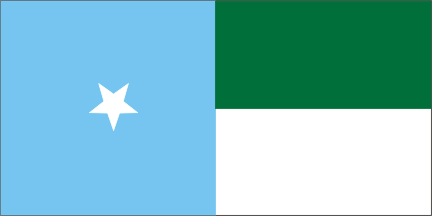 images by Jaume Ollé, 03 Nov 2014
About 2011 Tanadland was renamed West Puntland and changed its flag. I have photographic evidence of three versions:

a) Flag divided in half vertically with a light blue hoist charged with a white five pointed star; fly divided equally white over green;
b) Flag divided in half vertically with a light blue hoist charged with a white five pointed star; fly divided equally green over white; and
c) Same a (b) but with the star rotated towards the top left hand corner of the hoist.
Jaume Ollé, 03 Nov 2014
---