This page is part of © FOTW Flags Of The World website
Italy - Houseflags of Italian Maritime Companies (I)
Last modified: 2023-06-24 by rob raeside
Keywords: italy | houseflag | house flag |
Links: FOTW homepage | search | disclaimer and copyright | write us | mirrors

---
See also:
---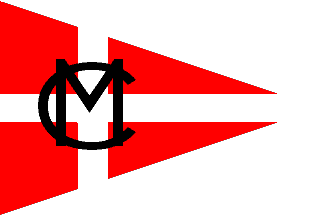 image by Jarig Bakker, 1 September 2005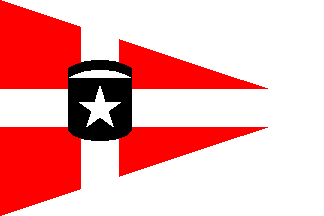 image by Jorge Candeias, 11 February 1999
Variant ?
I believe that this is an italian company. The flag is a red triangle with a white cross throughout and a black shield in the center of the cross containing what seemed to be a 5-pointed star. The original picture was too small, so I'm not at all sure about the exact shape and charges of the shield (particularly the shape above).
Jorge Candeias, 11 February 1999
The company is based in Genoa, so it is Italian company. The image is based on www.informare.it.
Dov Gutterman, 11 February 1999
The company website shows an image of the houseflag being a red pennant with a white cross surmounted by the black letter logo "CM". The image displayed from the company website has these letters replaced by a panel of the funnel i.e. black with a white band above a white star. I can find nothing to indicate that this is an actual flag or has replaced the other and it appears to be merely a navigating button for their website. The company have not responded to a query on this matter.
Neale Rosanoski, 18 September 2002
Ignazio Messina & Cia., S.p.A., Genoa - red burgee, white cross; in center intertwined "CM".
Source: Brown's Flags and Funnels Shipping Companies of the World, compiled by J.L. Loughran, Glasgow, 1995.
Jarig Bakker, 1 September 2005
At the 1940 page at www.24flotilla.com: "Ignazio Messina", Genoa - What we see is the variant with initials, however the `C' encircles the `M'.
Jan Mertens, 8 January 2008
---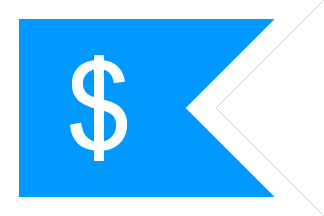 image by António Martins-Tuválkin, 13 July 2008
Not much to be said on Ilva's house flag, fifth of second complete row in the 1940 Spanish source. It representing Soc[ietà] An[onima] "Ilva" at Genova (i.e. Genoa): a pale blue swallowtail with straight edges, completely bordered in white, a white'$' (dollar) sign in the centre.
What I take was the mother company, operating its own ships, is presented at wikipedia.
Ilva (a family name but also 'Elba' in Latin) was the name of a steel factory founded in 1905, at one point renamed Italsider but now owned by the Riva Group.
Jan Mertens, 19 February 2008
I could add that the "$" dollar sign is of the one-stroke sort and that the cut out seems to be orthogonal, leaving the sign centered on the uncut area of the flag; the fimbriation seems to be 1/10th of the flag height.
Researchers should broaden their prospective avenues to the possiblity that this sign on this flag may have been influenced not (only) by the U.S. or other dollars, but by the other currencies that shared this sign at the time of the creation of this flag.
António Martins-Tuválkin, 13 July 2008
---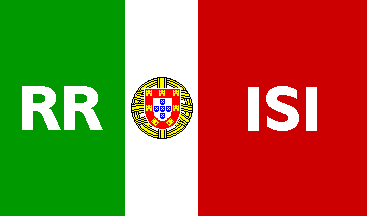 image by Jorge Candeias, 4 March 1999
Unequal vertical tricolour of green white and red. The green stripe bears the initials "RR" in white, the white stripe (the narrower) bears something very similar to the portuguese Coat of Arms ,a yellow circular device with holes charged by a white shield with red border. The original picture was too small to see clearly, but something seemed to be in the shield. The red stripe (the wider) bears the initials "ISI" in white.
Jorge Candeias, 4 March 1999
Rimorchiatori Riuiti International Shipping & Investments Ltda formed in 1999 is the full name being a subsidiary of the Rimorchiatori Riuiti S.p.A. group through Portunato & Co. S.r.l..
Neale Rosanoski, 11 April 2003
---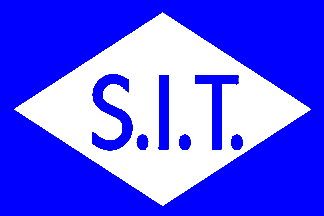 image by Jarig Bakker, 19 February 2005
Soc. di Nav. a Vap. Istria, Trieste - blue flag, white diamond, blue "S.I.T.".
Source: Brown's Flags and Funnels of British and Foreign Steamship Companies, compiled by F.J.N. Wedge, Glasgow, 1926 [wed26]
Jarig Bakker, 19 February 2005
At the 1940 page at www.24flotilla.com: "Istria", Trieste - Serifed initials; the diamond touches the flag's edges. Company name (without `Vapore' which may be a variant): `Società Anonima di Navigazione Istria-Trieste' indicating where the flag's initials came from. Different kind of blue probably is not significant here.
Jan Mertens, 8 January 2008
---
image by Miles Li, 8 May 2023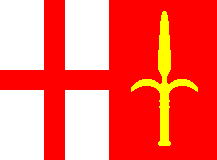 image by Al Fisher , 1 February 1999
"Italian Line" (probably wrong)

Houseflag of "Italia" Societa Anonima di Navigazione.
James Dignan, 13 December 1997
"Italia di Navigazione Srl" is one of the partners in MPE.
Dov Gutterman, 31 July 1999
Stewart shows spear as being white.
Al Fisher, 1 February 1999
Italia di Navigazione Srl and the Italian Line are one and the same. Originating 1932 as Italia Flotte Riunite it was part of the 1936 Italian Government reorganisation becoming from 1.1.1937 Società per Azione di Navigazione Italia and eventually ended as Italia di Navigazione S.p.A. The flag combines those of Genoa and Trieste with the latter emblem being a "ranseur" or spear head. No other source suggests that the spear was ever yellow.
Neale Rosanoski, 11 April 2003
Due to the 'thirties Depression, various Italian shipping companies were united into a big concern. From The Ships List, an overview www.theshipslist.com: "In 1932, due to the depression and widespread unemployment of Italian ships, the major Italian shipping companies were combined into one state controlled syndicate under the name Societa Italia Flotte Reuniti NGI - Lloyd Sabaudo - Cosulich. By 1937 this concern had made rapid recovery and repaid the Government bonds which had supported it. It was then changed into a Limited Company under the name Italia Societa Anonima di Navigazione. Lloyd Triestino was incorporated into the new company. A new holding company (FINMARE) was formed and created four self contained shipping companies:
ADRIATICA based in Trieste to serve the Adriatic and comprised Adriatica di Nav., Fiumana and Lloyd Triestino's local services.
TIRRENIA based in Naples served the Tyrrhenian Sea and comprised Adria, Tirrenia and Sarda.
LLOYD TRIESTINO based Genoa which covered Africa and the Far East. Comprised Lloyd Triestino, Libera Triestina, Italia Flotte Reuniti's non North and South American routes plus Veneziana.
ITALIA to cover North and South America and comprised Italia Flotte Reuniti, Cosulich, Libera Triestina and Veneziana.
In 1940 most Italian ships were taken over for military service and by 1945, few were left afloat. The fleet was gradually rebuilt but from 1960 the rising popularity of air travel signalled the gradual decline of the passenger ships and they were eventually switched to cruising. By 1977 all long distance passenger travel had ceased, although many cargo ships continued to carry a few passengers. A cruising company was set up (Italia Crociere Internazionali) to employ the remaining passenger vessels but ceased trading in 1980. Italia continued as a freighting company, mostly with second hand or chartered container ships and still operates, but in private ownership."
Jan Mertens, 29 December 2003
The major Italian shipping lines were nationalized under the holding company, Societa Finanziaria Industriale Italiana in 1932 as a result of the depression. In 1936 the fleet was split into four divisions each serving an agreed geographical area. Italia commenced operations the following year on routes to North and South America. By the end of the 1960s Italia's prestigious passenger liners were becoming unprofitable owing to the competition from air transport and the company switched its operations to freight. It is now in private ownership as part of the Fratelli D'Amico Armatori Societa per Azioni, Genoa."
It is possible that the Museum got it wrong, as it seems to be the flag of Lloyd Triestino...
Jarig Bakker, 19 August 2004
It seems that the house flag of Italia di Navigazione was designed with two things in mind: Firstly, as it was formed through a merger of the Genoa-based Navigazione Generale Italiana, the Turin-based Lloyd Sabaudo, and the Cosulich Societa Triestina di Navigazione, it made sense for the new house flag to combine the banner-of-arms of the port cities of Genoa and Trieste (while leaving out inland Turin). Secondly, the new house flag was a 'mirror image' of that of Lloyd Triestino in order to 'piggyback' on its reputation.
Miles Li, 8 May 2023
---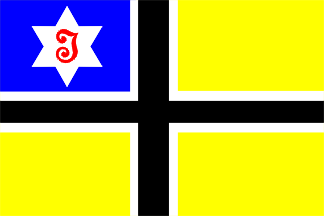 image by Jarig Bakker, 30 October 2006
From www.timetableimages.com: 'Italia' Societŕ di Navigazione a Vapore, Genoa. As it happens, the on-line 1912 Lloyds Flags & Funnels has a nice clear picture i.e. No. 1197 on (the electronic) p. 58 at www.mysticseaport.org: yellow, a black cross throughout, a blue canton bearing a white six-pointed star which in its turn bears what appears to be a red mirrored figure '6'. Then, of course, it may well be a handwritten uppercase 'I'. The card on planeta.terra.com.br, however, shows a fimbriated cross.
More on this firm at planeta site: founded in 1899 but under the control of the German Hamburg-America Line which then (1906) moved to the Navigazione Generale Italiana; becoming a de facto branch of this firm in 1917, sharing its fortunes from then on.
Jan Mertens, 14 July 2004
Italia Società di Navigazione à Vapore - Bonsor describes the flag as having a blue cross so if it were a dark blue shade, as also with the canton, it would fit in with the planeta site image where the two do seem to be a similar colour and it would explain the fimbriation of the cross. Bonsor calls the letter an "I" which has to logical though it reminds me more of a written "T", and makes no mention of the Lloyds version.
Neale Rosanoski, 22 July 2004
There remains some doubt about the colour of the cross, and whether it is fimbriated or not. See the picture at www.civilization.ca showing the ship `Ancona' and some flags, the biggest of them representing the company.
To my mind, the canton is blue, but the cross is black (and fimbriated), the initial "I" is rather elaborate, compare the capital letter to the right of the house flag. This does not explain the choice of colours. (The six-pointed star could be a variant of the five-pointed one which is one of Italy's symbols, or even have a religious significance).
Jan Mertens, 30 October 2006
Variant ?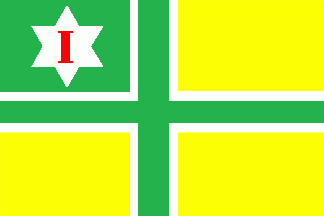 image by Klaus-Michael Schneider, 17 April 2009
At least, I believe it is a flag variant of the flag of that company, having a green fimbriated cross and a simple red, serifed "I" upon the white star.
KLUDAS denotes the company as Italia Soc. Di Nav., located in Genoa.
Source: Arnold KLUDAS: Die Geschichte der deutschen Passagierschiffahrt (5 Bde.) Hamburg 1986; Reprint Laibach Slovenia-Buch Nr. 03617-8 Flagchart p.223
Klaus-Michael Schneider, 17 April 2009

image by Miles Li, 18 November 2022
The Blue Riband was an unofficial accolade given to the ocean liner which crossed the Atlantic Ocean in regular service with the highest recorded average speed.

At least two ocean liners were known to have flown an actual blue pennant, bearing the ship's name in white letters, on the main masthead, upon the conclusion of a Blue Riband-winning voyage. SS Rex, owned by Italia di Navigazione won the westbound Blue Riband in 1933.
Miles Li, 18 November 2022
---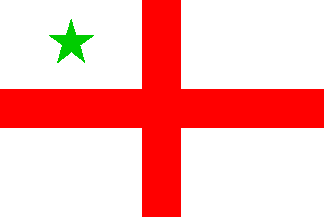 image by Ivan Sache, 25 March 2001
The houseflag of the Italian shipping company 'Italian Transporti Maritimi' is a white field with a St. George's cross and a green star in canton. I suspect the company is (or was originally) based in Genoa because of the St. George's cross.
Source: Znamierowski [zna00], p. 245.
Ivan Sache, 25 March 2001
Full name is Compagnia Italiana Transporti Marittima S.A. and it was based Genoa. Known as CITMAR it appears to have ceased trading in the early 1970s.
Neale Rosanoski, 11 April 2003
---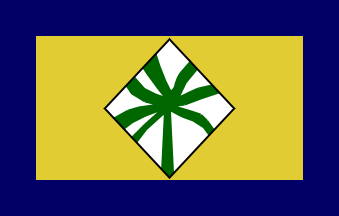 image by Eugene Ipavec, 27 January 2008
The top right house flag of the 1940 Spanish source is the one representing the Italian company Italo-Somala, based at Genoa: it is yellow with a wide dark blue border (most instances of blue are rendered very dark in this chart) and bears a white diamond in the centre, the upper and lower edges of which touch the border; on the diamond is a green palm tree.
The following text from countrystudies.us describes pre- and post-WWII economic conditions in Italian Somaliland, as it was once called, for instance the plantation system introduced from 1920 on by the 'Società Agricola Italo-Somala' (SAIS) i.e. Italo-Somali Agricultural Company: Bananas, cotton, and sugarcane were grown but not all were successful.
The list at digilander.libero.it mentions a bibliography by Ernesto Milanese giving the dates 1921-1939 for the firm.
I have found no clear link with 'Societŕ Anonima di Navigazione Italo-Somala' (Genoa) which may have been the shipping department of above firm or may have simply borne the same name. Following text charts the career of the Duke of the Abruzzi, a royal prince who was – among other things – a famous mountain climber in his day and the driving force behind SAIS: www.vqronline.org.
Jan Mertens, 22 January 2008
---