This page is part of © FOTW Flags Of The World website
Italy - Houseflags of Italian Maritime Companies (D-F)
Last modified: 2021-06-28 by rob raeside
Keywords: italy | houseflag | house flag |
Links: FOTW homepage | search | disclaimer and copyright | write us | mirrors

---
---
See also:
---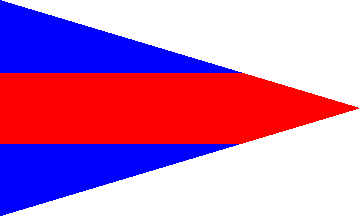 image by Ivan Sache, 2 November 2003
D'Alesio Group (including D'Alesio and Dalmare) is based in Livorno. The houseflag of D'Alesio is a triangular flag horizontally divided blue-red-blue.
Source: <www.omniainformatica.it>, located by Jan Mertens.
Ivan Sache, 2 November 2003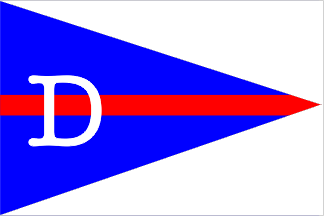 image by Jarig Bakker, 10 December 2005
D'Alesio Oil Services S.p.A., Livorno - blue burgee; in center red horizontal stripe; white "D".
Source: Brown's Flags and Funnels Shipping Companies of the World, compiled by J.L. Loughran, Glasgow, 1995.
Jarig Bakker, 10 December 2005
---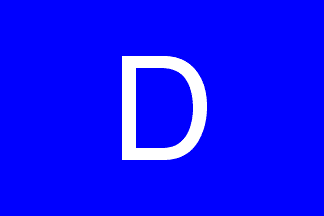 image by Ivan Sache, 11 April 2008
Lloyd's Book of House Flags and Funnels (1912) shows the house flag of "Società Anonima Austriaca di NaV. a Vap. "Dalmatia"" (#266, p. 49), a company based in Trieste (then in Austria-Hungary), as blue with a white "D" in the middle.
"Società Anonima di Navigazione a Vapore Dalmatia" was founded in 1908, with its seat in Trieste and port of call in Zara (today Zadar), and Hungarian, Italian and German as the languages of use. The emblem of the company, as shown on a webpage by Aldo Cherini, dedicated to the coastal navigation in Venezia Giulia and Dalmatia, 1819-1875, shows a much more ornamented "D" than on the Lloyd's image.
Ivan Sache, 11 April 2008
---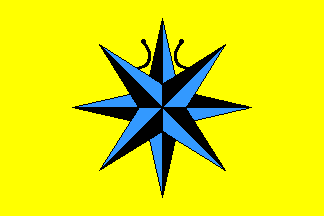 image by Jorge Candeias, 2 February 1999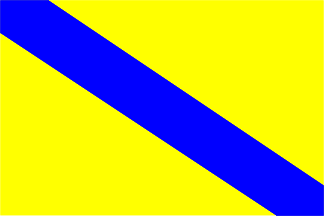 image by Jarig Bakker, 5 January 2006
A black and light blue compass-card ornamented in the top with what looks like a couple of joysticks (?) on a yellow field.
Jorge Candeias, 2 February 1999
D'Amico Società di Navigazione S.p.A. formed 1952 by 2 of the brothers from Fratelli d'Amico. This flag is shown as a logo on the company website and I have recorded it from a paper ad in 1977. It, or a simpler variation, is also shown as the emblem on the funnels but according to Brown (1958, 1982 and 1995) the flag is yellow with a narrow blue bend.
Neale Rosanoski, 11 April 2003
D'Amico Soc. di Navigazione S.p.A., Palermo - yellow flag, blue hoistdiagonal stripe.
Source: Brown's Flags and Funnels Shipping Companies of the World, compiled by J.L. Loughran, Glasgow, 1995.
Jarig Bakker, 5 January 2006
---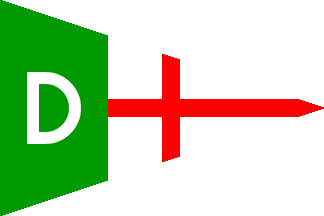 image by Miles Li, 18 June 2016
Source: Colin Stewart, Flags, Funnels and Hull Colours [ste63]
Miles Li, 18 June 2016
---
image located by Jan Mertens, 6 April 2010
Delta Tour Navigazione Turistica (i.e. Delta Tour Tourist Shipping) is an Italian inland shipping company established at Padua. Website, English version (partially): http://www.deltatour.it/index_eng.html

We learn that this firm has been active in Veneto for more than twenty years now: besides the Venetian Lagoon and its many islands this includes the Po Delta, Padua, and Mantua. Mergers with 'Navi Andes' and 'Silver Venice' have made Delta Tour, it is said, "the first Italian tourist shipping company for river navigation".

Various boats (see 'Our Fleet', upper menu) the capacity of which ranges between 25 and 550 passengers are operated; special cases are an electric boat seating 70 and a former Dutch coal barge seating 25. As usual, various outings or charters as well as many theme cruises are proposed, making the most of this beautiful corner of Italy.

Shown as a drawing on the site, Delta Tour's house flag is a dark blue pennant bearing an upright white anchor accompanied by yellow serif initials "D" (left) and "T" (right). If there are any photos showing this pennant in the cloth, I sadly missed them.
Jan Mertens, 6 April 2010
---
image by Eugene Ipavec, 31 March 2008
Ditta Luigi Pittaluga Vapori of Genoa. Stewart's Flags & Funnels of 1963 shows a red bend sinister charged with three white stars on a blue flag.
David Prothero, 27 November 2006
At the 1940 Spanish source, there is house flag for 'Luigi Pittaluga' (Genoa, Italy) as the fourth one of the fourth complete row: blue field (lighter than some others on the same page) with a red descending diagonal bearing three white five-pointed stars placed in the direction of the diagonal. (The diagonal reaches from corner to corner.) Above, we mention a picture showing a similar flag with an ascending diagonal (similar funnel however).
We are also reminded of the house flag of Photogen Transport Co. Ltd (Fiume, now Rijeka), an Austro-Hungarian company which existed 1896-1909, the flag of which may have influenced that of Pittaluga which in its turn exists, but does not yet fly a house flag, in 1912. Lastly, our Unidentified Flags or Ensigns (2006) under "Three black stars" recounting the possible Photogen/Pittaluga connection.
We know that the firm existed 1912-1963. In 1912 the company already operated the ill-fated 'Tripolitania' but an earlier ship was the former British India Steam vessel 'Jumna' sold to them in 1907 to be scrapped as repoerted at <www.agenziabozzo.it> and <www.liverpoolmuseums.org.uk>.
Some tankers were acquired during the nineteen twenties (heritage of Photogen business?) as reported at <www.aukevisser.nl>.
At the other end of the time scale, the Red Duster site (Prince Line chapter) mentions the 'Aquitania' operated 1953-1965 and the 'Transilvania' sold in 1965 as well.
The page at </www.fondazioneansaldo.it>, concerning the company archives (in Italian) mentions the growth of Pittaluga in the nineteen thirties, the severe damages caused by WWII, the reduction of activities and the winding up in the second half of the nineteen sixties:
Jan Mertens, 30 March 2008
See also: Photogen Transport Co. Ltd - Rijeka (Croatia)
---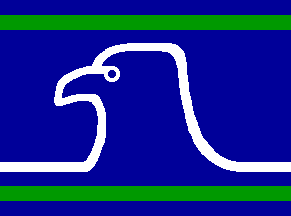 image by Jorge Candeias
The logo is a drawing like this flag.
Jorge Candeias, 30 Jan 1998
According to InfoMare the only company to fit the flag is Eagle Containers co. of La-Spezia , Italy..
Dov Gutterman , 15 January 1999
---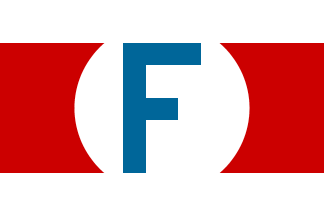 image by Eugene Ipavec, 14 June 2009
Elbana di Navigazione (roughly "Elba shipping") is an Italian tanker shipping company maintaining a modest website.
As explained on this page, the firm was founded by Alessandro Freschi. Mr Freschi earlier ("around 1945") founded the shipping agency named after him, using the same house flag: `Freschi Alessandro & C.' (Piombino).
At first general bulk vessels – mainly carrying steel – were operated but economic circumstances caused a change of policy: since 1978 there has been a shift towards chemical tankers.
Currently the fleet consists of six ships, five owned an one time-chartered (details provided by website).
Shown as a tiny drawing, the house flag is red with narrow horizontal edges; in the centre is made room for a white disk (slightly encroaching upon the white stripes) bearing a large blue initial 'F' (no serifs visible) for "Freschi".
A larger item with black holding lines may be seen here.
Also seen, non-waving, third on this page.
Jan Mertens, , 14 and 18 June 2009
---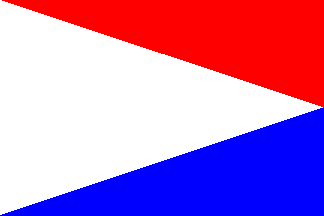 image by Ivan Sache, 18 October 2003
Houseflag of EneRmaR Trasporti Isole Sarde (Genoa, Italy) is based on <www.enermar.it>.
Dov Gutterman, 18 October 2003
---
Following document 'Uomini e navi. La flotta petrolifera Eni in ottanta anni di storia' (i.e. Men and Ships. The Eni tanker fleet, eighty years of history) by Francesco Di Nitto, 2008, recounts the shipping history of the Italian oil company ENI .
AGIP Flag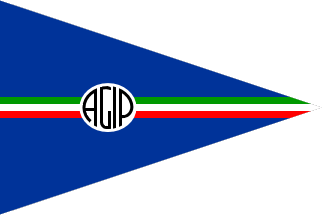 image by Eugene Ipavec
Pp. 12-14 describe the various funnels of precursor AGIP and ENI whereas p. 15 presents a series of house flags the first of which belongs to AGIP. This item, according to Di Nitto, was used 1926-1953/57: blue pennant, its colour recalling Savoy, bearing a narrow horizontal stripe in the national colours (green uppermost) and over all the AGIP logo in black and white.
Said logo consists of the stylized company initials "AGIP" in an oval.
AGIP, an Italian petroleum dealer, was founded in 1926 (Azienda Generale Italiana Petroli i.e. General Italian Petroleum Co.) and taken over by ENI in 1953. The era of the famous six-legged dog was about to begin.
ENI - First Pennant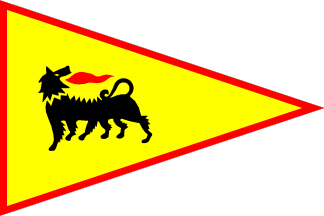 image by Eugene Ipavec
At p. 15 - Yellow pennant, narrowly bordered in red, bearing the well-known ENI brand: a black six-legged dog oriented towards the hoist but looking over its shoulder and belching a red flame
Company page (in English) dedicated to this brand here.
The outcome of a nation-wide competition, selected in September 1952, was the animal designed by Luigi Broggini (not by Giuseppe Guzzi who however had a hand in finishing the drawing).
The creature's head was turned to make it appear less aggressive.
Why this odd animal, never commented upon by the artist?
"The interpretation given by the ENI press office in the Fifties, just after the logo was created, sustained that the Dog represented a car: four of the six legs represent the wheels, while the other two are the driver's legs, almost as if to assert that the car is the fastest possible means of transport thanks to the profound symbiosis between machine and man. (...)
There are also interpretations based on local legends: In Lodi, where AGIP discovered the first major natural gas field in Western Europe in 1944 (Caviaga), many people were convinced that the dog was chosen as AGIP's symbol because it represented a monster reputed by locals to have lived in a prehistoric lake in the Po Valley called Lake Gerundo. This monster was said to spit flame; a symbol of the presence of the natural gas..."
In fact nobody really seems to know, only the public immediately made the hoped-for link with oil and energy.
In the course of the years there would be some tinkering but no fundamental change.
ENI (nowadays they write "Eni") company website (English version; url followed by quote) "Eni is an integrated energy company. Active in more than 70 countries, with a staff of 76000 employees, in the oil and gas, electricity generation and sale, petrochemicals, oilfield services construction and engineering industries."
Founded in 1953 (so the dog preceded the firm) as "Ente Nazionale Idrocarburi" i.e. National Hydrocarbons.
ENI - Second Pennant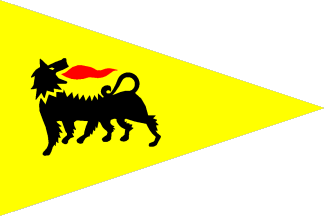 image by Eugene Ipavec
At p. 15 - Yellow pennant bearing the black six-legged dog and red flame. Sole difference with previous version: the red border has been dropped.
ENI - Third Pennant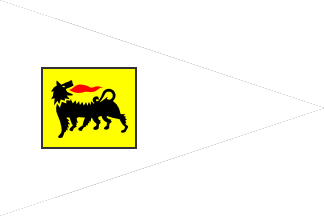 image by Eugene Ipavec
At p. 15 - White pennant with a yellow square bearing the black six-legged dog and red flame. The brand is not so prominent any more and there is less colour contrast. Used from the 1990's onwards.
Jan Mertens, 30 April 2009
---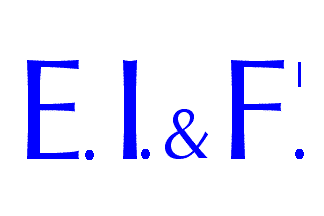 image by Ivan Sache, 16 March 2008
Lloyd's Book of House Flags and Funnels (1912) shows the house flag of "Ernesto Ilardi & Figli" (#33, p. 38), a company based in Catania (Sicily), as white with the blue letters "E.I.&F'".
Ivan Sache, 16 March 2008
---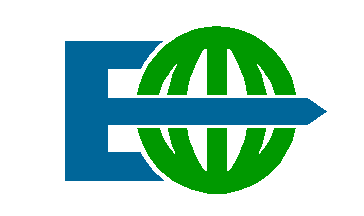 image by Jorge Candeias, 4 March 1999
White with a logo centered, consisting of a greyish blue "E" to the left with the central bar crossing a green globe-like device and ending in an arrow-point.
Jorge Candeias, 4 March 1999
Full name Euroceanica Investments B.V. and from their phone number the company is Swiss being based Geneva They appear to be more of an investment company rather than shipping being linked with Rimorchiatori Riuniti S.p.A.
Neale Rosanoski, 11 April 2003
---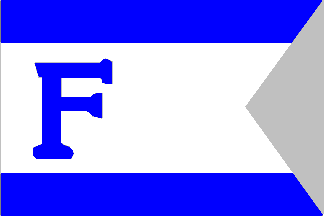 image by Jarig Bakker, 14 July 2004
"Fassio", Soc. di Nav., S.p.A., Genoa - from Loughran (1979) - BWB proportoned (c.) 1:4:1, on white at the hoist blue capital F.
See also: Villain & Fassio.
Jarig Bakker, 14 July 2004
---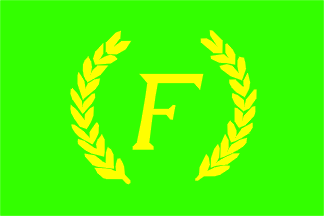 image by Jarig Bakker, 1 September 2005
Fermar S.P.A. Ferchim S.R.L., Ravenna - green flag, "F" between two corn-ears, all yellow.
Source: Brown's Flags and Funnels Shipping Companies of the World, compiled by J.L. Loughran, Glasgow, 1995.
Jarig Bakker, 1 September 2005
---
image by Jarig Bakker, 1 September 2005
Ferrovie dello Stato (Italian State Railways), Rome - blue burgee, white "F.S."
Source: Brown's Flags and Funnels Shipping Companies of the World, compiled by J.L. Loughran, Glasgow, 1995.
Jarig Bakker, 1 September 2005
---
image by Jorge Candeias, 31 March 1999
A triangular flag with the tip cutted out (is there a specific name for this shape?). White with a dark red cross and the black initials "RR" in the first quarter.
Jorge Candeias, 31 March 1999
The "RR" on the flag presumably comes from the Rimorchiatori Riuniti S.p.A. connection of which it is a subsidiary, operating the offshore vessels and deep sea tugs of the group, the full name being Finarge-Armamento Genovese S.r.l. Genovese S.p.A. I have doubts about whether the pennant has a square point. The company website image does look like it but as it is small and also depicts a waving flying flag, a false impression may have resulted.
Neale Rosanoski, 11 April 2003
---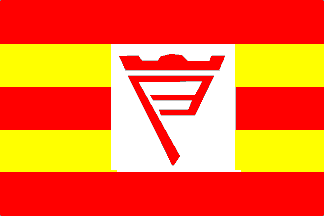 image by Jarig Bakker, 11 July 2004
From <www.finbeta.com>: "Finbeta S.p.a. is an Italian shipping company based in Savona and controlled by the Bertani family which operates a fleet of chemical parcel tankers".
The flag at this site is an horizontal red-yellow-red-yellow-red flag charged with red logo on white sqare.
Dov Gutterman, 4 November 2003
---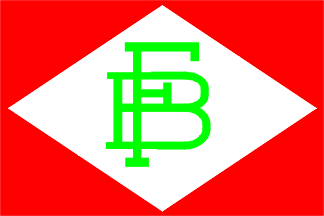 image by Jarig Bakker, 18 November 2005
Fratelli Baretta S.N.C., Brindisi - red flag, white diamond, green intertwined "FB".
Source: Brown's Flags and Funnels Shipping Companies of the World, compiled by J.L. Loughran, Glasgow, 1995.
Jarig Bakker, 18 November 2005
---

image by Ivan Sache, 2 April 2008
Lloyd's Book of House Flags and Funnels (1912) shows the house flag of "D. & E. Fratelli Bozzo" (#153, p. 44), a company based in Genoa, as white with a red cross and a blue border.
The white flag with the red cross is the traditional flag of Genoa.
Ivan Sache, 2 April 2008
---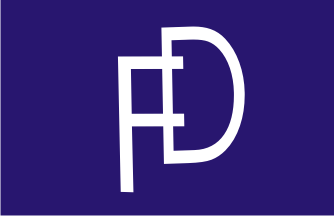 image by Audun Haglo, 14 September 2006
The Fratelli d'Amato flag below is incorrect. Here is the correct flag.
Audun Haglo, 14 September 2006
Fratelli d'Amato S.r.l., Naples - blue flag, white italic "FD".
Source: Brown's Flags and Funnels Shipping Companies of the World, compiled by J.L. Loughran, Glasgow, 1995.
Jarig Bakker, 10 December 2005
Fratelli d'Amato. The flag submitted by Audio Haglo is possibly correct but differs from the flag logo shown on the company website logo at http://www.gratellidamato.com and the letters on their funnels, where the arm of the "F" is shorter than the top and the "D" is squared.

The image for d'Amato in Brown 1995 differs from that shown in that the letters are shown slanted and have a different font but both these are presumably incorrect going by the website logo and funnels. I am not sure about the shade of blue though as whilst the website logo shows a dark blue, a mid blue is used on the ship funnels and normally I would expect the two to be the same. Website logo images are not always reliable in their colours.
Neale Rosanoski, 13 June 2011
---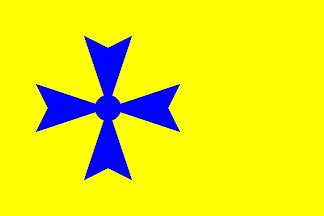 image by Miles Li, 19 June 2016
From Scott, R.M.: The Caltex book of Flags and Funnels, Capetown, Caltex Africa Ltd. (1959):
#190 Fratelli d'Amico, Rome - yellow flag charge with kind of blue Maltese cross.
Jarig Bakker, 9 January 2005
It is: Or, a Maltese cross and a roundel at the center point, azure.
Lewis A. Nowitz, 9 January 2005
Going by the company website (www.damicofratelli.it) the core of the cross is white, not blue and most sources so show.
Neale Rosanoski, 20 February 2005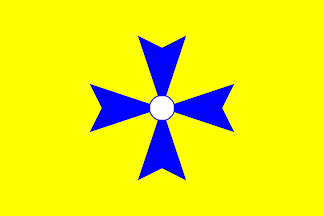 image by Miles Li, 19 June 2016
Fratelli d'Amico Armatori S.p.A., Napoli - yellow flag, blue Maltese cross, with in center white disk.
Source: Brown's Flags and Funnels Shipping Companies of the World, compiled by J.L. Loughran, Glasgow, 1995.
Jarig Bakker, 20 February 2006
See also: D'Amico
---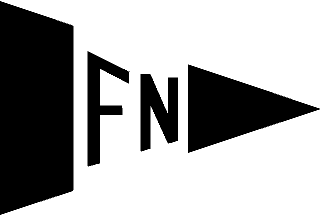 image by Jarig Bakker, 1 September 2005
Fratelli Neri S.a.S., Livorno - burgee of three vertical stripes black-white-black; on white black "FN".
Source: Brown's Flags and Funnels Shipping Companies of the World, compiled by J.L. Loughran, Glasgow, 1995.
Jarig Bakker, 1 September 2005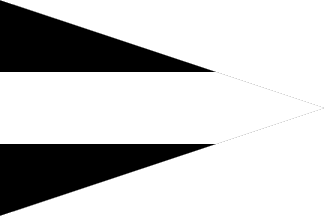 image by Eugene Ipavec, 7 January 2011
Tugowners Fratelli Neri of Livorno aka Leghorn, Italy, are represented here by a pennant which is surely canting as "nero" means "black" in Italian. Although the current Neri Group also uses a black-and-white pennant as a house flag, the stripes run horizontally not vertically and the central white stripe is left bare.
Website, English version of this firm employing about 300 people and operating 30 vessels or more: http://www.nerigroup.net/index.php?lang=en&s=6:
"Neri provides marine solutions in the field of harbour towage services and related maritime services, towage services to offshore and onshore terminals, salvage and wreck removal, environmental protection, chartering, barge rental and transport, coastal and river towage, heavy lifting and marine support to a variety of civil and offshore projects, storage and handling facilities of chemical products."
Founded in 1905, family-owned Neri started out providing services to coal ships such as unloading and trans-shipment, then expanded into salvage and towing (see 'History' section under 'Company', top menu, for some examples of extremely tough conditions back then). As a side activity, Neri built the Roman fleet used in an older 'Ben Hur' film (1926). Extensive damages during WWII forced the family to re-start from scratch. A number of spectacular jobs are described.

'The Fleet' (upper menu) presents the various tugs and barges, the supply vessel, and the floating crane. See also 'Video' for a number of interesting filmlets!
http://www.schottel.de/global_pages/picpop.php?pic=B1154082798.jpg
Jan Mertens, 5 January 2011
---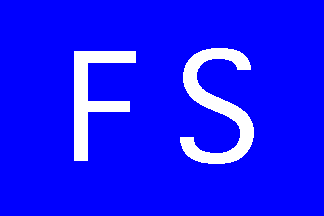 image by Ivan Sache, 14 January 2004/p>
Following the link found by Joe Mc Millan - The Mystic Seaport Foundation <www.mysticseaport.org>, we can reach the 1911 Lloyd's flagbook, whose full title is (after the scan of the cover): 'Lloyd's book of house flags and funnels of the principal steamship lines of the world and the house flags of various lines of sailing vessels', published at Lloyd's Royal Exchange. London. E.C.
The house flags of sailing vessels are shown on pages 133 to 136. On p. 133 we have:
#2031. Fratelli A.A.G. (or O?) Semides, Genoa. The flag is blue with the letters F S (white).
Ivan Sache, 14 January 2004
Title is Fratelli A. & G. Semidei, "Fratelli" translating as "Brothers".
Neale Rosanoski, 24 March 2004
---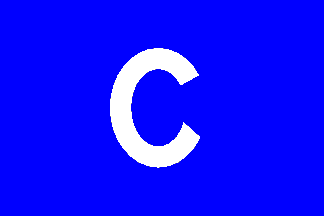 image by Jarig Bakker, 24 January 2005
F.S. Ciampa & Figli, Piano di Sorrento - blue flag, white "C".
Source: Brown's Flags and Funnels of British and Foreign Steamship Companies, compiled by F.J.N. Wedge, Glasgow, 1926 [wed26].
Jarig Bakker, 24 January 2005