This page is part of © FOTW Flags Of The World website
Flags of the Inca Empire (and of western South America)
Tawantin Suyu
Last modified: 2017-11-17 by antónio martins
Keywords: inca | quechua | kechua | qhishwa | aymara | aimara | tawanti suyu | pusinsuyu | rainbow flag | sullpu | taru | tawantinsuyupa aucaruna | snake | snakes: 2 | turtle | ruminahui | atahualpa | ahimsa |
Links: FOTW homepage | search | disclaimer and copyright | write us | mirrors

---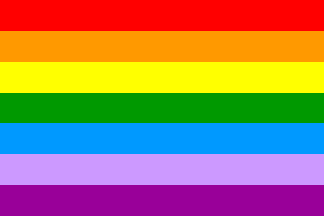 image by António Martins, 13 Feb 2005
---
See also:
External links:
---
Presentation
The Inca Empire do not exist as people anymore, but the flag is considered by the Peruvians as Inca flag. Quechua was the language of the Inca and is still the most spoken Indian language in Peru.
Jan Patrick Fischer, 10 Nov 2003
"Pusinsuyo" (in Aymara) = "Tawantin Suyu" (in Quechua). It means "Four parts" and was the autonym of the Inca Empire. Spelling variants range from "-nsuyo" to "-suyu".
António Martins, 11 Jul 2004
Although sharing roughly the same territory — the central south american highland —, Aymara however are based mainly in Bolivia and Peru and extending shouthwards to Chile and Argentina, while Quechua has a somewhat northern nucleous and spreads to the north, to Ecuador and Colombia.
António Martins, 04 Jun 2000
The Indigenous banner is called huipala with the seven colors of the rainbow (symbolizing the unity of indigenous peoples before the conquest). There are some basic versions of the whipala. The whipala with stripes is called the Tawantinsuyo flag, or the Inca flag, the inca nation flag, the Quechua nation flag. The original flag is the striped whipala, which was the coat of arms of the Inca. The Rainbow flag (Wipahla) belongs to the Native Andean people of Tahuantinsuyu for more than 500 years. Each color and its place in the flag as the rainbow, have an own indigenous significance. (In Ecuador they have also some variants.)
Laila Holtet (of tawantinsuyu.com), 09 Jul 2001
I can report the use as both [rainbow] flags [striped and checkered] and decorations of two types of Inca or Tawantinsuyi flags. In Peru it is mainly the retangular shaped, horizontally striped "rainbow" variety (no white stripe), while in Bolivia it is the square "chequered rainbow" variety (Qullasuyu version). Both types of these flags are also shown of flown along side the two nations' national flags.
Ralph Bartlett, 14 and 18 and 23 Aug 2005
According to Peru.21, 18 January 2006, the celebration of the 471st anniversary of the Spanish foundation of Lima by Francisco Pizarro shall include an allegoric parade, flag hoisting, official sessions and a mass celebrated in the Basilical Cathedral.Flags will be hoisted by the local municipal authorities on the Parade Ground (Plaza de Armas). The Mayor of Lima, Luis Castañeda Lossio, will hoist the national flag; Regidor Walter Menchola will hoist lo propio with the city pennant and Regidora Marcia Montero will hoist the same with the Tahuantinsuyo banner.
Ivan Sache, 20 Jan 2006
The 1990 Flags of Non-Independent Peoples chart [jcl90], shows as flag No. 82 («Quechua Indians or Incas») the rainbow flag of Peru
Ralph Bartlett, 18 Aug 2005
---
Two blue stripes v.s white stripe
Does this flag contain a white stripe, or a second, lighter, blue stripe? There are reports for both… Since both versions exist, are they just variants — or two separate flags? Aparently they are variants, as no source mentions them both — but are they "opponent" variants (i.e., defended respectively by rival groups as the real Inca flag — cp. Argentina and Greece), or just irrelevant as such?
António Martins, 12 Oct 2004
---
Flag with no white stripes
The Peru Inca "rainbow" flag is horizontal stripes, from top to bottom: red, orange, yellow, green, light blue, dark blue, and purple. There is no white stripe.
Ralph Bartlett, 23 Aug 2005
In this online 2005 photo (context), can be seen seven-stripped Twantinsuyu flags (both bottom-blue and bottom-purple designs).
António Martins, 24 Nov 2006
(2 purple stripes)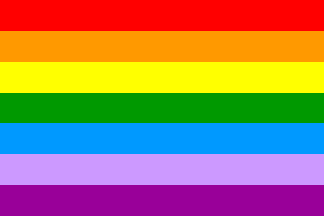 image by António Martins, 13 Feb 2005
The Inca flag, as shown on this photo and in this diagram, has no white stripe, but two purple stripes of different shades.
António Martins, 12 Nov 2005
(2 blue stripes)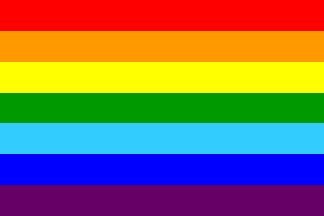 image by António Martins, 17 Sep 2003
Most used rainbow flag in Peru is the 7-stripes flag with red - orange - yellow - green - light blue - dark blue - violet. I saw this flag in Cuzco at a museum for peoples art, at a wall painting in Cuzco about the peruvian history in the hand of a indian fighting against spanish soldier and on an official building in Lima. My Peruvian friend said, this flag is used by the indian population of Peru, mainly Quechua (main people of the Inca empire) and some Aymara at lake Titicaca (most of them are living in Bolivia).
Jan Patrick Fischer, 25 Oct 2003
Square version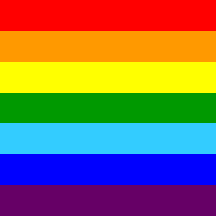 image by António Martins, 03 Jun 2008
In Kara Chukiwanka's article [qch9X] this flag is presented as «Kurm Wip'ala», or seven-colored flag, one of the three flags of the Wiñaymarka culture. It has seven horizontal stripes with two shades of blue (therefore no white) and violet stripe at the bottom, but in square shape. About this flag Kara Chukiwanka's article offers no solid information at all.
António Martins, 03 Jun 2008
Historical origin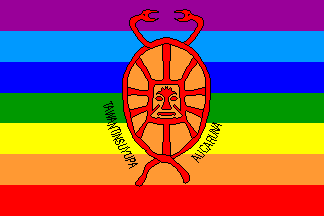 image by António Martins, 17 Sep 2003
The seven-stripe flag was created out of the flag, the indians used in their rebellion 1570-1571.
Jan Patrick Fischer, 15 Mar 2001
I saw a reproduction of this flag in the museum of Fortress Real Felipe in Callao. It was used by the leader of an Indian revolution in 18th century. It is violet - light blue - dark blue - light green - yellow - orange - dark red, with a symbol, two snakes and the writting "TAWANTINSUYUPA AUCARUNA".
Jan Patrick Fischer, 25 Oct 2003
Seven horizontal stripes of purple - light blue - medium blue - green - yellow - orange - red, with a large central emblem consisting of a turtle shell (?), orange lined red, it's ridges and grooves composing a human face in the center, encicled by two snakes; black lettering on each side (over the green, yellow and orange stripes), slanted (or curved?) reading in upper case "Tawantinsuyupa" (hoist side) and "Aucaruna" (fly side). No info about the reverse.
António Martins, 02 Sep 2001
Faded colors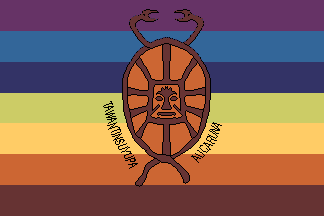 image by António Martins, 17 Sep 2003
The actual flag has darkened, faded colors. Could the be the origin of wrongly colored reports?
António Martins, 13 Aug 2004
Six-stripes variation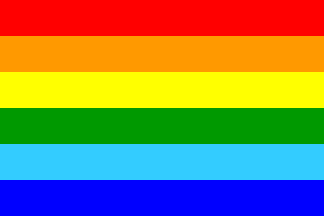 image by António Martins, 13 Aug 2004
On a postcard, showing the main square of Cuzco, I bought there, is a six-stripes: flag red - yellow - green - light blue - dark blue. The postcard seems to be older, maybe the former version?
Jan Patrick Fischer, 25 Oct 2003
At the top of the main page of the M.P.L.T. website, an animated image of a rainbow flag is shown (contrasting with the 7-stripe Inca used by this organization and presented elsewhere in the same website, incl. on photos!). This comes from a well-known source for Gay Pride rainbow flag clipart; this phenomenon may occur frequently, as the gay flag is worldwide available in many fomats, textile and electronic, and may be seen a suitable surrogate for the real Inca seven-stripped flag, in whichever variation.
António Martins, 13 Feb 2005
---
Flag with white stripe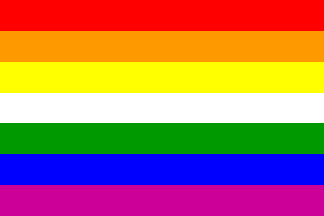 image by António Martins, 17 Sep 2003
The National Flag of Tawantinsuyu: seven horizontal stripes: red, orange, yellow, white, green, blue, and purple. The banner is called sullpu.
Jaume Ollé, 1997
The symbolism of the colors is red for earth, orange for society and culture, yellow for energy, white for time, green for economy, blue for space, and purple for policy.
Jaume Ollé, 06 Feb 2000
pair flag


image by Kjell Roll Elgsaas, 14 Dec 1997
According to the Andean culture, the national flag is flown as part of a pair. The pair of the national flag is square and quartered red and green in the top, and white and yellow in the bottom. Is called taru and represents the equality of the four territories.
Jaume Ollé, 1997
---
Paired flags
Are these are always used in pairs — carried by two persons (or on both arms of the same person), or hoisted on two poles side-by-side? Or two flags on the same pole? One above the other or at the same height? What is the meaning of one of the flags if the pair used isolated? Are both members of the pair of the same importance?
António Martins, 12 Feb 2000
---
Rainbow flag to be replaced?
We have heard that the Indigenous org. of Cuzco, Peru is thinking about finding another flag to symbolize our native people, because of the problem above of using the flag by the gays community and the International Co-operative Alliance [both using rainbow flags]. The gay community have not answered any email about this presented by the United Indigenous Tribal Representatives, nor from CONAIE, the indigenous leaders of Cuzco or anyone else.
Laila Holtet (of tawantinsuyu.com), 09 Jul 2001
---
Wiñaymarka culture
In Kara Chukiwanka's article [qch9X], three flags are presented thus: «la Cultura Wiñaymarka tuvo símbolos colectivos, enarbolados en todos los acontecimientos comunitarios »(, que son)« tres» (=«the Wiñaymarka culture had collective symbols, hoisted at all social events »(, which are)« three»):

Wiñaymarka culture is identified also as Pusisuyu and described to have existed under the current Titicaca lake… ("Pusi(n)suyu" is usually taken to mean in Aymara the same as "Tawantin Suyu" in Quechua — i.e., the Inca Empire.)
António Martins, 03 Jun 2008
---
Other Inca flags
Black Inca flags
There were also the black flags of Ruminahui (legendary leader of the autonomous movement) and Atahualpa.
Laila Holtet (of tawantinsuyu.com), 09 Jul 2001
Inca Ahimsa flag
In a gallery of photos taken on Sept. 2003 in Machu Picchu, Peru, at this Inca identity awareness website, a photo showing a yellow flag with a red, blue and white device, captioned «Oscar — Caravana Ahimsa».
António Martins, 05 Jul 2004
Ahimsa is supposedly a Hindu / Jain / Buddhist concept ("non-violence", in which vegetarianism is often included). Can't possibly see what a concept from Asian religions has to do with "Incas" in South America… But the drawing in the middle does remind me (sort of) of Buddhist mandala drawings.
João Madureira, 05 Jul 2004
Most about the religious information on the website is out of the traditional Indian (Inca) religion in Peru, which is still in use beside and inside the Christian religion there. This organization seems to provide traditional Indian medecine including the legal use of coca leafs.
Jan Patrick Fischer, 05 Jul 2004
---
Anything below this line was not added by the editor of this page.