This page is part of © FOTW Flags Of The World website
Unidentified Flags or Ensigns - Page 2 (2019)
flags submitted in 2019 - Page 2 of 3
Last modified: 2021-01-02 by pete loeser
Keywords: ufe | unidentified flags | 2019 |
Links: FOTW homepage | search | disclaimer and copyright | write us | mirrors

---
Please note our Policy for Submissions and Enquiries.
Below is a series of images of flags that have been provided to FOTW; some we have recognized, and some we have been unable to recognize. If you can help us identify any of these flags, please let us know! Contact the: UFE Editor.
Identification Key:
= Positive ID (Positive Identification)
= Tentative ID (Tentative Identification)
= Some Speculation
---
19-20. UFE: Syrian Democratic Army? Positive ID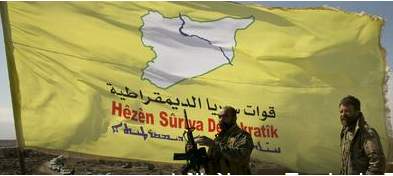 This flag has been identified and given a permanent location - see Syrian Democratic Forces.
---
19-21. Albanian Flag from Hoxha's Bunker? Some Speculation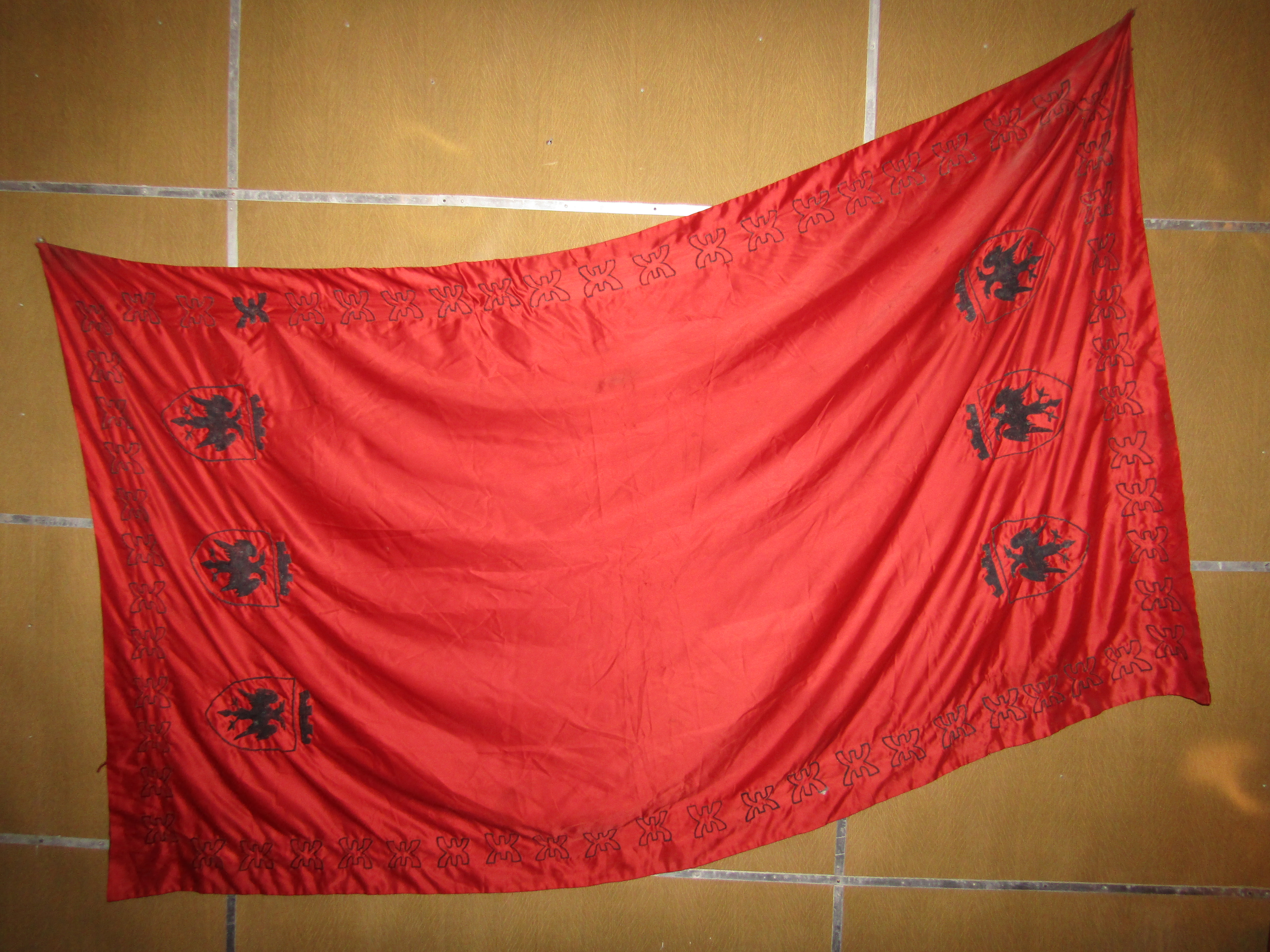 Image from Krystof Huk, 23 March 2019
This summer I had the opportunity to, among others, visit Albania. When we stopped in the Tirana bunker of Enver Hoxha, the Albanian dictator, his personal quarters had what appears to be a banner hanging on the wall. I have been unable to find any information on it on FOTW (could be missing something very obvious, of course) or on Google. It's a red banner with what appears to be a border of the Cyrillic letter Ж (according to Gianluca Lentini it is the equivalent of the Albanian "xh". All the letters are formed by their outlines except for one in the upper hoist half, which is "filled in" and fully black. On each side of this banner are three black shield outlines with a four-point mural crown, all containing the Albanian double eagle. In theory it could also simply be some drape or decorative fabric but the way it is displayed suggests a flag. Is anybody here familiar with this item?
Krystof Huk, 23 March 2019
While I cannot tell anything about the flag, I can provide a small correction about the Cyrillic letter Ж: its basic sound value, in all Slavic languages, is the equivalent of Albanian "zh" (Czech ž), although it may correspond to Albanian "xh" in some other languages. (source)
Albanian "xh" is the equivalent of several Cyrillic letters and digraphs, depending on the language, but Ж is very rarely used for that; most frequently, the digraph ДЖ is used. (source)
Tomislav Todorovic, 24 March 2019
No way way to fasten it, nothing to suggest it's more than a table cloth, as far as I'm concerned.
Peter Hans van den Muijzenberg, 26 March 2019
---
19-22. Unidentified - Likely Hamburg Related Positive ID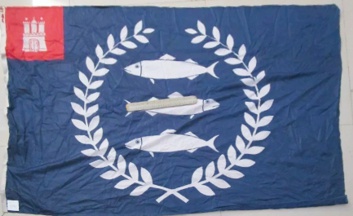 Image from Clay Moss, 24 March 2019
Any idea? Seen on eBay.
Clay Moss, 24 March 2019
The flag has the Hamburg castle in the canton, but does not seem to be in our Hamburg collection. The object on the central fish is (I think) a 30 cm ruler.
Rob Raeside, 25 March 2019
It's the flag of Ahrenkiel.
Klaus-Michael Schneider, 25 March 2019
---
19-23. UFE in Rabat, Malta Some Speculation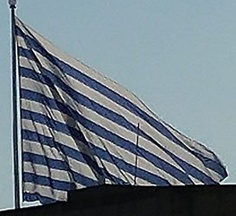 Trimmed image from Clayton Horner, 28 March 2019
I saw this flag in Rabat, Malta a few days ago, and I do not know what it is. Maybe someone out there can help. The stripes are blue and white. There are 18 of them.
Clayton Horner, 28 March 2019
We do not have this flag in our Maltese section on FOTW.
Rob Raeside, 28 March 2019
---
19-24. Unidentified Swallow-Tail Positive ID
Image from Peter Edwards, 22 April 2019
The image is flipped, but called a "Vintage British/Jewish Kiel Yacht Burgee". (Source)
Perhaps a Yacht club officer's distinguishing flag?
Peter Edwards, 22 April 2019
Identification is required. Doesn't show up on our Off-centered Crosses page.
Rob Raeside, 22 April 2019
It is the commodore's broad pennant of the Lagos Yacht Club (Nigeria).
Miles Li, 10 August 2019
---
19-25. Help in Identifying a Saltire Flag Some Speculation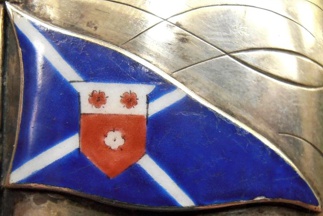 Image from Jon Potter, 18 May 2019
I'm wondering if you can help point me in the right direction of being able to identify the attached flag/pennant. It is on a set of binoculars that were presented to FW Watling in 1894 for being the Honorary Secretary of the WQRC. I'd always assumed given that its a pennant that it was a Rowing Club but haven't been able to locate any with these initials. The crest of the club also has Prea Ceteris beneath. The only FW Watling of this period I have been able to locate was in the Madras Army, India. Any suggestions would be gratefully received.
Jon Potter, 18 May 2019
I suspect the motto should be Prae Ceteris, meaning "Before others&quot.
Ian MacDonald, 24 May 2019
The arms in the centre of the saltire are those of the City of Southampton if that helps anyone get a handle on it. Be nice to see the reverse.
Brian Mills, 22 June 2019
The current burgee of the Royal Southampton Yacht Club has the same shaped shield but crowned and on a plain blue field , my original idea was that it dated from before 1877 when they were granted their royal charter but that wouldn't explain away the saltire and the WQRC inscription.
The history of the RSYC is that their roots lie in a West Quay Amateur Regatta Club in 1858 which renamed the Southampton Amateur Regatta Club in 1862 and then a group split off to form the Southampton Regatta Club in 1868 which eventually became the RSYC. But attached I've got a page from Kelly's Directory of Hampshire and the Isle of Wight in 1898 which mentions a West Quay Regatta Club, secretary Henry Wm Watling.
I can't find any description of what flag the WQRC flew, but being a Southampton yachting club it's likely they used the Southampton shield, uncrowned as they didn't have the other club's royal patronage.
Andy Dowland, 3 August 2019
---
19-26. Unknown flag in Bramley, England Positive ID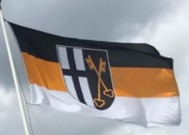 This was identified as the flag of Rhens, Germany - the twinned city of Bramley.
---
19-27. Unidentified flag found at Auction Some Speculation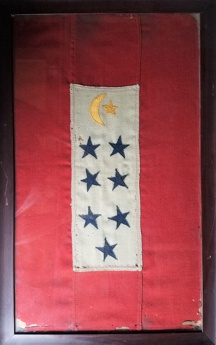 Image from Brian Condon, 28 May 2019
I found this flag at an auction. It measures 24 1/4 by 14 1/4 inches.
Brian Condon, 28 May 2019
Actually pretty easily identified, it is a National Service Flag displayed as a banner. Probably WWI, given the variant symbol. The blue stars represent men (or women in WWI) in the service and the gold star represents someone who died on active duty. The crescent is unusual, but I have seen many unusual symbols on these types of flags, particularly of WWI vintage.
My first guess (and this is only a guess) is the someone who died was either in the service of a foreign nation whose symbol is the crescent (seems unlikely) or that the person died in a foreign country whose symbol is the crescent (Gallipoli comes immediately to mind).
Dave Martucci, 2 June 2019
---
19-28. Unknown Shipping Company flag on napkin ring Positive ID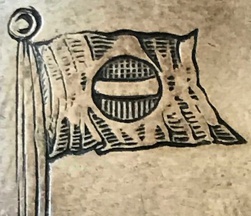 Image from Stephen Hampson, 2 June 2019
I have this ships service napkin ring with the attached house flag. I've been through Lloyd's 1912 House Flags and Funnels as well as several editions of Browns without success. The napkin ring has the number 23 on the back which would indicate a ships service items. Do you have any idea of which company this might be, or where I could try?
Stephen Hampson, 2 June 2019
If the hatching is intended to represent the Pietra Santa method, the flag would be blue, and the disk would be black on top, red below, with a white bar.
Rob Raeside, 2 June 2019
This was the flag of Jalui Company.
Miles Li, 7 June 2019
---
19-29. UFE Yachting Pennant Some Speculation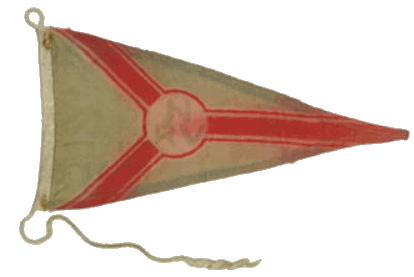 Image from Dave Martucci, 2 June 2019
This pennant-shaped flag measures approximately 7" x 14" overall (18 x 36 cm) and is printed wool bunting. The field is somewhat faded but appears to be green, with a red pall whose "upright" arms lead to the hoist and whose "staff" leads to the fly. The arms of the pall are red, fimbriated white, red, and white. In the center of the pall is a white circle fimbriated red and white except where it meets the pall, on which in green letters is inscribed "N" above &quotRV"
The pennant is finished with a canvas header into which a hemp rope with a loop at top is inserted. The header and rope construction appear to be of European manufacture.
I do not recognize this design, although it appears to have German symbolic attributes. It was purchased from a flea market in Miami, Florida a few weeks ago.
I asked two people who are expert in these types of flags about it.

I first asked Peter Edwards. He says:

"I fear it rings no bells. The letters NRV were an obvious lead to the German yacht cub Norddeutscher Regatta-Verein (which I had spent sometime on recently and thought you had found yet another one of their flags), but no. May I suggest that you contact Klaus-Michael - he has been very helpful to me and has a great knowledge of German yacht clubs."

I then asked Klaus-Michael Schneider. He says:
The abbreviation "RV" usually means "Ruderverein" (rowing club/boat club) or Regattaverein (is organising boat races) or a Ruderverband (rowing association).
there is a NRV (Norddeutscher Regattaverein), but has German Imperial Colours (black-white-red).
Pennants in Germany are usually used by Canoeing Clubs (KC) or Canoeing departments belonging to a rowing club (RC).
it is definitely no German rowing club or regatta club (for rowers) backtracked until the 1970s.
it is definitely not among the few Austrian rowing clubs I know.
it is definitely not the Nordschleswigscher Ruderverband or one of its members (German rowing clubs in Danish Jylland).
it is definitely not among the German traditional rowing clubs in eastern Germany (today restored) or nowadays western Poland (absorbed by West German hosting rowing clubs).
in the end it might be Swiss (have no idea about Swiss clubs) or part of a combined Wassersportclub (yachting, rowing, canoeing) originally based on a rowing club.
or it might be one of those entities above too old, so that I have no information.
Does anyone recognize it?
Dave Martucci, 2 June 2019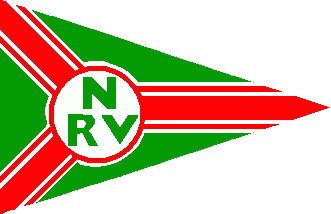 Image from Klaus-Michael Schneider, 5 June 2019
I promised Dave to paint this one and encouraged him to forward his posting to the UFE section, as I could only give a list, what it isn't. I believe however it is more likely a rowing club rather than a regatta club.
Klaus-Michael Schneider, 5 June 2019
---
19-30. Possible Early California Flag Symbol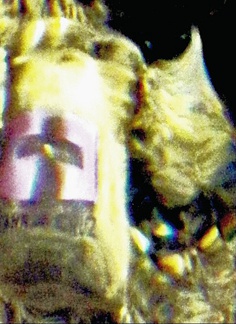 Image from Michelle Vaughn, 3 June 2019
I have a image of something I had found in Saratoga hills of California in a Creek a few years back. I want to see if it resembles anything to you and maybe you could help me come closer to identifying it. Unfortunately it is a little distorted because the object was under water and I couldn't get to it. Then a creek fly fisherman stomped my ground and later a huge mud slide covered the area so, I completely lost it. Anyway, it reminds me of a flag symbol or marker of some sort. I have found other items in this general area and it's a known passage to early explorers.
Michelle Vaughn, 3 June 2019
---
19-31. Unidentified Flag from The Netherlands Positive ID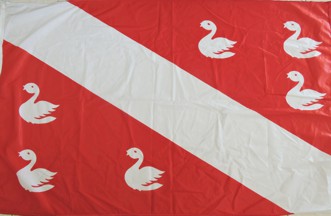 Image from Ralph D. Birkhoff, 11 June 2019
My late father bequeathed me his flag collection a few years ago and the attached flag was in it. It was probably a gift from a family member in Holland years ago and even though we have the supplier tag on it which is DVC even they don't know what it is. I have eliminated Dutch city or state flags, so we believe it may be from a Dutch sailing or sports club?
Ralph D. Birkhoff 11 June 2019
The closest I could come is Ens, but there the birds are merlettes, while the ones on your flag look much more like ducks. Ducks are not uncommon on Dutch municipal flags, but I don't know of any on boating club flags. Most often boating clubs flags appear as burgees, generally triangular in shape, so I would not expect this to be a sailing club.
Rob Raeside, 11 June 2019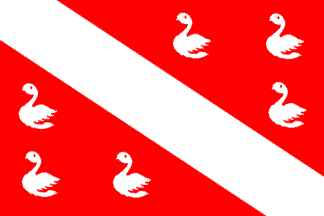 #31a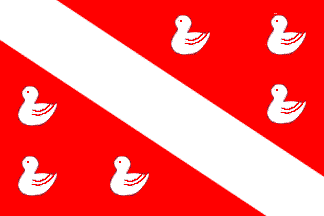 #31b
Images from Ivan Sache, 11 June 2019
I reported this flag to the FOTW mailing list on 14 December 2014 saying: A &quot:renovated" and "improved" flag of the former municipality of Bergen has been ordered by the Bergen Historical Association (Historisch Vereniging Bergen, HVB). The flag is red with a white bend cantonned by six white merlettes. This is a banner of the arms of Bergen, described some years ago by Frits David Zeller in Kroenik van de HVB. The arms most probably belonged to the lords of Haarlem, who were also lords of Bergen. The oldest representation of these arms dates back to the late 16th century. (Dichtbij, 3 December 2014) This flag is shown on the Shipmate flag chart as adopted in 2008. The first flag (#31a) is from the Shipmate flag chart, credited to "GPV" and the second flag (#31b) is the "improved" version which has the merlettes represented in a more compact way.
This was commented the same day by Peter Hans van den Muijzenberg. The source is actually the Bergense Kroniek, which is the magazine of the Bergen Historical Association.

Bergense Kroniek
Historische Vereniging Bergen NH
17e jaargang - nr 2 - november 2010

Frits David Zeiler
Zes merletten en een schuinbalk (Six merlettes and a bend)
Traditie, waarheid en verdichtsel met betrekking tot het dorpswapen van Bergen (Tradition, truth, and tale regarding the village arms of Bergen.)
page 2-8 (Source)

The only relevant part is the blazon, from the Decree of 1922 that formalized the Bergen arms: In keel een schuinbalk van zilver, vergezeld van zes zoomsgewijs geplaatste merletten van hetzelfde. (Gules, a bend argent, accompanied of six merlettes in orle of the same.)
Merlette is, one would say, the French word for the charge that in English would be called "Martlet". However, the charges have come to differ in their depiction, with the martlet more like the original French merlette, a female Blackbird, just with legs missing, whereas the heraldic merlette is now a small duck, though often depicted more swan-like, and is missing both beak and legs.
Viewing the flag change from this background, the swan-like merlettes from the old version have now been changed closer to a martlet: A more compact duck, but also missing the beak. Basically, a kind of ugly ducklings.
Ivan Sache, 11 June 2019
---
19-32. UFE in Oxford Positive ID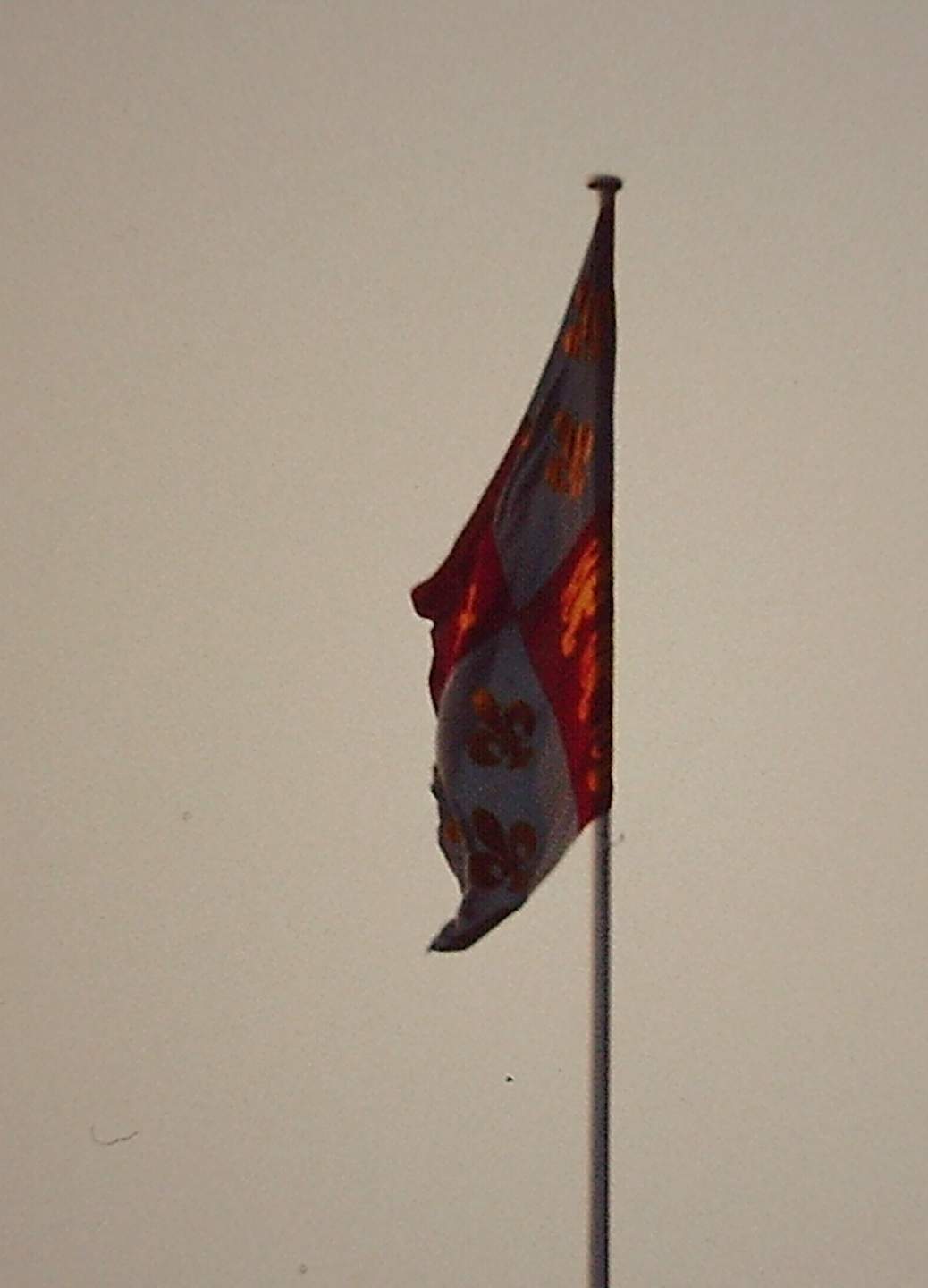 Image from Klaus-Michael Schneider, 10 June 2019
I spotted this one on top of the town hall of Oxford (though being a city since 1562 the seat of the city council is still called "The Town Hall") in August 1996. The flag is quartered of red and white, both(?) white quarters are charged with a triplet of red fleurs-de-lis ordered 2:1. No match with any college flag and no match with any flag of a twinned city.
Klaus-Michael Schneider, 10 June 2019
I've had an article on this very subject in my Drafts folder since 2005, but in the intervening period, life got in the way. I will try to write it up properly for the page(s) and send it, one of these days.
Generally, the convention is that civic buildings retain their original name, despite subsequent changes in the status of the municipality. This flag does not fly at the Town Hall, but at the next building down Saint Aldates with a flagpole on the same street frontage , Christ Church College (source) Christ Church as a foundation is unique in the world, as both a Cathedral of the Church of England and a college of the university. Typically, on days of significance to the university such as a Degree Day, it flies the banner of arms of Cardinal Wolsey, as depicted on our page above and shown in the photo.
The flag is quartered of red and white, both(?) white quarters are charged with a triplet of red fleurs-de-lis ordered 2:1. No match with any college flag and no match with any flag of a twinned city.
However, on what might be termed 'Royal' or national days, it flies the flag described above, which is a banner of arms of the college's re-founder Henry VIII.
On these days, most of the other Oxford colleges will fly the Union Flag, as does Oxford City Council, who own and run Oxford Town Hall, but on a secondary flagpole above the town hall. The City will fly above the Town Hall entrance either a stylized banner of their arms (or on Mayor Making Day an actual banner of arms). But they have three flagpoles all visible concurrently and do also fly EU flag, rainbow flag, UN flag and so on.
Source: Personal observation and photographs, 1972 to date. It's only been fourteen years. Hope this is helpful.
Colin Dobson, 13 June 2019
---
19-33. Unknown Flag on US Sailing Ship Some Speculation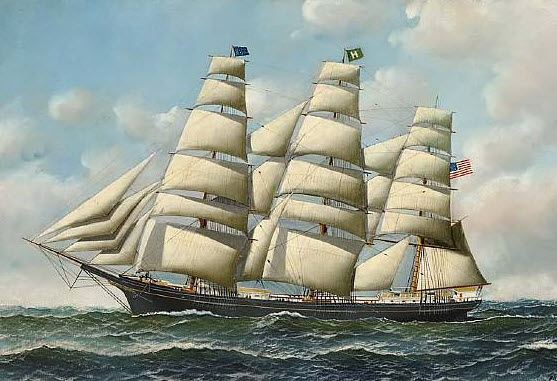 Image from Howard L. Rehs, 13 June 2019
Your website appeared while we were searching for a specific flag. I do not know if you can help us, but just in case - we recently purchased a marine painting and are trying to determine the name of the ship and who the owner was. The only hint is the flag (I have attached a couple of images). I am wondering if the green flag (with the letter H) looks familiar to you? I did go through many pages on your site and could not find anything.
Howard L. Rehs, Rehs Galleries, 13 June 2019
A green flags as house flags on ships are rare, especially in the US, as this ship proclaims from its ensign. It does not match any flag we have in our US files. I checked the Rosanoski collection of shipping line flags and did encounter Hennig Bereederungs und Schiffahrts KG, out of Duisburg, Germany, but it appears that company dates from 1992 or so, so obviously is not this one. My inclination is that it is an artistic rendition (any chance the artist's name begins with H?)
Rob Raeside, 13 June 2019
The painting is by Antonio Jacobsen, and the style would put c1895-1910. Jacobsen was known for his accurate depiction of known ships - he normally places the name of the ship on the painting. I am thinking that because there is no name, maybe this is a private yacht? Any help would be greatly appreciated.
Howard L. Rehs, 13 June 2019
How many stars do the jack and the ensign have? I expect their depiction is larger than the one we have, and so it might give a better idea of the year. Quite a ship, By-the-way. I wonder if these really were a dime-a-dozen or whether this would limit the number of yards this might have originated from.
Peter Hans van den Muijzenberg, 28 April 2020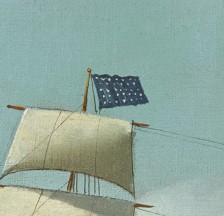 #33a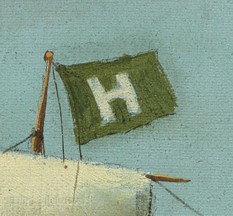 #33b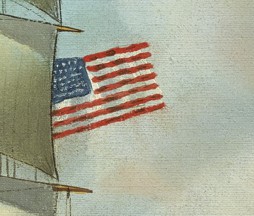 #33c
Images from Howard L. Rehs, 28 April 2020
These are the largest details I can get. Any help with identifying the ship is greatly appreciated.
Howard L. Rehs, 28 April 2020
Flag #33a on the foremast (?) appears to be either a 34 or 35 star naval jack, but flown from the wrong place. Isn't the jack usually flown on the bow (front) of a ship when anchored. Once under way the jack would be lowered and stowed away for future use, so maybe not a jack at all? [a little help from our naval flag experts here please]
Pete Loeser, 28 April 2020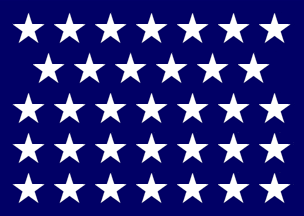 Image by Clay Moss, 13 February 2007
OK. Does everyone agree that the union looks like this? The problem is that's 34 stars, which would be 1861-1863. Jacobsen first came to the US in 1873. Indeed, the style of the ship appears to be around 1900, but so far I can't figure it out.
Peter Hans van den Muijzenberg, 28 April 2020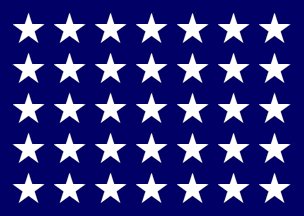 Image by Clay Moss, 12 February 2007
Or perhaps a 35 star jack used between 1863-1865, none of which dates the ship or identifies the green H flag (#33b.)
The painting itself can be identified as Antonio Jacobsen's "American Tea Clipper - but not the ship itself or the date it was painted. He seems to have used the same ship type and rigging in several paintings during his career, just basically changing the flags.
For example his 1895 painting of the merchant ship Canada - it is basically the same ship. There are other examples.
Pete Loeser, 28 February 2020
The jack follows the ensign. Of course, there are plenty of rules that have a higher urgency, but if you're homeward bound, it's customary (though not required) to bring out the jack when on an outward journey you'd bring out the courtesy flag. Then once you arrive, the ensign moves from mast top to staff, and so does the jack, if you do have all four of these positions. Of course, whether these customs have continued the same for all that time I can't say for sure. Anyone with more details?
The flag is very likely 34 star, as Mr. H. Rehs sent me a larger image of the jack, by way of you, that clearly shows the second! row to have one star less than the others. If need be, I can add my drawing, but it doesn't tell us much, as that flag would be from before the painter came to the new world. (1873)
So far, I found no ship cards with this flag. Thus a suggestion was made that it might have been a yacht rather than a commercial ship. Yet, it's a rectangular flag, making it less common for yachts, and it would seem a very large ship for a yacht. Still, I checked a few early 20th century Lloyds, both private and commercial, without success.
It's difficult to date the ship exactly. E.g., what to one may be the same ship just with different flags, to me is a ship with details of the rig different from our mystery ship, and therefore not offering an alternative flag.
I'm afraid we'll will be waiting quite some time for some random fact that will help this search along.
Peter Hans van den Muijzenberg, 29 April 2020
I went to Artnet and searched their database...there is no record for a painting with the title American Tea Clipper. Not sure where they [Wikimedia Commons] got that title.
Howard L. Rehs, 29 April 2020
Perhaps that is because ArtNet reported it sold on June 2, 2019 as a "Schooner at full sail with American flag" - again without the ship named or the green "H" flag identified. Apparently the title changes because nobody can identify the ship.
Pete Loeser, 29 February 2020
I understand they reported the sale from 2019 with a certain title. But, nowhere in the database could I find an early sale with the Tea title.
Howard L. Rehs, 29 April 2020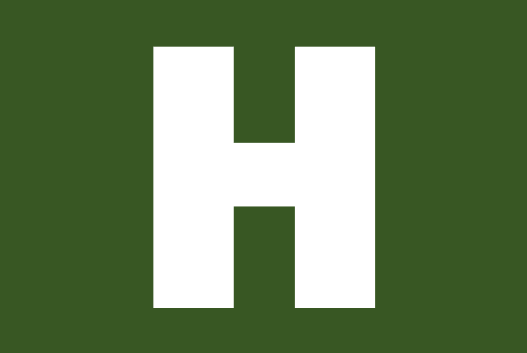 Speculative image by Pete Loeser, 29 February 2020
I guess you could pay to use the ArtNet Price Database if you want to, but I don't know if that would provide you with any additional information, and I'm a flag guy, not a price guy. Since Jacobsen fled the Franco-Prussian War to live New York in about 1871, and we are told Jacobsen was commissioned by the Old Dominion Line in 1876 to paint some of their three-masted ships, maybe that is where you should look. He died in West Hoboken, NJ, in 1921, so that gives you a timeline of about 1876 to the early 1900s to search for the "H" flag. Another thought, is it possible that he painted this picture before he moved to the United States?
Anyway I provide you with a speculative image to use in your search.
Pete Loeser, 29 February 2020
Sorry to say I have no clue about this one. As Rob said earlier in the discussion, green is not a usual color for an American house flag. I would observe that whoever is naming the painting(s) for the auction houses is not terribly well versed on things nautical, as this is clearly a full-rigged ship, not even vaguely resembling a schooner.
Joe McMillan, 3 May 2020
This is pure speculation.
The painting may be a "fantasy" in honor of a special ship. It is clearly a classic Clipper Ship. The first Clipper Ship was the "Houqua", built by Brown & Bell of New York for the China merchants A.A. Low & Bro, she was launched in 1844, named after a Chinese merchant who had died the previous year. Dogged by ill luck during her career, she disappeared at sea after leaving Yokohama in 1864. Her personal flag was Y-R-Y horizontal stripes in 1:2:1 proportions with a white "H" in the center of the red stripe. Some news accounts of her disappearance in 1864 make reference to the "H" on her flag. Antonio Jacobsen may not have known any more about the flag than it had an "H" on it.
I could be completely wrong.
Dave Martucci, 24 May 2020
---
19-34. Iranian Navy Flag Positive ID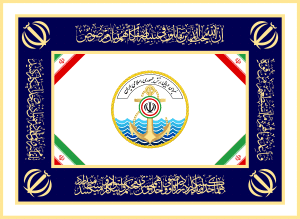 Image from Nozomi Kariyasu, 23 June 2019
We can see four different complicated inscription on the blue border of the Iranian Navy flag. They look longer and more complicated than shahada. Can anyone read them? Arabic or Persian?
Nozomi Kariyasu, 23 June 2019
The Iranian Navy Flag has already been reported here as early as 2014.
Esteban Rivera, 31 August 2019
[This is the indeed the Iranian Navy flag. The inscriptions are discussed in more detail on UFE19-41, another Iranian Armed Force Flag. - Ed.]
---
19-35. Unidentified flag found in San Francisco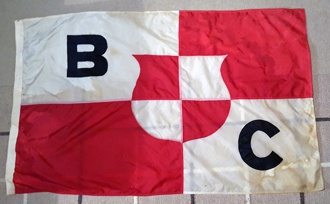 Image from Alex Grant, 14 July 2019
I'm wondering if you might know what this flag is? I came across it in a thrift shop in San Francisco, California.
Alex Grant, 14 July 2019
---
19-36. Unidentified Danish Shipping Company Flag Some Speculation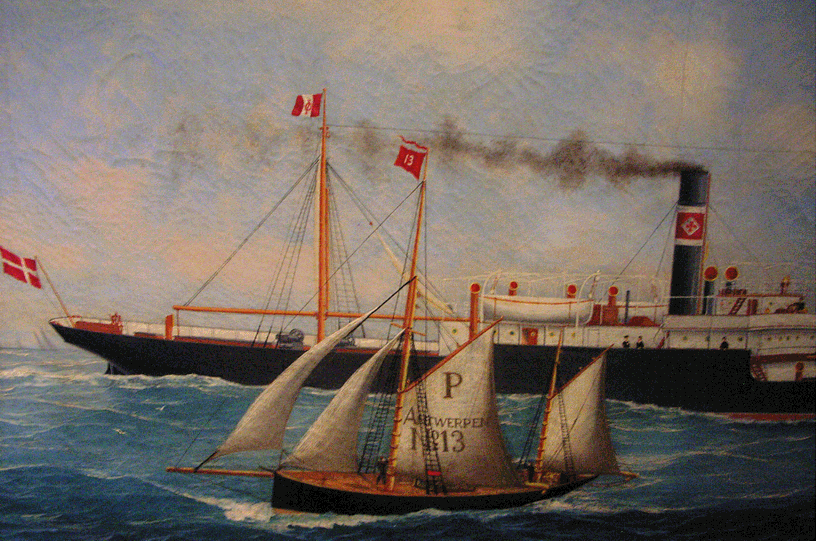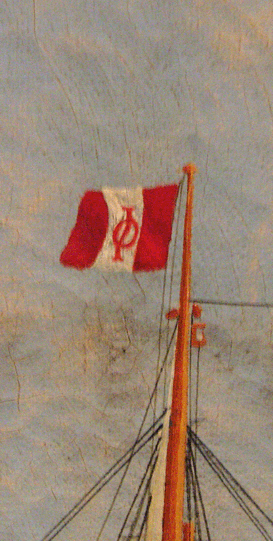 detail
Images from Klaus-Michael Schneider, 17 July 2019
It is a Danish steamer named EGHOLM, accompanied by a pilot ANTWERPEN No.13. The funnel is black, red ring fimbriated white, charged with white lozenge, charged a red cross cross. On mizzen the house flag, red-white-red vertical triband, in white stripe a red O and a red I, together looking like a Greek Phi. Looks familiar, but no idea about the company. The painter is John Henry Mohrmann (1857-1916) to give the time frame. I spotted this flag on 25 September 2008 in Tamm Museum Hamburg.
Klaus-Michael Schneider, 17 July 2019
This is an irrelevant comment made about the pilot boat in the Danish painting. I must assume the red "number 13" flag on the smaller ship (indicating it was pilot boat "unlucky" 13 which probably transported a harbor pilot to and from the larger ship) didn't bother any of the superstitious mariners back then. Maybe the "godship" Egholm didn't have any troubles?
Pete Loeser, 30 May 2020
The part that I myself find the most interesting is that we cover the pilots at Ostend pilot's flag and further, and we mention the article that the station name and boat number be painted on the sails and on the hull. It's a rule from 1835, and 1905(?) it apparently still holds.
I hope there is a nice reference about the good ship Egholm, but if so I missed that bit. Well, any troubles? It certainly won't survive the coming world war, as we can we tell with hind-sight. But then, that's why the painter moved to Canada in 1913.
"Egholm" bears the name of a D/S Steam A/S ship. Their ships are Egholm, Katholm, Svanholm, and a few more holms. John Henry Mohrman...[did another painting of the SS Egholm which]...does give us some relevant information:
Born 16 December 1857 in Estebrügge, Died 22 February 1916 in Bloomsbury (Canada)
Danish sail-assisted steamer Egholm.
Approximately 1895. (source)
As far as I can determine, there was no earlier SS Egholm. Maritim og Historisk Information provides that the Egholm was built for Steam (D/S) in 1904, went to Codan in 1909 and finally to Gorm in 1913. It was lost 30 November 1916. M&HI also has a detail overview on the firms of the Carl family and the companies related to them:
1902 - Dampskibsselskabet Steam A/S created (Carl part owner)
1909 - Codan created by the bank to manage the company, and thus the ships, when the original company had problems.
1912 - Managed by L.H. Carl
1913 - Mohrmann moves to Canada. (source).
FOTW has the flag of Codan as a red-white-red with a cross pattée, but Wrecksite (EU) gives different data on the SS Egholm with a different Danish funnel and a lozenge for Carl. (source)
I guess that means that whatever the flag and funnel are, they must be Steam.
Peter Hans van den Muijzenberg, 30 May 2020
---
16-37. UFE at Lighthouse Antiques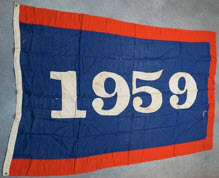 Image from Dave Martucci, 27 July 2019
James Claflin of Kenrick A. Claflin & Son, doing business online at www.lighthouseantiques.net, is seeking identification of a flag unknown to myself. Posted on his home page, the flag is described and pictured as follows: "This flag has come with a lot of early flags from the US Revenue Cutter Woodbury (Mahoning) and date from 1860-1890. This "1959" Flag measures 93 x 56 1/2" and is definitely hand sewn on linen or cotton muslin(?). We would appreciate any help that you can provide to determine the origin and use of this flag design."
Dave Martucci, 27 July 2019
---
19-38. Unknown Shipping House Flag Some Speculation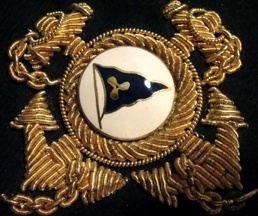 Image from Marc L. Hendon, Sr., 28 July 2019
Hopefully I haven't asked already. Can you ID this flag?
Marc L. Hendon, Sr., 28 July 2019
I think the flag is that of the Shark Island Yacht Club, of Newport Beach, California. Despite its name, it appears to be a powerboat-only club. It's not on FOTW, but the burgee appears on page 15 of the Coronado Cays Burgee Directory (pdf) But according to this article, it may now be known as the Newport Beach Yacht Club. If that is so, it is now using a different burgee>.
Ian Sumner, 29 July 2019
---
19-39. Unknown Shipping Company Flag, Maybe Norwegian Positive ID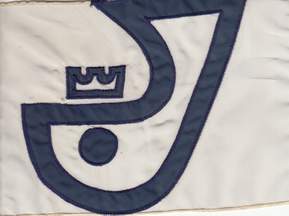 Image from Klaus-Michael Schneider, 2 August 2019
Is this one already identified by anybody? I spotted this one on a flee market in Hamburg on 13 July 2019: White flag with white J-shaped fish; fimbriated, eyed and crowned blue, probably Norwegian.
Klaus-Michael Schneider, 2 August 2019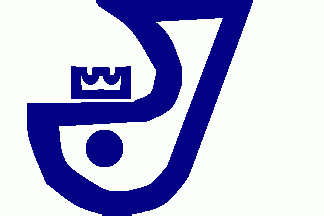 Image by Klaus-Michael Schneider, 28 August 2019
It's Jahre Linien, a Norwegian company based in Sandefjord, thus the fish is really J-shaped and here is its image! (Source: Josef Nüsse's webpage)
Klaus-Michael Schneider, 28 August 2019
I remember seeing that, and being unable to verify that it really was the Jahre line. Does anyone know why?
I think it's Color Line now, after a merger in the 90-s. This would probably need a bit more information.
Peter Hans van den Muijzenberg, 8 May 2020
---
19-40. Unknown Iraq PMF Positive ID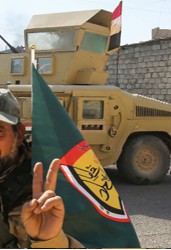 Image from William Garrison, 2 August 2019
Flag of some unknown Iraq PMF (Popular Mobilization Force) affiliated with Iran. The Iraqi government is trying to gain control over these independent PMF. In this photo, one sees the Iraq flag atop the HUMVEE. The news article claimed this group was affiliated with Iran.
William Garrison, 2 August 2019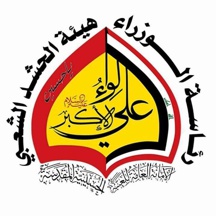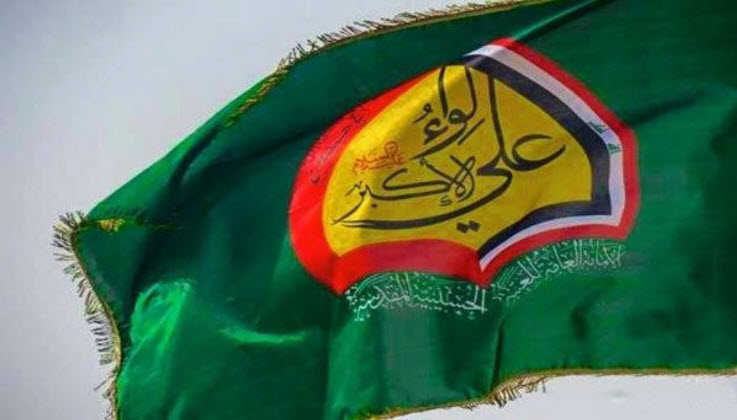 Images from Jaume Ollé, 2 August 2019
According Flag Report 96, this flag [a possible unit variant] is from the Shiite militia Brigades of Ali al-Akbar, loyal to Ali al Sistani, the respected ayatollah of Iraq. Headquarters at Baiji. Operations at north of Tikrit.
Jaume Ollé, 2 August 2019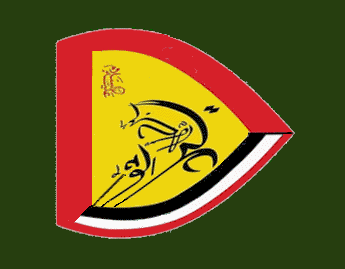 Speculative image from Pete Loeser, 15 August 2019
While this Iraq PMF Flag is probably correctly IDed it is obviously a variant flag based on perhaps the unit's shoulder patch, I'd guess. The emblem is reversed, upside down and turned sideways on the flag using a more common military shied shape... and designed to be hung vertically I'd theorize again? I attach a "very" speculate and incomplete drawing based on what I can see in the original picture. There is Arabic text missing in the red and white areas, possibly the same as shown in Jaume's image of the shield above. It would be nice to find a better image of the flag to base things on.
Pete Loeser, 15 August 2019
This flag has not been correctly identified. It is actually the flag of Liwa (Battalion) Ali al-Akbar. It was established in 2014 and it is within the Popular Mobilization Forces the 11th Brigade. It is named after Ali al-Akbar, the son of Al-Husayn ibn Ali, the third Shia Imam, and Umm Layla, sometimes fully spelled as Ali al-Akbar ibn Al-Husayn. The Popular Mobilization Forces is an umbrella organization that comprises some 60-70 armed units/factions, of which Liwa Ali al-Akbar is one of them. (source #1, source #2 and source #3)
The flag has a horizontal green background, featuring the logo in the middle, as already depicted (image and source)
For the umbrella organization labeled as Popular Mobilization Forces, we include further information on the following entry: "UFE13-49. "Hezbollah, Iraq-Lenanon, ISIS Flag?" pending reorganization and update on the respective Iraq section.
For additional information on the Popular Mobilization Forces please go to al-Hashed (official website).
Esteban Rivera, 31 August 2019
---
19-41. Iranian Armed Force Flag Positive ID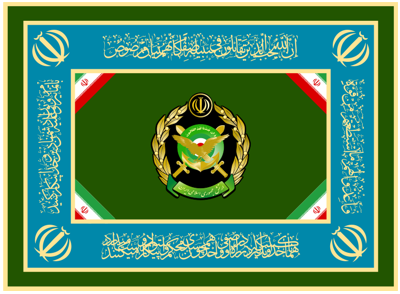 Image from Nozomi Kariyasu, 12 August 2019
The image is of an Iranian armed force flag. The inscriptions on the top and right of the flag are Arabic, both from the Qur'an. On the top is chapter 61, verse 4: "Indeed, God loves those who fight in his cause in ranks, as though they were a single firm structure." On the right is part of chapter 8, verse 60: "Prepare against them whatever power you can." I think the bottom and left inscriptions are Persian, but I can't read them. I suppose perhaps the bottom is chapter 61 verse 4 in Persian and the left is chapter 8 verse 60 in Persian. Can anyone read them?
Nozomi Kariyasu, 12 August 2019
For your reference, today the embassy of Iran in Tokyo confirmed that the bottom text is the same as the top text and the left text is the same as the right text, just translated into Persian.
Nozomi Kariyasu, 12 August 2019
This has been identified as the Iranian Amry flag. I would suspect the language in question is the same on this flag as that on the Iranian Navy Flag (UFE19-34).
Pete Loeser, 22 August 2019
This flag is actually the flag of the ارتش جمهوری اسلامی ایران, abbreviated as آجا (Army of the Islamic Republic of Iran, abbreviated as AJA).
We already have an introduction for the Army here, second paragraph. However we did not have a flag. It is directed by the (Army) Joint Headquarters (Joint Staff), which coordinates its four branches: the Ground Forces (NEZAJA), Air Force (NAHAJA), Navy (NEDAJA) and the Air Defense Force (PADAJA).
For additional information, go to AJA (official website)
Esteban Rivera, 24 August 2019
---