This page is part of © FOTW Flags Of The World website
Ukraine - Political Flags
Page 2 of 3
Last modified: 2018-12-15 by rob raeside
Keywords: ukraine |
Links: FOTW homepage | search | disclaimer and copyright | write us | mirrors

---

See also:
---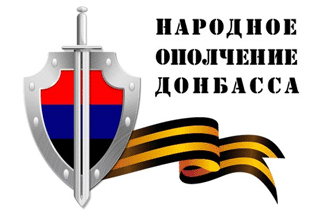 The Donbass People's Militia (Russian: "Народное ополчение Донбасса") is an armed pro-Russian group that declared allegiance to the self-proclaimed Donetsk People's Republic.
Esteban Rivera, 20 April 2014
---
| | | |
| --- | --- | --- |
| | | images by Victor Lomantsov, 22 July 2014 |
Several flags seen in Euromaidan in Kiev 2013-2014.
Demonstrants used many types of flags:
national ukrainian flags with hand-made inscriptions (very often - name of the home-city of demonstrants)
different variants of "ukrainian-european" flags, for example: -- european flag with ukrainian COA in the centre - (see photo)
European flag with inscription "Ukraine is Europe" (see photo)
Victor Lomantsov, 22 July 2014
"self-defense units"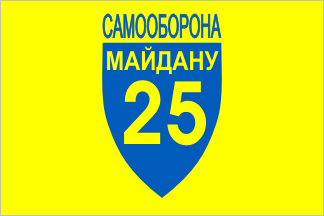 In november 2013 Maidan self-defense units were organized. 5 January 2014 several flags for companies of Maidan self-defense ("sotnia") were sanctified and presented to the units. At the photos I saw flags of 2nd. 5th, 6th, 9th, 16th, 19th, 25th companies with respective ciphers. All flags have standard design - yellow field with blue shield contains number of the company. Inscription - "SAMOOBORONA MAIDANU" ("Maidan self-defense").
Main flag of Maidan self-defense have the same design but the trident depicted in the blue shield instead of company number. Colour of the shield is dark. (photo)
Victor Lomantsov, 22 July 2014
---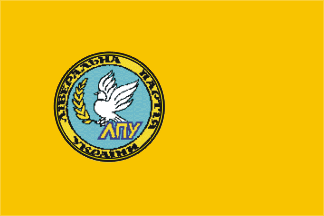 image by Victor Lomantsov, 26 Febuary 2002
Flag of Liberal Party of Ukraine (Liberalna Partiya Ukrayini) - Adopted in 1993.
Source: Ukrainian bulletin "Znak".
Victor Lomantsov, 26 Febuary 2002
The Political Handbook of the World 1997 qualifies it among the centrist and centrist-leftist groups.
Jarig Bakker, 26 Febuary 2002
---


image by Mikhail Revnivtsev and Antonio Martins-Tuvalkin, 8 August 2007
On <novy.tv> (in Russian), there is a flag of Million Marihuana March, which is planned to march on May, 7, 2005 in Kiev, capital of Ukraine, in support of of legalization of marihuana.
Mikhail Revnivtsev, 2 May 2005
Interesting that the design shows no hint as to what it's about; most such flags and banners here have the marijuana leaves prominently displayed.
Albert S. Kirsch, 3 May 2005
This march has no any relation to Parade of the Victory (Pobedy), which will take place in Kiev and in Moscow on May, 9. Besides, the mayor of Kiev yet has not given the sanction to carrying out of this march in support of marihuana (in Ukraine, as well as in Russia, marihuana is forbidden with other drugs).
Mikhail Revnivtsev, 3 May 2005
I believe this flag is based on the various other type of "Rasta" flags that are sold in the US and other places.
Zachary Harden, 3 May 2005
A 4:5 horizontally stripped flag of green, yellow, red and black. I must say that, design wise, this flag may not be specifically Ukrainian, even though it was perhaps created and used only in this Kiev march.
It seems to be a mix of the pan-african colors (red-yellow-green) and the Garvey colors (red-black-green), certainly based on their popularity among rastafarian (or rastafarian-looking) circles.
The horizontal stripes may also be inspired in another pride and protest flag: the gay pride rainbow flag.
António Martins-Tuvaacute;lkin, 3 May 2005 and 8 August 2007
---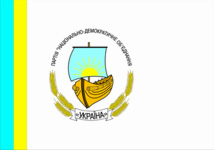 image from <www.conference.osp-ua.info>, located by Valentin Poposki, 6 October 2005
The symbols of the "National-Democratic United Ukraine" are shown at <www.conference.osp-ua.info>.
Valentin Poposki, 6 October 2005
---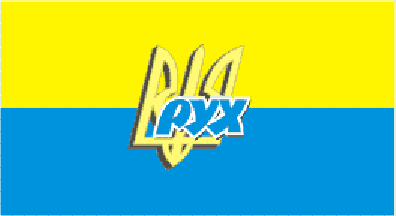 image from <www.nru.org.ua>, located by Dov Gutterman, 10 August 2002
National People's Front of Ukraina "Rukh".
Jens Pattke and Victor Lomantsov, 11 May 2002
---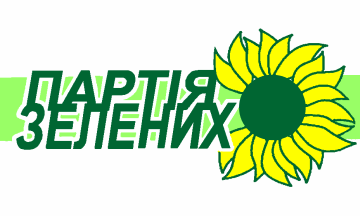 image by Eugene Ipavec, 5 January 2010
Party of Greens of Ukraine (Партія Зелених України, Partija Zelenykh Ukrainy, PZU) succeeded in 1990 the Green World Association, itself founded in 1987. The party claimed 5.5% of the votes and 19 seats at the Parliament in the 1998 election, a success which was not confirmed either in the 2002 (1.4%, no seat) or 2007 (0.4%, no seat) elections. Chaired by Vladimir Kosterin and claiming more than 80,000 members, the Green Party of Ukraine has been a member of the European Green Party since January 1994. Website at <www.greenparty.ua>.
The flag of PZU, as photographied by Raimo Oksala, behind two lovely young members of the party during the 2005 conference of the European Green Party, held at Kiev, is white with the emblem of the party, made of its name (Партія Зелених - Party of Greens, "of Ukrain" dropped) in green letters flanked on its right by a suflower with a green central part, the whole being placed over a green horizontal stripe crossing the whole flag.
Ivan Sache, 12 December 2009
---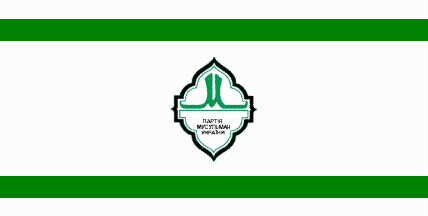 image by Victor Lomantsov, 23 Febuary 2002
Party of Muslims of Ukraine. Flag was adopted in 1997. Ratio 1:2. Width of green stripes equal to 1/10 of flag-width. The emblem consists of green cyrillic letter "M" (stylized to arabic) and black name of the party in ukrainian.
source: heraldry bulletin "Znak".
Victor Lomantsov, 23 Febuary 2002
---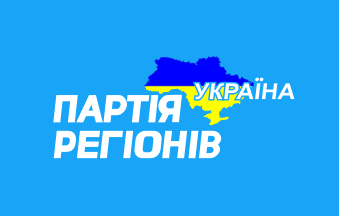 image by Victor Lomantsov, 30 March 2006
Source: <www.vybir2006.org.ua>, reported by M.Revnivtsev.
Victor Lomantsov, 30 March 2006
Previous Flags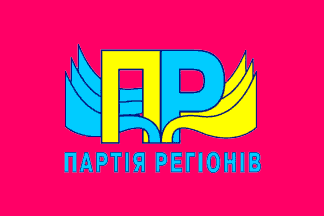 image by António Martins, 1 December 2004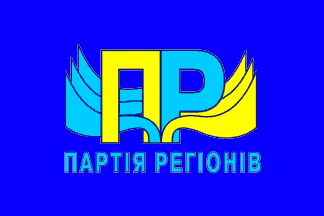 variant
image by António Martins, 1 December 2004
"Partiya rehioniv" (Party of regions) flag at <www.partyofregions.org.ua>. It was founded in 1997. This is the party flag.
Dov Gutterman and Andriy Grechylo, 26 July 2004
"Party of Regions" represents generally Donetsk's bandit clan. Victor Yanukovych is a member of Party of Regions.
Andriy Grechylo, 29 November 2004
I saw this flag many times in TV reports. But the flag always was blue (not purple). Background is in darker shade then emblem .Correct cyrillic name is "Партія Регіонів".
Victor Lomantsov, 29 November 2004
This flag is purple in official web-site, at printed materials, also during the party congresses (in TV) etc.
Andriy Grechylo, 29 November 2004
Youth Wing Flag

image by Victor Lomantsov, 4 April 2009
At <news.yahoo.com> and also here, there are photos of Ukrainian political flag amid sea of Party of Regions flags. The former are blue with very large white oval taking up almost entire field and containing some text plus a (pink?) logo.
Eugene Ipavec, 4 April 2009
It is flag of youth wing of Party of Regions - "Youth Union of Regions of Ukraine".
Victor Lomantsov, 4 April 2009
Here's another version of the flag of the Party of Regions (with a darker blue): https://pbs.twimg.com/media/BaoVidRCYAASXKU.jpg
Esteban Rivera, 3 March 2014
There are both Ukrainian and Russian variants of this party flag.
Zoltan Horvath, 3 March 2014
---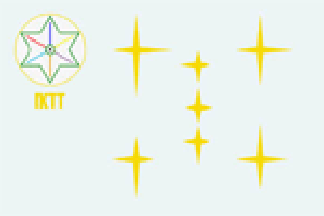 image from <www.a-election.com.ua>, located by Jens Pattke, 11 May 2002
Party of the Consciousness of the Third Millenium.
Jens Pattke, 11 May 2002
---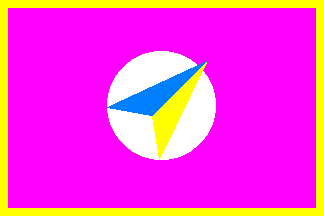 image by Zachary Harden, 6 January 2004
This is the flag of PNERU - Partiya Natsionalno-Ekonomichnoho Rozvytku Ukrayiny (Party of the National and Economic Development of Ukraine). Flag was designed by member of Ukrainian Heraldry Society Oleksiy Kokhan.
Source: <www.obriy.pib.com.ua>.
Dov Gutterman and Andriy Grechylo, 26 July 2004
---
---
---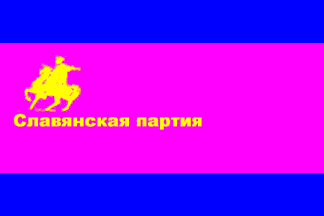 image by Anto'nio Martins, 28 July 2002
Slavic Party. Photo of the was located by Dov Gutterman at <www.a-election.com.ua>.
Jens Pattke, 11 May 2002
I managed to gain access to the party website, and found that the Slavic Party holds that Ukraine lacks the economic basis for political independence, and should reunite with Russia and Belarus. As far as I could see, only the triband is a flag. The circular design is labeled "emblem."
John Ayer, 14 May 2002
The specs seem to be 2:3 = (2+6+2):15, with emblem and lettering "Slavanskaa partia".
I guess this is not Ukrainian, but russian, and thus this slavic party is rather a Russophile party (Soviet-nostalgic, monarchist, ethnic Russian?).
Anto'nio Martins, 28 July 2002
---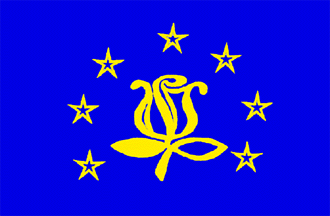 image by Victor Lomantsov, 23 Febuary 2002
Social-Democratic Party of Ukraine. The flag was adopted in 1992. Rose is a traditional symbol of social-democrats, 7 stars symbolize 7 letters in the word "Ukraine", blue and yellow - national colours of Ukraine.
source: heraldry bulletin "Znak".
Victor Lomantsov, 23 Febuary 2002
From <www.brama.com>:
Social-Democratic Party of Ukraine (Sotsial-Demokratychna Partiya Ukrainy--SDPU) - Led by Verkhovna Rada deputy Yuriy Buzduhan, it nominated only 127 candidates, few of whom are well-known. Marchuk had originally appeared likely to run on the SDPU list but chose the SDPU (o) instead (Vseukrainskiye Vedomosti, 21 October 1997). Buzduhan called the rival SDPU (o) not a social democratic party but a "financial-petrol clan of Surkis and Medvedchuk" (Vseukrainskiye Vedomosti, 21 October 1997). Viktor Medvedchuk, head of the Lawyers Union, is No. 4 on the SDPU (o) list, and Hryhoriy Surkis, head of Kiev's Dynamo soccer club, is No. 5.
Jarig Bakker, 11 May 2002
---
Spilna Sprava ("Common Cause")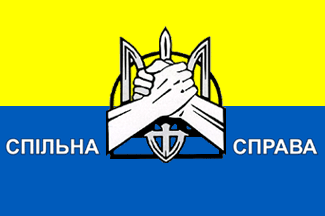 Victor Lomantsov, 22 July 2014

Source: http://cityblog.com.ua/2013/12/evromaydan-v-krivom-roge-vzglyad-iznutri/
---
Sokil ("The Falcon" - youth movement)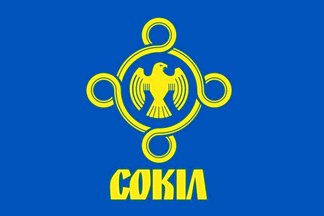 Victor Lomantsov, 22 July 2014
---
Yugo-Vostok (Movement "South East")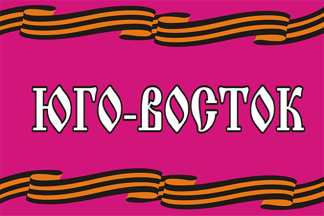 From http://hippy-end.livejournal.com/301837.html
Victor Lomantsov, 14 May 2014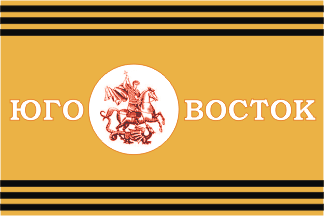 From http://yugovostok-ua.su/node/114
Victor Lomantsov, 14 May 2014
---


image by Dov Gutterman, 4 June 2006
Symbols of the Political Party "Tretya Sila" (Third Force) are at <tretja-sila.od.ua>.
Valentin Poposki, 25 May 2006
---