This page is part of © FOTW Flags Of The World website
Naval Flags and Armed Forces Ensign (Tonga)
Last modified: 2013-11-24 by ian macdonald
Keywords: tonga | cross (red) | scandinavian cross |
Links: FOTW homepage | search | disclaimer and copyright | write us | mirrors

---
---
---
See also:
---
Naval Ensign
Flown on Starboard Side of Ships
White flag with red cross off-set to hoist and a red cross coupé in canton. In other words, the flag has a red Scandinavian cross bordered in white and red and in the white canton is a red Greek cross. Jilek (1989) reported that the flag was designed by Prince Tupouto'a, Minister of Foreign Affairs and Defence when the flag was adopted 13 September 1985.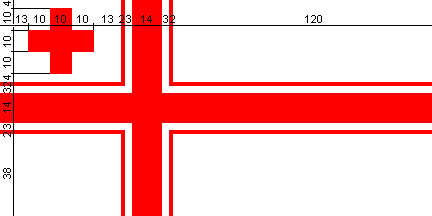 1:2 image by Željko Heimer, 1 April 2003
The construction sheet is not clear, ratio of 2:3~ and 1:2 are both proposed, maybe also 8:11 (see this image by Jan Oskar Engene). The construction sheet from the Flag Institute gives the numbers: (4+10+10+10+4+2+3+14+3+2+38):(13+10+10+10+13+2+3+14+3+2+120).
The design seems to be inspired by the Tongan national flag, the British White Ensign, the German Imperial War Flag and the Scandinavian cross flags, all put together in one. The flag has a red Scandinavian cross bordered in white and red. In the white canton is a red Greek cross (as in the Tongan national flag). The flag was designed by Prince Tupouto'a, Minister of Foreign Affairs and Defence when the flag was adopted 13 September 1985. Source: Jilek 1989.
Jan Oskar Engene, 19 September 1996
When I was there in 1991, the Scandinavian cross flag flew on Navy ships, the three-sword flag did not, but flew over an army camp.
Norman Martin, 17 January 1998
According to Album des Pavillons 1990, the naval ensign is hoisted on the portside and the army ensign, as described above, is hoisted on the starboard side. (...) According to Encyclopaedia Universalis Yearbook, 1998: National Defence: national police of ca. 300 men (1991). (...) Album des Pavillons says proportions of the naval ensign are "ca. 2:3"
Ivan Sache, 20 January 1998, 24 May and 31 December 1999
Smith 1980 indicates the national flag to be also war flag and naval ensign.
Željko Heimer, 22 January 2001
The war ensign was adopted in 1985, according to Dorling Kindersley 1997 and Znamierowski 1999. It is also mentioned (but not illustrated) in Crampton 1989. Even though the first two sources are supposed to share the same original source (Flag Research Center), they show different versions of the ensign. That in Dorling Kindersley 1997 is about 1:2, the one in Znamierowski 1999 looks very much like Jan Oskar Engene's image based upon Jilek 1989.
Santiago Dotor, 24 January 2001
---
War Flag or Armed Forces Ensign
Flown on Port Side of Ships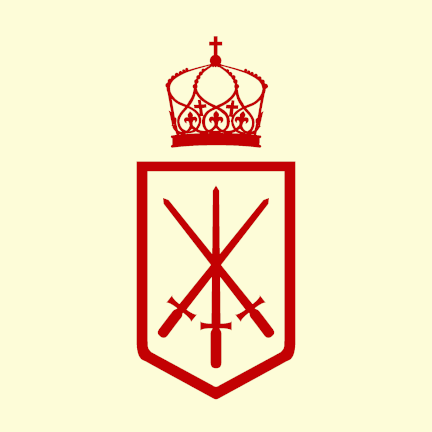 1:2 image by Željko Heimer, 1 April 2003
The naval ensign (and war flag) [sic] is white with a red-fimbriated white shield towards the hoist; on the shield are three red swords; above the shield is a red crown. Source: Flaggkarta 1995.
Christian Berghänel, 17 January 1998
When I was there in 1991, the Scandinavian cross flag flew on Navy ships, the three-sword flag did not, but flew over an army camp.
Norman Martin, 17 January 1998
Crampton 1989 mentions both flags, and calls the war flag the Armed Forces ensign.
Santiago Dotor, 24 January 2001
On a news broadcast of celebrations for the King of Tonga's birthday last week, I saw a square, fringed version of this flag. My guess is that the naval and war *ensign* is rectangular, as shown above, but that the army uses a square flag as described here.
James Dignan, 10 July 2006
---

2:3 image by Željko Heimer, 4 April 2003
White over red bicolour. Exactly the same as the prime minister's flag. This would be international signal for the cause anyway.
Željko Heimer, 4 April 2003
---
Tonga does have an air force. From http://mylima.com/airforce/t2.htm: "On 4 May 1996, the Tonga Defence Services (TDS) established a new air wing operating a single Beech G18S for reconnaissance and SAR operations around the South Pacific archipelago. In 1999 an American Champion Citabria was acquired for training. The air wing is the latest development in the evolution of the TDS, which itself was set up in 1986. "

Tongan Defence Services Air Wing markings are red stylized [Maltese] cross with a small white disc in the center and crown above.
Source: http://www.tds.mil.to/soair.gif
Dov Gutterman, 26 June 2004