This page is part of © FOTW Flags Of The World website
Authentic Liberal Radical Party (Paraguay)
P.L.R.A. - Partido Liberal Radical Auténtico
Last modified: 2020-12-26 by rob raeside
Keywords: plra | partido liberal radical auténtico |
Links: FOTW homepage | search | disclaimer and copyright | write us | mirrors

---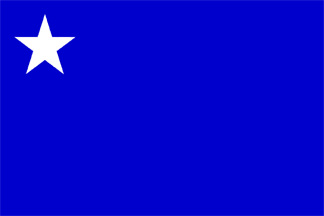 image by Tomislav Todorović, 24 October 2017
---
See also:
Other sites:
---
About the party
The P.L.R.A. was founded on 10 July 1887 in Asunción as Centro Democrático, presided by Antonio Taboada, a hero of the war against the Triple Alliance (Brazil, Argentina and Uruguay). It governed Paraguay from 17 December 1904 to 17 February 1936. The party was renamed Partido Liberal in 1890, Partido Liberal Radical in 1967, and Partido Liberal Radical Auténtico in 1978.
Ivan Sache, 24 May 2010
Under the Stroessner regime, Paraguay was a single-party state. The original Partido Liberal was made illegal and many members fled into exile. Eventually, Stroessner allowed opposition parties to exist legally again, as long as they recognized the authority of his own Partido Colorado. The Partido Liberal thus split into a radical faction who rejected the second-rate status, and a faction who returned to politics within the new system. The radical faction went on to officially add the Radical moniker to the party name, as mentioned.
Alex Garofolo, 24 June 2014
---
Official flag
The flag of P.L.R.A. is described in the preamble of the party's statutes, last amended 7 May 2006:
and as its emblem the blue flag with a five-pointed star placed in upper hoist, the first flag of the motherland at the dawn of its independence.
The flag alluded to in the party's statutes must be the short-lived flag used in 1811.
Ivan Sache, 24 May 2010

The flag of the Radical Liberals is also very similar to that of the Dr Francia presidency, 1826-1842.
Alex Garofolo, 24 June 2014.

The party website currently displays, as part of the header of all pages, the image of party flag with the upright star; a photo confirms this design.
Tomislav Todorović, 23 September 2016
Shade of blue
Regarding the shade of blue, the images currently available on the web, regardless of the visible details of design, reveal that the field is about the same shade as blue in the national flag.
Tomislav Todorović, 23 September 2016
The official party image uses plain RGB:0-0-255 (

).
António Martins, 21 October 2017
Although plain, «primary» blue is prescribed for the national flag in the 2013 decree, we do know that the Liberal party is identified by a darker shade, contrasting with M.P.Q.'s light blue. Furthermore there is a history of distinguishing "azul" (blue) from "celeste" (lit., sky blue, meaning light blue) in this part of the word (cp. the Federal / Unitarian feud in Argentina and how it reflected on the realization of the national flag there). This would support a "primary" blue color to be actually "off-balanced" towards dark.
António Martins, 22 October 2017
---
Other flags
The colour seems to be the important thing, with design being secondary. Here are two captures from the brief report which appeared on World News Today on BBC4 tv on 21 April 2008: Supporters of the PLRA, which uses dark blue, are shown in these shots waving vigorously (too vigorously for detailed analysis) at least three types of blue flag, all of them different from what we show.
André Coutanche, 22 April 2008

The cover of the party's ideological statement (image) shows a flag with lettering as its main illustration; also shown:

António Martins, 22 October 2017
Plain blue flag

image by António Martins, 22 October 2017
Here from a report on World News Today (BBC4, 21 April 2008): Supporters of the PLRA, waving blue flags, all of them different: One is a plain blue flag.
André Coutanche, 22 April 2008
A plain blue flag (an actual flag, not a drawing) for the party also shows in this promotional party video.
António Martins, 22 October 2017
Flag with logo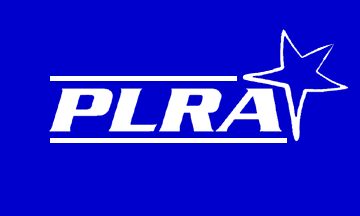 image by António Martins, 23 October 2017
Here from a report on World News Today (BBC4, 21 April 2008): Supporters of the PLRA, waving blue flags, all of them different: One has the initials between lines.
André Coutanche, 22 April 2008
This is the P.L.R.A. logo (used at least in 2008-2012), including a "hand-drawn" star outline, pointing down (or at least not clearly up); here's some images, also as used on flags.
António Martins, 21 October 2017
Large lettering and small star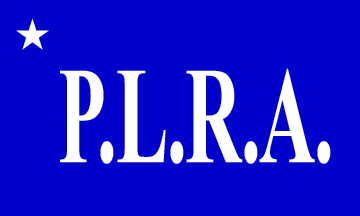 image by António Martins, 23 October 2017
A blue flag with a small white star on the upper hoist and the letters "P.L.R.A." in very large white sans serif capitals, with abbreviation dots, set slightly off to the bottom fly.
António Martins, 23 Oct 2017
This old illustration (however accurate in representing an actual flag) was for some reason chosen to illustrate what seems to be a recent/current party document (cover image).
António Martins, 22 October 2017
This version of the flag, however old-style looking, must be later than 1978, when the party adopted its current name — not old for a party founded in 1887!
António Martins, 23 October 2017
Curved lettering and big star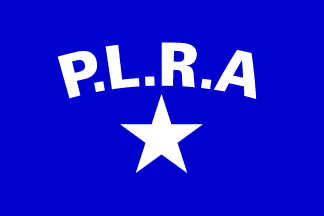 image by António Martins, 24 October 2017
Here from a report on World News Today (BBC4, 21 April 2008): Supporters of the PLRA, waving blue flags, all of them different: One has a star and the initials.
André Coutanche, 22 April 2008
A blue flag, apparently more squarish, around 2:3 or less, with slightly arched (?) "P.L.R.A." in bold white sans serif capitals, with dots, above a white star, everything centered.
António Martins, 24 October 2017
Liberales dignos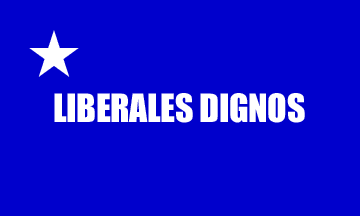 image by António Martins, 27 Oct 2017
Among many others, this image online shows, besides the star, also the slogan "LIBERALES DIGNOS" (meaning something like dignified, or honest, or righteous, or even worthy — Liberals) in white sans serif bold compact capitals. I'm not sure how much this is an insignificant one-off (or even whether it is a an actual flag at all).
António Martins, 27 October 2017
Inverted canton star on dark blue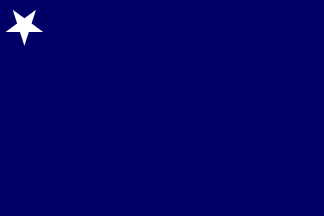 image by Guillermo Tell Aveledo, 21 October 2017
The flag seems to be incorrect: The star is shown upside-down, and blue color is too dark. This may have been derived from the party logo which was used in late 1990's and early 2000's, showing a waving flag shaped in a simplified way, with and all edges composed of straight lines, the star orientation being adapted to the "slanted" hoist in a way which might deceive the observer to get the impression of an upside-down star, as no flagstaff was shown. This logo has been out of use for a long time.
Tomislav Todorović, 23 September 2016
The current logo (used at least in 2008-2012) is different, with a "hand-drawn" star outline, but indeed still pointing down. The cover of the party's ideological statement (image) shows a flag on a slanted staff.
António Martins, 21 October 2017