This page is part of © FOTW Flags Of The World website
Flags of portuguese colonies
Last modified: 2014-06-29 by klaus-michael schneider
Keywords: colonial | coat of arms: escutcheons | coat of arms: per mantel | armillary sphere |
Links: FOTW homepage | search | disclaimer and copyright | write us | mirrors

---
See also:
---
Introduction
The portuguese government's position regarding the colonies has been almost since the 40ies that those were as part of the country as Lisbon. Therefore it made no sense (in their minds) to officialize flags for those territories other than the portuguese national flag. Two caveats must be made, though:
Despite not having distinctive flags for the colonies themselves, flags did exist for the officials in charge of the colonies and for military divisions. Some of these flags could have had some degree of distinctiveness and localness.
Just as happened in the mainland Portugal, local authorities where allowed flags of their own. When those existed (not always, asfar as I know), they followed the very same rules of the portuguese municipal flags still valid today (in Portugal alone, as far as I know): gironnies or plain flags for cities, quartered or plain flags for towns.
Jorge Candeias, 27 Jan 2000

Normal people would use the word "colony", even if the official name was "overseas province". In practice they didn't work just any other province, note: A normal portuguese was free to change lodgings from one to other mainland province, but he would need a special document issued after an official case analysis if he'd want to settle on overseas territory. I'm not sure if this applied to tourism also, but it probably did.
António Martins, 30 Jan 2000
---
Colonies' flags proposal
Almeida Langhans' proposal (1965)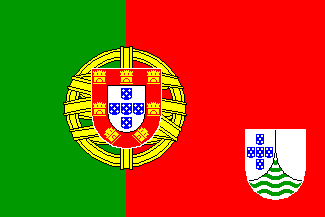 image by António Martins, 17 Dec 2001

There was, however, a project to give the Portuguese colonies / overseas provinces distinctive flags, but these were never adopted. The pattern for these flags was: the Portugese flag with in the lower fly the shield of the coat of arms of each territory. These coats of arms were already in existence, and the shields of all consisted of two sub-shields, dexter representing the motherland, sinister the territory, and the base the oceans between them.
Mark Sensen, 30 Jul 1996

The heraldist F. P. de Almeida Langhans published in p. 67 of his Armorial do Ultramar Português [lgh65] (Lisbon, 1965) a general model for the overseas "provinces"' flags: The national flag defaced with the shield of the lesser arms of each province (shield only) centered in the lower fly quarter of the red field. This proposal was approved in 1967, but never come to effect.
António Martins, 08 Jul 1997

It was a proposal seriously considered in governmental circles for some time, to give distinctive flags to the "overseas provinces" as the regime used to call them, but ultimately abandoned. The proposal made by Almeida Langhans, a heraldist, was the hardly imaginative portuguese flag with the colonial arms in lower fly. Unlike the flags, these colonial arms where official and used in practice.
Jorge Candeias, 27 Jan 2000
---
Colonies' coats of arms, 1935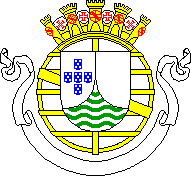 image by António Martins, 17 Dec 2001

The coats of arms of the portuguese colonies were introduced in 1935. Two colonies were, however, using provisional arms before that. (Later all colonies were transformed into overseas territories, but this did not have any influence on arms.) All arms were of the same model: divided vertically in such a way that two sub-shields are formed. The dexter was white with five small blue shields each bearing five white discs (i.e. the "quinas cross" representing the motherland). The sinister represented the colony. In the base green and white waves to indicate the overseas location. To complete the badge, the arms were set upon a golden armillary sphere with a golden mural crown.
Harald Müller, 05 Aug 1996

The colonial coats of arms, decreed on 8 May 1935, all had a shield of the same pattern, tierced in mantel, the dexter silver, five escutcheons, saltire, each charged with five bezants, gold, in cross; and the point silver, five waves green. The remaining sinister mantel had some local emblem.
António Martins, 08 Jul 1997

Tierced per mantel 1 five quinas shields 2 the colony's specific coat of arms and 3 barry wavy of blue and white. The crown had 5 apparent towers in each tower charged an armillary sphere and in each space between towers charged a Christ's cross.
João Madureira, 04 Jun 2003

The crown used in these coats of arms was revived by means of the regional arms design prescribed in the current law, though the non existence of the said regions (refused in referendum in 1999) make it defunct in practice (it doesn't even longer applies to East Timor neither to Macao).
António Martins, 17 Dec 2001

The colonial sub-shields were:
Purple with a golden elephant above a golden zebra.
Green with a sailing ship in natural colors on green-white waves.
Black with a golden scepter which ends in a negro's head (used by King Afonso V).
Yellow with a black mill wheel above a red tower.

provisional:

Figure of a Portuguese discoverer holding a blue shield with five white disks (colors ?).

Blue with a golden dragon holding a blue shield with five white disks.
White with a green bundle of arrows tied together with a red ribbon (standing for St. Sebastian, the first colony was founded on the island São Sebastião).

provisional:

An armillary sphere standing on a base (colors ?).

Red with a golden wheel and axis of a water mill and drops of water.
Gyronny of 8, black and white. In the center a cross, colors inverted, which ends in fleurs-de-lys. On the cross a blue shield with white disks.
Harald Müller, 05 Aug 1996
---
Previous colonies' coats of arms


image by João Madureira and António Martins, 04 Jun 2003

At a used books seller I found a print containing sketches of heraldical archievements for the old Portuguese colonies. These had a different pattern than those that ended up being adopted. These ones followed a more discreet pattern:

The colony's specific coat of arms (by what I saw more or less the same as ended up being adopted with some exceptions) surrounded by a gold border whereby alternating were red Christ's crosses and quinas shields. Topping them were crowns the details of which I didn't white catch but I believe they were similar to the ones later adopted. (However I do not remeber these arms being supported by a large armillary sphere.)

The caption read that they were designed in 1932 by the Instituto Português de Heráldica for some Colonial Office. My question would be, are these arms known from any other sources? I guess they ended up not being adopted but may have served as initial inspiration to the later 1935 design. (IMHO, these versions would be quite better if they had been adopted. they give more proeminance to the specific colony and are clearer to see yet maintain some symbols of the metropolis.)

João Madureira, 04 Jun 2003
---
Anything below this line was not added by the editor of this page.