This page is part of © FOTW Flags Of The World website
Nepal Royal Flags
Last modified: 2010-12-03 by ian macdonald
Keywords: nepal |
Links: FOTW homepage | search | disclaimer and copyright | write us | mirrors

---
Royal Standard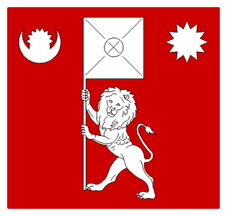 by Martin Grieve
See also:
---
Image based on a photograph of a real flag in the possession of Donald Edwards, which he informs me was presented to him by the Nepalese Ambassador in the UK. Donald wrote, "When I went to the Embassy of Nepal they first gave me a tiny flag, just big enough for a sleeve patch. I was just telling them that some of the proceeds from the party would go to a school in Darjeeling where I spent my early years when the Ambassador came down and asked what was going on. I told him I was after the unique Nepalese flag to fly at the Jubilee party, he ordered the minions to look in the basement and bring the flag that was there. They returned with this huge flag and he sent them up to his office and told them to get 'the other flag'. This was the King's Standard. I could not believe my luck, after collecting some tourist info I beat a hasty retreat. At the street party the flag was hung from a house and hid the whole house. Attached is a picture of the flag with a Ghurkha Officer and sepoy standing beneath it."
I have chosen what I consider to be the best [photograph] for our purposes. I cropped the image, and reduced the size for obvious reasons. Donald was also kind enough to take measurements for me to work with: "The dimensions of the flag are 78" x 70.5" (188 cm width x 179 cm height). The lion's flag is 50 cm square and the border is 6 cm wide."
Clearly, this is no car flag (as is indicated in Album des Pavillons, 2000) The flag differs a great deal from the one depicted in that excellent flag book, and is worth further research. My thanks to Donald for this information.
Martin Grieve, 4 July 2003
According to the Nepalese Constitution (1990):

PART 5 HIS MAJESTY

33. Royal Standard and Salute:

(1) Square in shape and crimson in colour having borders in white, the Royal standard is traditionally comprised of a crescent moon, in the upper corner near the flagstaff with eight out of sixteen rays shown in white colour, and a white sun with twelve white rays in the upper corner opposite to the flagstaff, and a white flag showing a six-angled figure and a sword in the middle of the standard with an upright white lion facing the flag with both its paws holding, and the right hind leg supporting, the flagstaff.

(2) The national anthem of Nepal is the Royal salute.
Source (inter alia): http://asnic.utexas.edu/asnic/countries/nepal/nepalconstitution.html

Pascal Vagnat, 25 Aug 1999
A report of the political situation in Nepal on "The World" on BBC4 TV on 1 February 2006 included part of the King's television address, as shown on this screen capture. On the viewer's left is the national flag, and on the right is the Royal Standard which looks in most details (so far as one can judge with a folded flag) exactly like the image above - except that the flag held by the lion does indeed have the "Magen David-type star". A variant? A revised design? The 'M D-t s' also appears conspicuously on the device behind the King, including a vertical sword (and also crossed kukris). There are also what look like tridents as 'supporters' which bear flags - what are these, I wonder?

André Coutanche, 2 February 2006
---
The history of the Nepali royal standard can be found in Lupant (1995).

The first representation of the Nepali royal standard can be found in Landon (Nepal, Constable, London, 1928). The flag is crimson with white border and charges. The charges are:
- in the middle, a lion bearing a plain white flag. The lion is facing the standard fly
- in canton, a moon with facial features, tilted to upper left corner
- in upper fly, a sun with facial features, tilted to upper right corner.
The flag is shown slightly higher than wide (80:75).

In an official publication ("National emblems of Nepal", His Majesty's Government of Nepal. Ministry of Communications, Department of Information, June 1981), the royal standard is slightly different:
- the banner of the lion has black diagonals and a black circle in the middle
- the moon and sun have lost their facial features
- the sun is placed in canton and the moon at fly.
The flag is shown slightly wider than high.

Lupant (1995) described a flag which "might have existed". The current royal standard (car flag) is shown in Album (2000). Attached to a letter to M. Lupant dated 5 June 1992, Mr. Narendra Raj Panday, Private Secretary to H.M. the King produced a picture of the car flags. The banner of the lion is charged with a Magen David-type star and a vertical sword. Both are royal symbols which stand for knowledge and strength, respectively.

Ivan Sache, 30 December 2001
---
2008 Republic
According to the article at http://www.corusnouvelles.com/nouvelle-nepal_change_drapeau_national-942782-12.html, "Le drapeau de la royauté a été remplacé par le drapeau républicain au palais royal de Katmandou [...]" ("the flag of the royalty was replaced by the republican flag at the royal palace in Katmandu [...]"), implying that the royal flag was removed when the king exited.
Marc Pasquin, 7 June 2008
---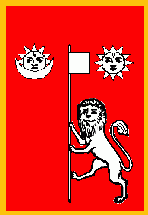 image by Klaus-Michael Schneider, 20 October 2010
As reported by Barraclough (1969), the ratio is approx 11:8. It is a red flag with a orange golden bordure. A white rampant guardant lion is holding a white flag. He is flanked by a white moon (hoist side) and a white sun (fly side).
Klaus-Michael Schneider, 20 October 2010