This page is part of © FOTW Flags Of The World website
Ladakh (India)
Last modified: 2014-05-31 by ian macdonald
Keywords: india | ladakh | stupa | ladakh autonomous hill development council |
Links: FOTW homepage | search | disclaimer and copyright | write us | mirrors

---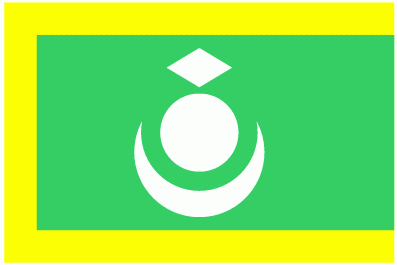 by Dirk Schönberger
---
See also:
---
Ladakhi nationalist movement
Nations Without States has an entry on Ladakh, which was at one time independent, then a vassal of Kashmir. Under British rule it was part of the princely state of Kashmir. Today it is partly in the Indian State of Kashmir, and partly in Chinese occupied territory. Ladakhi nationalists also claim Baltistan in Pakistani Kashmir. Ladakhis are mainly Buddhist in religion, and speak a form of Tibetan. The flag of the nationalist movement is given as green with a narrow yellow border on 3 sides- hoist, top & bottom. From the line drawing the width of each section of the border seems to be about 1/8 the height of the flag, (but that is only based on observing the drawing- it is not specified in the description). In the green center is a representation of a Buddhist stupa in white- an upward facing crescent, just above (and starting between the crescent's horns)is a disk, and above that a diamond shape (horizontal axis greater than vertical axis). Ratio of the drawing is 2:3
Ned Smith, 14 March 2001
---
Here a the news article about the changing emblem of Ladakh AHDC, but I couldn't locate an image or a photo of the new flag so far:
The Ladakh Autonomous Hill Development Council (LAHDC) has decided to adopt an insignia similar to the national emblem by replacing the Jammu & Kashmir's logo, drawing a sharp reaction from Peoples' Democratic Party (PDP) which said it was "unfortunate.
from: http://article.wn.com/view/2011/02/27/Ladakh_council_drops_J_K_logo_adopts_new_emblem.

Although in this article is not mentioned, searching for this material I read several articles that says that also a flag for Ladakh bearing the new emblem was hoisted.
Valentin Poposki, 15 June 2011

There are two Ladakh Autonomous Hill Development Councils - one for Leh (which has an emblem/logo not containing Jammu & Kashmir emblem in it) and the other Council is for Kargil (which used, apparently, J&K emblem until now and there is a lot of articles about the change, but not even a single image of it).
Chrystian Kretowicz, 16 June 2011
---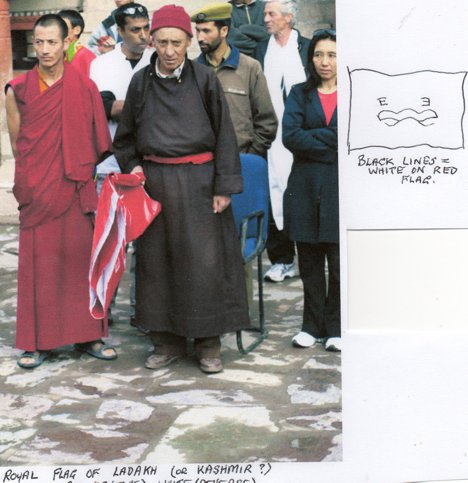 image located by John McMeekin, 16 January 2011
A photo of the old Ladakh Flag or Royal Flag? This is a 2 coloured flag of white (reverse) & red (obverse), on the red part is the Ladakhi emblem, drawn in white - as indicated by my drawing.
John McMeekin, 16 January 2011
I have been searching for flags from the Tibetan cultural area for some years now. I can say that if they are quite rare for Tibet itself, they are still rarer for others old kingdoms and principalities which are now parts of India or other countries (even for Bhutan, which is the last independent and organised country of the area). Locals may well have had rich vexillological traditions for several centuries, but if so they generally don't write nor talk about them.

As for this flag, the same photograph can be seen on the travel blog Kunzum with the following caption : "The King flagging off the Ladakh marathon". So, I wonder if it could be some sport flag used by the king on this occasion. The "E" letter you have seen on this flag is the "jha" letter of the Tibetan script.
http://kunzum.com/2009/05/15/is-this-man-the-king-of-ladakh or http://kunzum.com/2009/05/15/try-running-a-marathon-at-over-11000-feet-in-ladakh
Corentin Chamboredon, 16 January 2011
---
The Ladakh Scouts have a flag. It seems to be green and shows a golden device on its center. It is a golden wild goat (or ibex) on a pedestal, probably the same as the regimental insignia. Above it are the words (still with golden letters) Ibex thrillers, and under it the name Ladakh. The Ladakh Scouts were originally a paramilitary unit, but became a real regiment in 2000.
Sources:
http://www.tribuneindia.com/2002/20021117/spectrum/main1.htm
http://sanjhamorcha2009.blogspot.fr/2013/06/new-defence-policy-to-promote-local.html
Corentin Chamboredon, 2 July 2013