This page is part of © FOTW Flags Of The World website
Hebrides (United Kingdom)
Innse Gall
Last modified: 2021-07-10 by rob raeside
Keywords: hebrides | lewis | barra | gigha | scotland | cross: scandinavian | western isles | lymphad |
Links: FOTW homepage | search | disclaimer and copyright | write us | mirrors

---
See also:
---
Geography of the Hebrides
The Hebrides are grouped into the Outer Hebrides or the Western Isles (na h-Eileanan An-Iar) and the Inner Hebrides (na h-Eileanan A-staigh). The following islands make up the Outer Hebrides: Lewis (Leòdhas), Harris (Na Hearadh), North Uist (Uibhist a Tuath), Benbecula (Beinn na Bhadhla), South Uist (Uibhist a Deas), and Barra (Barraigh). The following islands make up the Inner Hebrides: Skye (an t-Eilean Sgitheanach), Rhum (Rùm), Eigg (Eige), Muck (Eilean nam Muc), Canna (Canaigh), Mull (Muile), Iona (I), Coll (Colla), Tiree (Tiriodh), Islay (Ile), Jura (Diùra) and Colonsay (Colbhasa).
Chris Pinette, 23 March 1998
---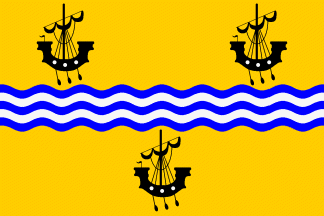 by Pascal Gross
The western isles flag flown outside the council offices in Stornoway is yellow with three black lymphads one in each top corner and one in the bottom middle divided in the centre with a blue & white striped wavy band.
Neil MacDonald, 27 September 2001
Based on a shield on a Western Isles government web page I have drawn what might be the flag (based on the description above).
Pascal Gross, 18 March 2003
I've just seen a news report which showed the Western Isles Council flag flying. The flag is almost identical to Pascal's reconstruction, except for the white oar-ports. It's definitely a banner of the arms, Or, a Fess Wavy Barry Azure and Argent, three Lymphads in action Sable.
Danny Farquhar, 14 January 2005
According photos from the last two editions of the Islands Games, the Western Isles use this flag with the pennant (on the ships) painted red.
Juan Manuel Gabino Villascán, 10 July 2007
A would-be flag for the Outer Hebrides as a whole is presented at https://web.archive.org/web/20041227001329/http://www.globalguide.org/index.phtml?id=44449. It is clearly derived from the flag of Western Isles Council flag but displays only one large black lymphad, without the oars, on yellow field. Its origin is yet to be determined.
Tomislav Todorovic, 7 March 2019
---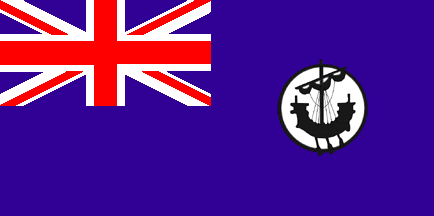 by Chris Pinette
This flag is only illustrated in Alfred Znamierowski, The World Encyclopedia of Flags. It is my understanding that the 'national flag' shown there is based on a misunderstanding of a badge grant to the Western Isles council. The badge with the lymphad was indeed granted by the Scottish heraldic authority. However, an ensign with a badge is a different matter and requires separate authorization.
The following item appeared in Flagscan No. 30, 1993, p. 20:
Roman Klimes in no. 12 of Flaggen, Wappen und Siegel, 1992, ascribes a flag to the Western Isles - the Hebrides. It is a British blue ensign with the badge ... of a sailing ship, black on white, in the fly. It was introduced Sept. 9, 1976. Klimes gives as his source The Lyon Register, No. 51.
Information given by R.M. Urquhart in his book Scottish Civic Heraldry, London: Heraldry Today, 1979, p. 78, makes it clear that 9 September 1979 is the date of the grant of arms and a badge to the Western Isles council. Urquhart quotes as source the same volume of Lyon's Register as mentioned in Flagscan. He remarks that the grant of a badge is unusual in that 'This is the first example of the granting of a badge to a Scottish Local Authority'. He does not mention the badge being placed on an ensign.
Jan Oskar Engene, 18 and 21 December 1999
When I wrote to Jos Poels about this Blue Ensign two years ago he replied: "As far as I know there is no evidence for the fact that this flag was legally adopted. I remember that I discussed this with William Crampton. In the documentation of the Flag Institute there is no trace of the existence of such a flag."
David Prothero, 21 December 1999
This flag is used by the Western Isles when they play at the Island Games, or is, at the very least, used by the International Island Games Association as a representation of the Western Islands [on their website]. The use of this flag can be seen at http://www.islandgames.net/content/members/western.html.
Shane Markle, 14 July 2006
That's not really an example of the use of a flag, though, more of the use of a flag graphic to indicate an entity on a web site.
Colin Dobson, 15 July 2006
For whatever it is worth, a photo at a Shetland website shows the Orkney, Western Isles, and Shetland flags being carried at the Island Games, and it is the Western Isles Council flag, not the Blue Ensign being carried for the Western Isles. See http://www.shetland.gov.uk/sport/ and http://www.shetland.gov.uk/sport/images/3.jpg.
Ned Smith, 15 July 2006
---
A Great Bernera flag definitely exists and has the authorisation of the Lord Lyon through an application made by Le Compte Mirrlees, well loved laird of the island. To view this flag (a saltire on alternate blue and red with Manx legs and a birlinn) do a search for Bernera islands stamps. The flag appears on these stamps.
Angus Macdonald, 28 January 2006
See the smallish thing at the upper right of this image http://www.philaleaves.homecall.co.uk/isles.JPG?
António Martins-Tuválkin, 30 January 2006
---
Gigha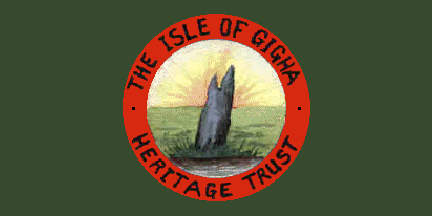 by André Coutanche
Gigha (the middle 'g' is silent - "Ghee-a") is the southernmost island of the Inner Hebrides, lying west of the Kintyre peninsula. On 15 March 2002 it was officially handed over to its inhabitants after a successful campaign by the Gigha Heritage Trust to buy the island. To celebrate the occasion a new flag was flown. It uses the logo of the Gigha Heritage Trust which was designed by Willie McSporran as the result of a competition held in November 2001. The logo was painted by Keith Helm. For more information, see www.gigha.org.
André Coutanche, 27 March 2002