This page is part of © FOTW Flags Of The World website
Devon (England)
Traditional English County
Last modified: 2021-07-03 by rob raeside
Keywords: england | devon | north devon |
Links: FOTW homepage | search | disclaimer and copyright | write us | mirrors

---

image by Tomislav Todorovic, 25 July 2020
On this page:
See also:
Other links:
---
Introduction: Devin County (Devonshire)
Devon County, most commonly called "Devon", also known as "Devonshire" and is a "Traditional County" of England. It derives its name from Dumnonia. Starting with the Bronze Age Roman rule of Britain, and through the Iron Age and early Middle Ages, it was the homeland of the Dumnonii Brittonic Celts. With the Anglo-Saxon settlement of Britain Dumnonia became part of the Kingdom of Wessex. The western boundary with Cornwall was set at the River Tamar by King Æthelstan in 936 and Devon eventually became a separate shire of the Kingdom of England.
Today it is bounded by Cornwall to the west, Somerset to the north-east and Dorset to the east. The city of Exeter is the county seat. The larger Ceremonial County of Devonshire includes the districts of East Devon, Mid Devon, North Devon, South Hams, Teignbridge, Torridge, West Devon, Plymouth and Torbay.
Pete Loeser, 17 September 2020
---
The Flag of Devon
There is now a flag for Devon (UK). The flag was designed by one of many contributors to a discussion originating on the BBC Devon web-site, which resulted in two "internet based" polls attracting hundreds of votes. The winning design most favoured on both occasions was designed by Ryan R. Sealey.
For more information see Flag Celebrates Devon's Heritage, an archived BBC article.
Paul Turner, 25 March 2003
The exact shade of green is not prescribed and although the main image at the Devon flag site shows a dark flag (RGB 0-126-0), the photo shows them a lot lighter.
So I'd standardised the shade to a BS RGB 0-153-0.
Jorge Candieas, 18 February 2005
The design of Devon's flag seems to reflect two separate influences. Firstly, the use of the Green seems to stem from its association with Devon's rugby team, and the Devon's flag group also claim "Viscount (or Lord) Exmouth flew a Green and White Flag at the Battle of Algiers (now on view at the Teign Valley Museum)." Secondly, it bears some similarity to the flag of Cornwall which is a white cross on black. Although the Cornish flag has been around at least a few decades, it is only in recent years, it has come to prominence, and Devon neighbouring Cornwall would be well aware of this. A number of flags have also arisen in various other parts of England and no doubt also led to a movement for Devon's own distinct flag.
The dedication to the Celtic saint St Petroc is interesting. St Petroc is well celebrated throughout the county, but is also the alternative patron saint of Cornwall, and some people used to/still refer to the Cornish flag as "St Petroc's flag" too. So there is a similarity to Cornwall here in more than just the black and white cross.
Ray Bell, 5 May 2005
Quoting Jean Tilley, "The Mid Devon Star", 20 March 2007:
"Devon's flag can now be flown with pride around the county, after a Government decision to end silly bureaucratic restrictions. The news has been greeted with delight at Devon County Council, which proudly flew the green, black and white flag last October, despite government regulations, to celebrate Devon and Local Democracy Week. Previously, only national flags were allowed to be flown - county flags needed planning permission. Failure to secure this could have, in theory, resulted in prosecution. Devon County Council Leader Brian Greenslade said: "I am delighted to learn of the Government's decision to end the silly bureaucratic restrictions on the public's right to fly their county flags with pride."

"Devon County Council is proud to fly the Devon flag at County Hall and we have done so to help highlight the nonsense of these restrictions. This is a real victory for commonsense and local county pride and I am really pleased the Government has agreed to make this change" The Department for Communications and Local Government has now admitted the rules were out of date and overly bureaucratic' and last week issued new guidelines. (...)"
Ivan Sache, 21 March 2007

In a recent TV documentary it was shown that the paddle steamer "Kingswear Castle", which sails on the estuary of the River Dart, flies the county flag of Devon as a jack. I have not observed any other such case involving a county flag; though I would not be surprised if it occurred in Cornwall where the local flag is widely used.
Kenneth Fraser, 2 November 2019

I add this from the Flag Institute Registry:
Flag Type: County Flag
Flag Date: 23 July 2002
Flag Designer: Ryan R. Sealey
Adoption Route: Popular Vote
UK Design Code: UNKG7404
Aspect Ratio: 3:5
Pantone© Colours: Green 348, Black, White
Source: Flag Institute Registry|Devon Flag
Valentin Poposki, 27 June 2020
---
Devon Flag Days
as recommended by the Devon Flag Group
The Devon Flag Group has released a list of the days to fly the Devon Flag. Of course the Devon Flag can be flown on any day, but for those people or organizations that have a range of flags (and limited flagpoles) it was believed useful to focus on some specific days which are special to Devon, and on which the flying of the Devon Flag is most appropriate. A number of these days are based on specific events, such as when the Devon Show is underway, and a number celebrate some famous maritime vents. In addition a number are also based on those days associated with the ancient saints of Devon or those who have a special association with Devon. Many have interesting stories associated with them. These days are:
4 January St Rumon of Tavistock and Romansleigh
7 January St Brannock
5 March St Piran - patron saint of tin miners on both sides of the Tamar, and in recognition of our Cornish colleagues.
7 April St Brannock - as celebrated in Exeter May Bank Holiday Anniversary of the first time the flag was flown (at the World Gig championships on the Isles of Scilly)
May/June Whilst Devon County Show is being held:

3 June St Kevin
4 June St Petroc (to whom the Devon Flag is dedicated)
5 June St Boniface of Crediton
6 June St Gudwal - hermit of Devon
17 June St Nectan of North Devon
21/22 June Midsummer
26 June St Brannock - feast day

8 July St Urith of Barnstaple/Chittlehapton
13 July St Juthware (sister of St Sidwell)
30 July Anniversary of the battle against the Spanish Armada off Plymouth
2 August St Sidwell
10 August St Geraint of Dumnonia
30 August St Rumon - feast day
26 September Anniversary of Drake's circumnavigation of the world in 1580
2 November St Cumgar
5 November St Kea of Landkey, Guy Fawkes night, Burning Barrel festival at Ottery St Mary, and the 'turning of the stone' at Shebbear
7 November St Congar
8 December St Budoc of Plymouth
12 December St Corentin
21/22 December Midwinter
1 Dec to 6 Jan New Year's Eve to twelfth night.
It is suggested that the Devon Flag should also be flown at local events - such as the annual Dartmouth Regatta, Combe Martin's "Hunting of the Earl of Rhone" festival, any day the Devon Rugby Union team is playing (and the day after if they win!!) or indeed any time a sporting team representing Devon is playing.
It may be of interest to know a little more about some of these saints, many of who have links with Devon going back over a thousand years. For example St Boniface is also the patron saint of Germany and the Netherlands, St Geraint is responsible for bringing the ancient British church and that of Rome closer together, and St Petroc is remembered in numerous dedications across Devon (18), Cornwall (9), and Somerset (1). Perhaps more mysterious are the lives (and deaths) of some of Devon's other saints. St Sidwell was beheaded by her jealous mother in law but where her blood landed a holy well started to flow. St Nectan was also beheaded when he surprised cattle thieves but simply picked up his head and walked home. St Rumon was once accused of being a werewolf (he was found innocent), St Brannock was given a vision telling him to build a church where he saw a sow with piglets, and if you have toothache a prayer to St Kea is your traditional source of relief!
Whenever you fly the Devon Flag it should remind you (and those who see it) what a great place Devon is!
The Devon Flag Group (DFG) was a body dedicated to promoting the Devon Flag (and Devon), to set and maintain the standards for the Devon Flag, and to consider and (if appropriate) critically evaluate Devon Flag products commercially available. [DGF no longer seems active on the web. For those seeking more information about the DFG contact Devon Flag].
Bob Burns, Paul Turner, and Kevin Pyne, 24 March 2004
---
Devon Ensign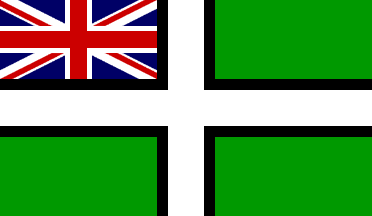 image by António Martins-Tuválkin, 14 December 2007
drawing based on this photo.
Also available is the Devon Ensign, similar to the flag but with the Union Jack in canton, and Devon courtesy flags for yacht. No pennant-shaped burgee yet?
Ivan Sache, 21 March 2007
Ouch! Flying that as an ensign could get a yachtsman into trouble! I haven't seen it in the cloth, but I'll look out for it. Presumably, though, flying this "together with" a red ensign would be OK. It's a direct analogy of the "Cornish ensign". I'm pretty sure I have seen a burgee version of the Devon Cross, but, again, I'll look out for confirmation.
André Coutanche, 21 March 2007
"First flown in 2003 the Devon Regatta Ensign (designed by Kevin Pyne) adds a Union Jack into the Canton of the Devon Flag - the flag is described as for the use at Regatta, High Days and Holidays, Weddings & Burials at Sea." Source: Flag of Devon, accessed 20 July, 2018
Flag of Devon
Peter Edwards, 27 July 2018
---
Coat of Arms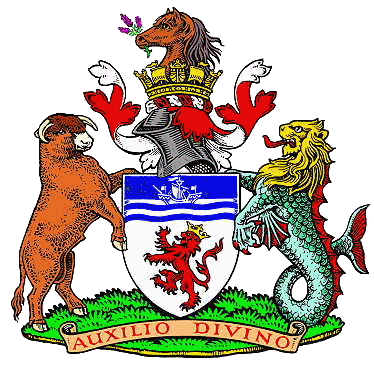 image from Pete Loeser, 17 September 2020
Source: Heraldry of the World
The arms were granted in 1926. The red lion is that of Richard, Earl of Cornwall and King of the Romans. The crown denotes royal descent. The chief illustrates the maritime heritage of the County, in particular Sir Francis Drake's ship, The Golden Hind. In 1962 a crest and supporters were added. The crest has a Naval crown for the long association of the Royal Navy with Devon. From this rises a pony's head. This represents Dartmoor, where wild ponies still roam. The dexter supporter is a bull for agriculture and the sinister a sea-lion for the sea. Thus both the inland and coastal communities of Devon are shown. The motto was that used by Sir Francis Drake and means "By Divine Aid".
James Frankcom, 13 October 2003
---
North Devon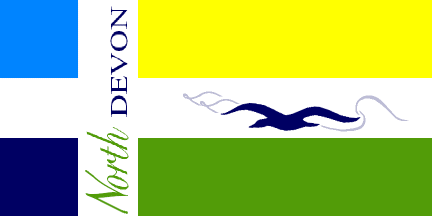 image by Blas Delgado Ortiz
On a leaflet advertising the town of Ilfracombe is shown a flag of North Devon. It has been produced by the North Devon Marketing Board, part of the North Devon Council. (source). The flag is a Scandinavian cross, light blue in the top left, yellow in the top right, very dark blue in the bottom left, and dark green in the bottom right section. The cross is white, and on the vertical part are the words "North Devon", while on the horizontal part is the symbol of a bird flying with what look like wind symbols at the end of the wings.
Paul Leaver, 5 September 2002
---
West Devon Borough Council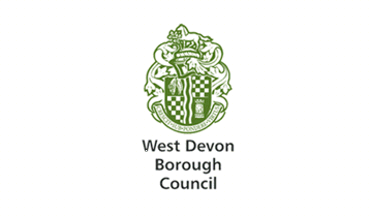 image by Pete Loeser, 24 June 2021
West Devon is a local government district and borough in Devon that includes Chagford, Okehampton, Princetown, and Tavistock. It is based in Tavistock. It was formed by the Local Government Art of 1972 combining Okehampton Borough and Rural District, Tavistock Rural District, and most of Dartmoor.
Pete Loeser, 24 June 2021
---
South Hams District Council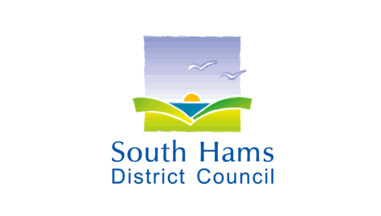 image by Pete Loeser, 24 June 2021
The South Hams District Council is a non-metropolitan district council administering the district of the South Hams in Devon formed in 1974. The council's administrative area was determined by the Local Government Act of 1972. It included the boroughs of Clifton Dartmouth, Hardness and Totnes; the urban districts of Kingsbridge and Salcombe; and the rural districts of Kingsbridge, Plympton St. Mary and Totnes.
Pete Loeser, 24 June 2021