This page is part of © FOTW Flags Of The World website
Danish Shipping Companies (T)
Last modified: 2022-02-19 by

christopher oehler
Keywords: denmark |
Links: FOTW homepage | search | disclaimer and copyright | write us | mirrors

---
See also:
---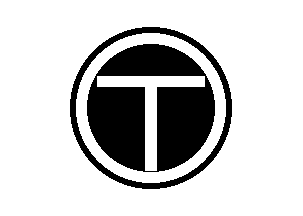 image by Ivan Sache, based on Joseph Nüsse website
White flag with a black disc with a white and black border and a white T inside it.
Ivan Sache, 16 November 2002
Terkol Rederierna. The company appears to originate from Nils B. Terkildsen who seems to have been involved in various companies some of which incorporated the name "Terkol". In the early 1970s he seems to have became part of Terkildsen & Olsen A/S which gradually absorbed the other operations and traded as Terkol Rederierna up until the latter 1990s. The earliest flag description that I can find is in a 1967 shipping book where it is given as the same as the funnel which is described as pale yellow with a yellow "T" on a blue circle. However this description is immediately found wanting as a ship photo shows the funnel emblem design is the same as that for the flag shown here. Probably the colours given are also suspect. This source shows the livery being for A/S Terkol etc i.e. for all the Terkildsen/Torkel companies. However Brown 1978 and 1982 give a different version of a white flag with a black "T" within a black ring before Brown 1995 confirms the flag shown here.
Neale Rosanoski, 27 April 2004
---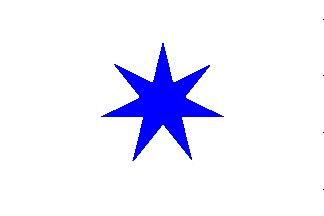 image by Ivan Sache, 12 June 2005
In 1879 or 1880 (accounts differ) two Danish shipping companies, the "Seil-og Dampskibsselskabet af 1873" and "Det Danske Søfartsselskab" formed "Thingvalla-Linien A/S" (Dampskibs Selskabet Thingvalla) with the aim of diverting Scandinavian passenger transport from German and British firms. The Copenhagen route included Oslo (then called Kristiania) and Kristiansand in Norway, and had New York as destination. Later, there were sailings between Stettin and New York as well. The line's advantages were easier routes for many Scandinavians and its congeniality, but transport was slower than the competition; the ships were smaller, too, and met with accidents. Financial difficulties led to Thingvalla being bought up in 1898 by the more famous DFDS company, the route being renamed Scandinavian America Line in the process.
Sources:
http://www.norwayheritage.com/p_shiplist.asp?co=thing
http://www.theshipslist.com/ships/lines/thingvalla.html
http://skandinavien-amerika-linie.com/History/HIS.htm
The house flag was white with a blue seven-pointed star in the middle. I suppose this is the right design, one point up.
In colour, on a poster:
http://www.kb.dk/kb/dept/nbo/da/samlinger/smaatryk/udstilling/Forside/tema1/74.htm
You can see it, vaguely, in this photo:
http://www.carlfredfam.com/documents_10.htm
The star is upside-down, surely, in this company brochure:
http://www.norwayheritage.com/gallery/gallery.asp?action=viewimage&categoryid=39&text=&imageid=688&box=&shownew=
Jan Mertens, 10 June 2005
---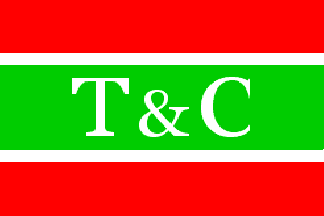 image by Ivan Sache, based on Joseph Nüsse website
Horizontal red, green, red, approximately 4, 6, 4 units high, with the colours separated from each other and the edges by 1 unit of white. (Though this note is a clear description, it does not agree with my recollection. I think there should be a centered "T & C" in White on the middle stripe.) http://www.tc-as.dk does show that, but it does not show the small border around the flag that I thought I saw.
Peter Hans van den Muijzenberg, 27 August 2001
Red flag with a wide green horizontal stripe fimbriated white in the middle, and the white letters T & C placed in the middle.
Ivan Sache, 16 November 2002
T&C Thor Chartering A/S. I agree with Peter that there is a narrow white edging to the whole flag, this being seen on the Josef Nüsse site where Josef's image's are taken from actual flags. The only question I would raise is whether the edging in the hoist is part of the design or forms the "sleeve". My guess is that it is a combination of these two as the hoist white edging is comparatively wide compared with the other 3 sides. The company itself was formed in 1994 as Tönnevald & Clausen A/S then becoming T&C A/S in 1996/1997, also known as Thor Chartering A/S, then 1.7.2003 became CEC Shipmanagement A/S on being acquired by Clipper Elite Carriers, part of Clipper Group (Management) Ltd.
Neale Rosanoski, 27 April 2004
---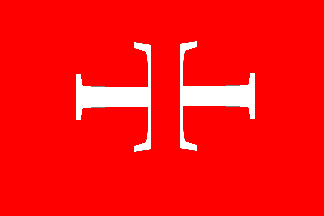 image by Jarig Bakker
Copenhagen - red flag, two white letters T, turned on side to make a disrupted white cross.
Source: Brown's Flags and Funnels (Wedge 1926)
Jarig Bakker, 20 January 2005
---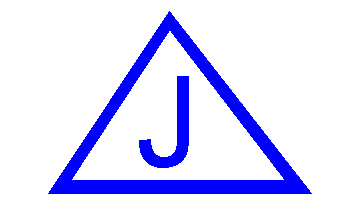 image by Phil Nelson, 24 June 2000
based on Stewart and Styring's Flags, Funnels and Hull Colours, 1963
---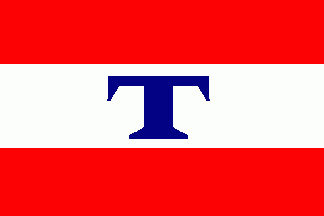 image by Klaus-Michael Schneider, 26 February 2021

image by Jarig Bakker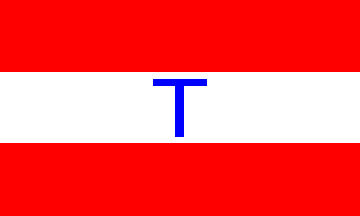 image by Phil Nelson, 24 June 2000
based on Stewart and Styring's Flags, Funnels and Hull Colours, 1963
A horizontal red-white-red triband, without the letter T.
Source: Brown's Flags and Funnels (Wedge 1926)
Jarig Bakker, 19 December 2004
The company website shows the current version of the house flag, as hoisted in front of the company headquarters in Copenhagen (photography in the gallery of the front page of the company website). There the the blue letter "T" is rather "bold" (seemingly not as "bold" on the real flag as on the company logotype) and serifed.
Torm was founded in 1889 by Captain Ditlev E. Torm (1836-1907) and Christian Schmiegelow. Today, Torm 's fleet (16 bulk carriers and 15 product tankers) is the second largest, in tonnage, in the Danish merchant fleet, surpassed only by A.P. Moller-Maersk.
Ivan Sache, 7 March 2008
TORM PLC is one of the world's greatest transporters of refined oil. The company runs a fleet of 80 modern ships with high requirements on safety, environment and customer service.
The company was established in 1889 by Ditlev Torm and Christian Schmiegelow. The company operates worldwide and has branch offices in Hellerup north of Copenhagen (seat), London, Mumbai, New Delhi, Houston, Manila, Cebu and Singapore and is an important supporter of the Danish sailing team.
Sources:
1) I spotted a flagoid on a sailing boat in Gilleleje on 4 June 2016.
2) https://da.wikipedia.org/wiki/TORM_PLC
3) http://www.torm.com/about-torm
Klaus-Michael Schneider, 26 February 2021
---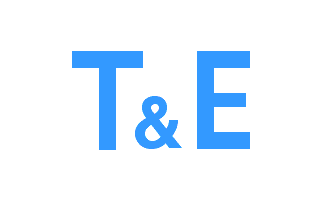 image by Ivan Sache, based on Joseph Nüsse website
White flag with the light blue letters T & E in the middle.
Ivan Sache, 16 November 2002
Tschudi & Eitzen Bulkers A/S. or as shown by Josef, Tschudi & Eitzen Bulkers (DK) A/S which does make a difference as Tschudi & Eitzen A/S was (it split up last year) based in Oslo but its shipping interests were handled through various subsidiaries which were all in other countries with this particular one being based in Denmark. The flag is different from the parent company in the blue colour used for the letters with the parent using dark blue (which can be seen on Joseph Nüsse's website for Norway under Seite 8 T-W). Whether other subsidiaries used such a differencing system is not known.
Neale Rosanoski, 27 April 2004
---
Continued as Danish Shipping Companies (W)