This page is part of © FOTW Flags Of The World website
House Flags of German Shipping Companies (k) - part 3
Deutsche Reedereiflaggen (k) - Teil 3
Last modified: 2019-08-18 by

klaus-michael schneider
Keywords: krabbenhoeft | krey sgmbh | krieger-gruppe | kriemelberg | kapt.hkrohn | krueger | kruemling | kulenkampff | kunstmann | bauer-hauschildt | krumhausen | krause | kuehnke | kubersky |
Links: FOTW homepage | search | disclaimer and copyright | write us | mirrors

---

3:5

image by António Martins-Tuválkin
German merchant ensign See also:
---
C. Krabbenhöft & Bock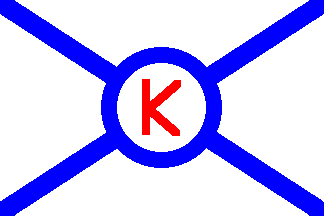 image by Ivan Sache, 1 Feb 2004

Following the link found by Joe Mc Millan - The Mystic Seaport Foundation, we can reach the 1911 Lloyd's flagbook, whose full title is (after the scan of the cover): "Lloyd's book of house flags and funnels of the principal steamship lines of the world and the house flags of various lines of sailing vessels", published at Lloyd's Royal Exchange. London. E.C.
On p. 134, we have: #2046. G. Krabbenhöft, Hamburg. The flag is white with a blue saltire, charged in the middle with a red "K" in a blue ring.
Ivan Sache, 1 Feb 2004

The company was based in Hamburg and named G. Krabbenhöft until 1914. Carl Chr. Dietrich Krabbenhöft was confidential clerk in the company of Hans Heinrich Schmidt and started an independent enterprise in 1910. Captain Bock became his partner in 1914 and since then the company had the above name. In 1926 the shipping company was given up but the company continued as ship supplier til the end of WW2.
Sources: Jürgen Meyer: "Hamburger Segelschiffe von 1795-1945"; ISBN 3-89225-400-1; Hamburg 1999; p.209ff. and Massary 1928, series 1, image no.384
Klaus-Michael Schneider, 23 Mar 2007
---
Diedrich Chistian Kramer & Co.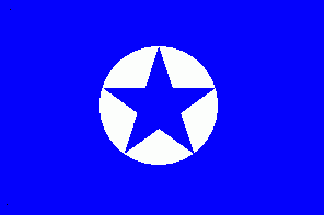 image by Klaus-Michael Schneider, 9 Jul 2012

According to source Hamburg shipowners register provides evidence of the company's existence at least from 1836 until 1849, with interruptions before since 1816, one of Hamburg's oldest shipping lines. It is a blue flag. In the centre is a white disc containing a blue 5-point star.
Source: Otto Mathies: "Hamburgs Reederei 1814 - 1914", Hamburg 1924, p.4
Klaus-Michael Schneider, 9 Jul 2012
---
Eduard Krause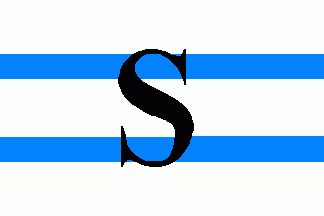 image by Klaus-Michael Schneider, 4 Aug 2019

The company was based in Memel. The flag was white with tow horizontal celestial blue stripes, over all a black, serifed initial "S".
Source: Massary 1928, series 1, image no.211
Klaus-Michael Schneider, 4 Aug 2019
---
Krey Schiffahrts GmbH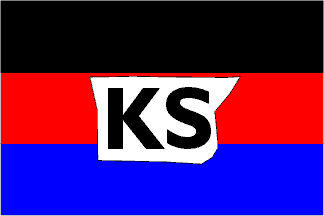 image by Jarig Bakker, 13 Nov 2003

Here is the website of Krey Schiffahrts GmbH - houseflag: horizontal black - red - blue with a white (what?) charged with black KS.
The Krey Schiffahrts GmbH, was founded by Mr. Georg Krey in the beginning of 1990 in Leer / Ostfriesland, The Company is presently managing a total number of 11 seagoing vessels in the worldwide trade with a number of 12 employees. The fleet does consist of Bulker Units between 3.000 and 12.000 tdw (geared and gearless), Containervessels up to 510 TEU, Tweendecker and Heavy Lift vessels with up to 2 x 120 to gear.

Recently last year, Krey Schiffahrts GmbH separated from Phoenix Reederei GmbH, a company which was partly owned by Mr. Krey. Krey Schiffahrts GmbH is now situated in a separate office also located in Leer, Germany. Krey Schiffahrts GmbH and Phoenix Reederei GmbH have managed in the past a number of 40 vessels in total with a number of around 40 employees.

The last 15 years, Krey Schiffahrts GmbH has projected, contracted and built a number of about 40 newbuildings at Shipyards in Turkey, China, Spain, Slovakia, Poland and the Netherlands. Further Newbuildings (12.000 tdw MPC Vessels) are contracted with deliveries starting in 2006.
Dov Gutterman, 2 Nov 2003
---
Krieger-Gruppe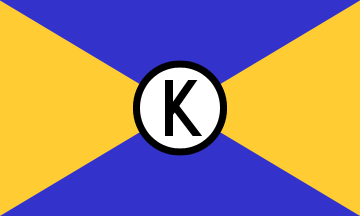 image by Eugene Ipavec, 24 Aug 2008

Despite its name, Heinrich Krieger KG in Neckarsteinach is peacefully occupied. According to the company website Krieger is 110 years old and successfully concentrates on the production of raw materials for construction such as sand and gravel, concrete, flags (meaning stones?), garden statues etc. In order to secure a steady supply of raw materials, the firm has had an inland fleet of its own since 1891 and has established warehouses alongside the Rhein and Neckar rivers.

The house flag appears on, and disappears from, the home site but I have managed to capture and enlarge its little brother: Divided per saltire blue (upper and lower triangles) and yellow (left and right triangles), there is a small white disk in the centre bearing a blue initial "K". See the flag in action on a barge, here.
Jan Mertens, 20 Mar 2006

The company site does not do the flag justice. The photos I saw then were simply not detailed enough.
See this forum page for the real item (neat barges, good flag usage). As you can see, the white disk has a black border and the initial "K" is black, not blue.
On the same forum, "Helmut" says (28 Jun 2008) that four ships are now operated by "Georg Krieger" (independent) but continue to fly the house flag.
Note: "Friedrich Krieger" flies a completely different house flag.
Jan Mertens, 24 Aug 2008
---
W.H. Kriemelberg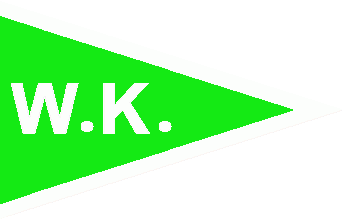 image by Klaus-Michael Schneider, 22 Jun 2012

It was a light green pennant with white, dotted initials "W.K." and white fimbriation at two edges.
Source: Flaggenkarte, Hrsg.: H. Carly, Hamburg, c.1898
Klaus-Michael Schneider, 22 Jun 2012
---
Reederei Kapt.Heinr. Krohn
| | | | |
| --- | --- | --- | --- |
| image by Klaus-Michael Schneider, 30 Mar 2009 | image by Klaus-Michael Schneider, 13 Apr 2009 |   |   |
The company was located in Lübeck-Travemünde. It is a yellow over white over yellow horizontal triband (see left image above) with ratio 1:2:1. In the white stripe is a yellow 6-point star shifted to the hoist. The 6-point star is in the centre and fimbriated black on other flag (see right image above).
Sources: "Deutsche Reedereien und ihre Erkennungszeichen"; 2nd ed.; Hamburg; 1956; p.33 and "Flaggen, Schornsteine, Reedereien- Flaggen und Schornsteine der deutschen Reedereien und ihre Schiffe über 300 BRT"; Hamburg 1957; p.F22
Klaus-Michael Schneider, 30 Mar 2009 / 13 Apr 2009
---
Hans Krüger Gmbh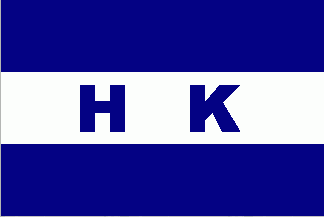 image by Klaus-Michael Schneider, 30 Mar 2009

The company was located in Hamburg. It is a dark blue over white over dark blue horizontal triband with dark blue capitals "HK" in the middle of the white stripe.
Source: "Deutsche Reedereien und ihre Erkennungszeichen"; 2nd ed.; Hamburg; 1956; p.25
Klaus-Michael Schneider, 30 Mar 2009
---
Julius Krümling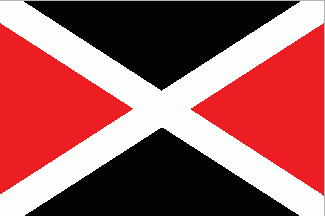 image by Klaus-Michael Schneider, 6 Apr 2009

Julius Krümling
The company was located in Hamburg and had inland shipping lines to major German inland shipping ports. The flag was divided by a white saltire into red (hoist and fly) and black (top and bottom).
Source: Carsten Prange: "Auf zur Reise durch Hamburgs Geschichte - A Journey through Hamburg's history", Hamburg 1990, ISBN 3-920384-35-0; p. 232.
Klaus-Michael Schneider, 6 Apr 2009
---
Otto Krumhausen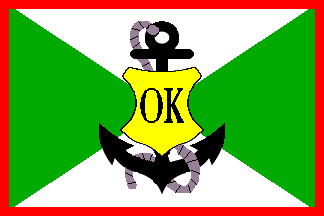 image by Klaus-Michael Schneider, 15 July 2019

The company was based in Hamburg. The flag was parted per saltire of green (hoist and fly) and white (top and bottom) and had a red bordure. In centre was a black fowl anchor, superimposed by a yellow shield with black inscription "OK".
Source: Flaggenbuch 1905, part V, p.17, image no.335
Klaus-Michael Schneider, 15 July 2019
---
Uwe Kruse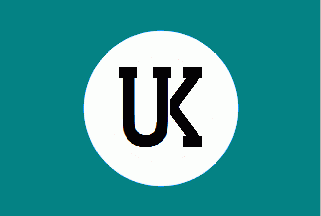 image by Klaus-Michael Schneider, 12 July 2012

The company is located in Drochtersen (Stade county). The flag is greenish blue with a white disc in the centre. The disc is containing a black inscription "UK". Both initials have one bar in common,
Source: Verband Deutscher Reeder homepage
Klaus-Michael Schneider, 12 July 2012
---
Franz Kubersky

image by Klaus-Michael Schneider, 7 Aug 2019

The company was based in Hamburg and offered tug boat service for lighters. The flag was quarterly divided of green and white.
Source: Schnall funnel chart 1997
Klaus-Michael Schneider, 7 Aug 2019
---
Reinhold Kühnke GmbH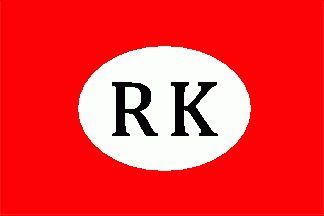 image by Klaus-Michael Schneider, 6 Aug 2019

The company was based in Stettin. The flag was red with a white centred oval with black, serifed inscription "RK".
Source: Massary 1928, series 1, image no.333
Klaus-Michael Schneider, 6 Aug 2019
---
Gebrüder Kulenkampff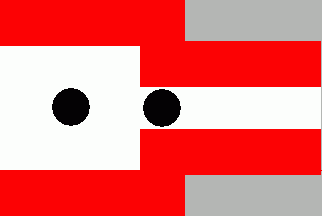 image by Klaus-Michael Schneider, 10 May 2012

It is a white pennant with stepped fly. The edges of both stairs are red. Two black dots ordered per fess and shifted to the hoist are between the stairs. This sailing ship company was located in Bremen.
Source: Lloyds 1912 ; p.135 , flag no.2097
Klaus-Michael Schneider, 10 May 2012
---
W. Kunstmann
| | | | |
| --- | --- | --- | --- |
| image by Klaus-Michael Schneider, 16 Sep 2008 | image by Klaus-Michael Schneider, 6 Aug 2019 |   |   |
W. Kunstmann was located in Stettin. The flag was blue with a white rhomb in its centre, containing a red capital "K" (see left image above) or light blue with bigger charges (see right image above).
Source: llo12, p.113, image no.1603 and Massary 1928, series 1, image no.317
Klaus-Michael Schneider, 16 Sep 2008
---
Küstentransport und Bergungs AG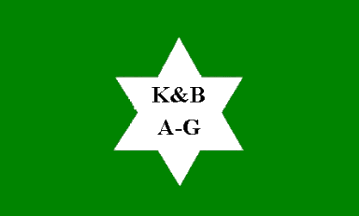 image by Klaus-Michael Schneider, 25 Mar 2007

Küstentransport und Bergungs AG - The company was established in 1922 from the Jungclaus & Bonnes KG. It was dissolved in 1927.
The company used a green flag with a white 6-point star in its centre. In the centre of the star was an black inscription "K&B" over "A-G".
Source: Jürgen Meyer: "Hamburger Segelschiffe von 1795-1945"; ISBN 3-89225-400-1; Hamburg 1999; p.240-241.
Klaus-Michael Schneider, 25 Mar 2007
---
Küstenschiffahrt Bauer & Hauschildt
image by Klaus-Michael Schneider, 25 Mar 2007

The company was located in Hamburg, existed from 1951 until 1998 and had been established by captain Julius Hauschildt and shipbroker Werner Bauer. After the founders had died, Wolfgang Bauer became the sole owner in the 70ies of the 20th century. In 1973 the fleet ran 85 vessels doing 25 sails average per year. Most ships had been sailed by captains being also owners of the single ships. The company was deleted from the roll of commerce in 1998. Klaus-Peter Bühne, translated by Klaus-Michael Schneider
The flag was quarterly divided into black and red superimposed by a white lozenge touching the edges. In the lozenge was an inscription "BKH", the "K" was black and bigger, the others were red.
Source: Klaus-Peter Bühne, www.marcollect.de,
Klaus-Michael Schneider, 5 Apr 2012
---
back to K-companies main page click here