This page is part of © FOTW Flags Of The World website
Bolivian naval ensign (1966~2009)
Last modified: 2017-12-09 by antónio martins
Keywords: civil ensign | irredentism | naval ensign | bolivia | sleeve patch | doubt |
Links: FOTW homepage | search | disclaimer and copyright | write us | mirrors

---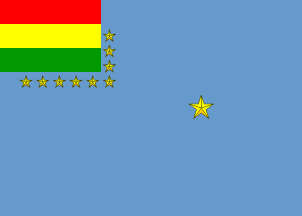 image by Željko Heimer, 11 Mar 2001
---
See also:
External links:
1966.04.13 law-decree (№0783) adopting the flag: text, PDF
reported by Jonathan Dixon, 01 Nov 2016
---
About the flag
The famous naval ensign of Bolivia - blue ensign with the national flag in canton surrounded by 9 small stars on two inner sides and one bigger star in lower fly. Album 2000 [pay00] says

. The light blue field of the flag is approximated in Album 2000 with Pantone Process Blue.
Željko Heimer, 11 Mar 2001
It is the flag of the Armada Boliviana (Bolivian Navy) (official website). It is a de jure institution first established on November 19, 1826 as Escuadra Naval (Naval Squadron), later renamed Fuerza Naval Boliviana (Bolivian Naval Force) on January 8, 1966 as the third Branch of the Armed Forces, to adopt its current name Armada Boliviana (Bolivian Navy) on December 23, 1981 (source). It has been used to symbolize the claim for access to the sea, but it is not a "claim" flag. (But the new approved legislation is actually a "maritime claim flag".)
Esteban Rivera, 14 Apr 2017
The Naval Ensign was adopted by a Decreto Supremo of 13 April 1966, and the colour of the field is therein described as azul celeste.
Christopher Southworth, 15 May 2004
This flag was first adopted by a Decreto Supremo of 13 April 1966, as «el Pabellón de la Fuerza Naval Boliviana», or Enisgn of the Bolivian Naval Force, although since then has become more commonly known as «la Bandera de Reivindicación Marítima» or similar names including «Bandera de Reintegración Marítima», or in English, the Maritime Claim Flag.
Jonathan Dixon, 23 Sep 2016
The ensign is actually used on Lake Titicaca.
Armand du Payrat, 03 Feb 2002
Not just Lake Titicaca but something like 10 000 miles of river as well, according to Jane's Fighting Ships [jfs] (online edition). The Bolivian Navy has 6659 men and 73 vessels ranging from 3-man river patrol boats to seven logistic support boats and 11 river transports.
Joe McMillan, 03 Feb 2002
All the photos I have seen of the patrol boats on Lake Titicana feature the state flag. Maybe the "naval ensign" is more a ceremonial flag?
Miles Li, 04 Feb 2002
Jane's [jfs] has three color pictures of the Bolivian Navy in which flags are visible and in each case the only flag flown is the regular Bolivian tricolor, not the naval ensign. There are, as I recall, eight different boats shown among these three photographs.
Joe McMillan, 03 Feb 2002
Every TV documentary I have seen related with Lake Titicaca shows a patrol-boat with the naval ensign. I won't be surprised if it were a kind of non-official prerequisite to make images there.
Ivan Sache, 03 Feb 2002
The red-yellow-green civil flag of Bolivia is authorized for use as a civil ensign by Bolivian registered shipping, despite the fact that Bolivia has no coastline. Fair enough. But Bolivia also has a naval ensign — which normally would imply a coastline and a navy to defend it.
The flag is light blue with a Bolivian flag in the canton. There are nine yellow stars below and to the right of the canton and a larger tenth star in the fly.
This is a good example of a flag being used to maintain a geopolitical claim. Bolivia had access to the Pacific until 1884 and getting it back has been one of the dominant trends of Bolivian domestic and international politics ever since. To cut a long and complicated story short, in 1879 Chile declared war on Peru and Bolivia which had, in alliance, seized various territories, including valuable nitrate mines, along the Pacific coast. The Bolivians and Peruvians lost. In 1904 the Chilean control over the coastal access lost by Bolivia was confirmed by treaty, the deal being that Bolivia should have access to the port of Arica via a railway to be built at Chilean expense. This was completed in 1913, but the Bolivians renewed their territorial claim in 1918. In 1932, Bolivia tried to gain access to the Atlantic by going to war with Paraguay. (Quite how this was supposed to work, given that Paraguay is itself landlocked, is something I've not seen satisfactorily explained.) Anyway, Bolivia lost disastrously, and Paraguay annexed about a third of Bolivia's territory. In 1962 the whole business flared up again and Bolivia broke off diplomatic relations with Chile. In 1975, Chile suggested a land swap as part of a package which would give Bolivia sea access, and a year later Peru came up with further suggestions. The stalemate continues, although discussions were held between Chile and Bolivia in 1991. The meeting, held between 18-22 March, coincided with Bolivia's «Day of the Sea» the timing and symbolism of which were fairly obvious.
The 9 small stars on the Bolivian naval flag represent the current 9 departments of Bolivia while the tenth symbolizes Bolivia's irredentist claim for sea access.
Stuart Notholt, 11 Feb 1996
Bolivia, now landlocked, still has a navy (on the Titicaca lake), with officers and admirals indeed, and flying a naval ensign to maintain the hope of getting back the maritime Atacama department, annexed by Chile after a border war. Bolivia also has a flag for this lost departement, Litoral de Atacama.
Ivan Sache, 03 Feb 1998, and Santiago Dotor, 05 Feb 1999
What is not clear to me: When the wiphala was first included? The Wiphala version is visible as early as 2011, long before the official adoption in 2017; it might have been used as early as the 2009 decree mandating use of the Wiphala alongside the tricolour.
Jonathan Dixon, 23 Sep 2016 and 16 Apr 2017
Construction sheet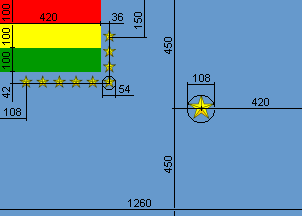 image by Željko Heimer, 31 Jan 2003
The ratio of this flag is quoted in [smi80] as ≅3:4, Album [pay00] says 3:4 exactly, Shipmate Chart [vdv00] have it as 2:3 and considerably larger canton.
Željko Heimer, 11 Mar 2001
Correction nº2 of the Album 2000 [pay02] shows a ratio of 5:7 and both this ratio and the specification were taken from a construction diagram drawn up by me from an official model sent by the Bolivian Ambassador to London (Jaime A. Quiroga Matos) on 25 May 2001 (and forwarded to both Armand and Željko).
Christopher Southworth, 15 May 2004
We have exact construction sheet for the ensign, but apparently the actual thing might have been used in many variants.
Željko Heimer, 01 Nov 2016
---
Shoulder patch variant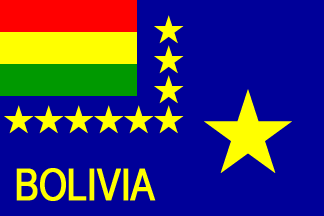 image by António Martins, 28 Feb 2002

I spent my last holiday in Bolivia and brought from there a flag, which Bolivian navy soldiers wear on there left arm. It looks a little bit different from the Bolivian Naval flag.
Jan-Patrick Fischer, 17 Feb 2001

The main difference is the wording "BOLIVIA" in the lower hoist — all the other diffrences (shade of blue, exact position of the stars, size of the canton et c.) may be nothing more that meaningless variations.
António Martins, 28 Feb 2002
---
Anything below this line was not added by the editor of this page.