This page is part of © FOTW Flags Of The World website
Ponca - Nebraska (U.S.)
Native American
Last modified: 2020-04-04 by rick wyatt
Keywords: ponca | nebraska | native american |
Links: FOTW homepage | search | disclaimer and copyright | write us | mirrors

---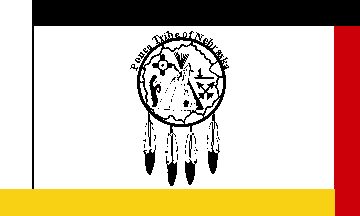 image by Donald Healy, 27 January 2008
---
---
See also:
---
The Band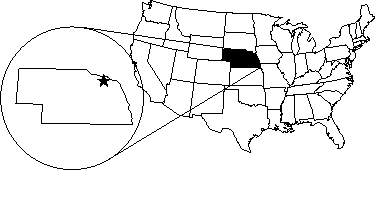 map image by Peter Orenski based on input from Don Healy
Ponca - Nebraska

In 1877 the Ponca, a Tribe whose historical roots lay along the banks of the Niobrara River in north-central Nebraska, along the border with South Dakota, were forcibly relocated to what was then the "Indian Territory" - modern Oklahoma. The harsh conditions, lack of arable land and the terrible winter of their first year in their new home saw nearly a quarter of the Ponca Tribe die. Amongst the dead was the son of the Ponca chief, Standing Bear. The chief had promised his son that he would be buried in his old homeland along the Niobrara.

To keep his promise, Chief Standing Bear and more than 60 members of his clan began a long funeral procession back to northern Nebraska. Shortly after they reached their traditional home, they were arrested by a detachment of the U.S cavalry and were imprisoned in Omaha.

In 1879, a judge ruled that the Ponca of Chief Standing Bear had the same right as any people to return to their home. Shortly after the trial the federal government granted the Ponca a reservation along the Niobrara. (ENAT, 196-197)

Today, the descendants of Chief Standing Bear's clan still live in Nebraska and South Dakota in the area of the Niobrara. Here flies the flag of the Ponca of Nebraska, too.
© Donald Healy 2008
The Ponca Tribe of Nebraska is federally recognized tribe since 1990. It has about 4000 members.
Valentin Poposki, 19 March 2020

---
The Flag
The flag is a white field bearing the tribal seal the center. The seal is depicted in black and white. Bordering the flag are four bars of different colors. Along the edge closest to the pole (called the staff end) is a white stripe, stopping just short of the base of the flag. Along that base, and ending just short of the outer edge, is a yellow stripe. The outer edge bears a red stripe that terminates just shy of the top and finally the top bears a black stripe ending just before reaching back to the staff. These four colors are the traditional four sacred colors of many Native Americans. The four colors stand for the four prime directions and the four races of man. The number four can additionally stand for the four seasons and many other natural elements that come in fours. Many tribes consider four to be a sacred number. A Ponca named Jerri Cross designed the flag. (Indian Center Museum - The Gallery of Nations, 9, The Indian Center Museum, Wichita, KS, 1996).

The seal has as its basis, a spirit hoop, sometimes referred to as a dream-catcher. From the hoop dangle four eagle feathers, reiterating the sacred number four. Within the spirit hoop are various symbols. The most prominent is the teepee in the center. To the teepee's right are a sacred pipe and two crossed arrows. These symbolize both peace and friendship. On the left of the sun and what looks to be a staff bearing a Ponca headdress. This may be a representation of the "sacred head", the word "Ponca" means "sacred head". Arcing over the spirit hoop is the name "Ponca Tribe of Nebraska."

© Donald Healy 2008
information provided by Peter Orenski, 27 January 2008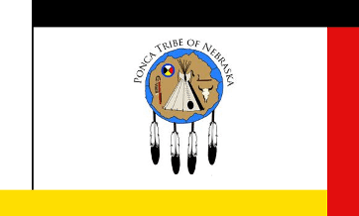 image by Valentin Poposki, 19 March 2020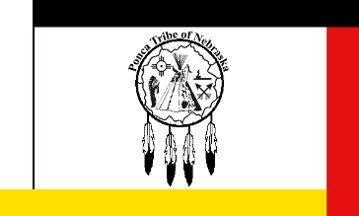 image by Valentin Poposki, 19 March 2020
There are two versions of the former flag - with emblem in black and white and in full color [us-ne-xptn1 & us-ne-xptn2]. However, recent photos show that the current flag has changed places of the black and white stripes. Here is my attempt to reconstruct that.
Valentin Poposki, 19 March 2020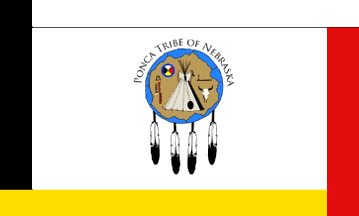 image by Valentin Poposki and Tomislav Todorovic, 20 March 2020