This page is part of © FOTW Flags Of The World website
Piqua Sept Shawnee - Ohio (U.S.)
Native American
Last modified: 2017-08-23 by rick wyatt
Keywords: piqua sept shawnee | shawnee | ohio | native american |
Links: FOTW homepage | search | disclaimer and copyright | write us | mirrors

---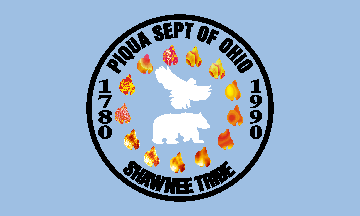 image by Donald Healy, 1 February 2008
---
---
See also:
---
The Band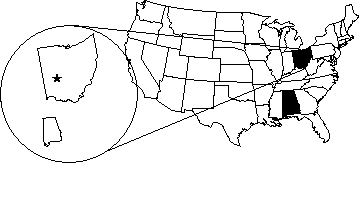 map image by Peter Orenski based on input from Don Healy
Piqua Sept Shawnee - Ohio

Like almost all tribes that originated in what is now the eastern United States, the Shawnee were repeatedly forced further and further west. Today the federally recognized Shawnee Tribes, the Absentee Shawnee, the Eastern Shawnee and the Loyal Shawnee are all found in Oklahoma. While the homelands of the Shawnee - now the states of Kentucky, Ohio, Tennessee and West Virginia - were filled by settlers, not all the Shawnee were evicted from these lands. Two hundred years ago, these states were the wilderness. Wilderness provides a great place to hide if you do not want to be found.

The Shawnee that avoided the forced movement as well as those who had already integrated into the Euro-centric society that was quickly filling the western slopes of the Appalachians and Cumberlands are the ancestors of the Piqua Sept Shawnee.

The Shawnee were composed of five distinct sub-groups, clans or "Septs". They were the Chillicothe, Hathawekela, Kispoko, Mequachake, and Piqua. Thus the Piqua Sept Shawnee translates into the Piqua Clan of Shawnee. The Piqua Sept Shawnee, like brethren from many other Tribes whose members were willing to accept assimilation rather than death or forced relocation, fight for the recognition denied them by the federal government. Based in Springfield, Ohio, they are also only one of two Shawnee Tribes (the other is the equally non-recognized United Remnant Band) still in the original homeland of the Shawnee. It is recognized by the state of Ohio and also Alabama where some of its members reside.
© Donald Healy 2008

---
The Flag
The flag of the Piqua Sept, while known, is not fully documented. The flag is light blue with a variant of the tribal seal in the center.

The seal, when shown on the flag is also light blue. When it appears on letterhead, documents or other representations, the seal is normally red. It is round and edged in black. The center of the seal contains the outlines of a bird and a bear. On the flag both images appear in white, in other media, they are usually yellow or gold. Ringing these two images are thirteen yellow flames forming a circle. Between the ring of flames and the black edge appear the Tribe's name "Piqua Sept of Ohio" around the top, "Shawnee Tribe" at the bottom, and the years 1780 to the left and 1990 to the right. All writing is in black.

Because the Piqua Sept are not federally recognized, information is scarce. The author could not find a definitive interpretation for the animals, though most likely they are clan totems. He could not even find what specific bird the image is supposed to represent, although it looks like either a hawk or game fowl of some sort.

The two dates are equally undefined. The author could find no treaty of grant of land dated 1780, nor the significance of 1990. The latter may represent the year Ohio granted recognition or when the Tribe reorganized. Details of these elements will have to wait until future information becomes available.

© Donald Healy 2008
information provided by Peter Orenski, 1 February 2008