This page is part of © FOTW Flags Of The World website
Metis Nation of New England - New England and New York (U.S.)
Native American
Last modified: 2018-02-12 by rick wyatt
Keywords: metis nation | new england | new york | native american |
Links: FOTW homepage | search | disclaimer and copyright | write us | mirrors

---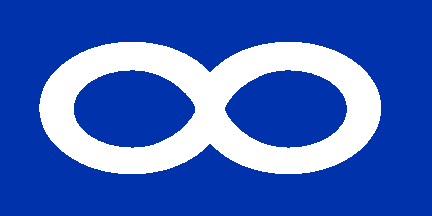 image by Donald Healy, 1 February 2008
---
---
See also:
---
The Band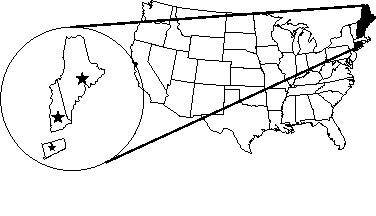 map image by Peter Orenski based on input from Don Healy
The Metis Nation of New England - New England and New York

The people called the Metis have traditionally been associated with Canada where they formed as a voice of those whose ancestry is both Native and non-Native. In Canada they have long been recognized as a distinct ethnicity a part of, yet different from the tribes and bands of the traditional Tribes that dwell in the northern part of the continent.

Though less known, Metis organizations have been formed in the United States to accommodate the needs and ethnic heritage and pride of those people who combine Indian and non-Indian blood. In Canada, the most common origin of the Metis was a mixing of Tribes such as the Ojibwe and the Iroquois with either French voyagers or the British traders of the Hudson's Bay Company.

In the United States the Metis have virtually an unlimited variation of ethnic origins. The United States Metis see themselves as a uniting force for all those of mixed ancestry, as long as part of that ancestry partially includes Native American.

One such Metis organization is the Metis Nation of New England (MNNE). According to the group's constitution of 2000, the MNNE is open to those of mixed ancestry who live in the six New England states as well as New York and New Jersey. Four bands of the MNNE have thus far been established, one each in Maine, New Hampshire, Massachusetts and Connecticut.
© Donald Healy 2008

---
The Flag
The flag employed by all four bands of the MNNE, and as far as is known, all Metis groups in the United States is the blue version of the standard Metis flag. According to the Canadian based Metis Resource Center (MRC), the flag of the Metis bears a horizontal figure eight, or infinity symbol. According to the MRC, "The infinity symbol represents the coming together of two distinct and vibrant cultures, those of European and indigenous North America, to produce a distinctly new culture, the Metis. The history, again according to the MRC, states that it was first used by Metis resistance fighters prior to the Canadian Battle of Seven Oaks in 1816. It is considered the oldest Canadian patriotic flag indigenous to Canada. The flag symbolizes the creation of a new society with roots in both Aboriginal and European cultures and traditions. The sky-blue background of the flag emphasizes the infinity symbol and suggests that the Metis people will exist forever."

The Metis flag has two variants: the more common blue flag, and the red flag. Both bear the infinity symbol in white. According to the flag's history as documented by the MRC, "Nobody knows why the early Metis chose these two color patterns for their flags. However, conjecture seems to indicate that the Metis created the blue and white infinity flag because these were the colors of the North West Company, the fur-trading firm which employed most of the French Michif-speaking Metis. The blue Metis infinity flag bears a striking resemblance to the blue and white flag of St. Andrew, the national flag of Scotland. The blue and white colors of the Metis flag are also the traditional colors of French Canada, as seen on the provincial of Quebec. That the creators of the infinity flag may have had some Scottish and French Canadian input when creating their flag is not surprising, because these two groups dominated the North West Company and had the most Metis descendants. However, the flag was uniquely Metis and was recognized as such. The red Metis flag may have been created by Metis employees of the British Hudson's Bay Company" - red being the predominant British color.

Although the definition of the flag refers to "sky" blue, the shade most frequently used is a dark blue, even in modern Canada, the red variant has all but disappeared. With the Metis forming organizations in the United States, their flag joins a series of growing flags that span the international boundary. For example, the Abenaki, the Micmac and the Iroquois use the same flag in Canada that they employ in the United States. It is a subtle but effective way of reminding us all that the people represented by this modern device - the flag have lived in this land for centuries. They predate the artificial borders created by the modern nation-state and are still one people, one heritage - and now, one flag.

© Donald Healy 2008
information provided by Peter Orenski, 1 February 2008