This page is part of © FOTW Flags Of The World website
Uzbekistan
Last modified: 2023-06-24 by victor lomantsov
Keywords: uzbekistan | asia | commonwealth of independent states | crescent | star | zodiac | peace | nature | life | turkemen |
Links: FOTW homepage | search | disclaimer and copyright | write us | mirrors

---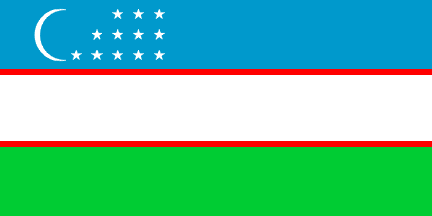 by Željko Heimer
Proportions: 1:2


Flag adopted 18 November 1991, coat of arms adopted July 1992
---
---
See also:
---
Description of Flag
Uzbekistan was the first central Asia republic to declare its sovereignty and to adopt post-Communist symbols. The flag of Uzbekistan is a light blue over white over light green tricolour, with thin red stripes separating the three stripes. In the upper hoist corner is a white crescent and 12 white stars.
Oddly, although Uzbekistan is a predominantly Muslim country, and the crescent is a symbol of Islam, the symbolism for the crescent moon is described as being representative of the rebirth of the nation, rather than its religion.
The 12 stars stand for the zodiac. White is for peace, green for nature, and red for the life force. The blue stripe stands for eternal night and for water as a fundamental source of life.
Stuart Notholt
According Album 2000: national Flag is blue over white over green tricolour with stripes fimbriated red and in canton white crescent and 12 white five-pointed stars, 3-4-5 "fly-justified". (CSW/---). Ratio 1:2.
For the colours are given official Pantone shades:
blue 313c, green 361c. Željko Heimer, 29 August 2002
Twelve stars are interpreted in two ways: The first one is the most reasonable and logical: there are twelve districts (viloyatlar) in the country and the crescent stands for Islam. The colors of the horizontal tricolor (blue-white-green, with two narrow red stripes separating the white from the blue and green) are interpreted as blue -- sky, white -- justice and green -- hospitability of the Uzbek people. The red stands for strength. The second version interprets the twelve stars as twelve months of the ancient calendar, and white in this version stands for cotton - the monoculture of Central Asia. Sergey Petrov, 1 February 2003
According Znamierowski blue was the colour of Tamerlan's banner and of several Turkish peoples. Tamerlan might be better known in English as Timur. Ivan Sache, 3 February 2003
---
Another explanation
As an Uzbekistan resident I think that the 12 stars are for the 12 oblasts or villoyets of Uzbekistan. The Karakalpaks have 5 stars for the same reason.
Guy Cosnahan, 17 November 2000
At http://bcc.com.uz/~yamurat/flag.htm we have a SYMBOLIC DESCRIPTION OF NATIONAL FLAG Of Uzbekstan.
António Martins-Tuválkin, 26 September 2002
---
Construction sheet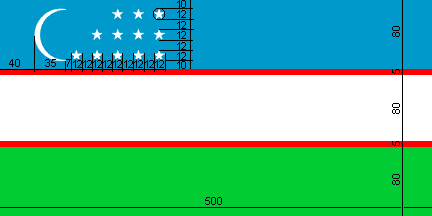 by Željko Heimer

Construction sheet according Law on state flag of 18, November, 1991 (as published in Official Gazette No. 141 of 28 November 1991). The measures in the legislation are given in centimeters, but since some are end in half centimeters, doubling of those numbers provide a reasonable unit. So:
- Overall flag measures 250x500
- Horizontal stripes 80+5+80+5+80
- Distance hoist - crescent 40
- Rectangle containing crescent and stars 60x150
- Diameter of circle circumscribing each star 12
- Distance between the circles 12
- Distance between horns of crescent to the hoistmost star-circle 7
- The diameter of the outer circle of the crescent is then, of course 60.
Željko Heimer, Christopher Southworth and Victor Lomantsov, 1 September 2002 - 2 March 2003
---
Vertical variant and colours
The protocol manual for the London 2012 Olympics (Flags and Anthems Manual London 2012 ) provides recommendations for national flag designs. Each NOC was sent an image of the flag, including the PMS shades, for their approval by LOCOG. Once this was obtained, LOCOG produced a 60 x 90 cm version of the flag for further approval. So, while these specs may not be the official, government, version of each flag, they are certainly what the NOC believed the flag to be.
For Uzbekistan: PMS 285 blue, 485 red, 361 green. The vertical flag is simply the horizontal version turned 90 degrees clockwise
Ian Sumner, 11 October 2012
---
Armed Forces flag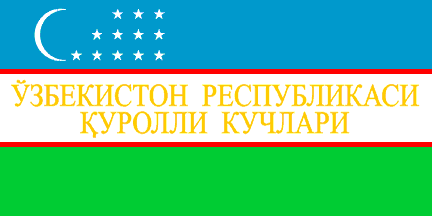 by Jens Pattke and António Martins

The photo of the Uzbek Army Standard was made by a friend of mine in Tashkent, Maksim Savochkin. The finial was from the Soviet-era, minus the hammer, sickle and star. The Uzbek flag is in a 2:3 ratio inside the photo
Zach Harden, 11 December 2004

Golden letters reading in cyrillic serif capitals:
Ўзбекистон Республикаси
in above, and
Kуролли Кучлари
bellow (latinized: "Ŭzbekiston Respublikasi K̩urolli Kuĉlari").
António Martins-Tuválkin, 16 December 2004
---
Coat of Arms. 1992 and 2010 variants
by Jarig Bakker
The current coa retains many parts of the old SSR COA: the grain and cotton wreaths, the ribbon (in the national colours now) with inscription, the sun, and even the star: this is, however, an eight-pointed blue star now instead of the communist five-pointed red star.
Marcus Schmöger, 16 September 2001
The refered eight pointed blue star seems to be the symbol "Start of Rub el Hizb", found in Unicode under U+06DE. This is an islamic sign (one more) and is found in other emblem and flags.
António Martins-Tuválkin, 17 December 2002
Coat of arms adopted by Law on 2 July 1992. The bird in the text of Law have the name "Khumo" - symbol of happiness and love to freedom.
Victor Lomantsov, 20 January 2004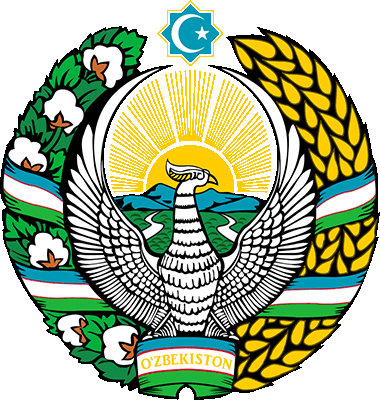 by Wikipedia
The official language of Uzbekistan is Uzbek. Until 1992 it was written with Cyrillic characters and since then it has been written with Latin characters. See the image of Wikimedia (Image by "TilmannR", Wikimedia Commons More information (with current coa image) about the state symbols on the web of the Embassy of Uzbekistan in the United States
Jose Antonio Jimenez Ruiz, 10 July 2019
Latinization of Uzbek characters started in 1993. But the COA was changed only in 2010; Law from 24 December 2010. The name of the state written on the COA since 2010 is "O'zbekiston".
Victor Lomantsov, 10 October 2019
---
Ministry of Internal Affairs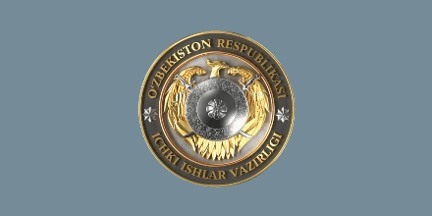 by Valentin Poposki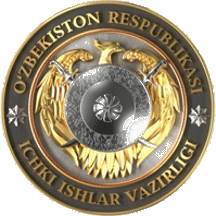 by Valentin Poposki
Here are new emblem and flag (2018) of the Uzbekistan Ministry of Internal Affairs
Source: https://www.facebook.com/...3311;
Valentin Poposki, 3 December 2019
---
Ministry of Defense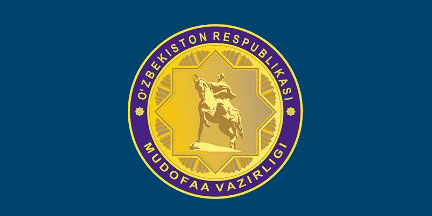 by Valentin Poposki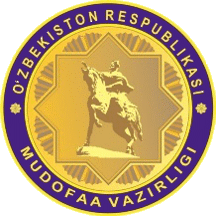 by Valentin Poposki
Here are emblem and flag of the Ministry of Defense of Uzbekistan, adopted 27.11.2018 by Decree of President Shavkat Mirziyoyev.
Valentin Poposki, 13 December 2019
---
Ministry of Emergency Situations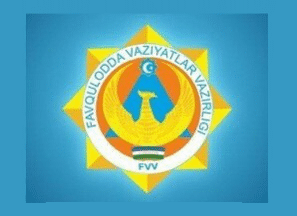 by Valentin Poposki
Here is the flag of the Ministry of Emergency Situations
Source: https://www.norma.uz/...;
Valentin Poposki, 13 December 2019
---
Prosecutor Office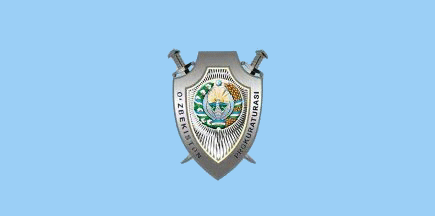 by Valentin Poposki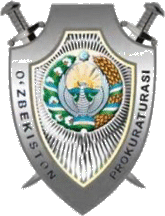 by Valentin Poposki
The flag and emblem of the Uzbekistan Prosecutor's Office were created by the Presidential Decree on 18.04.2017.
The flag of the prosecutor's office of the Republic of Uzbekistan (hereinafter referred to as the Flag) is a rectangular cloth of blue color, symbolizing constancy, courage, devotion, dedication and courage. In the center of the flag is a heraldic badge - the emblem of the prosecutor's office of the Republic of Uzbekistan. The flag is 250 cm long and 125 cm wide.
The flag may be of other sizes, however, in all cases, the ratio of the width of the flag to its length should be 1: 2.
The heraldic sign - the emblem of the prosecutor's office of the Republic of Uzbekistan is a triangular, elongated downward shield with cut out upper corners, symbolizing the protection of the state and society. Behind the shield are two diagonally crossed sabers with their points pointed down. The saber hilt consists of five rims, symbolizing the basic principles of the activity of the prosecutor's office of the Republic of Uzbekistan - unity, centralization, legality, independence and publicity. Field shield and saber silver. In the center of the shield is the State Emblem of the Republic of Uzbekistan. Relief straight lines symbolizing the rays of the sun are stretched from the State Emblem of the Republic of Uzbekistan to the edge of the shield. On the left side of the shield there is an inscription in dark blue letters of the Latin alphabet: "O'ZBEKISTON", on the right: "PROKURATURASI". Heraldic sign, in accordance with legislative acts can be performed in a single-color (silhouette) image.
Source: https://lex.uz/docs/3177798;
Valentin Poposki, 2 February 2020
---
Custom Service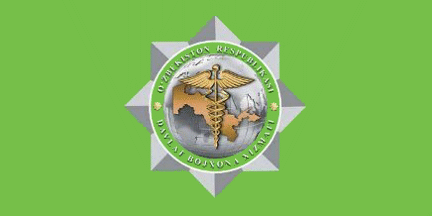 by Valentin Poposki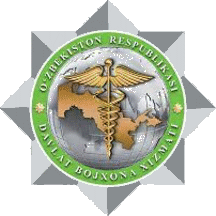 by Valentin Poposki
The flag and emblem of the Uzbekistan Custom Service were granted by the Resolution of the Cabinet of Ministers on 07.08.2018.
The flag of the State Customs Service of the Republic of Uzbekistan (hereinafter referred to as the flag ) is a rectangular cloth of light green color, symbolizing prosperity and stability.
Length flag and - 250 cm, width - 125 cm. In the center, flag a shows the identification mark of the State Customs Service of the Republic of Uzbekistan (hereinafter the identification mark). Distance: from the upper and lower edges of the flag a to the identification mark - 10.25 cm; from the left and right edges of the flag a to the identification mark - 72.75 cm.
The size: height and width of the identification mark - 104.5 cm; the width of the white ring of the identification mark is 1.2 cm; the width of the ring strip of the identification mark light green - 7.43 cm; font size of the inscription "O'ZBEKISTON RESPUBLIKASI" and "DAVLAT BOJXONA XIZMATI" of the identification mark - 3 cm; globe diameter - 56.5 cm; the height of the identification mark card is 32.55 cm, the width is 49.64 cm; the width of the wings of the rod of Mercury of the identification mark is 39.39 cm and the length of the rod is 44.6 cm; the diameter of the eight-pointed stars of the identification mark is 5.46 cm. The flag may be of other sizes, however, in all cases, the ratio of the width of the flag a to its length should be 1: 2.
The identification mark of the State Customs Service of the Republic of Uzbekistan (hereinafter - the identification mark) is a silver octahedron, symbolizing stability and constancy, inside which a silver globe is depicted, surrounded by a ring strip of saturated green color, separated from the octahedron by a white ring. On the ring stripe above, the inscription is white with direct letters of the Latin alphabet: "O'ZBEKISTON RESPUBLIKASI", at the bottom - "DAVLAT BOJXONA XIZMATI". The inscriptions are separated by two eight-pointed golden stars.
In the center of the globe is a bronze-colored map of the Republic of Uzbekistan, on the background of which is a golden winged rod entwined with two snakes (the rod of Mercury), installed vertically with the tip pointing downwards, symbolizing together the protection of economic interests and ensuring economic security, as well as the development and strengthening of trade relations of the Republic Uzbekistan with countries around the world.
Source: https://lex.uz/docs/...;
Valentin Poposki, 6 February 2020
---
National Olympic Committee of the Republic of Uzbekistan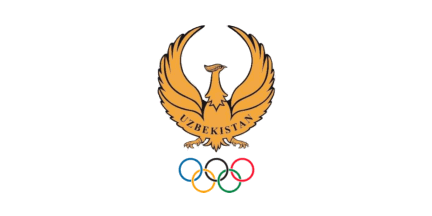 by Tomislav Šipek
The flag of National Olympic Committee of the Republic of Uzbekistan is white with logo.
Sources: http://usport.uz/uz/news/view?id=529, http://butsa.uz/news/yangilik_67.HTML.
Tomislav Šipek, 23 April 2018
---
National Paralympic Association of Uzbekistan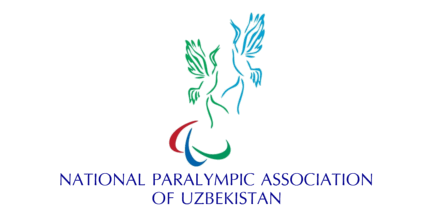 by Tomislav Šipek
The flag of National Paralympic Association of Uzbekistan is white with logo.
Source: https://www.facebook.com/paralympicuz/photos/....
Tomislav Šipek, 10 August 2018
---
Uzbekistan Football Association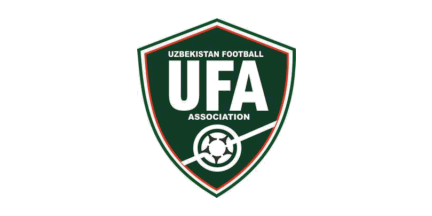 by Tomislav Šipek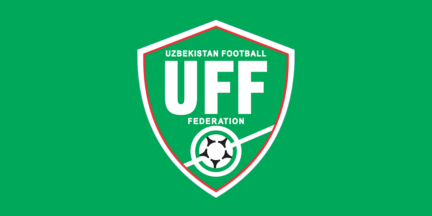 by Tomislav Šipek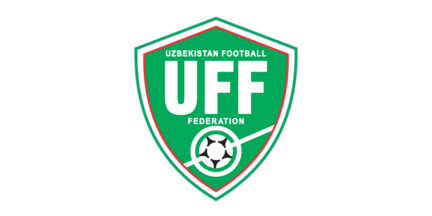 by Tomislav Šipek
The flag of Uzbekistan Football Association is white with logo. In 2017 Uzbekistan Football Federation is renamed to Uzbekistan Football Association.
Sources:
https://www.facebook.com/...3311;
https://www.qfa.qa/;
https://spartaktashkent.com/;
Tomislav Šipek, 5 May 2019
---
Uzbekistan Professional Football League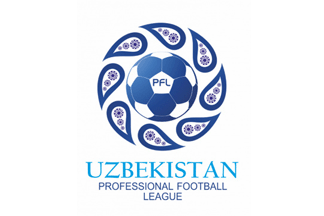 by Victor Lomantsov
Flag of Uzbekistan Professional Football League
Source: https://www.facebook.com/...3311;
Victor Lomantsov, 6 May 2019
---
Special Olympics Uzbekistan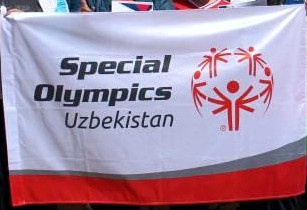 obtained from www.facebook.com
Flag of Special Olympics Uzbekistan
Source: https://www.facebook.com/...;
Paul Bassinson, 25 April 2021
---
Aircraft marking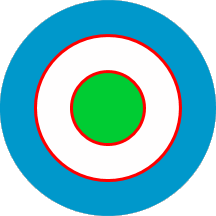 by Eugene Ipavec
For Uzbekistan, [cos98] show one of his "suggested" roundels of "classic" blue white green with a crescent charging the inner blue disc. Nevertheless, his suggestion is logical but incorrect. The roundel is in the oposite order of colors - green-white-blue, with thin red rings in the internal borders. There is no crescent. See http://www33.brinkster.com/militaraircraft/mil/5.jpg
Dov Gutterman, 28 June 2004
The Corr.4. of the Album 2000 confirms what Dov Gutterman claims, showing the roundel of blue-white-green (green in the center) with thin red fimbriation between each. A note there also says that the national colours are painted on the fin in five stripes.
Željko Heimer, 26 July 2005
---
Tashkent - the capital of Uzbekistan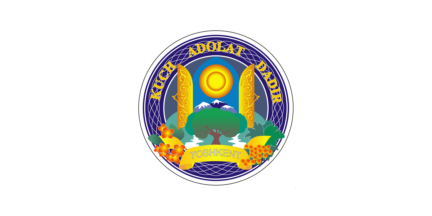 by Tomislav Šipek, 30 August 2016
Text from http://www.capitals.e-allmoney.com/asia/uzb.html: "A flag Tashkent the rectangular panel of white colour in which centre the round urban arms are seated is Modern. The coat of arms cities represent round east board of dark blue colour in which centre the arch of blue colour with open gold east collars is possessed. In the arch centre the stylised plotting of three mountain snow tops of dark blue colour and a round gold flat cake over them is seated. Under an arch the green tree a plane tree which trunk is bent around by two white rivers places. On the top extremity of a board gold Latin letters trace the motto «KUCH ADOLAT DADIR» - «FORCE In JUSTICE». In arms bottom the gold arched tape with the city name (letters Latin, grey colour) is represented. The tape ends decorate on the one hand an orange bunch with green leaves, with other - orange flowers of a clap. The flat cake, a clap and grapes personify agriculture, the earth and work; snow tops and a plane tree - the nature of Tashkent. Date of an official confirmation of the coat of arms of Tashkent became on April, 21st, 1909"
Tomislav Šipek, 30 August 2016