This page is part of © FOTW Flags Of The World website
Police flags (U.S.)
Last modified: 2017-02-28 by rick wyatt
Keywords: united states | police department |
Links: FOTW homepage | search | disclaimer and copyright | write us | mirrors

---
---
See also:
---
Thin Blue Line
| | |
| --- | --- |
| image by John Evosevic, 3 July 2002 | image by Tomislav Todorovic, 4 May 2016 |
Lately I've noticed a black - medium blue - black, arranged horizontally auto tag on many vehicles in the area around Pittsburgh, Pennsylvania
John Evosevic, 3 July 2002
The Black-Blue-Black design is usually seen on a policeman's personal car or family members car. It stands for the "thin blue line". There is also a similar one with a red strip for firemen.
Jim Popovitch, 17 August 2002
The black-medium blue-black flag is actually a police mourning band. It is typically worn as a band across the badge when an officer is killed in the line of duty. I have seen it in use more frequently now as a bumper sticker, I believe this is probably a show of respect for the police officers killed on September 11th.
Troy Corwin, 26 September 2002
This design is an identification to notify other law enforcementpeople that the bearer also works in law enforcement. It representsthe "thin blue line, or brother police officer. The identification of fallen officers uses a badge with black tape or a black elastic band around the center. It is usually only worn when an officer dies, and is worn for up to a week after death, not everyday use.
Bob Cunningham II, 8 May 2006
It is not just a mourning flag. It's origin is vague. In its earliest form, it was used to identify police officers, as mentioned above. The "thin blue line" of protection against evil. One story I heard was that in the event of a traffic stop, it let the approaching officer know that the person in the vehicle was a cop and might have a firearm.The current use is more of support for law enforcement.
Rick Wyatt, 2 June 2015
The flag is sometimes hoisted vertically, as shown here:



image by Tomislav Todorovic, 4 May 2016

The blue stripe width varies and may be somewhere between 1/5 and 1/6 of the flag width. One example is here. All variants of the Thin Blue Line Flag are made with a variety of ratios, the most frequent ones being 2:3 and 3:5.

Tomislav Todorovic, 4 May 2016
---
Thin Blue Line U.S.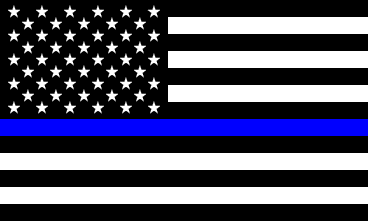 image by Tomislav Todorovic, 4 May 2016
derived from image by Joe McMillan
The Thin Blue Line U.S. flag was created by combining The Thin Blue Line flag with the Stars and Stripes and creating a new flag. The red stripes and blue canton are black and the white stripe beneath the canton is medium blue, while the other stripes, as well as the stars, remain white. This flag seems to be manufactured only in ratio 3:5.
Tomislav Todorovic, 4 May 2016
One website offers this explanation:
"The Thin Blue Line American Flag serves as a testament to the valor of police officers across the country. The courage exhibited by officers in the line of duty is represented by the Thin Blue Line in the center of the flag. The solemn black background acts as a memorial to the lives lost while shielding citizens from anarchy."
Pete Loeser, 13 June 2016
---
Thin Red/Blue Line
| | |
| --- | --- |
| image by Tomislav Todorovic, 15 June 2016 | image by Tomislav Todorovic, 15 June 2016 |
These two flags support both the firefighters and the police officers.
Pete Loeser and Tomislav Todorovic, 15 June 2016
---
Police Lives Matter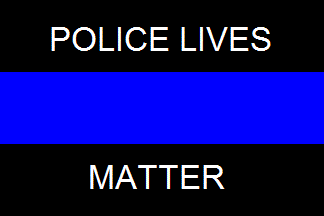 image by Pete Loeser, 2 June 2015
A friend reported "This weekend there was a rally in Baltimore in support of the police, at which were carried U.S. flags and one with three horizontal stripes, black-blue-black, with POLICE LIVES in white letters on the top stripe and MATTER on the bottom stripe."
Pete Loeser, 2 June 2015
---
In Memoriam
I have found two police memorial flags with identical designs save for the colors used. Both flags take the form of a vertical tricolor, with the first third of the flag (closest to the hoist) either blue or purple, the middle third white, and the fly third black. Both designs feature the black outline of a generic police shield or badge with an eagle on top. The word "POLICE" appears on a banner within the shield/badge. Above the device, in black script lettering are the words "In Memoriam." I have seen both designs advertized for sale online, and have seen photographs of both designs in use, including the purple-white-black design flown at the Nebraska Law Enforcement Officers Memorial 1.bp.blogspot.com/.
Randy Young, 29 January 2015