This page is part of © FOTW Flags Of The World website
Des Moines, Iowa (U.S.)
Last modified: 2021-05-15 by rick wyatt
Keywords: des moines | iowa |
Links: FOTW homepage | search | disclaimer and copyright | write us | mirrors

---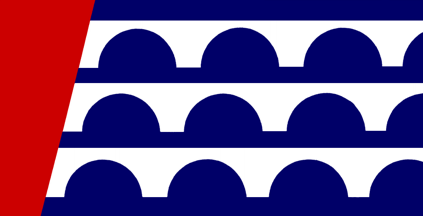 1:2 image(s) by permission of David B. Martucci
image(s) from American City Flags, Raven 9-10 (2002-2003), courtesy of the North American Vexillological Association, which retains copyright.
---
---
See also:
Colleges and universities:
---
Text and image(s) from American City Flags, Raven 9-10 (2002-2003), courtesy of the North American Vexillological Association, which retains copyright. Image(s) from American City Flags by permission of David B. Martucci.

The flag of Des Moines has a dark blue field with a red trapezoid at the hoist, its top not quite 3 times the width of its base. On a field of 12:24 units, the trapezoid's top would be 5.5 units and its base 2.3 units. Three arched bridges in white, each 2.7 units high, extend from the trapezoid to the fly edge, with one unit between each, and at top and bottom. They also increase in width from top to bottom, such that although each has 3 complete arches, a fourth arch is only partially shown, each progressively a bit wider. The arches of the top and center bridges are staggered over the bridge below it parallel to the trapezoid.
John M. Purcell, American City Flags, Raven 9-10, 2002-2003

The three bridges represent the row of bridges across the Des Moines River, easily recognized landmarks of the city that unify the east and west sections of the city. The colors of the flag recall those of the United States flag.
John M. Purcell, American City Flags, Raven 9-10, 2002-2003

At the suggestion of seventh-grade students from Callanan Junior High School that the city adopt a flag, the Greater Des Moines Chamber of Commerce conducted a contest during March 1974. There were 383 entries from residents ranging from three months old to octogenarians.
Flag adopted: 15 April 1974 (official).
John M. Purcell, American City Flags, Raven 9-10, 2002-2003

The contest winner was Walter T. Proctor, editor, publisher, and founder of American Host, a hotel-motel-resort industry magazine.
John M. Purcell, American City Flags, Raven 9-10, 2002-2003

The first official flag-raising ceremony for the new city flag was held on 31 March 1975, nearly a year after the flag was adopted. Proctor received a framed letter of appreciation from the Des Moines City Council, a certificate from the chamber of commerce, and a framed facsimile of the finished flag design.
John M. Purcell, American City Flags, Raven 9-10, 2002-2003

The flag was retired after the products of the production run had all been worn out in the 1990s.
"Blue VanGogh", 6 June 2002

The three white bridges represent the Walnut, Locust, and Grand bridges in downtown Des Moines. The flag was first raised at City Hall on March 31, 1975. The flag still flies every day at the Des Moines City Hall and at many city facilities across the metro area. It may be flown anywhere the American flag is flown, on the same pole, but must be smaller than the American flag.
Source: www.ci.des-moines.ia.us/departments/ac/information/walter_proctor.htm
António Martins-Tuválkin, 24 May 2004

The City of Des Moines has re-adopted the former "three bridges" flag, that was dropped in 2008 in favor or a logo flag.
https://www.desmoinesregister.com/story/news/local/des-moines/2019/10/14/des-moines-again-adopts-three-bridge-design-city-flag-first-adopted-1974
Dave Fowler, 14 October 2019
---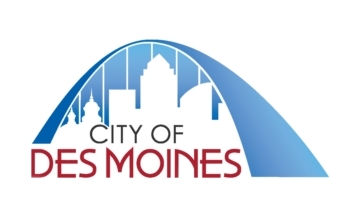 image by Tomislav Šipek, 19 April 2019
The city flag apparently changed a few years ago: http://www.themunicipal.com/2015/10/des-moines-iowa/%e2%80%8b.
Posted on October 23, 2015 by The Municipal:
Settled: 1843
Pop: 207,510 (2013)
Government type: Mayor, city council, city manager
www.dmgov.org

It was the same chief characteristic that made Des Moines a desirable place to settle — the convergence of two major rivers — that gave rise to modern Des Moines' most iconic structures: its downtown bridges.

The arched architecture of spans crossing the Des Moines River inspired a design that was featured on flags flown over the city from 1974 to 2009. Painted in patriotic hues, it featured three of the similarly constructed structures that traversed the river at downtown locations.

In 2008, the city opted to develop a new flag design, however. According to Public Information Officer Amelia Hamilton-Morris, the intent was not to retire the bridge imagery but update it to include a representation of the extensive redevelopment that has taken place in the area.

"We went to the new design in 2008–2009, because much of Des Moines has been transformed: It's a totally different landscape. Old buildings are gone and we now have new bridges, including a pedestrian one." The city has also become a formidable business center, which is also represented by the skyline. "We did the redesign because it's not the same city. Once we rebuilt the downtown, we needed something more reflective of who we are now."

The image is the city's new brand and appears on everything from business cards to work apparel. It appears next to the U.S. and Iowa flags above every city building that's equipped to fly them and is available for purchase at city hall.
Dave Fowler, 19 April 2019
---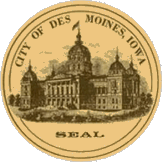 image located by Paul Bassinson, 2 August 2019
Source: https://iagenweb.org/polk/public-safety/images/CitySeal.jpg
Paul Bassinson, 2 August 2019
---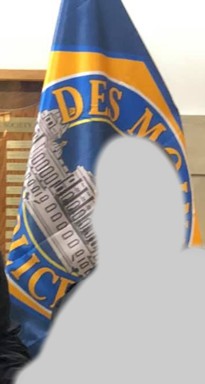 image located by Paul Bassinson, 12 March 2021
The flag of the Des Moines Police Department. It appears to simply be their logo on a solid blue background. Image obtained from https://www.facebook.com/DMPolice/photos/2847552778624952
Paul Bassinson, 12 March 2021
---

image located by Paul Bassinson, 15 March 2021
The flag of Des Moines Firefighters was obtained from https://www.facebook.com/DSMIAFF4/photos/1961098233955768
Paul Bassinson, 15 March 2021
---
This is a bit of an editorial newspaper article. A teacher was so incensed about a lack of awareness of the newly-adopted Des Moines, Iowa city flag that he complained to the local newspaper about it. Lack of recognition of city flags doesn't appear to be a new phenomenon. The article is reproduced below.

From the Des Moines Tribune in Des Moines, Iowa
October 18, 1974

Interest in D.M. Banner Flags: City Buildings Still Flying None by Deborah E. Kiewit

Six months after the design for Des Moines' official city flag was accepted by the City Council, one of the distinctive red-white-and-blue banners has yet to fly over a municipal building here. And it may be another 2 1/2 months before one does. A city flag does fly on occasion over Callanan Junior High School at Thirty-first and Center Streets. It is one of the few city flags sold here since the design was approved Apr. 15.
Presentations given by six Callanan students to the City Council last year led to the Chamber of Commerce-sponsored flag design contest. And the school was the first to purchase a city flag from Des Moines Sanitary Supply Co. at 409 Court Ave., the only known distributor of flags here. Charles Ill, owner of the supply company, said he ordered 144 of the flags shortly after the design was approved and received them in mid-June. But "less than a dozen" have been sold, he said. Ill said Callanan purchased their first flag in early September, and a few others were sold, mostly to homeowners. He said the store hasn't yet promoted the sale of the city flags because: "We're waiting…until the city buys some and puts them on their buildings."

Plans
The company is selling the 18-inch-by-36-inch cotton flags for $9.95 each, an employe [sic] of the store said. The city does have plans to provide 110 of the new flags for use on city property. Bids were let on the flags Sept. 6 and were opened Sept. 30, according to Floyd Klebe, city purchasing agent. On Oct. 3, Klebe said, a low bid of $1,507 for 80 30-inch-by-60-inch and 18-inch-by-36-inch flags tentatively was accepted from Flag Specialists in Scranton, Iowa. The City Council is scheduled to consider the bid Monday night. The flag company then will have 75 days after it receives the order to deliver the flags. The larger flags, of nylon, will cost the city $14.36 each; the smaller flags, of cotton, will cost $11.94 each.

Other Buildings?
What about other public buildings in Des Moines?
Robert Denny assistant superintendent of Des Moines schools, said the school district "doesn't have the funds" to purchase city flags for all 80 local schools. He noted that state flags recently were ordered for all schools to comply with a new law requiring all schools to fly the state flag as well as the U.S. flag. Federal government buildings here fly only U.S. flags, and there are no plans to acquire city flags, officials said. Stanley McDonald, director of the State General Services Department, said he isn't opposed to flying the city flag on state buildings, but added that he doesn't know whether it would be appropriate for the state to fly city flags. The Greater Des Moines Chamber of Commerce does have one city flag - inside the office of John Rex, public relations Manager. There are plans to place another at the main entrance to the building at Eighth and High Streets. And the flag's designer, Walter T. (Bud) Proctor of 6209 Holcomb Ave., said he, too, plans to get a city flag soon, although so far he said: "I just haven't had time to get one."
Still, Proctor, whose design incorporating three symbolic bridges across the Des Moines River was the winning entry in the city flag contest, said he thought the city has been "terribly slow" in obtaining the flags. "I just think it's like in my work," said Proctor, publisher of a hotel-motel-resort industry magazine and part-time instructor of publicity and public relations at Iowa State University. "They've got so much to do and are doing so much, they just didn't move on it very fast." Proctor said he will receive no commission of any of the flags sold - "not a cent, just the thrill of excitement and recognition." But he added, "I do hope to get to raise the first one to fly over a city building."

First Flag?
Michael Ewald, administrative assistant in the City Manager's office, said the City Council would probably have to discuss the matter of who would raise the first flag. But, he said, "We'll certainly consider" Proctor's request. City Purchasing Agent Klebe said the five-month lapse between the time the design was approved and the time bids were asked was because the city had to determine how many flags were needed, where they would be displayed, the estimated cost and desirable sizes. In addition, Klebe said, a sample flag had to be made and submitted to the Greater Des Moines Chamber of Commerce for approval. Ewald, in the City Manager's office, said part of the delay was caused by the Chamber of Commerce taking "a little more time than normal" to make some modifications in the design. However, Rex, the public relations manager for the chamber, said no modifications were made.
Paul Bassinson, 23 January 2021