This page is part of © FOTW Flags Of The World website
Redlands, California (U.S)
San Bernardino County
Last modified: 2019-07-05 by rick wyatt
Keywords: redlands | california | baseball | san bernardino county |
Links: FOTW homepage | search | disclaimer and copyright | write us | mirrors

---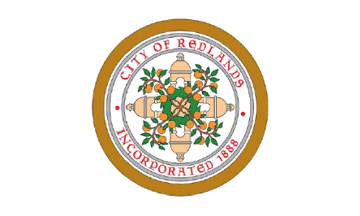 image located by Dave Fowler, 18 June 2019
---
---
See also:
---
Description of the flag
The city's flag is white with the city seal in the center. It was used, but is no longer displayed, presumably due to the seal controversy. Unfortunately, we do not have a photo of the flag. As to the seal itself, the attached Redlands Daily Facts article should answer your second question. It has been taken verbatim from the newspaper.
Redlands Daily Facts, February 18, 1963

Before City Council: Proposed New City Seal Design

Design approval of an official city seal will be sought by the City Employees Association tomorrow night. Sketches of the proposed emblem, prepared by the association will be presented to the City Council. Ross Miller, Association president, stated that the seal is "so designed as to cover all general aspects of the community without emphasizing any one group." He said it was the Association's hope that the Council would accept the design and that the seal would become established as the city's official emblem. Mr. Miller said the City Employee's Association plans to use the proposed seal as the center piece of an Association lapel pin. "Other seals have been suggested, but the Council has not approved them. So we came up with this design," he stated. The Chamber of Commerce submitted sketches of a city emblem last March, but the Council took no official action adopting it as the City of Redlands seal. Mr. Miller said the Association's proposal was designed by Sgt. George Collins of the Redlands Police Department. The basic design is a circle divided into quarters. The upper left quarter designates industry, the upper right quarter features the torch of learning and the scales of justice, the lower left spotlights agriculture and the lower right emphasizes religious faith. Mr. Miller said the Association was proposing only the design. The color scheme would be worked out later to make reproduction as inexpensive as possible.
Allison Peyton, A.K. Smiley Library, 12 June 2005

Redlands has a flag, with the new city seal, on a white background:
http://www.cityofredlands.org/UserFiles/Servers/Server_6255662/Image/City%20Hall/Departments/Office%20of%20the%20City%20Manager/NEM.jpg

Seal:
https://encrypted-tbn0.gstatic.com/images?q=tbn:ANd9GcR3KWI3segn-ktdcyVLf6ASQPWjVGN_EAbLBhVS49hw58JZq7VJ-g
Dave Fowler, 18 June 2019

---
The website at www/ci.redlands.ca.us shows two municipal seals, one recent and one former version. The former seal is described on the American Traitors web site (q.v.), and the entire story of the Redlands seals is very strange indeed. The present version of the seal is in a circular format, and has a white background color and a thick olive external border, together with very thin pale blue fimbriation and also internal bordering of the same coloring. Within the outer ring are the words 'CITY OF REDLANDS' in violet uncial script, at the top, and 'FOUNDED 1881 A.D.' at the bottom. The central image consists of a floral display which I am unable to identify in ochre, red, and green. This seal recently replaced an earlier one which was withdrawn as a result of a lawsuit by the American Civil Liberties Union (ACLU), an American political activist organization. As noted, the original seal can be found on the American Traitors web site, www.americantraitor.us/misctraitors.html. The original seal was likewise in a circular format, and blue external and black internal bordering. The outer ring was ochre, with the words 'CITY OF REDLANDS' in tall thin black block lettering. At the 10 and 2 o'clock positions respectively are what appear to be two Native American symbols in olive, while at the 4 and 8 o'clock positions are two black curlicues. At the bottom of the outer ring the word 'CALIFORNIA' is likewise written in similar lettering. The central image is quartered as follows: 1st, a dark blue sky, a Rotary International emblem proper at the upper right, a cityscape in white bordered black and shaded gray; 2nd, on a pale grey background a golden Scales of Justice with black borders, superimposed on which is an open book in white with black edging, and superimposed upon this is a Torch of Learning, also in gold with black edging and with an orange flame; 3rd, a gray sky with a tomato sliced in half and leaved, both proper, at the upper left of this quarter, while to the right is a golden sun with the disc edged in black and stylized golden rays, set in a gray sky, beneath which is a range of mountains in brown with the central peak in white, a citrus tree proper in the lower left foreground and stylized irrigated fields in white and black in the lower right; and 4th, a dark blue sky with in the upper left a silver cross bordered gold and emitting golden rays, a stylized church structure in gray, white, and black in the right foreground, and the lower third of this quarter being a brown-violet base. It is the appearance of the Cross and of buildings of an obvious religious nature which was the basis of the ACLU lawsuit.
Ron Lahav, 2 June 2005
The City of Redlands, known as a "city of churches", site of the University of Redlands, two big shopping malls and a charming old town area full of restaurants, antique and jewelry stores - about 75 miles East of Los Angeles, was a target of the threatened suit by the ACLU (American Civil Liberties Union) for the presence of the cross in their seal. That seal, designed in 1963 by the local police sergeant, was voted for removal by the city council, citing city's inability to defend against ACLU suit on the financial grounds. The old seal is still being displayed on the municipal vehicles and buildings, but with the lower, right panel covered with the piece of the blue tape. Meanwhile, the city reverted to the pre-1963 seal on its stationary.
Chris Kretowicz, 11 September 2004