This page is part of © FOTW Flags Of The World website
Nationalist Social Club (U.S.)
Last modified: 2021-07-10 by rick wyatt
Keywords: nationalist social club | neo-nazi | united states |
Links: FOTW homepage | search | disclaimer and copyright | write us | mirrors

---
---
See also:
---
Introduction
Nationalist Social Club (NSC or NSC-131), also called 131 Crew (131 stands for ACA i.e. Anti Communist Action) is a neo-Nazi group from New England [1, 2, 3]. It was founded in Massachusetts in December 2019, under the name of New England Nationalists Club (NENC), while the present name was adopted in early 2020 [1, 3]. During that year, it expanded its activities to other parts of the USA by receiving former members of other groups, and even claimed some membership in France, Hungary and Germany [1]. Most of their activities included making graffiti and distributing propaganda materials such as stickers of fliers, as well as joining the events organized by other similar groups [1]. Some of them were also present at the Capitol riot on 2021-01-06 [3]. However, in early 2021, they announced that their further activities would be limited to the territory of New England, some of their members in other parts of the country subsequently forming separate organizations [1].
Tomislav Todorovic, 29 May 2021
---
Flags of NSC bear their logo, monogram NSC inscribed with simplified, geometric forms of the letters (letter S resembling the SS emblem), which encloses the number 131, forms of the digits resembling those used in blackletter typefaces [1, 2]. One of the flags bears just the white logo on black field [4]. The other flag displays it as the part of a more complex device [4, 5]: the logo is surrounded with the words ANTICOMMUNIST at the top and ANTICAPITALIST at the bottom, both in white, the symbols for anti-Communism and anti-Capitalism are separating the two words, being placed at the left-hand and right-hand sides of the logo, respectively, the whole is placed within a circular white border, as wide as the strokes of letters. The symbols for anti-Communism and anti-Capitalism are modelled after the prohibition signs: white circular field, with red border and diagonal stripe conjoined and a black symbol, hammer and sickle for anti-Communism and a bag of money (identified as such by a white dollar sign) for anti-Capitalism [5].

The NSC is also known to use other flags with "generic" neo-Nazi symbols, such as the Black Sun, which appeared in black color on white flag carried at a rally in Boston on 2020-06-27 [6, 7, 8]. The members of NSC can be identified by white badges bearing their logo in black, the same as shown on a large photo of their complex flag [5] along with other smaller objects which bear their symbols; its position might mislead the observer that it is actually a charge on the flag, but its orientation and apparent oval shape reveal that it is actually a distinctive object.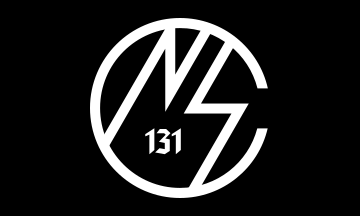 image by Tomislav Todorovic, 29 May 2021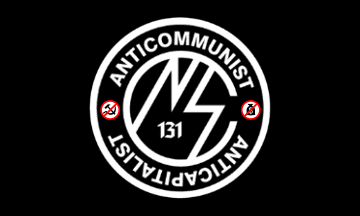 image by Tomislav Todorovic, 29 May 2021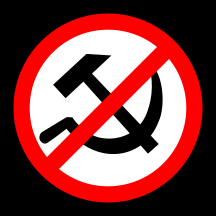 image by Tomislav Todorovic, 29 May 2021
image by Tomislav Todorovic, 29 May 2021
Sources:
[1] Anti-Defamation League website: https://www.adl.org/resources/backgrounders/nationalist-social-club-nsc
[2] Confronting White Supremacy New England website: https://newenglandwhitesupremacists.com/nationalist-social-movement/
[3] Vice News website: https://www.vice.com/en/article/7k9gxq/neo-nazi-street-fighting-gang-continues-bragging-about-attending-jan-6
[4] Photo of NSC flags at Reddit: https://preview.redd.it/2r0ghqeg7hg61.jpg?width=1280&format=pjpg&auto=webp&s=8d80c97cacaac2cee699a58f79f4824da3263757
[5] Photo of NSC flag at Reddit: https://preview.redd.it/9ib3fqig7hg61.jpg?width=1280&format=pjpg&auto=webp&s=03c267261b98d25638cf6a440d24f7bbc870a8d5
[6] Ron Slate at Twitter - Status on 2020-06-27: https://twitter.com/ronslate/status/1276965065648898050
[7] Boston Globe newspaper website: https://www.bostonglobe.com/2020/07/14/metro/fairly-devout-group-neo-nazis-local-white-supremacist-group-has-been-active-recent-weeks/
[8] Daily Mail newspaper website: https://www.dailymail.co.uk/news/article-9446059/Staffer-showed-neo-Nazi-symbol-cop-training-video-lifted-white-supremacist-doc.html
Tomislav Todorovic, 29 May 2021