This page is part of © FOTW Flags Of The World website
13th Regiment, Wisconsin Veteran Volunteers (U.S.)
Civil War Unit Flags - Union
Last modified: 2022-06-04 by rick wyatt
Keywords: united states | union army | wisconsin |
Links: FOTW homepage | search | disclaimer and copyright | write us | mirrors

---
---
See also:
---
Company I, 13th Regiment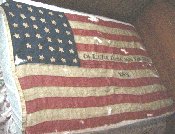 by Tom Gregg, 5 March 2000
The flag, which looks to be in fairly good condition, is 4 feet at the hoist by 6 feet on the fly, and appears to be made of bunting rather than silk. In the blue canton are 34 hand-sewn white stars in one vertical row of four (at the hoist) and five vertical rows of six. On the third white stripe from the top of the flag is the inscription "Co. I, 13th Regt., Wis. Vet. Vol." On the next white stripe is the date "1861." The inscriptions appear to be dark blue or black.

A statement attached to the flag says that it was presented to Company I by the citizens of Sugar Creek, Wisconsin. The statement, dated 1911, was written by Captain Newton H. Kingman, who commanded Company I. Here is the text:

The Statement below is made for the purpose of preserving the history of the U.S. flag, to which this paper is affixed.

Preliminary to and coordinate in importance with such statement, it is believed essential, in this connection, to associate the additional statement, to-wit; Newton H. Kingman of Sugar Creek, Walworth County, Wisconsin, enlisted and served as a private soldier, in Co. "K" First Reg't. Wis. Vol. Inf. under President Lincoln's first call for 75,000 volunteers.

Soon, then, after his muster-out of said Co. and Regiment, at expiration of their enlistment, Governor Randall of Wisconsin on Sept. 6, 1861, for loyal and meritorious service, honored said Newton H. Kingman, with a commission of First Lieutenant, to recruit a Co. for 3 years or during the war.

Thus prompted he at once launched forth to recruit such a Co., and initiated his work, near his home in Sugar Creek; following up said recruiting at Little Prairie, East Troy and other localities mostly in northern Walworth and southern Jefferson counties, Wisconsin. Sufficient number, having enlisted a Company organization was formed;-they being then called "The Walworth County Plow Boys" - for which said Kingman was elected its first Lieutenant, and several months thereafter was promoted its Captain.

Thus, organized, said Company was duly assigned as Co. "I" 13th Regiment Wisc.Vol. Inf. and was ordered to report to said Regiment then encamped (Camp Treadway) near Janesville, Wisc.

At the time of organization, they were quartered and had for a time, been drilling, at East Troy, Wisc. But the good citizens of Sugar Creek, from where several of this Co. had enlisted, were desirous to treat them all to an enjoyable picnic before their departure for their said regiment. Of course, the Co. in a body, was pleased to accept the cordial hospitality, so kindly offered.

Said picnic was a grand social success. But those good citizens, had prepared for two other events, in connection with this social affair, which would voice their loyal regard, for these young relatives and friends, who were volunteering to go and help preserve, indivisibly our glorious union. And those special events were made to be wholly, a surprise, to the visiting volunteers.

Those, special events, in which reference is made were as follows; In behalf of those good citizens, Mrs. Cornelia M.Parrish (nee Kingman) presented a fine officers sword and sash to said Lieutenant Kingman with the kindly expressed hope, he would never disgrace it while in command of his Co.

And, secondly, in behalf of those same Union loving people, did she present to said "The Walworth County Plow Boys", there assembled, this beautiful starry emblem of our beloved country,-exhorting all to carry and defend it on every field where military duty should demand their services.

This patriotic obligation was proudly and faithfully fulfilled during more than four long years. Their term of service (including veteran re-enlistment) continued nearly nine months after General Robert E. Lee's surrender at Appomattox.

But the day of final muster-out came, at last. Then arose the question, who should be the depositary of this Company flag. After Company "I" should be disbanded and dispersed to their several homes? A large number of the original Co. had passed to their higher reward. Three months prior to this time, while the 13th Wis. V.V.Inf. as a part of the 4th Army Corps, were temporarily camped, near the shores of Green Lake, Texas, Cpt. Newton H. Kingman was dangerously attacked by fever. Curative remedies were not available at the time. The war long since ended and his time for service as Cpt; having been more than fulfilled; his army surgeons urgently advised him to muster-out and hastened by easiest conveyance possible (larger by navigation) to research needful nursing in the pure atmosphere of his home, in state of Wisconsin.

This advice was accepted, as only hopeful means of preserving life, under the unfavorable circumstances existing then and there. With Cpt. Kingman gone home, and his life thought to be uncertain at the time in question; the proposition arose, who next should be chosen as trustee as this cherished Co. flag?

The lot fell to Sergeant Franklin Foote, one of the survivors of the original Co. He had the confidence and respect of the entire Co. He had long been attentive assistant and clerk at Co. headquarters and otherwise in every respect, was eminently worthy. Yet, he has ever contended, that finally Cpt. Kingman in his prosperity, were rightfully entitled to be the custodians of this historical flag. Well!

On September 13,1911, Cpt. Kingman and his amiable wife were visiting at the delightful and congenial home of Comrade Foote, in the prosperous city of Lake Mills, Wisc. During this visitation general as well as army reminiscences were recounted. Time passed felicitously. But time for parting came. And the Comrade Foote,-noble and true,- chose this, his happy opportunity to consign to his late army Captain and his descendants of future guardianship of this super valuable war relic,-the care of which he had so long and tenderly cherished.

This, then, to Cpt. Kingman was a pathetic moment. His emotional nature was deeply moved by recollections of the far-away past, and to be assured that during the remainder of his life, and his descendants after him were to be the guardians of this relic of nameless value and endearment.
Tom Gregg, 5 March 2000