This page is part of © FOTW Flags Of The World website
Busongora Kingdom (Uganda)
Obwamukama w'Abasongora
Last modified: 2019-08-06 by bruce berry
Keywords: uganda | busongora |
Links: FOTW homepage | search | disclaimer and copyright | write us | mirrors

---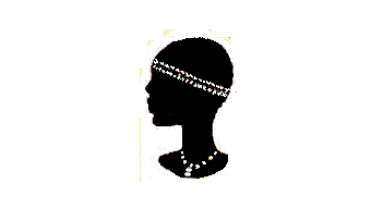 image sent by Imara D. Kashagama, 21 May 2015See also:
---
Introduction
Two new kingdoms have been proclaimed in opposition to the Rwenzururu Kingdom in Kasese District, Uganda. These are the Busongora Kingdom and Banyabindi Kingdom.
The Busongora Kingdom is located in the Southern Kasese District of Uganda. The capital is at Muhokya. The king of Busongora is King Kyomya V who succeeded King Rwigi IV who died on 28 April 2015 (born in 1940 and crowned on 01 July 2012).

Busongora was an independent kingdom existing from around 1300 until it was incorporated into the Tooro Kingdom sometime after 1922.
John Duncan McMeekin, 10 Mar 2013 and Imara D. Kashagama, 21 May 2015
---
Busongora Kingdom flag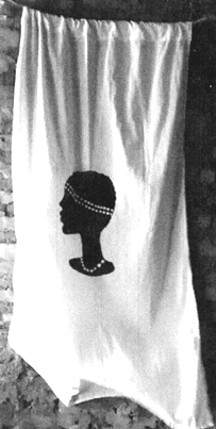 image sent by John Duncan McMeekin, 30 Oct 2016
The Busongora - Chwezi Kingdom is located in the Kasese District of south-western Uganda, on the Northern shore of Lake Edward. The kingdom was restored on 12 May 2012 with its capital at Muhokya.
Style & title: H.M. The Omukama
Following the death of King Rwigi IV on 28 April 2015, King Kyomya V was installed on 09 May 2015. The flag and coat of arms of the Busongora have also subsequently been updated.

The new state flag of Busongora Kingdom is called the "Kogyere Maure". It consists of a rectangular white field with a charge in the centre consisting of the bleak female head in profile, facing to the its right. The charge represents the Empress Kogyere Rusija Miryango who founded the kingdom around the year 1090 AD. The head is adorned with a band of white beads, and a pendant necklace also of white. These are typically worn by Songora women, although the head beads were also worn by Songora kings instead - or in addition to - of crowns.
Imara D. Kashagama, 21 May 2015
Mr. Ivan Bwebale was elected King as OMUKAMA RWIGI IV Bwebale Rukakirwa on 12 May 2012 and crowned on 01 July 2012, ruling until his death (aged 72) on 28 April 2015.

Mr. Imara Kashagama was appointed Regent (and had been whenever the King was sick) in 2013 and was elected king on 29 April 2015 as OMUKAMA NDAHURA II (1st time) (nephew of Rwigi IV) and abdicated on 01 May 2015.

OMUKAMA KYOMYA V (Apollo Bwebale son of Rwigi V) was elected king on 01 May 2015 and crowned on 07 May 2015, ruling until he was deposed (for being absent for over two months) on 27 November 2015

OMUKAMA NDAHURA II Imara Kashagama (2nd time) was elected king on 28 November 2015. The regent or Acting Cultural Head is ROBERT KAGYENDA BWEBALE (brother of Kyomya V) since 08 January 2016.
The Busongora Flag (The "Kogyere Maure") has a white background with a black female head in the centre.
The Busongora Anthem is "Busongora, Busongora, Busongora bwa Kogyere" and the Constitution of the Kingdom also makes provision for The Order of the Shield of Busongora ("Engabo ya Busongora") in 5 Grades:

1. Hero (Emanzi "Hero") for the highest degree of merit to Busongora
2. Companion (Emanzi "Favourite") for Favour of the Monarch
3. Commander (Omuhunda "Rod") for eminent distinction in arts & sciences
4. Officer (Entagurwa "Incorruptible") for outstanding talent / exceptional service
5. Member (Engabo "Shield - Bearer") for distinguished service to the community.
John Duncan McMeekin, 30 Oct 2016
---
Busongora Kingdom coat of arms
The summit of the Coat of Arms consists of the top banner emblazoned with the words "Busongora Kingdom". There is no Crest, Torqe or Top Mantling.

Beneath the top banner is the shield Argent [white], framed Or [in gold] and sable [black]. On the shield is the charge, constituted by the "Kogyere Maure", which is "a Huma woman's head, proper sable [black], in profile, centred [medial], and facing her right, on white [argent] ground". The Songora people are also known as "Huma" [singular] or baHuma [Plural].

The Kogyere Maure charge represents the Empress Kogyere I Rusija-Miryango, founder of Busongora Kingdom. On her head, in place of the traditional cloth-blind typical of a maure, she wears a band of beads - the traditional form of Huma royal crown. Her necklace consists of a string of small white beads, and a pendant of two large beads one on top of another. The sinister [left] supporter for the shield [escutcheon] is an adult Songora human male Figure proper vested Ochre, Argent and Sable, supporting in the left hand a rod [omu'igo] representing Justice and Order, and a spear representing Defense. The dexter [right] supporter is a lowing [bellowing] longhorn Huma cow, Chestnut in colour and semi-guardant.

The compartment consists of a landscape that includes a representation of the Mount Rwenjura [Mountains of the Moon a.k.a Mount Rwenzori], as well as the Great Rift Valley that runs on both sides of the Mountain. The lower slopes of the mountain feature explosion craters [ebi-Korongo], and the Valley features lakes, a papyrus swamp, and an egret. Other animals featured in the lower compartment include an elephant and a lion - both of them symbols of royalty. The plains feature a euphorbia candelabra [e'nkukuuru] tree considered sacred among the BaHuma, and an acacia tree which is common on the savanna and is useful for a variety of functions including medication, and construction of housing and cattle enclosures.

The compartment also features a chequered board/trough [muesho] used for playing a traditional chess variant or other board games, or for computation and reckoning, as well as for divination. On the dexter side, beneath the cow, is a zither - known as "enanga", or as a "kitara" when unstrung - it is the primary musical instrument of the Bahuma.

The compartment also features a traditional milk-jar [e-Kyanzi], and a smoke-dispenser [eki-Chunga] used to disinfect the milking jars and gourds. The bottom banner [motto scroll] consists of the motto "Okashemera". Okashemera is a Shongora language phrase that translates in English as "Yours is Enduring Perfection, Grace, Goodness, Nobility or Beauty" in reference to God, and to the land of Busongora, and to the deportment of its people.
Imara D. Kashagama, 21 May 2015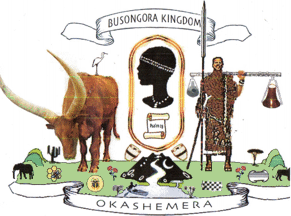 image sent by John Duncan McMeekin, 30 Oct 2016
A white "shield" framed in gold, in the upper part is a black "Kogyere Maure" with white beads on her head and around her neck. Below is an open scroll with "Psalm 23" on it in black letters.

Supporters, right (dexter) a long-horn "Huma" cow, in chestnut colours with horns proper. A Cattle Egret (known as "nyangye") stands on top of the cow.

To the left (sinster), an adult Songora male proper, vested white and ochre, supporting in dexter hand "E shando" (a special rod with "Y" shaped head) representing Justice and Order, and holding in the sinister hand is a "omu 'Taali" (a spear) representing Defence. He is also holding an "omugamba" (a yoke) on his shoulders with his left hand. The yoke has a "E Ki-Chunga" (glazed clay censer for milk) and a "E Kyanzi" (rounded wooden milk-pot).

Below the shield are two drums, representing the Royal Drums, the symbol of royal authority.

The compartment shows a green landscape with a black Mount Rwenjura (Mt. Rwenzori) with a white crescent and a white river. There are various other charges including a bee and hive, a dung-beetle, "E Nanga" (a zither),
a chessboard, palm, papyrus & candelabra. On each side is a black lion (right) & a black elephant (left).

Above is a white riband with "BUNONGORA KINGDOM" in black capital letters, whilst below is a white riband with the motto "OKASHEMERA" ("Yours is Enduring Perfection - Grace, Goodness and Nobility or Beauty").
John Duncan McMeekin, 30 Oct 2016
---
Previous flag and coat of arms
image by John Duncan McMeekin, 10 Mar 2013
The previous flag of the Busongora Kingdom was a rectangular horizontal tricolour of blue over red over cream with a white disc with a green "drum" in the centre. I am not certain that it is a drum, as the furled version of the flag only shows the top of the white disc.
John Duncan McMeekin, 10 Mar 2013
For those interested in the Busongora or Basongora here are a couple of links:
http://plytra.blogspot.gr/2013/03/busongora-self-proclaimed.html
http://ugandaradionetwork.com/a/image.php?f=41606&min=3&w=500&h=500
The emblem on the bigger flag seems to be of a lighter colour.
Paraskevas Renesis, 10 Mar 2013
The former coat of arms featured a golden drum, with a white centre in front of two crossed spears (natural). The Supporters are (left) a white lion and (right) an "Ankole Steer", also in white. On a green mound is the motto: "MUKAMA NULISA WANKYE" on a blue ribbon in black capital letters. The crest features a flag, similar to the State Flag, (blue, red & cream) with a black "drum"? (without the white disc) adorns the centre. Overall are the black capital letters in a semi arch: "BUSONGORA HERITAGE KINGDOM".
John Duncan McMeekin, 10 Mar 2013
---