This page is part of © FOTW Flags Of The World website
Selçuk (District Municipality, Turkey)
Last modified: 2022-11-19 by ian macdonald
Keywords: selçuk | belevi |
Links: FOTW homepage | search | disclaimer and copyright | write us | mirrors

---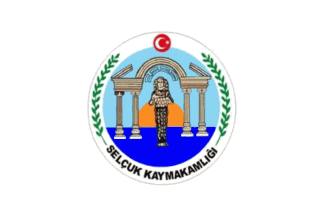 image by Tomislav Šipek, 11 December 2017
---
See also:
---
Flag of Selçuk District
The flag of Selcuk District is white with logo.
https://www.selcukhaber.com/selcuk-kaymakami-ekrem-inciden-23-nisan-mesaji-109049.html
Tomislav Šipek, 21 November 2021
---
Flag of Selçuk municipality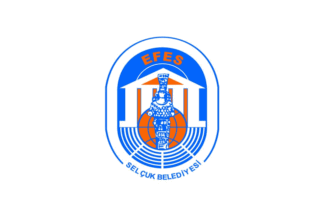 image by Tomislav Šipek, 11 December 2017
The flag of Selçuk (photo) is white with the municipality's emblem.
The municipal emblem is an oblong rectangle with rounded-off edges. The blue border that inscribes the emblem is replaced in base by the writing "SELÇUK BELEDİYESİ" (Selçuk Municipality) in light blue letters. In the middle of the emblem is an orange globe, superimposed by a whitestatue outlined in blue. Behind the globe is shown the gable side of a temple with four columns, represented in white on an orange background. In chief is the writing "EFES" in orange letters forming a semi-circle. In base are 20 concentric blue arcs of a circle divided in four groups of five.
Efes is the Turkish name of the ancient Greek town of Ephesus, which played an important role in the early Roman Empire. The ruins of Ephesus, located on the municipal territory of Selçuk, are the main touristic attraction of the whole region and as such play an important economic role. The temple symbolizes the temple dedicated to Artemis, one of the seven wonders of the world in antiquity, today just a basement, mostly filled by water, and with just one column re-erected. The statue representing Artemis is shown in the local archaeological museum. The flag displays the version with "crown". The goddess was probably a local oriental goddess of fertility, which was subsequently transformed by the Greeks into a deity of their own. The arcs symbolize the amphitheatre of Ephesus, which has been almost completely restored.
Tomislav Šipek & Klaus-Michael Schneider, 26 April 2014
---
Selçuk Chamber of Commerce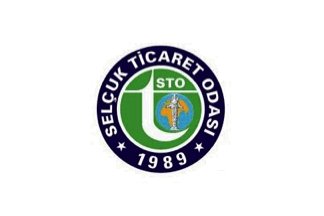 image by Ivan Sache, 31 March 2019
The flag of the Selçuk Chamber of Commerce (Selçuk Ticaret Odası - STO) is white with the Chamber's emblem in the centre (photo, photo, photo). The emblem displays a white letter "t" on a green background, for "ticaret" (commerce). Upon the right arm of the horizontal bar is the white acronym "STO". Beneath is a globe in blue and orange superimposed by the statue of Artemis as known from the municipal flag. The emblem has a dark blue border inscribed with "SELÇUK TİCARET ODASI" (above) "1989" (below) in white letters, with two asterisks between the two parts.
Klaus-Michael Schneider, 1 May 2014
---
Former municipalities
Belevi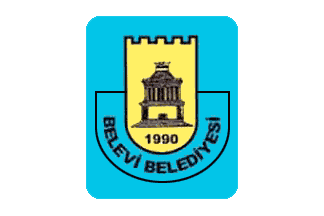 Flag of Belevi - Image by Jens Pattke, 25 May 2015
The flag of Belevi (photo) was white with the municipal emblem. "Belediyesi" means "Municipality".
The emblem features the Belevi Mausoleum.
The Belevi mausoleum was built for Lysimachus, one of the successors of Alexander the Great. The funeral monument is fourteen km to the north-east of Ephesus, Lysimachus' capital. However, the Hellenistic ruler was never buried in the tomb he had ordered, because he was defeated by Seleucus I Nicator in the battle of Corupedium (281), and lost his life and his kingdom. Instead, the tomb at Belevi appears to have been used as the final resting place of the Seleucid king Antiochus II Theos (261-246), a grandson of Seleucus Nicator.
The Belevi mausoleum was probably inspired by the Mausoleum of Halicarnassus. In any case, the socle (with the burial chamber) was a square of 29 x 29 meter, about ten meter high, carved out of the rock and covered with plates of natural stone. On top of this structure was a storey that was surrounded with twenty-eight columns. If the parallel with the Halicarnassian mausoleum is correct, there was a pyramid-like superstructure, crowned with a statue of the deceased.
The sarcophagus itself now is in the museum of Selçuk, together with two lions. Other parts of the decoration are now in the museum of Izmir: a/o griffins and a frieze with a centauromachy, i.e., a battle between centaurs and humans. This was a very common theme, which represents the victory of civilization over barbarianism. In the 1930s, traces of paint were still visible.
[Livius]
Tomislav Šipek & Ivan Sache, 20 March 2016