This page is part of © FOTW Flags Of The World website
FRETILIN (Revolutionary Front of Independent East Timor)
Frente Revolucionária de Timor-Leste Independente
Last modified: 2023-06-03 by

zachary harden
Keywords: star: 5 points (white on black) | fretilin | freitilin | error | variant | star: 5 points (black on white) | ojetil | student | pen | hoe |
Links: FOTW homepage | search | disclaimer and copyright | write us | mirrors

---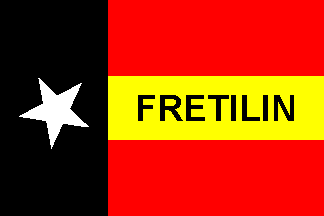 image by António Martins, 10 December 1997
---
See also:
---
Presentation
According to a political analyst (Adelino Gomes: "A Força da Bandeira e os Desafios da Vitória" Público 2001.09.07: 3), Fretilin «organized the fight against the [Indonesian] invasion. Fretilin leaders were the first resistants and the first occupation victims. Fretilin's members and sympathizers, while others still trusted the invader's good will, were the first experiencing war, death, torture, famine. It was Fretilin who endured almost alone the bloody initial phase of the occupation.»
Fretilin got 208 531 votes in the 2001.08.30 elections (57,37%), receiving 55 of 88 seats in the parliament (the second party most voted for, P.D., got only 8,72%).
António Martins, 24 September 2001
In the 2007.06.02 elections Fretilin got 120 592 votes (29.02%), receiving 21 of 65 seats in the parliament.
António Martins, 07 September 2007
---
Description of the Flag
This is the flag of Fretilin (Frente Revolucionária de Timor-Leste Independente - Revolutionary Front of Independent East Timor), one of the revolutionary and anti-Indonesian resistance groups of post-1975 East Timor. Being its main and original proponent, this flag resembles the one of the Democratic Republic of East Timor.
António Martins, 10 December 1997
The name of the party also commonly appears on the central stripe in black capitals.
Vincent Morley, 12 December 1997
After a lot of flag sightings, seems now clear that the preferred version of the Fretilin flag has indeed a (slightly) narrower yellow stripe and lettering is always present. The stripes seems to be 6+5+6, and not 2+1+2 nor 3+2+3, as reported earlier; the lettering is always in black centered capitals, though face family varies: serif is common, but sans seems to be official. The star points apparently to the upper fly, though it is often shown pointing down.
Variants absolutely missing in photos and footage shot and shown during the 2001.08.30 elections include blue-for-black flags, equal sized stripes, no lettering, and stars pointing up — or at least I saw none.
António Martins, 24 September 2001
---
Variant with identical stripes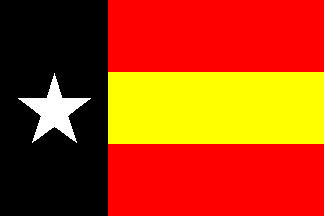 image by António Martins, 22 February 2000

It seems that flags with equal stripes are more modern.
Jorge Candeias, 27 October 1999
---
Variant with narrower central stripe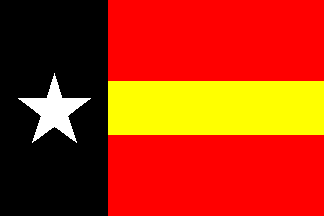 image by António Martins, 22 February 2000

I have often seen a variant of this flag with the yellow stripe slightly narrower than the others — approximately 3:2:3, I would say.
Vincent Morley, 12 December 1997

I saw some pictures of Xanana Gusmão in the very beginning of his reorganization of the guerilla in the mountains (I think in the beginning of the '80s). In one of these pictures he had the flag of the FRETILIN behind him, and it had unequal stripes, red-yellow-red with witdhs 2:1:2 (and the rest as we know). It also had no writing (good!). It seems that this design was used in older flags while the one with equal stripes is more modern (unfortunately including somethimes the sigla FRETILIN on the central stripe).
Jorge Candeias, 27 October 1999
---
Variant in dark blue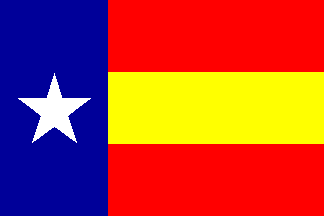 image by António Martins, 22 February 2000

Like the flag of East Timor itself, I've seen this flag also with a dark blue stripe at the hoist, instead of black.
Jorge Candeias, 10 December 1997
---
Other variants
"Freitilin" typo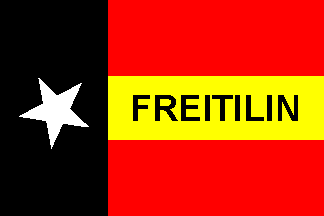 image by António Martins, 03 July 2003

I received my copy of The Flag Bulletin 206 (July-August 2002). Smith's article [smi02k] (p. 135) shows the Fretilin flag with the (large!) inscription reading "FREITILIN".
Santiago Dotor, 11 December 2002
Black and white swapped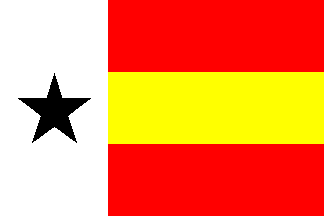 image by António Martins, 29 June 2007

A 1976 article in czech vex. magazine Vexilologie 18 p. 235-236, 231 "Nové vlajky : Východní Timor" [mry76], by Jaroslav Martykán ("- jm -") (on line) reports i.a. the then newly created flag of Fretilin. It adds to the number of incorrect reports and variant depictions, for the white and black colors are swaped both in the image (black and white line draw but the star, upright, is filled solid) and in the text ("ji bílý svislý pruh u žerdi s černou pěticípou hvězdou a tři vodorovné pruhy (červený, žlutý a červený)").
António Martins, 29 June 2007
Two stripes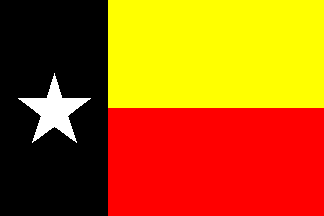 image by António Martins, 22 February 2000

I've also seen another, similar flag, [with two stripes only on the fly, yellow over red, and] with the star in white.
James Dignan, 03 October 1995
---
OJETIL — student organization of FRETILIN
Organização de Jovens e Estudantes de Timor Leste
A youth organization of the timorese resistance, the OJETIL, the Organization of Youngsters and Students of East Timor (Organização de Jovens e Estudantes de Timor Leste). The symbol in lower hoist consists of two scrolls above and below a hoe and a pen, crossed. The upper scroll has the inscription "SABER PARA SEMPRE" ("knowledge — or to know — for ever") and the lower scroll has the motto of the CNRT/FALINTIL "PATRIA POVO".
Jorge Candeias, 04 January 2000
Photos taken locally in 1998, from this website, show people with the six-colored flag design on shirts as well as a large three-colored flag proeminently hoisted.
J. Patrick Fischer, 17 February 2006, and António Martins, 18 February 2006
3-color version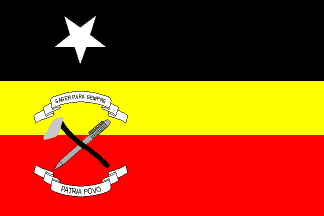 image by Jorge Candeias and António Martins, 18 February 2006

The three-color variant, shown proeminently hoisted in photos taken locally in 1998, is fully FRETILIN/DRET (no CNRT/FALINTIL elements) and might be the original design, since OJETIL started out as a section of FRETILIN.
António Martins, 18 February 2006

Narrow central yellow stripe and is not something new when it comes to Fretilin flag variations. The downpointing star, on the other hand, agrees with the actual Fretilin flag, while the six-color version not so.
António Martins, 18 February 2006
6-color version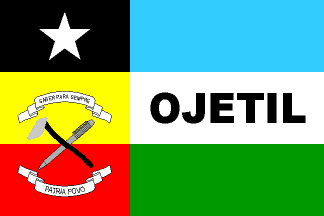 image by Jorge Candeias, 04 January 2000

This flag of Ojetil was seen in every demonstration that happened in Portugal. It consists of two fields, the first occupying the hoist 1/3 and the second occupying the fly 2/3rds. The first field is divided horizontally in black, yellow and red bands with a white star centered in the black band and a complex device centered on the other two. The second field is divided into 3 horizontal stripes in light blue, white and green and the initials of the organization (OJETIL) are written in black capitals across the white stripe. This flag is obviously a fusion of the flags of the CNRT/FALINTIL and of the FRETILIN/DRET.
Jorge Candeias, 04 January 2000

A photo from this website shows people with the six-colored flag design on shirts. (Photos were taken locally in 1998.)
António Martins, 18 February 2006