This page is part of © FOTW Flags Of The World website
Khakassia (Russia)
Qakasiâ
Last modified: 2022-12-31 by valentin poposki
Keywords: khakassia | sun: 4 rays | ethnic | stela | scytho-siberian art | tazmin | okunevo |
Links: FOTW homepage | search | disclaimer and copyright | write us | mirrors

---
Хакасия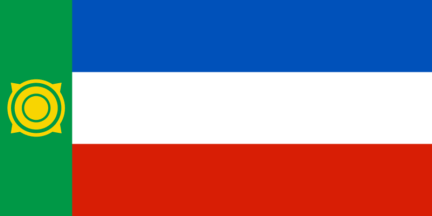 image by Tomislav Šipek, 15 December 2019
---
See also:
Subdivisions of Khakassia:
Russian subnational flags (overview of the subdivisions, list of federation "subjects" and clickable map)
Other sites:
Official website, showing the newly adopted (2002.01.01) coat of arms.
reported by István Molnár, 03 Dec 2001
---
Presentation of Khakassia
(Note: You need an Unicode-aware software and font to correctly view the Cyrillic text on this page. See here transliteration details).
Name (English): Khakassia • (Russian, short form): Хакасия | Qakasiâ • (Russian, long form): Республика Хакасия | Respublika Qakasiâ
Local official language: Khakass

Capital: Абакан | Abakan
Area: 61 900 km2 (~23 900 sq. mi.) • Population: 580 100 inhabitants in 2000
Status: Republic (Республика | Respublika) within the Russian Federation
Federal District: Siberia • Economic region: East Siberia
License plate code: 19 • Ham radio code: HA • ISO 3166-2 code: KK
Flag adopted on 2003.09.25 • Coat of arms adopted on 2003.09.25
Khakassia was one of the parts of the Krasnoyarsk region two years ago. Now it is not.
Larisa V. Voloshenko, 19 Mar 1998
---
Description of the flag
As of 25 September 2003 the flag of the Republic of Khakassia has its horizontal stripes [changed and] arranged blue/white/red. The green vertical hoist stripe with the solar symbol remains. Authority: a report from the Regional Journalism Club, cited at Regions.RU.
John Ayer, 26 Sep 2003
I suppose the hoist stripe derives from the Khakass ethnical flag, as it shows the same device and colors.
António Martins, 01 Jun 2001
I believe this change is due to a recent recommendation from the Presidential Heraldry Cabinet calling for non-use of the national flag pattern in subnational vexillology and heraldry (reserving for flags and arms of federal institutions, I guess).
António Martins, 29 Dec 2003
According to the information on Victor's site, an exception was made in the case of Khakassia because their flag pre-dated the legislation forbidding use of the National Flag on any regional flags, but the Parliament of Khakassia introduced the change anyway.
Christopher Southworth, 29 Sep 2003
Sources of images:
http://oldgazeta19.ru/news/57078
http://moyaokruga.ru/shiravest/Articles.aspx?articleId=147562
http://www.o-spide.ru/news/test-na-vich-ekspediciya-iii-vserossiiskaya-akciya-minzdrava-rossii-po-besplatnomu-anonimnomu-ekspress-testirovaniyu-na-vich-infekciyu-zavershilas-v-khakasii
http://www.o-spide.ru/news/test-na-vich-ekspediciya-iii-vserossiiskaya-akciya-minzdrava-rossii-po-besplatnomu-anonimnomu-ekspress-testirovaniyu-na-vich-infekciyu-zavershilas-v-khakasii
Tomislav Šipek, 15 December 2019
---
Golden sun with Russian tricolor (1993-2003)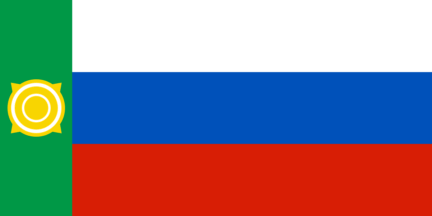 image by Tomislav Šipek, 15 December 2019

The Khakassian flag was based on the Russian tricolour of white-blue-red. At the hoist is a green vertical stripe with a circular emblem (which also appears on the coat of arms).
Stuart Notholt, 26 Sep 1995

I suppose the hoist stripe derives from the Khakass ethnical flag, as it shows the same device and colors. The meaning would also be obvious, since the republic's flag adds an extensive Russian tricolor to the Khakass emblem.
António Martins, 01 Jun 2001

In 1993 the sun was changed to yellow, but lined white, not green [as in ethnical flag]. I saw it myself last summer when I was in Khakasiya: there are two white circles inside.
Carlo Scopelliti, 15 Aug 2000
---
Black sun with Russian tricolor (1992-1993)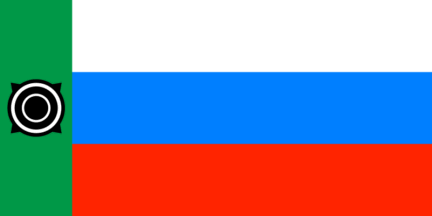 image by Tomislav Šipek, 15 December 2019

On June 6th, 1992, the Flag Law was adopted by the Supreme Soviet of the Republic. The flag was: three horizontal stripes — white, blue, red; black-white solar sign on the green vertical stripe near the hoist. On December 23rd, 1993 the Law No 29 changed the colours of the solar sign from black and white to golden and white.
Victor Lomantsov, 23 Apr 2000 and 16 Aug 2000

The official web site of the Republic of Khakassia still displays the black-white sun.
Jan Zrzavy, 22 Apr 2000

This flag, with medium blue central stripe, is listed under number 121 at the chart Flags of Aspirant Peoples [eba94] as: «Khakassia (Khakass Turks) - South Siberia».
Ivan Sache, 15 Sep 1999
---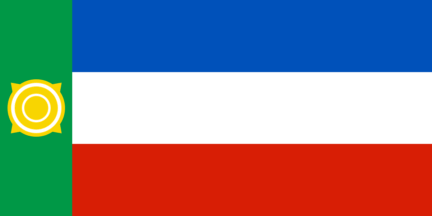 image by Tomislav Šipek, 15 December 2019
---
Flag of the Khakass people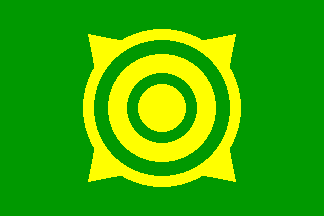 image by António Martins and Jaume Ollé, 24 Apr 2000

This is the National Flag of the Khakassian People, i.e. ethnically the Khakass. The symbol is yellow on green and the 2nd and 4th rings from the center are green.
Timur Davletov, 06 Apr 2000

The field is green because in the Middle Ages that people had green flags (although they were not and have never been Muslims). The Arab writer Abu Dulaf, who traveled extensively throughout Central Asia in the 9th century wrote the following statement about the Kyrgyz people (the Khakass of our days originate from that people and other ethnic groups):
They have a temple for worship services and a cane, by means of which they write
…
Their flags are of green color
.(From Yu. S. Khudyakov's article "Shamanism and world religions among the Kyrgyz people in the Middle Ages", Traditional beliefs and way of life of the peoples of Siberia (XIX century - beginning of the XX century. Nauka: Novosibirsk, 1987; the translation is mine)

Green is also a traditional color in Siberia, associated with forests.

Carlo Scopelliti, 14 Jan 2003

As regards the sun, it is not a Khakasian symbol: it was recently adopted. Actually, this sun-symbol is to be found on the stone stelae of the prehistoric Tazmin civilization (some historians call it Okunevo civilization, but since there is another, different civilization called Okunevo, I think that Tazmin is better). The Tazmin civilization was simply located in the region where Khakasiya is now: the Khakasian people (which is of Turkish stock, mixed with local tribes) appeared much later. These stelae are very famous in Khakasiya: they call them kamennye baby in Russian (stone women). The sun is divided into three parts because it travels along its orbit in the sky, shines above the earth and visits the underworld during the night.

The Khakasian people, before being converted into Orthodox Christianity, followed a shamanistic religion and used to make offerings before those stelae, belonging to a long-forgotten civilization which was not theirs. There is a shamanistic revival going on now, and the people have never really abandoned those practices: hence the importance of the stelae to them.

The sun-symbol is repeated on the emblem of the Khakasiya Republic, along with the sleeping snow-panther (spâxiĭ bars | спящий барс in Russian), a symbol found on a wonderful object of Scytho-Syberian art in a burying mound of the Altay Region in Southern Siberia (although Altay is not Khakasiya, this art, which is a variant of Scythian art, was widespread all over Siberia).

Carlo Scopelliti, 15 Aug 2000
---
Coat of arms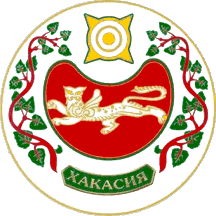 image by Željko Heimer and António Martins, 24 Dec 2005

The new arms are in use since 1.1.2002 (adopted in 2001). Author of drawing Alexander Kotozhekov.
Victor Lomantsov, 07 Mar 2002