This page is part of © FOTW Flags Of The World website
Russian Paramilitary Organizations
Last modified: 2022-12-31 by valentin poposki
Keywords: paramilitary organizations | wagner group |
Links: FOTW homepage | search | disclaimer and copyright | write us | mirrors

---
---
Wagner Group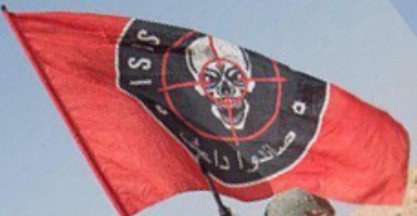 image located by Bill Garrison, 10 March 2022

The Wagner Group, also known as PMC Wagner, ChVK Wagner (ChVK being the Russian abbreviation for "Private Military Company"), or CHVK Vagner (ЧВК Вагнера ChVK Vagnera, Частная Военная Компания Вагнера), is a Russian paramilitary organization. Some have described it as a private military contracting agency (of mercenaries), whose contractors have reportedly taken part in various conflicts, including operations in the Syrian civil war on the side of the Syrian government, as well as in the war in Donbas in Ukraine aiding the pro-Russian separatist forces of the self-declared Donetsk and Luhansk People's Republics from 2014 to 2022.

The image above has with "ISIS Hunters" on the top line, and Arabic slogan at bottom. Image c. 2017 in Syria.
Bill Garrison, 10 March 2022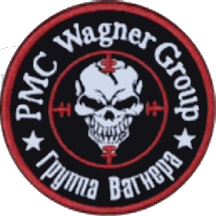 image located by Bill Garrison, 10 March 2022
Source: https://en.wikipedia.org/wiki/Wagner_Group
---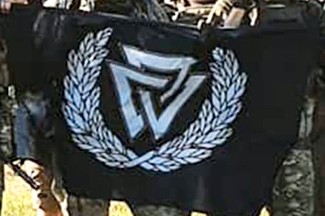 image located by Bill Garrison, 10 March 2022
Source: https://www.thedailybeast.com
The black-field flag of "Task Force Rusich" with white logo of the Norse "Valknot" or "knot of the slain", associated with the afterlife, partially surrounded with a white-wreath, an alleged off-the-books "mercenary" unit of the lead pro-Russian "Wagner Group" -- active in the pro-Russia Donbas region of eastern Ukraine, c. 2014 & March 2022.
Bill Garrison, 10 March 2022
---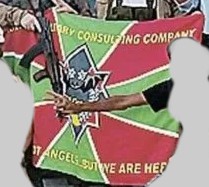 image located by Bill Garrison, 10 March 2022
Source: https://lansinginstitute.org
Russian mercenaries in Libya, c. 2019(?), maybe affiliated with "Wagner Group". Top line of flag appears to read: "____(__)URRY CONSULTING COMPANY" and bottom line reads: "_____NOT ANGELS...BUT WE ARE HERE".
Bill Garrison, 10 March 2022
---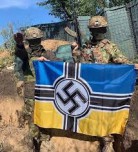 image located by Bill Garrison, 12 March 2022
Source: https://eurasiantimes.com
(the photo lists this source, but the flag doesn't appear in the article)
Bill Garrison, 12 March 2022
This flag is clearly derived from the national flag of Ukraine, either by Ukrainian ultra-rightists (which do exist, regardless of Russian propaganda) or by Russian propagandists who wish to attribute such a flag to its alleged users.
Tomislav Todorovic, 12 March 2022
A reverse search using Google images retrieves the very same photo from hundreds of blogs etc... but I have not found any mention of its source. No date either.
The photo is widely used to illustrate the "de-nazification of Ukraine" sought by the Russian invasion.
Ivan Sache, 13 March 2022
---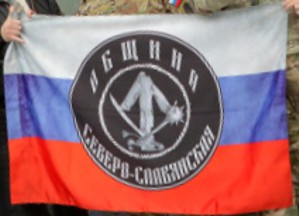 image located by Bill Garrison, 25 November 2022
A different-looking "Wagoner Group" logo centered in the middle of a Russian flag for the Russia "Wagner Group" shown outside "PMC Wagner Centre", which is a project implemented by the businessman and founder of the Wagner private military group: Yevgeny Prigozhin, during the official opening of the office block in Saint Petersburg, Russia, November 4, 2022 (photo credit: REUTERS/IGOR RUSSAK)
Source: https://www.jpost.com
Bill Garrison, 25 November 2022