This page is part of © FOTW Flags Of The World website
Russian Air Force
Last modified: 2021-08-26 by valentin poposki
Keywords: air force | sun: rays throughout | error | propeller |
Links: FOTW homepage | search | disclaimer and copyright | write us | mirrors

---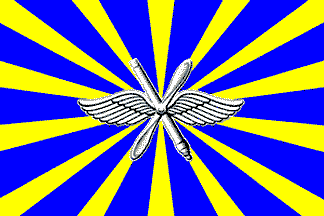 image by Mikhail Revnivtsev, 07 Jun 2004
---
See also:
---
Description of the flag
On official web-site of Ministry of Defence of Russian Federation (this page) is official images of flags of Army (Land forces) and Air Force, authorized by the order of Minister of Defence on June, 5, 2004
The flag of Air forces represents a rectangular bilateral cloth of blue color. In the center of flag — is image crossed silver apropeller and an antiaircraft gun on silver soaring wings. From the center of flag to corners and edges 14 extending yellow beams miss, the width of each of which at edges of a flag makes 1/12 his width. Four beams are directed to corners of flag, two — to the middle of the top and bottom edges of flag, and the others — are in regular intervals distributed in intervals between them. The attitude of width of a flag to his length — two three. The attitude of width of wingspan to length of a flag — one to two.
Mikhail Revnivtsev, 07 Jun 2004
---
Previous flag, 2000-2004 (?)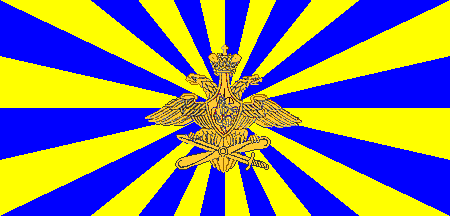 image by Nikolay Khimenkov and António Martins, 13 Jun 2000

On 12 June I saw this flag on TV. At the centre of the flag is the Air Force's emblem — twoheads eagle with Órossed propeller and sword.
Nikolay Khimenkov, 13 Jun 2000

This image was made assuming that the background is gyronny of 28 pieces, being divided in equiangular "sectors" of approx. 13°. I further interpreted the image as having four rays touching each of the two vertical edges of the flag, which delivered the unusual ratio of ≅12:25 — or rather 1 : sin(2pi/7).
António Martins, 26 May 2000
Incorrect depiction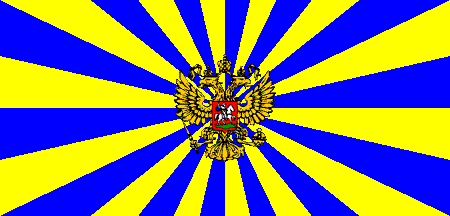 image by António Martins and Steve Stringefellow, 16 May 2000

According to the "Russian Aviation Page" (image mirrored here), the new Russian Air Force flag features a double-headed eagle (as appeares on the current Russian coat-of-arms) at the centre, and this flag has no sun-disc.
Miles Li, 12 Sep 1998

On 12 June I saw this flag on TV. The emblem at the centre of the flag is the Air Force's emblem, not Russia's coat-of-arms.
Nikolay Khimenkov, 13 Jun 2000
---
Previous flag, 1992-1999 (?)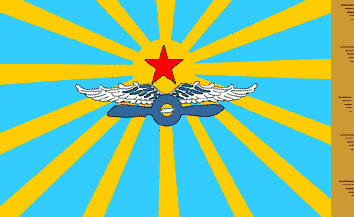 image by Jaume Ollé and António Martins, 29 May 2000

Since the end of the Soviet Union the Russian Air Force retained the previous flag, except that the hammer and sickle (but not the red star!) was removed.
Miles Li, 09 Apr 1998
---
Aeronautic Flag, 1894-1917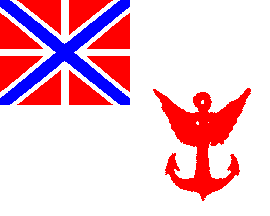 image by Dave Martucci, 24 Nov 1999

This is perhaps the first russian air ensign, published in 1904 in the official Album Shtandartov [bLv04]. It is the flag of the Aeronautic Section of the Imperial Russian Navy, bearing the badge of that service, an upright anchor with wings. In 1924, the Soviet Union adopted a similar design for its Air Force.
Dave Martucci, 24 Nov 1999

The Aeronautic Flag/Ensign illustrated in the 1917 National Geographic [gmc17], for use by Imperial Russia was in use from 1894-1917. The same flag was used was used by both the Army's Aeronautic/Balloon Unit and the Imperial Russian Navy. Officially the Russians classified it as a miscellaneous flag, making it the de facto oldest single aeronautic flag used by nation's un-combined military and naval air forces.
Jim Ferrigan, 13 Apr 2003
---

image by H B, 11 May 2012
---
Fuselage Marking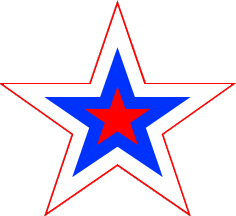 image by Eugene Ipavec, 27 Apr 2009

The Chairman of the Government of the Russian Federation (Prime Minister) Mr. Vladimir Putin signed, on March 4, 2010, the decree # 127 ending the ambivalence about the colors and shape of the Russian aircraft markings once and for all: http://government.ru/ru/gov/results/9678/. To see it in the full, "official", splendor, click, please on the box "DOC" in the lower right corner. The above information was first provided to the RussoVex ml by "Solyaris" on March 12, 2010.
Chrystian Kretowicz, Apr 1 2010
---