This page is part of © FOTW Flags Of The World website
Arad (Romania, Arad)
Municipiul Arad
Last modified: 2022-03-11 by rob raeside
Keywords: arad | orod | romania | mures |
Links: FOTW homepage | search | disclaimer and copyright | write us | mirrors

---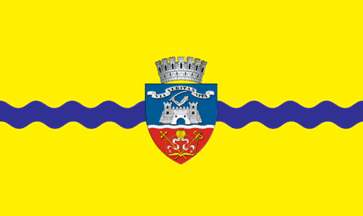 image located by Valentin Poposki, 17 February 2022
---
---
See also:
Other sites
---
Arad (in Hungarian Arad, in German Arad) is a city in Arad (in Hungarian Arad) County of Romania close to the Hungarian border on the right bank of the Mureş (Maros) River. The commune contains only the city. The city has 190,114 inhabitants (29,828 (15.7%) Hungarian, 4,142 (2.8%) German, 1992 census).
Neighbouring communities are: Iratoşu / Nagyiratos, Pecica / Ópécska, Felnac, Vinga / Vinga, ªagu, Fântânele, Vladimirescu, Livada, Zimandu Nou / Zimándújfalu and Sofronea / Sofronya communities.
The territory of the city is inhabited from the ages. There were found some finds from the Bronze, Iron, Dacian, Roman ages.
The city has got its name from Knight Orod, knight of King Saint Stephen in 1029. Castle Orod later Arad became the capital of Arad County. The city was in Arad County of the Kingdom of Hungary till 1551. In 1514 it was destroyed at the time of the Dózsa peasant revolt. On 18th September 1551 it was occupied by the Turks. The Turks built a new fort and Arad became a sandsak seat. It was under Turkish rule till 1685. The Treaty of Karlovac (1699) reunited it with Hungary. 1699-1741 Arad was part of the Military Borderlands and was the district seat. Between 1763-1783 the new fort was built. 1741-1832 Arad was a town in Arad County. Free Royal City from 1832. At the time of the Independence War in 1848-1849 the Fort Arad took Habsburgs' part, and the fort bombarded the city. On 1st of July 1849 the fort was surrendered. Arad became the capital of Hungary for a very short time 02.08.1849 - 09.08.1849. The fort surrendered to the Russian troops on 17. August 1849. On 6th October 1849 there were executed the 13 generals of the Independence war.
The settlement in 1910 was a city in the Kingdom of Hungary. Inhabitants in 1910: 63.166; 46.085 (73,0%) Hungarian, 10.279 (16,3%) Rumanian, 4.365 (6,9%) German, 1.816 (2,9%) Serb, 277 (0,4%) Slovaks and 344 (0,5%) other by mother tongue, 32.630 (51,7%) Roman Catholic, 12.636 (20,0%) Greek Orthodox, 7.675 (12,1%) Calvinist, 6.295 (10,0%) Jew, 2.213 (3,5%) Lutheran, 1.502 (2,4%) Greek Catholic and 215 (0,3%) other by religion.
In 1919 the city was under French later Rumanian occupation. On 5th May 1919 there was formed the Hungarian counter-revolutionary government. The Treaty of Trianon allocated it to Rumania. In 1944, between 15th and 22th September the city was under Hungarian occupation.
Arad was a city 1952-1960 in Timişoara Region, 1960-1968 in Banat Region and from 1968 is in Arad County.
The city is the birthplace of some Hungarian celebrities: Árpád Tóth (1886-1928) poet, Aladár Kuncz (1886-1931) writer. You can find some beautiful buildings, the fort and the pieces of the Liberty Statue (which was in Rumanian captivity 1925-1999) in the court of the Minoritian church.
István Molnár, 8 January 2001
The flag is on my old photo taken in 1995. There is the City Hall of Arad and two flags on it. A Rumanian flag and a yellow flag with blue stripes.
István Molnár, 13 February 2001
---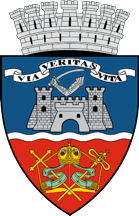 image located by Valentin Poposki, 17 February 2022

Coat or arms of Arad. This is the official version from the 1990s years.
István Molnár, 23 December 2000

---
Historical flag of Arad (Kingdom of Hungary)

by István Molnár, 8 January 2001
White with a blue cross throughout (width = 1/7th of the length)
António Martins, 27 February 2001
This flag appears at Dr. Széll Sándor: Városaink neve, címere és lobogója (1941) as "Arad, Arad Co.".
István Molnár, 8 January 2001
Historical Coats of Arms

Located at http://www.ici.ro/romania/cities/arad.html
István Molnár, 9 January 2001
Arms from the 1970s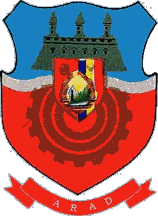 image located by Valentin Poposki, 17 February 2022