This page is part of © FOTW Flags Of The World website
MIMAROPA, Region IV-B, Philippines
Last modified: 2023-06-03 by

zachary harden
Keywords: mimaropa | southern tagalog | tagalog | marinduque | mindoro | palawan | puerto princesa | romblon |
Links: FOTW homepage | search | disclaimer and copyright | write us | mirrors

---
The Philippine Republic's Region IV, Southern Tagalog, comprised eleven provinces with eight cities. Most of these provinces are in the southern part of the island of Luzon, but the province of Palawan, an archipelago in itself, stretches southwest of Luzon almost as far as Borneo, forming one of the four sides of the Sulu Sea. It has subsequently been subdivided into CALABARZON (Region IVA, comprising Batangas, Cavite, Laguna, Quezon and Rizal) and MIMAROPA (Region IVB, comprising Occidental Mindoro, Oriental Mindoro, Marinduque, Romblon and Palawan).
Flag images here drawn after Symbols of the State, published by the Philippines Bureau of Local Government.
Region IV-A: CALABARZON
Region IV-B: MIMAROPA
See also:
---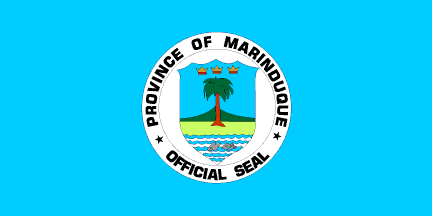 by Jaume Ollé, 12 January 2001
East of the Province of Oriental Mindoro is the smaller province of Marinduque. Its population is 217,000 in six towns, of which Boac is the capital, totalling 959 sq. km. It has been a separate province since 1920. It has considerable mineral resources, but a disastrous leak of mine tailings in 1996 forced the closure of the copper mines. Its chief products are coconuts, rice, maize, fruits, vegetables, livestock, fish, wood, and the products of a number of small-scale industries. Off the coast are three small islands called the Three Kings, individually Gaspar, Melchor, and Baltazar, a favoured spot for day-trips and diving; a Spanish galleon was found off Gaspar in forty meters of water in 1981. It has yielded a wealth of archaeological treasure. Both provinces seem to offer sufficient wilderness, wildlife, and water to make many vacationers happy, but here has been little touristic development.
John Ayer, 8 March 2001
---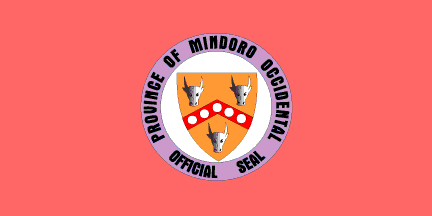 by Jaume Ollé, 12 January 2001
Northeast of the Province of Palawan in Region IV of the Philippine Republic is the island of Mindoro, which (with surrounding smaller islands) constituted the Province of Mindoro from 1921 until 1950, when it was split into Occidental and Oriental halves. Occidental Mindoro has a population of 378,000 in eleven towns, of which Mamburao is the capital, on 5880 sq.km.
The Chinese traded with the natives of Mindoro for centuries before the Spanish, in the person of Miguel Lopez de Legaspi, discovered the island in 1569. Gold sediments in the streams led the Spaniards to christen the island "Mina de Oro" or "Gold Mine," but that didn't pan out to any great extent. The name survives, compressed. Spanish occupation began the next year under Lopez de Legaspi's lieutenant and grandson, Juan de Salcedo.

Both provinces Mindoro Occidental and Mindoro Oriental include primeval forest, nature reserves, many miles of unspoiled beach, and opportunities for hiking, swimming, diving, wind-surfing, fishing, camping, nature-watching, etc. The island is sole home to the tamaraw, a wild relative of the carabao, or water buffalo, with horns that grow up in a V instead of curving in. Exotic birds and butterflies also abound. Oriental Mindoro has the oldest Spanish fort in the Philippines, with the cannons that were used against Moro raiders, whose depredations continued well into the nineteenth century. Occidental Mindoro includes the islands where Japanese soldiers Hiroo Onoda and Fumio Nakahira prolonged World War II until 1974 and 1980, respectively. Both provinces are mainly agricultural, growing rice, maize, coconuts, bananas, and vegetables. There is some light industry, and the ocean teems with commercial and sport fish.
John Ayer, 8 March 2001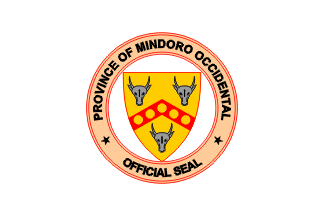 by Željko Heimer
A different flag for Mindoro Occidental is shown by Znamierowski (1999), p, 231, captioned: "Province of Mindoro Occidental, Philippines". A white flag with shield Or between three oxen heads proper on a chevron gules five bezants, all within a pale orange ring containing inscription * OFFICIAL SEAL * PROVINCE OF MINDORO OCCIDENTAL.

This is slightly different from the Mindoro Occidental flag drawn by Jaume Ollé (above). That flag is light red (pinkish), with similar shield, differing in some artistic details of the heads, and the bezants are not golden but silver. The ring of the seal is purple, containing the same text (without the stars), the space between the ring and the shield is white.
Željko Heimer, 12 November 2002
---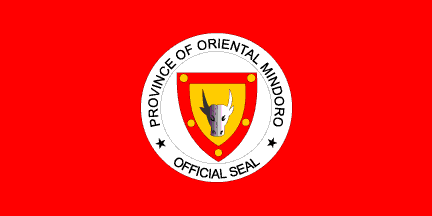 by Jaume Ollé, 12 January 2001
Oriental Mindoro has a population of 669,000 on 4365 sq.km. in fifteen towns, of which Calapan is the capital.
John Ayer, 8 March 2001
---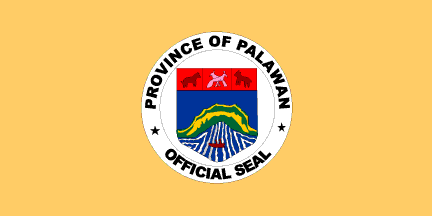 by Jaume Ollé, 12 January 2001
The province of Palawan, an archipelago in itself, stretches southwest of Luzon almost as far as Borneo, forming one of the four sides of the Sulu Sea. It consists of a principal island, Palawan, and more than seventeen hundred minor islands. Its capital and only city is Puerto Princesa. A surviving fortress church in Cuyo with cannon on its four towers bears witness that Palawan was a regular route of the Moro pirates. The province's ethnography is extremely complex. The population is some 737,000 on 16,456 sq.km. Its wildlife is remarkably diverse, including many species not found elsewhere. The government encourages eco-tourism to prevent habitat destruction, and there are a number of national parks and wildlife refuges. Palawan produces maize, rice, coconuts, cashews, natural gas and oil, and huge amounts of fish. Livestock raising, seaweed farming, and food processing are being developed.
John Ayer, 7 March 2001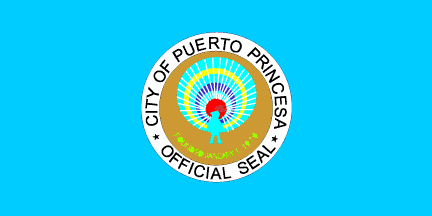 by Dirk Schönberger, 12 January 2001
Source: Symbols of the state
Puerto Princesa, population 160,000, was founded in 1872, and chartered as a city about a hundred years later. The flag of Puerto Princesa is probably a salute to the Palawan Peacock Pheasant, which is considered endangered.
John Ayer, 7 March 2001
---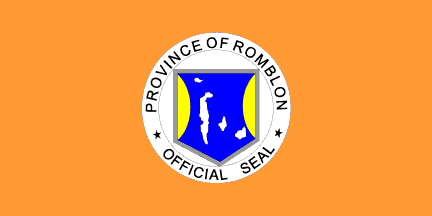 by Jaume Ollé, 12 January 2001
East of the Province of Oriental Mindoro are two smaller provinces, Romblon and Marinduque. Romblon, a separate province since 1921, has a population of 263,000 in seventeen towns on several islands with a total land area of 1533 sq.km. The town of Romblon (on an island of the same name) is the capital. The province is famous for its marble quarries and marble products. It also produces wood and wood products, and agricultural products and fish. Here, as in so many other places, Moro slave-raiding forced the development of a coastal defense system, which seems to have been successful; a large Moro force attacked Romblon town in 1753, and was driven off. Several parts of the fortification can still be seen.
John Ayer, 9 March 2001
The province of Romblon was created by Act 2711 on 10 March 1917. The flag is orange with the seal. In the seal is white with a map of the province. The white is for the marble quarries found in the islands of Romblon and for which it was known. The province include several islands (Tablas, Sibuyamm Romblon, Banton, Simara, Carabao, Alad, Logbon, Cobrador and number of scattered islets). The first Christian mission was founded by Recollects in 1635 in Banton Romblon and Cajidiocan. In 1646 it suffered an attack by the Dutch. A fort was built in Romblon in 1650 and another in Banton Island by the Recollects. In 1818 it was united with the province of Capiz and 1853 the "Comandancia político militar de Romblon" was created. In 1898 the region was under the rule of a Spanish army officer with the rank of captain, and in 1899 was under control of the Philippino revolutionary leader General Mariano Riego de Dios, head of the revolution in the Visayas, in the struggle against America. A civil colonial government was established by the Americans on 16 March 1901. In that year it became a regular province, but due to insufficent income, it became a sub-province of Capiz in 1907 until 7 December 1917 when act 2724 restablished the former province. Reorganization on 8 June 1940 resulted in the formation of four municipalities (Tablas, Romblon, Banton and Sibuyan). A Japanese garrison was established in 1942 which was surrendered after the Sibuyan Battle, 25 October 1945. On 1 October 1946 the province was abolished and four special municipalities were created. (act 581), but on 1 January 1947 the provincial status was restored (Republic act nş 38), sponsored by Congressman Modesto Formilleza. A new municipality was created (Santa Fe).
Romblon is more identified with marble than any other province. In the province there are historical and tourist landmarks, such as the ruins of Spanish forts, the beach of Romblon and the waterfalls of San Andres and Odiongan
Source: Symbols of the state - Quezon City 1975.
Jaume Ollé, 22 August 1997
On the page at http://www.romblon.homestead.com/briefhistory.html this flag is described as the "pre-war provincial flag" (presumably the Philippine-American war of 1898).
Michael Smuda, 14 November 2005