This page is part of © FOTW Flags Of The World website
APRA-PAP — Peruvian "Aprist" Party
Partido Aprista Peruano
Last modified: 2021-08-25 by rob raeside
Keywords: apra | pap | map: south america | globe (red) | earth | star: 5 points (white) | star: dense |
Links: FOTW homepage | search | disclaimer and copyright | write us | mirrors

---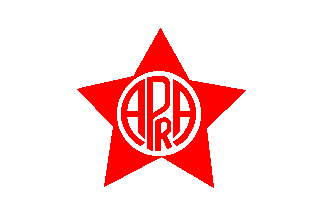 image by Guillermo Tell Aveledo, 15 Nov 2003
---
See also:
---
Flag description
Two variants of this party flags can be seen at the Cerna website; party logo also at the Cerna website.
Dov Gutterman, 17 Apr 2000
The shade of red is brighter and the ratio is smaller (≅2:3 vs. ≅1:2) than in the other flag.
António Martins, 15 Nov 2003
I believe that this is the current flag. The red one was used years ago and now, if used, must be less used than the white version. I have at least other photo or two and also show the white version. The party logo is also now red on white background.
I can speculate that they tried to appear more centrist changing the revolutionary and leftist flag (and ideology) to a more centrist flags (and ideology). Furthermore red was the color of the Senderists and [aprist] García was the president under whom the senderist expanded and controlled the andean region, and was next president Fujimori [non-aprist] who moved the senderist revolt to a focalized conflict of low intensity, and people can be confused with two red flags.
Jaume Ollé, 19 Nov 2003
Since Haya de La Torre couldn't suceed in making the APRA an all-American party, the action of the core of the APRA focused on Peru; the P.A.P. became a member of the International Socialist. After almost 60 years in the opposition (to sometimes cruel governments), the Partido Aprista Peruano (also called, more easily, as APRA — the APRA and the PAP are pretty much the same), reached higher platitudes whe it won the Presidency of Peru in the 1980s. It has not won a Presidential Election since.
Guillermo Tell Aveledo, 06 Sep 2000 and 08 Sep 2000
---
Previous flag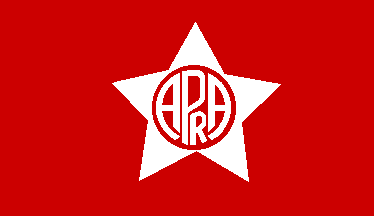 image by Guillermo Tell Aveledo, 06 Sep 2000

Dark red was the most prominent shade I saw in a book remembering the late Victor Raul Haya de la Torre, leader of the APRA and the Peruvian Aprist Party (PAP). However, I've seen pictures of the APRA and PAP's flags with regular red — if there's such a thing.
Guillermo Tell Aveledo, 08 Sep 2000
---
APRA
Alianza Popular Revolucionaria Americana / American Popular Revolutionary Alliance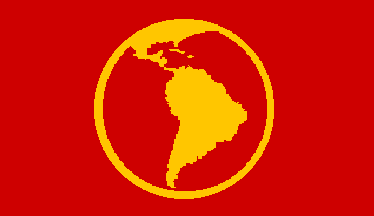 image by Guillermo Tell Aveledo, 06 Sep 2000

The APRA, founded in the 1920s in Peru, was conceived by his founder, Victor Raul Haya de La Torre, as to become a political party for the Americas, based in our realities and not in foreing ideologies. Ultimately, while the party was non-communist (and condemned as such by the Soviet Union), it had socialist ideas. Since Haya de La Torre couldn't succeed in making the APRA an all-American party, the action of the core of the APRA focused on Peru (the APRA and the PAP are pretty much the same).
Guillermo Tell Aveledo, 06 Sep 2000 and 08 Sep 2000

Dark red was the most prominent shade I saw in a book remembering the late Victor Raul Haya de la Torre, leader of the APRA and the Peruvian Aprist Party (PAP). However, I've seen pictures of the APRA and PAP's flags with regular red — if there's such a thing.
Guillermo Tell Aveledo, 08 Sep 2000
"Latin american" variant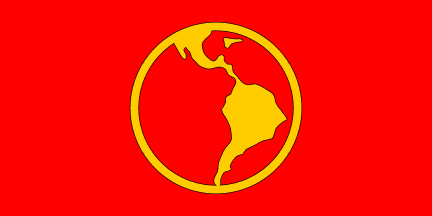 image by Jorge Candeias, 16 Apr 2005

Guillermo's version above is geographically correct, showing the whole of South and Central America plus the two larger Antilles and most of the southern portion of the US, but not showing Baja California and northern Mexico. The version in the picture I have, however, omits everything that is not latin-american and includes, very distinctly, Baja California and, presumably, the whole of Mexico. This is done through some mild (severe in the case of Cuba) distortions in the geography, which in my opinion has a political significance.
Jorge Candeias, 16 Apr 2005
---