This page is part of © FOTW Flags Of The World website
Games of the VII Olympiad: Antwerp 1920
Antwerp 1920 Summer Olympics
Last modified: 2018-06-16 by

zoltán horváth
Keywords: olympic games | antwerp |
Links: FOTW homepage | search | disclaimer and copyright | write us | mirrors

---
See also:
Other sites:
---
Antwerp Olympic flag
Do we know yet if the Antwerp flag (the official one that went from Antwerp 1920 to Seoul 1988 and was then replaced) has been found again? It was reported missing a couple of years ago!
Herman de Wael, June 17, 2004
Not quite correct. The real story was that the original Antwerp 1920 flag went missing, so they had to make a replacement for the 1924 games. That was in use until the 1988 games. By then it had become quite 'old and frail', so another replacement was made for the 1992 games. As for the missing 1920 flag, it was actually stolen as a souvenir (by an American athlete, IIRC), who at long last returned it in person to the IOC a few years ago (around the time of the Sydney 2000 games). The ex-athlete wasn't punished, if only because he's too old to sit out any time in jail ;-)
Miles Li, June 17, 2004
I am quite certain that the flag that was handed down until 1988 was always referred to as the "Antwerp" flag, made in Antwerp from (I don't remember what) Belgian cloth.
That is quite a different story. This is one of the many Olympic flags that adorned the city in 1920, and it was indeed stolen, and returned, and will now get a pride of honour place in our new museum. Strangely it is the only remaining flag from hundreds that must have been made, but it is not the official one.
The official one has (IIRC) never been seen again since 1988.
Herman de Wael, June 17, 2004
Hal Haig Prieste, an American athlete at the 1920 Olympic Games, climbed a 15 foot pole and stole the flag that was flying in the stadium. He didn't reveal that he had the flag until 1997. He was flown to the Sydney 2000 Olympic Games as a guest of the US Olympic Committee and in a very brief ceremony, at 103 years old, he personally returned the flag to Juan Antonia Samaranch. He died the next year at 104 years of age (2001).
See his obituary at these websites (among many others):
Harvey Abrams, August 26, 2005
---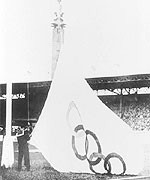 image located by Jan Mertens, 18 September 2011
A question thrown up on this page, concerning the possible disappearance of the original 1920 Olympic ceremonial flag (the "Antwerp flag") is really resolved here. This image does not show this flag but a larger one used for the opening ceremony in the process of being raised - see this page, about ¾ down right after the city map: http://home.scarlet.be/~fhermans/antwerpen1920/opening.html
We learn that the first Olympic flag (the ceremonial one, or the one hoisted?) was carried into the stadium by American swimmers (divers) Alice Lord and Aileen Riggin.
(The coloured photo immediately following is interesting but not quite trustworthy, witness the wrongly interpreted Antwerp municipal flag on the gate.)
Jan Mertens, 18 September 2011
Even allowing for the vagaries of black and white film, it's interesting to note that the rings almost certainly weren't in what is now regarded as the standard colour sequence. Blue does appear very light on black and white film, but it looks very much like the first ring is the yellow one.
James Dignan, 19 September 2011
Well, sort of. It's not all that likely that one of the street flags missing would have created a myth that the official flag had disappeared by the end of the games. So, it would appear we're actually faced with two separate stories:
1 Prieste climbing a street pole to take a flag (I may have quoted a contemporary news article, mostly a police report, on that one).
2 The city of Antwerp presenting the IOC with a flag, which then disappears after which the IOC has a new flag made, though they still call it "The Antwerp Flag".
2a The original official flag being brought in by the IOC, and the City of Antwerp donating a new flag after that first one has gone missing.

According to Karl Lennartz - The Story of the Rings, the Olympic flag was indeed stolen. This was the large flag hoisted in the stadium, and the thieves were caught. He doesn't mention whether that stadium flag was recovered, but had the thief been an Olympic athlete, that certainly would have made the news as well.
He does give the size of Prieste's flag, 135,5 by 94 centimetres, so that's obviously not the larger stadium flag. It's equally obvious not the Antwerp flag, the ceremonial flag, as that was fringed, as can be seen when it's captured in images of the medal ceremonies.
So, Prieste stole one of the street flags, several of which were indeed reported stolen. The stadium flag was stolen as well, but Lennartz quotes Journal of Olympic History 11 (2001) 1, p. 40 where the lowering of a flag from the large pole is described. The Antwerp flag was present at at least one medal ceremony, and Lennartz quotes from the same source its presence at the closing ceremony. So, it's unlikely that the Antwerp flag was stolen, which for a staff flag is less likely anyway, and the City of Antwerp probably donated the original flag, as there was no need for a replacement.
I'm not sure why this story is on the proposals page, BTW.

Well, the Antwerp flag was replaced by the Seoul flags, and we quote the description. The Seoul flag is 2x3m; a flag of that size could well be carried into the stadium by two persons. The stadium flag nowadays is something like 3x6 m, and is carried by 8 persons. (I keep telling myself I ought to check all recorded opening ceremonies, to compare the flag details. Is the stadium flag the same size each Olympiad, or is it growing?) That matches the photograph, but even rolled up it would be a hefty burden for 2 people.
There are several national flag designs visible in front of the athletes. Does anyone have an opinion on whether they are coloured correctly?

The next supposed theft of the Antwerp Flag was in St. Moritz in 1948. Not just the flag itself was stolen, but its replacement as well. While the story of that theft is probably verifiable, it's rather unlikely that this really was the Antwerp Flag. For one thing, it's unlikely that a staff flag would have been that accessible twice in a row; that's more likely for a stadium flag that is flown from Opening Ceremony until Closing Ceremony. And for another, a replacement would not easily have been available. But more importantly, until the Oslo Games, 4 years later, the ceremonies of the Winter Games didn't normally include a ceremonial flag. If an important flag was stolen in St. Moritz, it's likely to have been the stadium flag. Anyone have anything specific on that one?
The Antwerp flag that was replaced in 1988 by the Seoul Flags was donated to the Olympic Museum in Lausanne and was put on display there. (And if it hasn't been stolen, then it should be there still.)
Peter Hans van den Muijzenberg, 19 September 2011
Excellent source, yes. There we have the (almost) complete story. The gate was only temporary, nowadays the stadum hosts Germinal Beerschot, a football team - the laurels are gone.
Norway and Japan are allright, but others are not (a balck and white photo places Italy to the left of Japan, so Italy was not in the left of the coloured photo - all countries apparently ranged from right to left in French alphabetical order). For a list of participating countries, see end of this page.
See the quote at the end of p. 41 of Lennartz' article: the material of the flag passed on to future organizers - the actual "Antwerp flag" was made of silk, and embroidered.
Jan Mertens, 19 September 2011
It's not so much the presence of the gate I have a problem with as its absence. This photograph you posted looks different, and do we see a tower in the background?
Don't bother, it occurred to me that this is likely to be L.A. 1984: The Antwerp Flag did travel from Moscow to Los Angeles, somehow, but nobody from the USSR was in L.A. for a flag exhange ceremony. I can't recall the details, but this is how the Official Report Los Angeles 1984 Vol 1 Part 1 page 210 describes it:
"The Olympic Charter-mandated portion of the ceremonies ... was begun with the Antwerp Flag Exchange. IOC President Juan Antonio Samaranch presented the flag to Los Angeles Mayor Tom Bradley who in turn presented the flag to LAOOC Chairman Paul Ziffren. Two members of the United States Olympic delegation to the 1920 Games in Antwerp, Alice Lord Landon and Aileen Riggen Seoule, were included in the exchange ceremony."
If anyone has a video recording covering this we might get the exact details, but I have little doubt that this is the association of the two ladies with the Antwerp Flag.
BTW, the Los Angeles 1984 Olympics were the first time the exchange of the Antwerp Flag was part of the Closing Ceremony. For the actual Antwerp Flag it was also the last time, as since 1988 one of the Seoul Flags has been used in its stead.
Peter Hans van den Muijzenberg, 20 September 2011
The Olympic Official Report Moscow 1980 Vol 2 Part 1, page 289 has a very clear picture of the Antwerp Flag being transferred. In this picture, one can see how the flag is connected to the staff: The Antwerp Flag is fastened to its staff by six ribbons, from top to bottom: White, Blue, Yellow, Black, Green, and Red, which is the same order as that of the colours on the flag.
This photograph of the mayor of London waving the Seoul flag in Peking, shows ribbons in the same order for that flag.
Peter Hans van den Muijzenberg, 20 September 2011
Concerning the stolen and returned flag, see colour photo on this page. Hoist held at right I see; rings touching.
Jan Mertens, 20 September 2011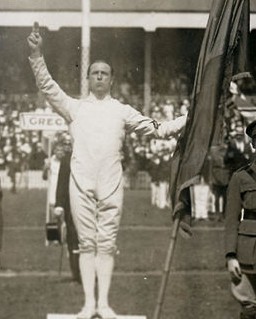 image located by Jan Mertens, 20 September 2011
Almost the last photos on this page illustrate the first Olympic oath, pronounced in Antwerp, 1920. Pronounced by fencer Victor Boin, holding the Belgian flag in his right hand, the oath was delivered in front of the stadiumís royal box as may be seen in the smaller photo.
Jan Mertens, 20 September 2011
I assisted to the AGM of the Belgian Olympic Committee. Guest of honour was the Honorary president of the BOIC and the IOC, Jacques Rogge. I had the chance to approach him and ask a simple question: does he know where the Antwerp Flag is?
As you may recall, the Antwerp Flag was the official IOC flag (with rings and a fringe) that travelled from Antwerp via all the Olympic cities to Seoul. In 1985 it was replaced by a new flag, made of Korean silk, that has since travelled the world and is currently in Tokyo.
In all the articles about that change, it is mentioned that the Antwerp Flag would be housed at the Olympic Museum in Lausanne. But it is not there.
So maybe Jacques Rogge knows where it is? Sadly he does not know either. "It is a mystery", he said, which makes me conclude that the IOC does not know either, and the flag is either still somewhere in a Seoul cellar, or it has been destroyed.
That probably settles this question.
Herman, 04 June 2018
---
Flags at Olympic Museum
I do remember when visiting The Olympic Museum in Lausanne that inside of the main halls on the first floor, one can see a very old Olympic flag, displayed on a framed glass. Unfortunately no pictures were allowed inside that exhibition, but I do recall that the flag was the standard Olympic flag (rings on a white horizontal background) and below the rings a golden embroided number, "1920".

At the moment I did not know if it was a variant of some sort, but now that I read that it was the first Olympic flag (http://en.wikipedia.org/wiki/Olympic_flag#Flag and http://insider2012.blogspot.com/2012/01/celebrity-profile-hal-haig-prieste-1920.html ) then I come to realize that if the flag displayed at the Olympic Museum is not the first truly Olympic flag, then it is one of many "original" flags that as Herman de Wael mentions in his June 17, 2004 post.

Unfortunately the Museum is now closed for modifications, and surely a renovation will take place (both in the website and in the museum) as they mention on the official website: "After 20 years of existence, the institution closes its doors on 29 January 2012 for renovations until the end of 2013". So it would be difficult to locate the flag if someone would have the chance to actually go there. I have tried submitting this topic to them, and let's see if I can get a response.

Now, two links that may be proper to use as reference on their FAQ's:
- Q: Since when has the Olympic flag been raised at Olympic Games opening ceremonies ?
A: In 1920 at the Games in Antwerp, the Olympic flag was raised for the first time in an Olympic stadium. It was again Pierre de Coubertin who had the idea. He presented it at the Olympic Congress in Paris in 1914, but the First World War prevented the 1916 Games from being held in Berlin. As a result, it was the city of Antwerp which saw the five-ring flag flying for the first time.
Source: http://registration.olympic.org/en/faq/detail/id/146

- Q: Is it possible to obtain an Olympic flag?
A: The Olympic flag is to be used within the Olympic Games ceremonies only and may therefore not be purchased. Olympic Charter: Chapter 1, Rule 7.2, p. 20
Source: http://registration.olympic.org/en/faq/detail/id/24
Esteban Rivera, 23 April 2012
---