This page is part of © FOTW Flags Of The World website
New Zealand - House flags of shipping companies (J-L)
Last modified: 2013-07-27 by ian macdonald
Keywords: houseflag |
Links: FOTW homepage | search | disclaimer and copyright | write us | mirrors

---
See also:
---

image by Neale Rosanoski, 3 November 2010
Jubilee Steamship Co. Formed by the New Zealand Seamen's Union in 1888 as a result of a dispute between the Union and the Northern Steamship Co. which appears to have been resolved later in the same year though it is unclear as to how long the company was in business. The Log 2/1992 gives a blue flag with a narrow white saltire surmounted by a red oval across which is the white inscription "JUBILEE" with the 1st and last letters being on the field. In chief is a yellow crown.
Neale Rosanoski, 3 November 2010
---

image by Neale Rosanoski, 3 November 2010
Kaiapoi Shipping & Trading Co. Ltd. Operated 1906-1927 with The Log of 2/1990 giving a white flag with a narrow black cross and per quarters the black letters "KSTC".
Neale Rosanoski, 3 November 2010
---

image by Neale Rosanoski, 3 November 2010
Kaipara Steam Ship Co. Ltd. Formed in 1907 it was absorbed by the Northern Steam Ship Co. Ltd. in 1943 and then in 1962 re-emerged in 1962 under ownership of Fletcher Industries Ltd. to operate the "Onehunga" on the coastal trade until 1968. According to Sea Breezes 6/1979 the original flag was blue with a red cross between the white letters "KSSCo".

image by Neale Rosanoski, 3 November 2010
The flag was replaced for its second life in 1962 by white with a blue saltire between the same letters in blue.
Neale Rosanoski, 3 November 2010

image by Eugene Ipavec, 2 May 2009
A black and white picture of a red flag bearing a white initial 'T' (no serifs) is shown and briefly presented in the chapter on shipping company flags in the 1966 Encyclopedia of New Zealand (situated here) [image no longer accessible]:
"Another interesting flag is that which used to be flown on shore stations on the Kaipara mail run to indicate to passing steamers that there was mail to be collected (E3)."
So it is really a signal flag, the 'T' standing for… what exactly? "Take up mail"?

Kaipara is situated almost in Northland, New Zealand. A large natural harbour, it was closed in 1947 (except for local traffic) as it was sanding up and dangerous.

More information from the Helensville Museum and Wikipedia
Jan Mertens, 29 March 2009
---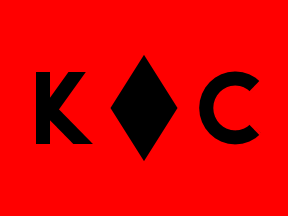 image by Eugene Ipavec, 31 March 2009
Another flag featured in the on-line Encyclopaedia of New Zealand 1966 is Kamo Colliery:
"Among the many other maritime flags which have been flown in New Zealand waters are those of the Kamo Colliery Co. (North Auckland) (E2)..."
[The drawing from the Encyclopedia no longer appears to be online - ed.] Red field, in the centre a black lozenge between black initials 'K' and 'C'.

Kamo is located in Northland, New Zealand, where coal was once indeed dug up, according to Wikipedia:
"Coal mining was an early industry in the area. Tunnelling first started in 1875, but it was not practical to carry the coal over the unmetalled roads to Whangarei wharf. In 1882 a short railway line was completed between Kamo and Whangarei to carry the coal. (...) The mine closed in 1955..."
Obviously ships were operated as well although I have found little traces (and no pictures) of them, with activity found between 1883 and 1887 when 'Waitaki' was wrecked.
Jan Mertens, 31 March 2009
---

image by Neale Rosanoski, 3 November 2010
D.M. Kenrick. In 1954 formed the Kenrick Shipping Co. Ltd. with a white pennant with a blue border from The Log 2/1986 operating the "Ken Wahi" on the Trans-Tasman trade.

image by Neale Rosanoski, 3 November 2010
After the first voyage the company was reformed as the Ken Wahi Shipping Co. with The Log of 11/1994 showing a diagonal biband of white and blue with a blue "K" on the white and a 5 star Southern Cross constellation in the blue fly and in the blue hoist a larger 7 pointed Commonwealth white star thus presumably representing the NZ and Australia area. It did not help for success as the ship was sold in 1955.
Neale Rosanoski, 3 November 2010
---

image by Neale Rosanoski, 3 November 2010
Levin & Co. Ltd. One of the major stock and station agencies, commencing in 1841 they were ship-owners1899-1929 running a fleet of small vessels coastwise servicing their clients. The flag was white with a red saltire and overall a small blue panel from The Log 5/1971.
Neale Rosanoski, 3 November 2010
---
Liquigas Ltd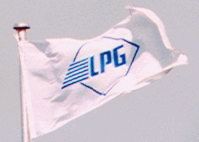 image by Neale Rosanoski, 18 August 2010
Liquigas Ltd, New Plymouth - white flag, blue outlined diamond, interrupted by alternating white and blue horizontal stripes; blue "LPG".
Jarig Bakker, 19 February 2006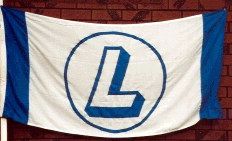 image by Neale Rosanoski, 18 August 2010
Liquigas Ltd. Formed in 1981 the company operated the "Tarahiko" to transport LPG hence the letters on this flag which is however not the original flag of the company which was white with narrow blue bands at hoist and fly and within a blue ring a white "L" outlined and shaded blue with the vertical arm slanted. A full description is : proportions of 72" x 36", the vertical bands at hoist and fly being 8", the circle having a diameter of 30" and the ring a width of 1", the white "L" being 4" wide with a narrow blue shading of 1" on top, hoist side and top of horizontal arm, and 3" on all other sides, the ring and "L" plus shadings all being outlined black. A scan of a photo is attached but this does not show the black edging mentioned in the description this being the 1/8 of an inch stitching the blue design to the white field and only discernible close up. The blue is a deep sky blue shade.
An image [redrawn for FOTW by Jarig Bakker] shown in Brown's Flags and Funnels of Shipping Companies of the World [lgr95] is incorrect even though the info originated from myself and proves how easy it is for detail to get distorted and incorrectly displayed. It is wrong on two counts (a) it is back to front and (b) there are 6 horizontal lines, not 5. The number of 5 comes from the emblem as shown on the funnel which differed for some reason and is displayed correctly only on the starboard side instead of the normal portside. The portside shows as the Brown flag image which maybe is why someone thought my rendering was wrong. The blue also seems to be darker than in the original flag but as I never got close to it I cannot be sure on this point.
The change in logo would seem to date from at least 1/1990 with the ship adopting it for its funnel at annual survey although continuing to fly the original flag, whilst the new flag was seen at their Christchurch depot in 8/1991, and by the ship 11/1991. The ship involvement ceased in 1999.
Neale Rosanoski, 18 August 2010
---
Lyttelton Port Co., Ltd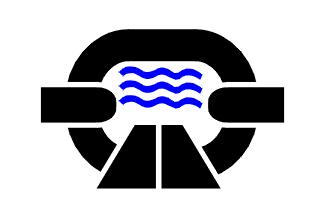 image by Jarig Bakker, 27 Jan 2006
Lyttleton Port Co., Ltd., Lyttleton - white flag, black device surrounding three blue waves.
Source: Brown's Flags and Funnels of Shipping Companies of the World [lgr95]
Jarig Bakker, 27 January 2006
I can make an educated guess at that "black device". To get by road or rail to Lyttelton, one has to travel through one of the country's best known tunnels. The device looks like a road travelling through a chain formed into a stylised tunnel.
James Dignan, 28 January 2006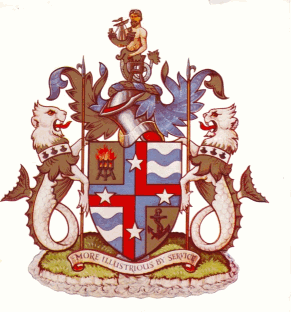 images provided by Neale Rosanoski, 18 August 2010
Lyttelton Port Co. Ltd. James is correct as the current flag represents the Christchurch-Lyttelton Road tunnel portal to the harbour symbolised by a blur wavy bands (Lyttelton Port Co. Ltd. 1991 review).

The original Lyttelton Harbour Board dating from 1907 was privatised 30.9.1988 and its previous flag was white bearing the Arms which were received in 1961 and incorporated some features of the Lyttelton family's coat of arms with permission having been given by the then Governor General, Lord Cobham, the arms comprising a shield quartered yellow and barry wavy of 4 white and blue with overall a cross of blue and red counterchanged so that the blue borders the 1st and 4th quarters and the red the 2nd and 3rd, with over each arm a white cross [Southern Cross], the 1st quarter having a flaming brazier [beacon services]and the 4th a black foul anchor [marine activities] and the 2nd and 3rd quarters the sea, supporters white sea lions with gold fins and manes each holding a boathook, crest a merman holding a 1 masted galley, all resting on a representation of land surrounded by sea with the motto "MORE ILLUSTRIOUS BY SERVICE". A scan of the Arms is shown in which the colours have become muted especially the blue and on the flag the Arms were of generous proportions taking most of the field.
Neale Rosanoski, 18 August 2010
---
Series continues: New Zealand shipping lines (M)