This page is part of © FOTW Flags Of The World website
Chatham Islands (New Zealand)
Wharekauri, Rekohu
Last modified: 2013-06-15 by ian macdonald
Keywords: chatham islands | new zealand | map | claim | wharekauri | rekohu |
Links: FOTW homepage | search | disclaimer and copyright | write us | mirrors

---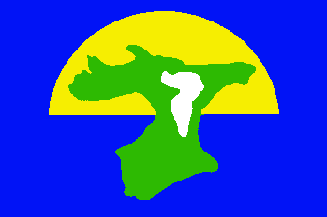 image by Jaume Ollé, 11 November 1996
---
See also:
---
Presentation of Chatham Islands
There are 700 people of main Chatham Island and fifty people on Pitt.
Staff and Trustees, 21 October 1998
Details can be found at the Chathams web-site http://www.chathams.napier.govt.nz.
Hugh Rennie, 20 July 1998
The Chatham Islands are controlled directly from New Zealand [and the population is too small to have any direct self-governance within the country] the island's affairs come under the jurisdiction of one political electorate. Until recently, the Member of Parliament for Lyttelton (the major port near Christchurch) was also MP for the Chatham Islands — at the last election, the Chatham Islands were "relocated" politically into the electorate of Wellington Central. I believe the islands have their own council, which operates in the same way as local borough, county or district councils in the rest of the country. Not surprisingly, fishing is the main industry, and the main settlement is Waitangi, on the main island.
The islands have a tribal history that includes not only the Maori, but also the Moriori, an earlier race. No full-blooded Moriori exist, although the Solomon family can claim undisputed strong Moriori bloodlines. There is still some contention among historians as to whether the Moriori were a separate race, or an earlier wave of Maori colonisation. Moriori land claims have risen to some prominence in recent times due to the fact that technically only Maori grievances can be aired under the (ironically) Treaty of Waitangi tribunal.
As far as I know, there is no claim for self determination for the islands as a whole, other than Moriori claims for traditional rights as regards things like fishing.
James Dignan, 12 November 1996
The Moriori are a Maori tribe. There were no inhabitants in NZ prior to those we now term the 'Maori'. That there was a pre-Maori race called the Moriori is one of a group of stories which can be termed 'Great New Zealand Myths'.
Chris Hughes, 23 July 2000
There are two schools of thought about the Moriori. The more widely accepted is that the Moriori were an earlier wave of migration from the Pacific Islands. They lived peacefully on the Chatham Islands until they were overrun by a later wave of migration, the Maori, who had settled on the mainland of New Zealand.
The minority opinion is that the Moriori were simply a separate iwi (clan) of Maori. This view is widely discredited, although it lingers on in some quarters, and there is truth to the fact that in the Maori language, the repetition of the last syllable of a word often implies ownership (so "Maori" would mean 'people', but "Maori-ori" would mean 'our people'), and this has often been taken as evidence that the Chatham Islanders were simply distinguishing themselves from mainland Maori. It is far more likely, however, that the denial of the Moriori as a separate people is simply an attempt at political correctness - an attempt to deny the massacre of the Moriori by invading Maori. The view is most commonly held by Maori and by a small proportion of academics. Certainly you wouldn't get far on the Chathams if you suggested that the Moriori were simply an iwi of Maori! The language, art and customs of the people were different from those on the mainland, and traditional stories put their migration earlier than those of the great migration fleet.
James Dignan, 26 August 2000
---
Description of the flag
This is the unofficial flag of the Chatham Islands (Wharekauri in Maori; Rekohu in the indigenous language, Moriori). In the center you can see the map of the island with the Te Whanga lagoon. Source: Gaceta de Banderas [ban]
Jaume Ollé, 11 November 1996
It was designed by a former New Zealand police officer Logan Alderson about 12 years ago, and it has been used in the Chathams since then.
Hugh Rennie, 20 July 1998
Tonight's TVNZ news showed footage of the opening of the islands' first new Marae for many years, including a rare visit by the Prime Minister to the Chathams. The Chathams unofficial flag was clearly seen flying from a flagpole over the Marae (above the New Zealand flag!). From what I saw it is very much like Jaume Ollé's image, although the blue appears to be a much paler shade. I'd put the image shown closer to C100, M40, Y0, K0. Admittedly the flag appeared to be back-lit by sunlight, which would make it appear lighter, but it certainly wasn't as bright and strong as shown here.
James Dignan, 21 January 2005
---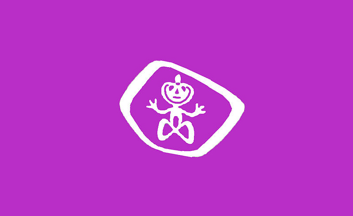 image located by Chrystian Kretowicz, 17 January 2011
Source: http://fr.wikipedia.org/wiki/Galerie_des_drapeaux_ethniques