This page is part of © FOTW Flags Of The World website
Waterland (The Netherlands)
Noord-Holland province
Last modified: 2018-12-15 by rob raeside
Keywords: waterland | swan |
Links: FOTW homepage | search | disclaimer and copyright | write us | mirrors

---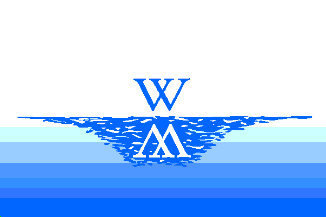 Shipmate Flagchart : http://www.flagchart.net
adoption date: unknown
Other Waterland pages:
See also:
---
Waterland municipality
Number of inhabitants: 17.173; area: 65,00 km². Settlements: Monnickendam (seat), Broek in Waterland, Ilpendam, Katwoude, Marken, Overleek, Uitdam, Watergang, Zuiderwoude.
Waterland is a merger of the former municipalities of Broek in Waterland, Katwoude, Marken, Ilpendam, Monnickendam, Watergang, Zuiderwoude and Uitdam on 1 Jan 1991.

---
Waterland Coat of Arms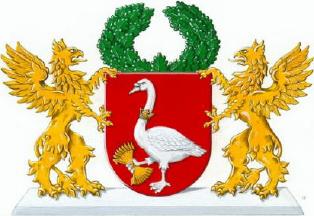 image from Ralf Hartemink's website.

Granted 30 Jul 1993
---
Old Waterland flag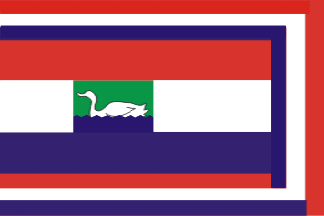 by Jaume Ollé, 6 Jun 2003

Three horizontal stripes, red, white, blue. In the centre of the white stripe is a square with a white bird sitting on a green base, with blue "sky" behind it. Around three sides of the flag (all except hoist) are three borders of red-white-blue, red at top and towards the fly.
(Source: Dutch atlas made by Delisle in 1739)
James Dignan, 14 Nov 1996

Most famous village (vexillologically speaking) is Broek in Waterland, the flag of which is shown on many old flag-charts.
Broek in Waterland was also known as "Scheteldoecxhaven", because sailors at sea could sea a mass of white diapers behind the harbour (scheteldoeck = s***-kerchief)

Sierksma's Nederlands Vlaggenboek, 1962 [sie62] has this:
"Three equally wide stripes of red, white and blue, with on the white stripe a divided field of green and blue (or: blue and green), of which the lowest has wavy lines, while in the top a white swan is swimming, the whole border with three stripes red-white-blue.
This was the flag of the Hoogheemraadschap (polderboard) Waterland, a continuation of the Baljuwschap (bailiffship) Waterland in its greatest extension. The flag can be found in at least 19 old sources, and there are quite a few variations. It was mentioned as "Waterland flag", and later incorrectly "corrected" to "Broek in Waterland flag".

The flag has been giffed by Jaume Ollé after Steenbergen (1870) in two variations. One doesn't fit the description of Sierksma, while the other has the swan swimming towards the fly, while Sierksma has it towards the hoist. I have slightly changed Jaume's gif.

I have just sent this to the Benevex-mailing list, and at Hans van Heijningen's suggestion I've changed the light blue color of the water the swan is swimming to the same shade of the other blue color. And Gerard Kuipers sent me a scan of a page of the book of Derkwillem Visser's "Gemeente vlaggen en wapens van Nederland", which has:
"C. 1858 there was already a flag for the town or municipality of Waterland. In a famous flagbook of M. A. Le Gras it reads: Pavillon de la Ville de Waterland." - note that this can be interpreted as blue sky and green sea...

"Description of the old "Hoogheemraadschap Waterland" flag: nine stripes in proportions 1:1:1:3:3:3:1:1:1 in the colors red-white-blue, etc., and on the central stripe a rectangle green-blue, wavy , and in green a white swimming swan; along the fly small stripes red-white-blue.
Decided by the board of directors of the Hoogheemraadschap; date unknown."

That image is too dim to discern the swan. However it appears that the field is c. 1/5 of the white field, at 2/5 of that field.

Incidently: the incorrect "correction" was probably inspired by the non-existence of a city or municipality by the name of Waterland, while Broek in Waterland was existing, although hardly a town (and may it remain the pleasant neat village it is right now!).
Jarig Bakker, 6 May 2003

---
Le Gras' Waterland flag (1858)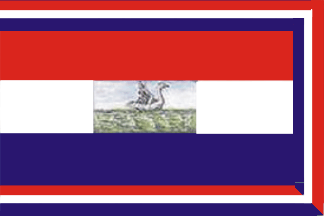 by Jarig Bakker, 6 May 2003, adapted from Derkwillem Visser's "Gemeente vlaggen en wapens van Nederland", 2001.
---
Marken Island [former municipality]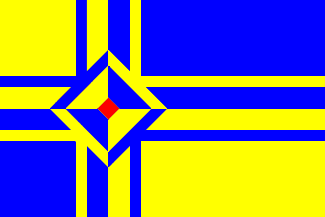 Shipmate Flagchart : http://www.flagchart.net

---
Monnickendam [former municipality]

Shipmate Flagchart : http://www.flagchart.net

---