This page is part of © FOTW Flags Of The World website
Helmond (The Netherlands)
Noord-Brabant province
Last modified: 2018-12-15 by rob raeside
Keywords: helmond | helmet |
Links: FOTW homepage | search | disclaimer and copyright | write us | mirrors

---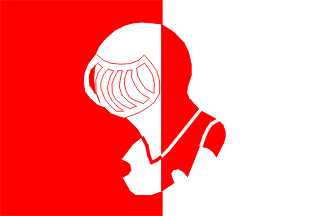 by Jarig Bakker, 14 Apr 2004
adopted 3 Feb 2004; design: W.A. van Ham
See also:
---
Helmond municipality
Number of inhabitants (1 Jan 2003): 84.299; area: 54,57 km². Settlements: Helmond (seat), Brouwhuis, Mierlo-Hout, Stiphout.
---
Helmond's new flag
In its meeting of 3 Feb 2004 the municipal council of Helmond (Noord-Brabant province) decided to abolish the flag, which was adopted in 1959. A new flag was adopted, which was described like this:
"Two equally long stripes of red and white, with on the separation of the stripes a tournament helmet countercharged."
This flag was based on a report by the provincial heraldic society (Noord-Brabantse Commissie voor Wapen- en Vlaggenkunde). The flag was designed by Willem van Ham, while Hans van Heijningen provided a net-drawing.
The motive for the new flag was that the old one (two equally long stripes of white and red) was meaningless and easily confused with other two-striped flags of red and white. The simple helmet was chosen because this represents the oldest form of the city-arms. It occurs in the 16th century in these colors in manuscripts. The representation with the crest occurs in old city-seals, but doesn't fit in a shield. The arms, as granted in 1929, is in fact a degeneration of seal and arms. As an alternative model served a flag of three stripes red-white-red, of which the central stripe was twice as wide as the others. On the central stripe was in white the full achievement (helmet with twigs and bird). At a certain distance this would hardly recognizable. An image of the new flag is available on the municipal website.
Willem van Ham, 15 Feb 2004

The helmet is obviously originally chosen to make the arms canting, even if it is not really in accordance with the origin of the name, if I understand the text correctly.
Elias Granqvist, 14 Apr 2004

I guess that the helm(et) is canting for Helmond. The Grand Robert de la Langue Française says that the French word "heaume" (used only for medieval and heraldic helmets) was used in the Chanson de Roland (1808) as "helme" or "healme", coming from the Frankish *helm, which is probably also the root of the Anglo-Saxon words helm, helmet etc..
A small "heaume" was called a "heaumet" (rare), a "heaume" was made in a "heaumerie" by a "haumier". The "heaumier"'s beautiful wife was a "heaumière", one of them having been celebrated by the poet Francois Villon in two poems called "Regrets" and "Ballade de la Belle Heaumière".
In his series of epic poems called "La Legende des Siecles", Victo Hugo gives in "Les chevaliers errants" a scaring description of the knight-errants:

"Ils passaient effrayants, muets, masques de fer [...]
Leurs cimiers se dressaient difformes sur leurs heaumes [...]

"They went, scaring, silent, iron-masked [...]
Their crest stood on end, misshapen, over their helmet [...]"

Anyway, the Helmond helmet rather looks like a ice-hockey goal-keeper facial protection, does not it?
Ivan Sache, 14 Apr 2004

---
Helmond old flag

Shipmate Flagchart : http://www.flagchart.net
adopted 2 Jun 1959 - in use till 3 Feb 2004

Sierksma's Nederlands Vlaggenboek, 1962 [sie62] has:
Flagdescription: Two equally wide vertical stripes white and red.
This flag was adopted 2 Jun 1959. The colors are derived from the municipal arms.

---
Helmond Coat of Arms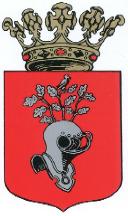 image from this website.
Granted 12 Mar 1924

The present municipal arms is: a helmet on which three oak-leaves and a little bird.
The arms are evident and canting. It represents the rights and freedom of Helmond. The first representation of a helmet on a seal dates from 1241, without crest or shield. The helmet represents thee city of Helmond. Originally the helmet was the medieval pot-helmet. Later the helmet was adapted to contemporary tastes, and became a tournement-helmet. This is still to be found on the municipal arms.

The oak-leaves represent Freedom. The birdy within the twigs is a medieval ornament, without special meaning. The colors were first specified in the 16th century: argent over gules.
Jarig Bakker, 15 Apr 2004
---
Helmond old Coat of Arms
See International Civic Arms : http://www.ngw.nl/

---
Stiphout Coat of Arms
See International Civic Arms : http://www.ngw.nl/

---