This page is part of © FOTW Flags Of The World website
Voerendaal (The Netherlands)
Limburg province
Last modified: 2018-12-15 by rob raeside
Keywords: voerendaal |
Links: FOTW homepage | search | disclaimer and copyright | write us | mirrors

---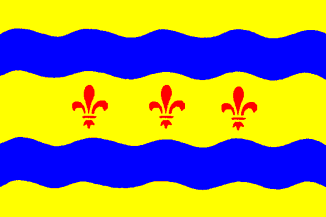 Shipmate Flagchart : http://www.flagchart.net
Adopted 20 Feb 1995
See also:
---
Voerendaal municipality
Population (1 Jan 2003): 13.132; area: 31,42 km². Settlements: Voerendaal (seat), Barrier, Colmont, Craubeek, Dolberg, Eyserheide (ged), Fromberg, Heek (ged), Hellebeuk, Klimmen, Koulen, Kunrade, Mingersberg (ged), Opscheumer, Overheek, Ransdaal, Retersbeek, Termaar, Termoors, Ubachsberg, Weustenrade, Winthagen.
Voerendaal is a municipality in (south) Limburg, an area, where mining was very important until the mines were closed down in the 1960's. It is north of Heerlen, which wanted to incorporate Voerendaal within its municipal borders. However Voerendaal remained independent, and in 1982 was even extended by the addition of the former municipality of Klimmen, and parts of other bordering municipalities.
Flag adopted 20 Feb 1995 by municipal resolution.
Description: five stripes, proportioned 1:1:2:1:1, of yellow and blue, with on the central stripe three red lilies in a row.
The name "Voerendaal" derives from "Voeren" - a ford - and "dal" - a valley. Two blue brooks flow through a yellow valley; the lilies are the main element in the arms of the former municipality of Klimmen. The origin of the (French) lilies is found in the fact that c. 968 this was a possession of the French Queen Gerberga.
Source: the Voerendaal municipal site.
---

Voerendaal old flag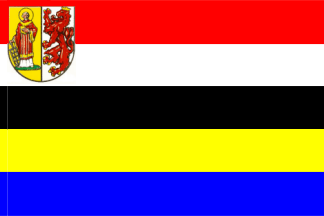 by Jarig Bakker, 4 Nov 2003
Adopted 21 Dec 1976

Voerendaal's old flag was: five horizontal stripes of red, white, black, yellow, and blue, and in the canton the municipal arms.
Adopted 21 Dec 1976 by municipal resolution.
This flag is the old Limburg flag as used in 1938 as parading flag in the Olympic Stadium in Amsterdam, when Queen Wilhelmina (and all of us) celebrated her 40 years of blissfull reign of the Netherlands.
Municipalities used that flag with the addition of the municipal arms in the canton.
Source: Derkwillem Visser's Gemeentewapens en vlaggen Koninkrijk der Nederlanden, 2001.
Jarig Bakker, 4 Nov 2003
---
Voerendaal Coat of Arms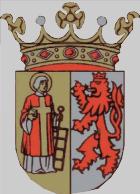 from the Voerendaal municipal site.
Granted 4 Jan 1983

Till 1777 Voerendaal belonged to Heerlen, except for 1627-1634, when it was owned by Willem van Cortenbach. Since 1777 Voerendaal has its own government. Because Heerlen (and therefore Voerendaal too) was one of the main sheriff's benches of Valkenburg the lion of Valkenburg is represented on the arms. The person is Saint Lawrence, the patron saint of the church. The municipality originally asked for a mirror image of the arms, but the High Council of Nobility thought that the parish saint ought to be in the place of honor (first field), and turned the image.
---

Klimmen former municipality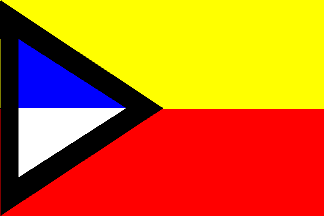 by Jarig Bakker, 30 Apr 2005
Adopted 29 Sep 1977; design: Stichting Banistiek en Heraldiek.

Klimmen is a former municipality in Limburg province, since 1982 part of Voerendaal.
Flag: Two stripes yellow - red; at the hoist charged with a triangle, with apex at flagcenter, with stripes blue - white, the triangle
bordered black (border = 1/12 flagheight).
Adopted 29 Sep 1977 by municipal resolution; design: Stichting Banistiek en Heraldiek.
The colors are derived from the municipal arms. The triangle symbolizes the steep hill on which the village of Klimmen lies (Klimmen = to climb), for which the village was known since medieval times, while the background of the quarters of the arms have been used "inside the height" as a vague reminder of the former mining tradition.
Nickname: "Molmuus" - vole, used for people who are sly like rats or for busybodies.
Source: Vexilla Nostra 15 (108): p.50.
Groot Schimpnamenboek van Nederland, by Dirk van der Heide, 1998.
Jarig Bakker, 30 Apr 2005

---