This page is part of © FOTW Flags Of The World website
Hoogezand-Sappemeer (The Netherlands)
Groningen province
Last modified: 2018-12-15 by rob raeside
Keywords: hoogezand-sappemeer |
Links: FOTW homepage | search | disclaimer and copyright | write us | mirrors

---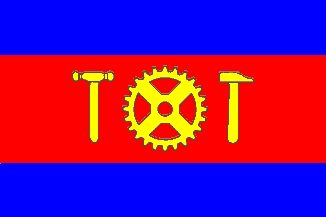 Shipmate Flagchart : http://www.flagchart.net
adopted 19 October 1956
See also:
---
Hoogezand-Sappemeer municipality
Number of inhabitants (1 Jan 2003): 33.658; area: 73,05 km². Settlements: Hoogezand (seat), Achterdiep, Borgercompagnie (ged), Borgweg, Foxham, Foxhol, Foxholsterbosch, Jagerswijk, Kalkwijk, Kiel-Windeweer, Kleinemeer, Kropswolde, Lula, Martenshoek, Meerwijck, Nieuwe Compagnie, Sappemeer, Tripscompagnie (ged), Waterhuizen, Westerbroek, Wolfsbarge
Hoogezand and Sappemeer merged on April 1, 1949, being in fact one long village along the 'Winschoterdiep', the canal from Groningen city to Winschoten. This was part of the big moorland region of East Groningen/Drenthe, where peat was dug. After that it became an industrial region, where shipbuilding is the main feature.
The flag was adopted 19 October 1956. The BRB refers to the old flag of Sappemeer, still in use by the Zeemanscollege in that place. The tools (a riveting-hammer, a cog-wheel and a carpenter's hammer) refer to the industrial aspect of the community.
Jarig Bakker, 8 November 1999

---
Hoogezand-Sappemeer Coat of Arms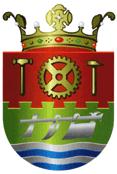 image from the municipal website.

Granted 28 Nov 1951.
---
Hoogezand former municipality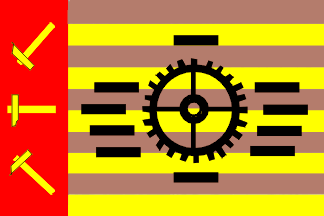 by Jarig Bakker, 27 Aug 2003
adopted 24 Jul 1929

On 1 Apr 1949 the municipalities of Hoogezand and Sappemeer (Groningen province) merged to form the new municipality of Hoogezand-Sappemeer.
When Kl. Sierksma wrote "Nederlands Vlaggenboek" in 1962 the municipality of Hoogezand had been dissolved, so it fell outside the book's scope. Recently the flag was discovered; it had been adopted by municipal resolution 24 Jul 1929, but this resolution has not been written down. The flag was offered by the local Tourist Board, based on the Coat of Arms of Hoogezand (which had been granted 3 Dec 1902).
Description of the arms: gold with billeté black blocks, a black cogwheel ; a red chief with a riveting-hammer between two affrontée caulking-mallets, all gold; the shield surmontée a crown of three leaves and two pearls.
The block are peat-blocks. The hammers represent the (wooden) ships, which were built here; the cogwheel the engine-industry which developed here in the early 1900's.
Description of the flag: a red hoist of 1/5 flaglength, charged with a yellow hammer with its head towards the hoist, with above and below two yellow caulking-mallets; the top one left-diagonal with its head down; the bottom one right-diagonal with its head up; the fly with ten equally wide horizontal stripes of brown and yellow, with in the center a black cogwheel with 1/2 flagheight, surrounded by ten lying rectangular black black blocks.
Brown is the color of the soil from which peat was dug; the blocks the peat-blocks; the hammers represent shipbuilding; the cogwheel industry.
The red color symbolizes the "holy fire", which should inspire everybody to work for the prosperity of Hoogezand.
Source: article by Hans van Heijningen in Vexilla Nostra, nr. 197, 1992.
Jarig Bakker, 27 Aug 2003
---
Sappemeer former municipality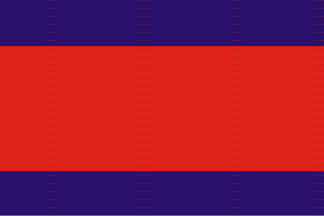 by Jaume Ollé, 12 Aug 2003

Occasionally Jaume Ollé's series of images from Steenbergen's book hits the Netherlands. Here is one depicting "Sappemeer", a town in Groningen province, now part of the municipality of Hoogezand-Sappemeer, noted for seafaring in the 19th century and shipbuilding (mainly coasters) up till now.
The old Sappemeer flag is based on the local "Zeemanscollege", which later (with some implements on the red stripe) became the municipal flag of Hoogezand-Sappemeer, still in use.
Jarig Bakker, 12 Aug 2003
---
De Vooruitgang Zeemanscollege, Sappemeer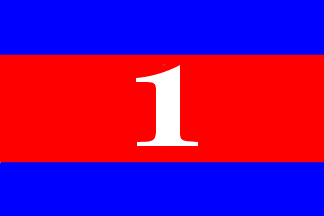 by Jarig Bakker, 29 Jun 2003

Collegie "De Vooruitgang" (College "The Progress"), established 1827 in Sappemeer. It appears that neighbouring Hoogezand did not have its own Zeemanscollege, as several Hoogezand captains are registered as members of the Sappemeer college. Leen Smit pictures number 12. By 1979 this college had disappeared.
Flag: Red with blue flywise edges, and a white number centered on the red. (Drawn as appr. 1:4:1.).
Peter Hans van den Muijzenberg, 6 Dec 2001

In "De geschiedenis van het College Zeemanshoop 1822-1972", by Mr. J.H.van den Hoek-Ostende is a plate with 13 flags of Zeemans Collegiën in Nederland. For "De Vooruitgang" te Sappemeer the flag is hor. blue - red - blue, with a white cipher 1 in the center. Stripes proportioned 1:2:1.
Jarig Bakker, 29 Jun 2003

---
Kiel-Windeweer village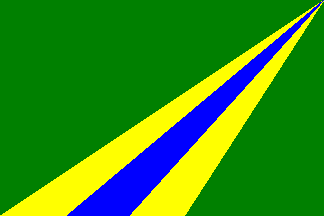 by Jarig Bakker, 8 Apr 2005
adopted Mar 2004; design: Joachim Koops

Kiel-Windeweer is a village in the municipality of Hoogezand-Sappemeer in Groningen province (not far from the German border). At this webpage is a weblog with an enthusiastic description of the village flag.

The Kielster Vlag
The Society for Village Interests asked in Nov 2003 for designs for the village flag of Kiel-Windeweer. In March 2004 the Mayor, Mr. Koops, revealed the winning design of Joachim Koops. The flag was taken in use during the village party of May 2004.
The Kielster flag contains some symbolic elements referring to the values characterising the village. Green is for the fields, yellow for corn and roads (which used to be sandy) and blue for water. The three diagonal conical stripes represent an abstract aerial view of Kiel-Windeweer, with the central stripe as the Kieldiep (canal) between two sandy roads.
The stripes may also be viewed as symbol for the three different parts of the village: Kiel-Windeweer, Nieuwe Compagnie and Lula. The stripes converge in a vanishing-point in the top fly corner. This suggests perspective and gives the impression of the endless length of the village.

The village is near the town of Veendam, which boasts a Soccerclub "FC Veendam" with a stadium named "De Lange Leegte" (The Long Emptiness)...
Jarig Bakker, 8 Apr 2005

Excellent! One of the best village flags designed recently!
Hans van Heijningen, 8 Apr 2005

This reminds me of the flag of the Seychelles - not original - no symbol present, so meaningless.
Willem van Ham, 8 Apr 2005

Actually a nice flag - for a polderboard!
Ralf Hartemink, 9 Apr 2005

---