This page is part of © FOTW Flags Of The World website
Dublin County Council, Ireland
Last modified: 2011-10-01 by rob raeside
Keywords: dublin | castle | burning castle | harp | dun laoghaire peoples' heritage flag |
Links: FOTW homepage | search | disclaimer and copyright | write us | mirrors

---
See also:
---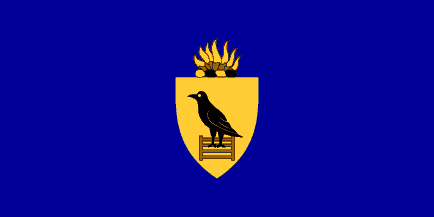 image by Mario Fabretto
Dublin County Council was abolished and replaced by three new county councils (Fingal, South Dublin and Dún Laoghaire-Rathdown) on 1 January 1994.
Vincent Morley, 1 November 1997
This flag was of the county council - the elected body responsible for local administration. It was flown at council offices but it did not represent the county and is not used by the general population.
Vincent Morley, 1 November 1997
---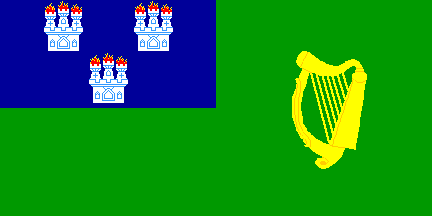 image by Vincent Morley
The flag of Dublin was adopted in 1885. The arms of the city, which date from the medieval period, were at first placed in a small square canton on the national flag of the period (a gold harp centred on a green field). The canton has since been enlarged to cover a quarter of the flag, thus displacing the harp towards the fly.
Vincent Morley, 26 October 1996
The official flag used by the city council places three burning castles in the the canton of a green flag which has a large gold harp in the fly. This is the only flag flown by the city authorities - it can always be seen flying at both the mansion house (the residence of the mayor) and the city hall, where the city council meets, and often at other buildings owned by the city council. The flag used by the public, in both the city and Dublin county as a whole (the county covers a larger area than the city) is a dark blue/light blue bicolour - most commonly arranged vertically with the dark blue in the hoist. This flag is commonly seen but has no official status.
Vincent Morley, 13 September 2003
The castle of Dublin first appears in the 13th century seal of the city. On the seal Dublin is clearly under siege, from the central tower two sentries sound the alarm, while on each flanking tower stands an archer with a cross-bow. It probably depicts the readiness of the citizens, not an actual siege. Later, the single tower was replaced by three different castles, the small figures were replaced by flames from the towers. The fire indicates the zeal of the citizens in defence of the city.
Source: International Civic Heraldry site, 27 March 2004
image by Laurence Jones
A vertical version of the Dublin City flag can be seen flown at either end of O'Connell Bridge in the centre of the city. It is in the proportion 1:2, the top third bearing the city arms - Azure three castles flammant proper, the lower two thirds are green with the gold harp. I have seen this flag on three visits to Dublin in Summer 2005. The flag is flown in conjunction with a similarly proportioned European Union flag.
Laurence Jones, 4 September 2005

It should be noted that the castles are double-towered. This is the correct form of the city arms as recorded in 1607. In 1899 a certificate was issued by Sir Arthur Vicars, Ulster King of Arms, in which the castles were shown as being triple-towered. This was in error and was corrected following the intervention of Chief Herald Edward MacLysaght in 1945. However, a leaflet issued by Dublin City Libraries still shows the incorrect 1899 version.
Laurence Jones, 4 September 2005
---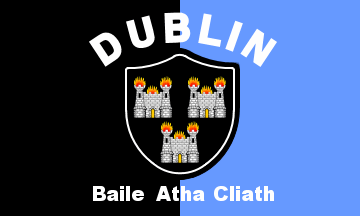 image by Eugene Ipavec, 9 July 2010
This flag is sold in Dublin as the 'Dublin flag' - it is a flag of the County of Dublin. It is based on the county colours
Rochard Herve, 11 May 2003
---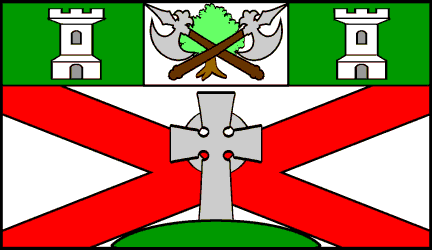 image by Laurence Jones, 2 August 2005
Rathmines Township was created in 1847 by Act of Parliament. In 1862 the township was enlarged and renamed Rathmines & Rathgar, and in 1899 the Commissioners for the township became an Urban District Council. Despite fierce resistance, the Urban District was absorbed by the City and County Borough of Dublin under Section 2 of the Local Government (Dublin) Act of 1930.

On 3rd October 1928 the Council resolved "That a grant of arms be obtained from the Office of Arms at a cost of £44:0:0". This was the first (and only) civic authority to seek a grant in the twenty-one year period when Ulster's Office operated in the independent Free State. The arms seemed to have been sought so that a flag could be flown from Rathmines Town Hall in the Council's last months of existence.

By sixth of February in the following year, the design must have been complete as Messrs Lanigans were awarded the tender to manufacture a municipal flag. In the letters patent issued the following month the arms are shown as a banner or flag as well as on a shield.

The arms were officially granted on 21st March 1929, and the official blazon was:

Argent a saltire gules, overall in pale on a mount vert a Celtic cross proper, a chief of the third, thereon on a pale between two towers of the field in front of a tree erased, two battleaxes in saltire proper.

On the 4th September 1929 the flag was ready, and it was resolved that the flag would be flown "while all meetings of the council are in session".

The principal charge in the arms is the red saltire on white, or "Cross of St. Patrick". To this has been added a Celtic cross. There being no such monument in the area it is presumably representative of the heritage and history of the area. It may be coincidental, but the two crosses combine "ascendancy" and "Gaelic" symbols. The chief of the arms most likely represents the Battle of Rathmines, fought on 2nd August 1649.

In 1930 the Urban District Council had been informed that they would cease to exist from the 14th of October of that year. At the last council meeting on 8th October the following was minuted:

Council's Flag
On the motion of Miss ffrench Mullen seconded by Mrs Johnson it was resolved:-"That we request the Council of Greater Dublin to accept the flag of Rathmines to be retained in the City Hall".

[Sources, Register of Arms, Genealogical Office, Dublin; Minutes of Rathmines and Rathgar UDC, Dublin City Archives]
Laurence Jones, 2 August 2005