This page is part of © FOTW Flags Of The World website
Blueshirts, Ireland
Last modified: 2013-08-03 by rob raeside
Keywords: ireland | blueshirts |
Links: FOTW homepage | search | disclaimer and copyright | write us | mirrors

---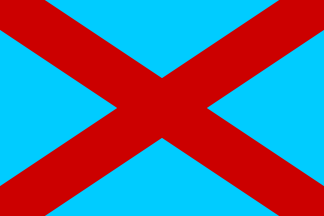 image by Tomislav Todorovic, 27 February 2012
---
See also:
---
The flag of the Blueshirts, a short-lived Irish Fascist movement in the 1930's, is mentioned on the St. Patrick's Cross page, but only in a short notice, with no image attached. However, the increasing number of sources available on the Web now makes the reconstruction of their flag possible, and they reveal that the flag was also briefly used by the Fine Gael party. What follows is a complete story about this organization, together with an image of the flag.
In the 1932, the right-wing Irish organization called the Army Comrades Association (Gaelic: Cumann Chomrádaithe an Airm) was founded by the former members of the Irish National Army, in order to protect the supporters of the Anglo-Irish Treaty, which was the basis for the formation of the Irish Free State. The first leader was Thomas F. O'Higgins, a prominent member of the Cumann na nGaedheal party. In 1933, General Eoin O'Duffy became the leader and renamed the ACA into the National Guard (Gaelic: An Garda Náisiúnta). The members were always better known by their nickname "The Blueshirts" (Gaelic: Na Léinte Gorma). The Blueshirts, at least on the surface, appeared to be the Irish equivalent of the German Brownshirts or Italian Blackshirts: they wore paramilitary-style uniforms, greeted each other with the Roman salute, and participated in street violence and fights, usually against the IRA. Although they didn't seem to follow all the Fascist doctrines and practices and didn't engage in political terrorism - actually, they were securing the the Cumann na nGaedheal events against their opponents, in the name of defending the freedom of speech - the Blueshirts were declared an extremist and illegal organization in 1933 by the Irish government, then held by the opponents of the Anglo-Irish Treaty and supported by the former members of the IRA.

After the banning, the National Guard has merged with the Cumann na nGaedheal and the National Centre Party to form the Fine Gael party. The National Guard, renamed into the Young Ireland Association, became part of the party youth wing. O'Duffy was the first party president but, after serious disagreements with other party leaders, resigned in 1934 and broke away to form the National Corporate Party (Gaelic: Páirtí Náisiúnta Corparáidíoch), an openly Fascist organization nicknamed the "Greenshirts" (Gaelic: Na Léinte Glasa), in 1935. Only a minority of former Blueshirts followed him, though; most of them remained in the Fine Gael, which soon distanced from the extremism and evolved into a modern party of the center-right, the senior partner in several coalition governments since 1948, the last (current) since 2011. O'Duffy later led Irish volunteers to fight for the Nationalists in the Spanish Civil War (1936-1937) and has had the contacts with the Third Reich's diplomats during the World War II until his death in 1944, but his party was defunct by the end of 1937.
The Blueshirts' flag, also used by the Fine Gael for a short time, was charged with a red saltire of St Patrick on the field in "St. Patrick's blue", the name which was used for several shades of color in history, but seems to have originally meant sky blue or a close shade and was used as such on the Blueshirts' uniforms and flags as well: the contemporary photos, although black and white, clearly show flags with dark saltire on light field and light shirts worn with dark ties, trousers and caps, and the surviving Blueshirts' uniforms also have light blue shirts. Wikipedia currently attributes a similar flag, only with white field, to the Greenshirts, but this is yet to be verified.

Sources:
[1] Wikipedia page about the Blueshirts: http://en.wikipedia.org/wiki/Blueshirts
[2] Wikipedia page about Eoin O'Duffy: http://en.wikipedia.org/wiki/Eoin_O%27Duffy
[3] Wikipedia page about the National Corporate Party: http://en.wikipedia.org/wiki/National_Corporate_Party
[4] Wikipedia page about St. Patrick's blue: http://en.wikipedia.org/wiki/St._Patrick%27s_Blue
[5] Gentleman's Military Interest Club - photo of Blueshirts' female members with the flag (WARNING - shows numerous persons giving Roman salute): http://gmic.co.uk/index.php?app=core&module=attach&section=attach&attach_rel_module=post&attach_id=78278
[6] Gentleman's Military Interest Club - photo of Eoin O'Duffy in uniform: http://gmic.co.uk/index.php?app=core&module=attach&section=attach&attach_rel_module=post&attach_id=78276
[7] County Waterford Image Archive - photo of Blueshirts in Tramore in 1934: http://www.waterfordcountyimages.org/exhibit/web/DisplayWAIImage/K0xjvHCisivT2/
[8] County Waterford Image Archive - photo of Blueshirts in Carrick On Suir in 1934: http://www.waterfordcountyimages.org/exhibit/web/DisplayWAIImage/K0GRlforwardslash0RtforwardslashEnA/
[9] Gentleman's Military Interest Club - photo of a surviving Blueshirts' shirt: http://gmic.co.uk/index.php?app=core&module=attach&section=attach&attach_rel_module=post&attach_id=113911

The described flag is shown in the attached image above, which is created as a modification of the current Wikipedia image of the Blueshirts' flag: http://en.wikipedia.org/wiki/File:Fine_Gael_historical_flag.svg which differs in ratio and shade of blue, the latter being another shade which was called "St. Patrick's blue" and the first seems not to be confirmed by the photos. It shall be noted that the same shade of blue is shown at Vincent Morley's Flags of Ireland website: http://home.connect.ie/morley/flags.htm.

The shade of red may be discussed: Vincent Morley has opted for R, While I chose R+ which, if the image is converted to grayscale, looks more like the shade from photo [5]. The actual shade might have been somewhere between these two, as is frequently the case in real world. The same photo also made me choose a wider saltire than is usually shown and the ratio 2:3.

Tomislav Todorovic and Pete Loeser, 27 February 2012