This page is part of © FOTW Flags Of The World website
Wessex (England)
Last modified: 2016-11-03 by rob raeside
Keywords: wessex | wyvern | dragon (white) |
Links: FOTW homepage | search | disclaimer and copyright | write us | mirrors

---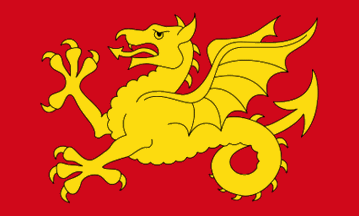 image located by Jason Saber, 21 May 2011
Source: Flag Institute
---
---
There is now an official flag of Wessex which is a gold (two legged) wyvern on a red background. The wyvern is appearing more and more as a symbol of Wessex (my son's school for example has a wyvern on its badge) and the flag is used by the Wessex Regionalist Party, the Wessex Society and is the symbol of the Wessex Constitutional Convention, the group pushing for a parliament for Wessex. The flag was designed by the Flag Institute, and it is proposed to fly the flag throughout Wessex on St Aldhelm's Day, 25th May. All the Wessex groups can be reached via the website at hometown.aol.co.uk/crackytown/myhomepage/newsletter.html
From Reading in the east to Plymouth in the west, from Bournemouth in the south to Gloucester in the north, Wessex is a dynamic and very distinct region, where there is a growing demand for a parliament with the same level of powers as that in Scotland. The Wessex Constitutional Convention was launched on 19 May 2001, in Exeter.
Stephen Sainsbury, 9 July 2001
I wouldn't disagree that there are wyverns about (in coats of arms and so on), but it would be misleading to suggest that the flag is widely used.
André Coutanche, Bristol (allegedly Wessex), 12 September 2002
The wyvern existed only in heraldry. It is an ancient symbol associated with the old kings of Wessex. It is a two-legged, winged dragon with a barbed tail. "Wyvern" is derived from the Old French guivre, meaning 'viper'. In recent military history, the gold wyvern on black square background was the formation sign of the 43rd Wessex Division in World War II. A wyvern on a pedestal inscribed "Wessex" was the badge of the Wessex Brigade, 1958-69, and the Wessex Regiment, 1967-95. In all of these representations, the wyvern has one leg raised.
T.F. Mills, 17 February 1997
William Crampton wrote a pamphlet for the Flag Institute back in 1973 or 1974 which advocated flags for the English regions (there was talk of regional councils being set up as part of the local government reorganisation then occurring), but his suggestion for Wessex was a gold wyvern on red. It was, of course, not official and as far as I know, never raised much interest locally. There was also a small Wessex Regionalist Party that was active about 15-20 years ago, but they never made much headway. This may possibly have been their flag - I didn't live in the area at the time, so I can't say.
Except for the special case of Cornwall, which is more an assimilated Celtic nation rather than an English region, the only English regional flag that has had much popular acceptance is that of East Anglia (Norfolk and Suffolk - sometimes extended to include some or all of Cambridgeshire and Essex), designed in (I think) 1903 or 1905 for the London Society of East Anglians. It is the Cross of St George of England with over the centre of the cross the shield of the traditional arms of East Anglia, blue with three gold crowns. The arms are effectively identical to the small arms of Sweden, from where the East Anglian royal dynasty, the Wuffingas, were supposed to have originated.
Roy Stilling, 17 February 1997
The banner of Wessex features a gold wyvern and is in use for a wide variety of touristic purposes. The best-attested background colour is red. The 43rd (Wessex) Division badge is sometimes quoted as being on black but the illustration I have seen uses a blue background. Black is used by Lord Bath of Longleat House for his personal wyvern standard, black and gold being the family colours. The Wessex Regionalists have used black, green, and red flags, their current flag having a red background.
David Robins, Secretary-General, Wessex Regionalist Party, 31 May 1999.
We should keep in mind that England had a history long before the Normans, and the flag of Wessex betokens this. What we might nowadays call the "wyvern" is the "drake" (OE draca) or "wurm" (OE wyrm) of the West Saxons -- that is, a "dragon". The Wessex men flew a mythofaunomorphic flag of a golden dragon (as similarly the Cymru or Welsh flew a red dragon) overhead into battle. Indeed, such a golden dragon was carried by the English of King Harold Godwinsson at both of his last battles, those of Stamford and Hastings, and is illustrated, no less, within the Bayeux Tapestry. I think this speaks to the great age of the Golden Dragon of Wessex.
Jeffrey Hull, 28 February 2002
Posted on the UK Flag Registry in May 2011.
Jason Saber, 21 May 2011
---
[Dubious flag usage - see note below.]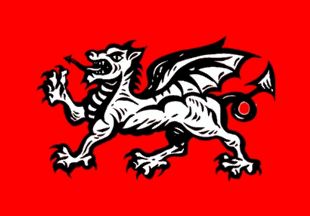 image located by David Dawson, 20 June 2006 at http://www.englishdragon.co.uk/
I have recently stumbled upon the following text which is taken from http://www.wearetheenglish.com/flag_white_dragon.htm:

"The years around 450 AD witnessed the landing, in what was then Celtic Britain, of the first Anglo-Saxon war bands who were to go on and lay the foundation stones of what was to become the English Nation. Two of these warrior traders, Hengest and Horsa, together with their Saxon, Angle and Jutish followers are traditionally regarded as the founders of England. From the coast they gradually pushed inland up the rivers with small squadrons of ships whose crews became the founders of new communities as they advanced from East to West through Celtic Britain. During the next four centuries, the Saxon, Angle and Juttish settlers together with the northern Vikings, would become known collectively as the English. History records that the White Dragon was their emblem.

Various accounts of the times record many battles between armies carrying the Celtic British Red Dragon Banner (now the Welsh Dragon) and the white dragon flag of the early English. Legend has it that the defeat of their Celtic enemies by the early English was foretold in a prophecy. It goes that in an underground lake slept two dragons. The Britons were represented by a red dragon and the English by a white dragon. When they awoke they started fighting and the red dragon was overcome by the white one, symbolically representing the victory of the Anglo-Saxons over their Celtic adversaries.

The White Dragon was, and still is, the emblem of Wessex, the territory of the West Saxons. It is the banner under which King Alfred the Great defeated the great Viking Army at the Battle of Edington and it was the banner carried by the mighty King Athelstan when he smashed the combined armies of the Scots, Welsh, Norse and Irish at the Battle of Brananburgh in 937. The White Dragon was flown by Harold II, when he destroyed the Norse army at the Battle of Stamford Bridge in 1066 and it was the banner under which he and his warriors fought to the death, three weeks later protecting their homeland from invasion. The White Dragon flag of the English is shown on the battle scene of the tapestry sewn by Englishwomen to commemorate the battle. It is also seen displayed on the same tapestry featuring a scene at Westminster Abbey during the crowning ceremony for the usurper, William the Bastard.

Moves are now under way to once again raise the White Dragon flag, not as the flag of England, but as the flag of the ethnic-English community within England. We need to see our banner flown as a signal to everyone else that although we may well have been forgotten about by our beloved leaders we most certainly have not gone away and we are once again finding our voice.

In a world with few certainties this flag tells us who we are and from where we have come. It imparts a sense of permanence and continuity. It is a symbol of our identity, our common history, tradition and of the kinship of all the Anglo-Saxon people. It is also a stark reminder that in multi-cultural England unless we embrace these things then we will surely die."
Paul Jones, 14 November 2005
The white dragon or wyrm is associated with Mercia. It is not, and never has been, the flag of Wessex.
David Robins, 22 January 2007
---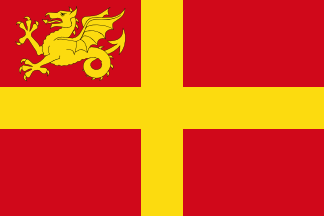 image by Tomislav Todorovic, 17 September 2016
Image derived from the SVG image of the flag of Wessex from the Wikimedia Commons
An early alternative flag proposal can be seen at http://www.somersetlive.co.uk/wyvern-flag-finally-fly-high-red-tape-cut/story-17050678-detail/story.html and on a photo at http://legacymedia.localworld.co.uk/275793/Article/images/17050678/4198956.jpg, dating from 1999, which shows a group of people at the Malmesbury Abbey in Wiltshire on St Aldhelm's Day (May 25th), displaying the current flag of Wessex, as well as a sheet of paper with the depiction of a flag clearly derived from that one: gold cross on red field with a gold wyvern in the canton. The image caption says that these two were "the standard and flag of Wessex", so perhaps the current flag was originally intended to be the banner of arms of Wessex. The flag with cross and wyvern seems to have quickly fallen out of use, if it had ever been used at all, for no other sources currently show it. Its design also resembles the flag of St Aldhelm and it is possible than one of these designs was influenced by the other one, but which of them is older, is currently impossible to say.
Tomislav Todorovic, 17 September 2016