This page is part of © FOTW Flags Of The World website
Parti Démocratique Gabonais (Gabon)
Gabon Democratic Party
Last modified: 2017-01-15 by bruce berry
Keywords: gabon | parti démocratique gabonais | gabon democratic party | palm (hand) | pdg | shooting star |
Links: FOTW homepage | search | disclaimer and copyright | write us | mirrors

---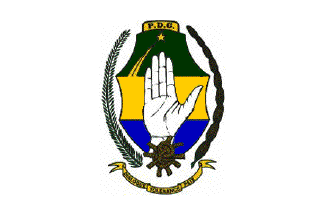 image by Ivan Sache, 31 Oct 2009
(Reconstructed from text documents)

See also:
---
Parti Démocratique Gabonais (PDG)
On 17 August 1960 Gabon was granted independence by France, in spite of the opposition of the local leader Léon M'ba (1902-1967), who would have preferred a department status. Elected President of the Republic on 12 February 1961, M'ba was overthrown by a putsch on 17-18 February 1964 but was re-instated by the French Army on the next day afterwhich he set up a dictatorial regime under close French tutorship. On 24 September 1965 Albert-Bernard Bongo (1935-2009), M'ba's principal private secretary, was appointed Delegate Minister, that is the de facto Prime Minister. On 14 November 1966 when M'ba was very ill, he was forced by France to appoint Bongo Vice-President. M'ba died on 27 November 1967 and was succeeded by Bongo (El Hadj Omar Bongo since 1973; El Hadj Omar Bongo Ondimba since 2004), who ruled the country until his death on 08 June 2009 with the support of France.
On 12 March 1968 Bongo founded the Parti Démocratique Gabonais (Gabonese Democratic Party or PDG) "to create and maintain on the Gabonese territory a political, economical and social environment promoting the blossoming [...] of the Gabonese society and to establish peace and democracy [...]". The PDG replaced Mba's Bloc Démocratique Gabonais (Gabonese Democratic Bloc or BDG). In support of a one-party system until 13 September 1990, the PDG has been the ruling party since its foundation and will probably remain so after the controversial election of Ali Bongo on 30 August 2009. Since the legislative election of 2006, PDG holds 80 out of the 120 seats of the Parliament and totally controls the state apparatus.
On 19 July 2009, Fanny Pigeaud (AFP) reported that the Extraordinary Congress of PDG had appointed Ali Bongo as the official candidate of the party for the presidential election, after a long, infuriated internal debate. Immediately after the proclamation, Faustin Boukoubi, Secretary General of the party, offered Ali Bongo "a white flag charged with the party's emblem".
Source: Gabon: Ali Bongo investi candidat à la présidentielle du parti au pouvoir
The emblem of PDG is described in the statutes of the party, amended for the last time during the 9th Congress of PDG, 21 September 2008.
Article 4.

The emblem of PDG is made of a group of symbolic elements:

- on a white rectangular background, a shield with broken outline bearing the three national colours, green-yellow-blue;

- flanking the shield on left, a [green] palm symbolizing the triumph of the party and of its ideals;

- flanking the shield on right, nine corn cobs symbolizing the wealth of the nine provinces merged within the Nation's unity;

- above the shield [in a yellow cartouche], the [black] initials of the party (P.D.G.);

- below the shield [on a yellow scroll], the [black] motto of the party ("Dialogue, Tolérance, Paix") [Dialogue, Tolerance, Peace];

- inside the shield, a [white] hand with the palm open, raised to a [yellow] shooting star, the symbol of the militant's ideal of purity and of the irresistible advance of the Gabonese society towards progress;

- below the hand, a [white] Gordian knot with nine (9) bonds symbolizing the indivisibility of the country.

Source: pdg-gabon.org (PDF file)
The nine provinces of Gabon alluded to in the emblem are Estuaire, Haut-Ogooué, Moyen-Ogooué, Ngounié, Nyanga, Ogooué-Ivindo, Ogooué- Lolo, Ogooué-Maritime and Woleu-Ntem.
Ivan Sache, 31 Oct 2009
---