This page is part of © FOTW Flags Of The World website
Finnish Yacht Club Ensigns
Last modified: 2021-08-25 by

christopher oehler
Keywords: finland | yacht club | ensign: yacht |
Links: FOTW homepage | search | disclaimer and copyright | write us | mirrors

---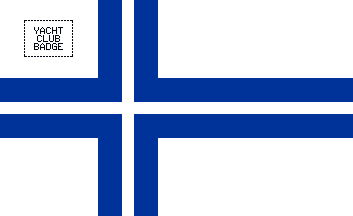 by Željko Heimer



Source: Album des pavillons (2000)
---
See also:
---
About the flag
The flag is described in the "statute on yacht ensigns" (Act No. 292/8.3.1983).
Yacht club ensign:
Ratio same as the national flag (11:18).
Width of the white cross 3/5 units.
The yacht club's badge is always in the upper hoist corner. On a yacht, this ensign can be used as a replacement of the national flag.
Ossi Raivio, 28 August 2001
---
A white flag with a blue off-set cross containing a thin white cross.
Proportions: (40+12+6+12+40):(50+12+6+12+100)
Željko Heimer, 16 October 2004
---
History of the flag
The 'Nyländsk Jaktklub', formed in 1861, got a flag of a blue St. George's cross on a white field, with the crowned arms of the province of Nyland within two crossed branches (oak?) in the upper hoist quarter. The flag was modeled on the flag of the St. Petersburg Yacht Club, and had the naval colours of the Russian (the flag was a sign of loyalty to the emperor).
In May 1918 a decision was made on a flag of independent Finland. The flag adopted, was very much like the one used by the Yacht Club: A blue cross on a white field. To avoid confusion between civil and naval vessels, the Yacht Club flag was modified by adding a white inner cross. This flag was first hoisted 18 May 1918. Regulations officially approving the flag were issued 11 February 1919. The flag is still in use. The proportions are 55:90 (20-6-3-6-20 : 25-6-3-6-50). The arms of the [historical] provinces are found in the upper hoist quarter (these arms can be found at http://virtual.finland.fi/finfo/english/vaakeng.html#maak).
Source:
· Matti Klinge: Finlands blåvita färger, Helsinki: Schildts, 1988
Jan Oskar Engene, 20 March 1996
---
I know that Åländska Segelsällskapet uses Åland coat-of-arms unchanged [on the Finnish yacht club ensign] and Nyländska Jaktklubben uses Uusimaa (Nyland) coat-of-arms surrounded with oak leaves.
I think that there are several hundred different yacht club badges authorized to be used on a yacht club ensign. For example, my birth town Kokkola (35 500 inhabitants) has at least three yacht clubs and each of them has their own yacht club ensign.
The badges are not changed very often. E.g. Nyländska Jaktklubben uses the same badge that was given them by the Russian Emperor in the late 19th Century (or early 20th Century, I don't remember). All badges can be found at Finnish National Archives.
All badges have to be approved by Finnish National Archives and that selection process is very strict. I don't believe that yacht clubs have to meet any special requirements but the boats flying the yacht ensign have to be registered and they must fulfill some safety requirements.
If you own a boat that does not qualify to fly a yacht ensign but you are member of some yacht club you may use yacht owner's pennant which is the yacht ensign in triangular form (of course you need the Finnish national ensign in this case, because this pennant cannot replace national ensign).
Ossi Raivio, 2 and 3 September 2001
---
Further yacht club ensigns and pennants
Jury ensign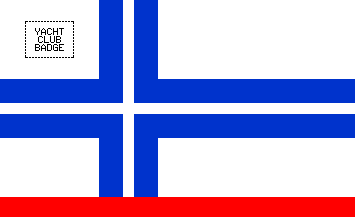 by Ossi Raivio

Same ensign as the yacht club ensign but with a red stripe along the lower edge.

This ensign is not to be used instead of the national flag.
Ossi Raivio, 28 August 2001
---
Honorary member's ensign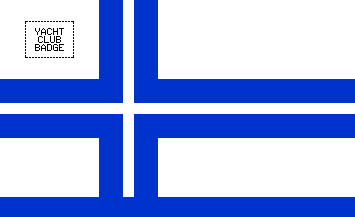 by Ossi Raivio

Similar to jury ensign but the stripe is blue, not red.

This ensign is not to be used instead of the national flag.
Ossi Raivio, 28 August 2001
---
Pennant of yacht club commodore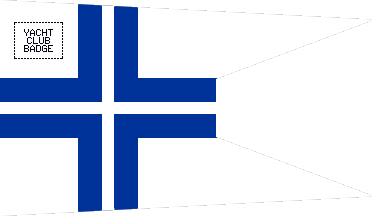 by Željko Heimer

Exact size and shape of the pennants is not specified in the law. The text just says "two-tongued pennant tapering to the fly".

The "yacht commodore" is just name for the chair-person of the club. Each club has its own commodore and vice-commodore pennants. So, several hundreds of these too.
Ossi Raivio, 28 August and 2 September 2001
---
Pennant of yacht club vice commodore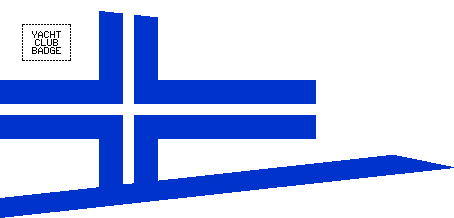 by Ossi Raivio
---
Yacht owner's pennant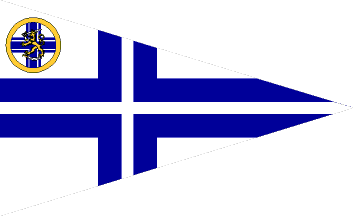 by Jose C. Alegria

The boats flying the yacht ensign have to be registered and they must fulfill some safety requirements. If you own a boat that does not qualify to fly a yacht ensign but you are member of some yacht club you may use this yacht owner's pennant which is the yacht ensign in triangular form (of course you need the Finnish national ensign in this case, because this pennant cannot replace national ensign).
Ossi Raivio, 3 September 2001
---
The pennant is described in the "Suomen veneilyliitto" book as: "Veneenomistajan viiri, Båtägarvimpel" [editor's note: these are the names for this pennant in Finnish and in Swedish]. I received help to draw the lion from Luismi Arias.
Jose C. Alegria, 30 October 2001
---