This page is part of © FOTW Flags Of The World website
State and War Ensign 1701-1759 (Spain)
Last modified: 2015-07-29 by ivan sache
Keywords: coat of arms: quartered (counterquartered) | coat of arms: quartered (13) | coat of arms: inescutcheon (fleurs-de-lis: 3) | order of the golden fleece | order of the holy spirit | crown: royal |
Links: FOTW homepage | search | disclaimer and copyright | write us | mirrors

---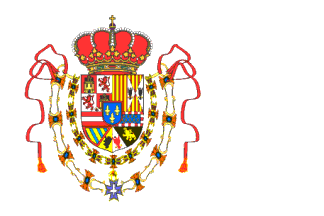 image by Sergio Camero, exported to GIF by Santiago Dotor
---
---
See also:
---
Description
As far as ensigns are concerned, before 1700, during the Hapsburg dynasty, several forms of the Burgundy cross were used. With the establishment of the Bourbon dynasty in 1700, the main arrangement became a white cloth with the royal arms of Spain.
José Carlos Alegría, 07 Jan 2001
---
1732 Variant (?)
[Click On Image For Full Size]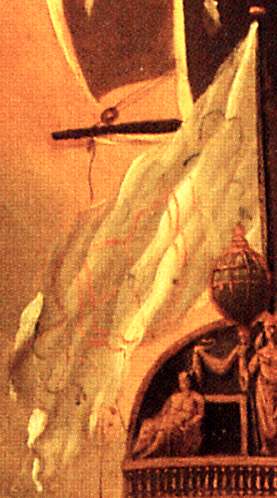 image from "Mercator's World" magazine, March/April 2003
The March/April 2003 edition of the magazine "Mercator's World" has an article concerning the British pursuit of Spanish treasure galleons from the sixteenth to the eighteenth centuries. The article – and the cover – has a photo of a painting depicting "The Capture of the Covadonga by H.M.S. Centurion," an event which took place in the Philippines in 1743.
The Spanish vessel – its full name, "Nuestra Señora de Covadonga" – is shown flying a white ensign at the stern and a red flag at the top of the mainmast. The red flag may have a device on it in gold, or it may simply be highlights in the painting. The white ensign definitely has a design on it, and I cannot find on our Spanish pages anything which looks like it.
(A word of caution: as we have seen before with historic paintings, there is no immediate way of knowing on what basis the artist has shown the flag. He certainly wasn't there at the time! In addition, there is presumably a mistake in the magazine caption, which says that the painting, by Scott Samuel, was done in 1701.)
André Coutanche, 21 Mar 2003
I believe that is the 1700-1759 ensign
Santiago Dotor, 21 Mar 2003
I looks like it might well be the Spanish Royal flag or Naval Ensign as used in the 17th Century and regulated in 1732? This was a white flag with the Spanish royal arms in the centre or set towards the hoist – either the full arms or a simplified version quartering Castile and Leon.
The red flag I do not recognize.
Christopher Southworth, 21 Mar 2003
I assumed it wasn't the right one because
the period is wrong (1743), and
the flag in the picture clearly isn't as detailed as the 1700-1759 ensign on FOTW.
(Of course, there may be other explanations for that: the artist might have left the flag unfinished, or the detail might have faded or been lost in the photographic and printing processes).

Santiago said that there was a 1700-1759 ensign similar to the one on the website. Does this mean there is an image missing, and is this "missing" ensign what Christopher is referring to in his follow-up? We don't seem to have any reference to the flag being regulated in 1732.

André Coutanche, 21 Mar 2003

The Royal Proclamation of 1732 reads (in part) as follows:
...all ships of whatever squadron, are to have large white stern ensigns with the royal arms as at present...
Such an ensign may been seen illustrated in the "Neptune Francois" (plates by P. Mortier, c. 1700), and, of course, in most flag charts of the period. It is worth noting that this flag was changed to the triband in 1785 because of possible confusion with other white naval ensigns (such as those of France, Portugal and the white squadron of the British navy).

I believe that the 1700 – 1759 ensign mentioned earlier refers not to a change in the basic flag, but to a change in the arms. If displayed to their full extent these would have the Spanish royal crown above and be surrounded by the Collar of the Golden Fleece (then Spain's top order of chivalry).

In 1700 the Hapsburg dynasty gave way to the Bourbon-Anjou dynasty, with the arms rearranged and a large central escutcheon added bearing three fleur-de-lis.

In 1759 the arms were altered again to include the six blue fleur-de-lis of the Farnese (Parma), with the roundels and Fleur-de-lis of the Medici (Tuscany). These arms lasted with minor modifications until the Spanish Civil War.

The two best illustrations I can find are firstly the Neptune Francois I mentioned earlier and that on the flag chart of C Allard. Both, incidentaly, show the pre-1700 royal arms.

Christopher Southworth, 21 Mar 2003

Indeed, the pre-1700 Spanish arms (easy to tell as they show the Portuguese inescutcheon) kept being displayed on flag charts and books until late in the 19th century (yes – almost 200 years !).

Santiago Dotor, 24 Mar 2003