This page is part of © FOTW Flags Of The World website
Lugo Province (Galicia, Spain)
Last modified: 2015-07-29 by ivan sache
Keywords: spain | province | galicia | lugo | coat of arms |
Links: FOTW homepage | search | disclaimer and copyright | write us | mirrors

---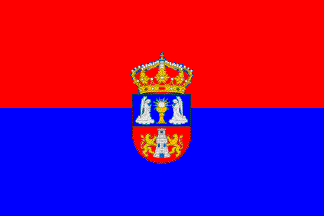 image by Wikimedia User:Ulaidh, 16 Apr 2008; modified by Ivan Sache, 10 Oct 2010
---
---
See also:
---
Introduction
Lugo Province (355,195 inhabitants in 2009; 9,856 sq. km) is one of the four provinces of Galicia, the first by its area but the third by its population. The province, including 67 municipalities, is named after its capital, the town of Lugo, known in the Roman times as Lucus Augusti.
Ivan Sache, 10 Oct 2010
---
Description
Ángel Paniagua, "La Voz de Galicia," 31 October 2006, reports that the provincial flag was adopted on 30 0ctober 2006 during the plenary meeting of the Province Assembly. Tabled by the (then) ruling party, the Popular Party (PP) and seconded by the Spanish Socialist Workers' Party (PSOE), the proposal was rejected by the Galician Nationalist Block (BNG), that considered it as "unnecessary." The flag was hoisted on 31 October in the plenary meeting hall and on the balcony of the San Marcos Province Hall.
The article briefly describes the flag as "blue-red," which was hastily interpreted as "horizontally divided blue-red with the coat of arms in the middle," and widely spread on the Internet. The interpretation was quite logical since the coat of arms is horizontally divided blue-red.
Moreover, no Decree prescribing the flag does not seem to have been published either in the official provincial gazette or in the official Galician gazette.
A photo of the Province Assembly building confirms the use of the flag (from left to right, Galicia, Spain, Lugo Province); scrutinizing the photo at the highest available resolution clearly shows that the flag is horizontally divided red-blue, since the upper part of the crown is visible in the red stripe.
The arrangement of the colors is confirmed by the flag seen in a photo behind the Second Vice President of the Provincial Assembly, Lara Méndez López.
Ivan Sache, 10 Oct 2010
---
Coat of Arms
The coat of arms of the Lugo Province was adopted by the Province Assembly on 13 July 1984, validated by the King of Arms in July 1985, and eventually confirmed on 3 April 1986 by Decree of the Government of Galicia, with the following description:
Per fess, 1. Azur a chalice or surmounted by a sacred wafer argent with rays or surrounded by two angels adorant affronty argent kneeling on clouds of the same, 2. Gules a castle with one tower argent port and windows azure surrounded by two lions rampant affronty or. The shield surmounted by Royal closed crown.
The history of the arms is related by Pr. Juan Carlos Fernandez Pulpeiro, Chief of Protocole of the Lugo Province, in the essay "Historia de la heráldica provinical" (History of the Province heraldry), published in "Lvcvs" (the review of the Lugo Province), No. 46, 1996.

Like in other provinces, the coat of arms of the province is based on the coat of arms of its capital. In the first years after its foundation on 11 November 1835, the Lugo Province used the arms of the town of Lugo. There is indirect evidence of such an use in a document dated 2 April 1844, kept in the Province Archives; the used arms were those sculpted in 1781 on the St. Peter Gate. The oldest known arms of Lugo, sculpted on a fountain and kept in the Province Museum, show a simplified representation of the today's arms, without the angels. On 5 November 1877, the Province Administration commissioned the Province Architect to design arms, to be sculpted on two monuments dedicated to Christopher Columbus and Queen Isabel the Catholic, erected in the Huelva and Avila Provinces, respectively. The first representation of the Province Arms is to be found in a medalion placed on the left facade of the Province Hall. Compared to the arms of the town of Lugo, to be found in a medalion placed on the right facade of the Province Hall, the Province arms are explicitely divided per fess, with a stylized chalice and castle, the angels increased in size and without clouds, and the castle's terrace decreased in size. On 30 August 1932, the Republican Representatives decided "to remove the monarchic symbols from the Province Hall's lounges and dependencies and to replace them with Republican symbols." The new arms mostly differred from the previous ones by the division of the shield, vertical (per pale) instead of horizontal. The crown was, of course, suppressed.

On 20 May 1942, already a few years after the suppression of the Republic, the Provincial Government decided "to abolish the arms used until now and to replace them with arms consistent with traditional heraldry, reestablishing the crown suppressed by the Republic and highlighting the identification of the Province with the [Phalangist] Movement and the victorious crusade by the addition of the yoke and arrows." The recommended design, with the shield crowned and placed over the yoke and arrows, was adopted on 12 June 1942.

On 2 August 1958, the Province Government adopted two coats of arms. The greater coat of arms was made of quarters with the arms of the divisions of the Province and a central escutcheon with the arms of the capital. The usual coat of arms, smaller in size, was identical to the arms of the capital.

In the 1970s, floral branches were added around the shield; later on, there was a "proliferation" of designs, therefore the adoption of "new" arms. The main changes in the official design adopted in 1986 are the lower field gules instead of argent, the suppression of the terrace vert below the castle, and the subsitution of a closed crown to the open crown.

In an appendix, the author gives a brief historical account of the arms of the town of Lugo, believed to date from the 17th century. The origin of the arms is the seal of the Cathedral Administration, that had been granted the privilege to exhibit permanently the Holy Sacrament; the oldest arms of Lugo, therefore, probably represented the chalice and the wafer, associated or not with the main tower of the cathedral or other buildings depending on the cathedral. The interpretation of the tower flanked by the two lions is not straightforward: the tower could represent the old castle of Lugo, August tower, or, according to the most accepted hypothesis, the fortifications of the Roman town. The lion is, unanimuously, considered as the symbol of the valiantness of the inhabitants of Lugo during the numerous sieges of the town. The angels seem to have been added in the late 17th century to fill the empty space left around the chalice.

Source: http://www.deputacionlugo.org/archivos/docs/historia_heraldica_provincial_de_lugo.pdf Original version (in Spanish); http://www.deputacionlugo.org/archivos/docs/historia_heraldica_galego.pdf Galician translation

Ivan Sache, 10 Oct 2010